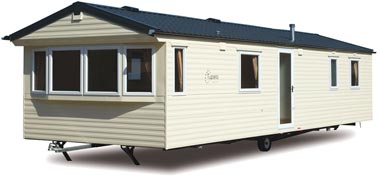 It is off-white, has tiled pent roof and white uPVC windows and doors. How many static caravans could that describe?! But the real distinction of this model is the price. This is definitely at the cheaper end of the market, at under £17,000 for the 26×12 two-bedroomed model, up to around £21,500 for the 38×12 four-bedroomed version. (Prices ex-works retail) What do you get for your hard-earned pounds?
Basic
To say that the Tupelo is basic is not, I think, an insult. For some, price, price, price will be even more important than location, location, location. You will not however be sitting on cardboard boxes, and the Tupelo has a full-sized oven and grill in its simple kitchen. In some areas Europa have not succumbed to the temptation to be cheapskate –eg the vaulted ceilings are plywood throughout.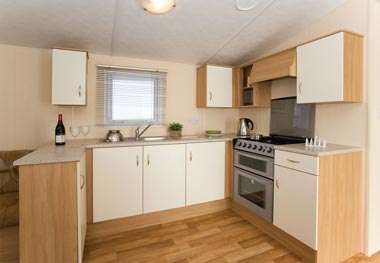 Upgrades
You can add to the basic shell the options you wish, including double glazed windows and door(s), pre-galvanised chassis, gas central heating , extra insulation – and more. It's rather like buying a Dell computer in that you 'build' it yourself, choosing the components you wish, and saving money by not having features you don't.
Can I sit comfortably?
Yes, you can. The fixed seating is ample and has the knee roll at the front for comfort. The colour scheme of brown carpet, and muted yellow/beige/tan elsewhere in fabrics, and curtains, is safe and non-jarring. The standard type gas fire certainly kicks out the heat, if you don't opt for central heating.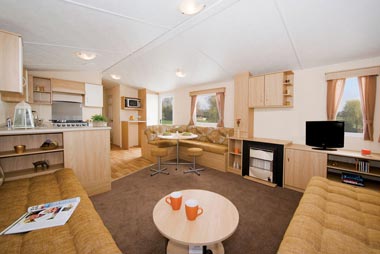 Can I cook and dine in style?
Compared with static caravans of the past, yes you can. The kitchen has plenty of storage space, plentiful worktops and a good oven and grill. There's a designated space for a microwave to one side. A cupboard and worktop below. Perfectly adequate.
Presumably the bedrooms and shower rooms will be bog standard?
Well, not quite! The shower room is roomy and the shower has a glass door. In some models (eg 32×12, 35×12) the shower room is semi-en suite with the master bedroom, which gives the whole unit a bit of street cred.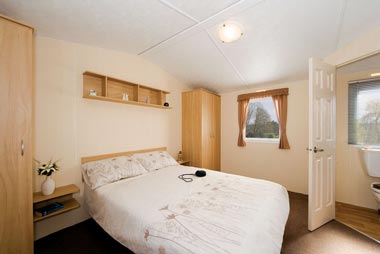 Our verdict
Good for those on a tight budget. At this price level there are few contenders, so do make sure you see them all and decide for yourself which is the best value for money.
This won't be my favourite static caravan, but it isn't meant to be. It is practical and serves a purpose. Fabrics are not dated and the overall impression is pleasant, if not striking. In a time where prices are rocketing and the means to buy shrinking, the humble Tupelo probably will find its niche. And bear in mind, Europa do some good value more sophisticated models too.
For more information:
Europa Caravans Limited
Unit 3 Wyke Works
Hedon Road
Hull
HU9 5NL
Tel: 01482 226682
Email: [email protected]
Website: http://www.europacaravans.com/
Prices quoted ex works: Please check the price carefully before you commit to purchase, as prices vary considerably dependent, amongst other factors, on the geographical location of your chosen park. Additional charges will be made by park operators, and/or distributors for transportation, siting and annual maintenance.