With seven different models, this static offers a wide choice for couples or families.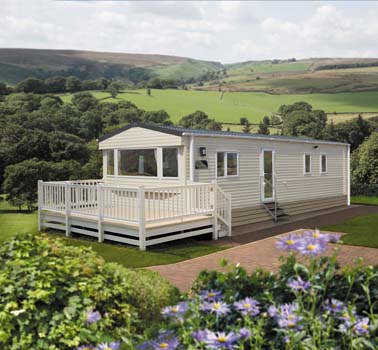 The new Summer Breeze from ABI Holiday Homes has been designed as a mid-range static holiday caravan, and with seven different combinations to choose from, you should be able to find exactly the right size to meet your needs.
We looked at the 36ft x 12ft  ABI Summer Breeze model which has a special Deluxe Pack of extras available.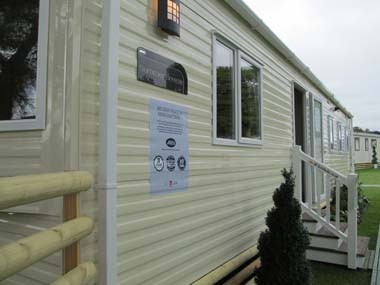 Externally, it's aluminium clad in a pale cream colour with a black steel pantile roof, white uPVC guttering and downpipes with a black trim at the roofline to the front.  The windows are all single glazed with uPVC frames, although Low 'E' Thermaglass double-glazing is available as an optional extra.
The caravan sits on a steel chassis and pre-galvanised or fully galvanised chassis are available, as an option – money well spent if your caravan will be situated near the coast,  with all the associated problems of salty air, winds and general corrosion.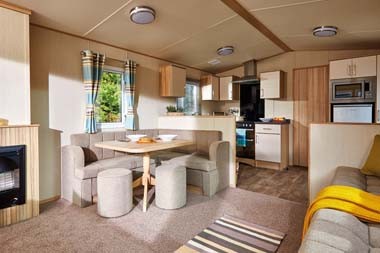 There are lots of windows fitted to the Summer Breeze and at the front there's a small bay. Access is via a large side glazed door, with exterior light fitted here and , as well at the front end of the caravan.
Insulation is 50mm in the walls and 100mm in the roof and under the floor.  Along with other models in the range, ABI also offer special 'Winter Packs' designed to keep the caravan warm and cosy during colder spells.  These packs include double glazing, 300W heaters to all bedrooms, heated towel rails and domestic central heating. If you're the sort of family that likes to get the all-year use of the caravan, it might well be worth considering this as an option.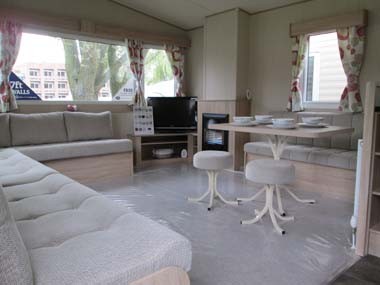 The lounge is open plan and its high, vaulted ceiling presents a roomy aspect.  The furnishings and in-built units and wall coverings are all light coloured and give the room a bright, airy feel.  Floral draw-type curtains in red, green and white add a splash of colour. A selection of fabrics are available across the Summer Breeze range.
The over-riding colour of the seating is white with a beige fleck which looks great when new, but we do wonder how this will stand up to the wear and tear of children over a long period. The carpet is a light grey and may also not withstand prolonged wear and tear, without regular cleaning!
A massive L-shaped seating unit runs down the left hand wall and around the end of the caravan.  Underneath is the usual stowage plus an occasional pull-out bed for visitors, taking the sleeping accommodation up to eight.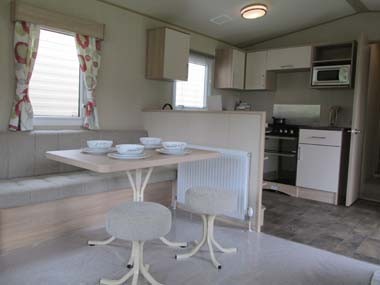 Opposite, there's a smaller, L-shaped fixed dinette seating, with a free standing dining table and two stools.  A radiator is fixed to the half-height bulkhead, separating the lounge from the kitchen. At the end near the front window sits a low TV unit with shelves for DVD and digi-box and to the right is a fitted gas fire, set into a 'chimney breast' that disguises the flue.  An electric fire is available as an option if you don't fancy gas.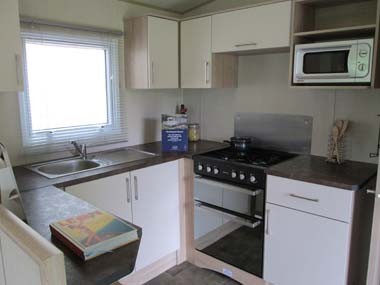 Moving into the C-shaped kitchen, there's a set of open shelves and cupboards surmounted by a black countertop. Ahead is a simple stainless steel sink unit with mixer tap and two cupboards below, whilst to the right is an integrated oven and grill with a four-burner hob above.  You have the option to add glass splashbacks and cooker hood/extractor, plus beefed up (40mm) counters to the kitchen. Above the cooker are wall cupboards and an open shelf to accommodate a microwave oven and cookbooks. The floor is a practical, washable timber-effect vinyl.
Opposite the kitchen and to the right of the front door is an integrated fridge freezer and storage cupboard. The kitchen on the Summer Breeze, although fairly compact, has plenty of storage for equipment and enough workspace to easily prepare a good meal.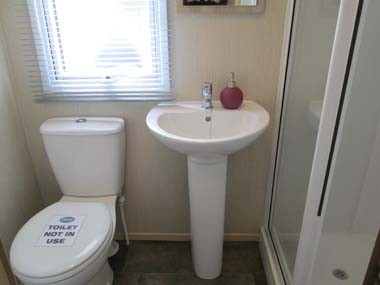 The usual central door leads to the bedrooms and shower room.  The main shower room is first on the right and features a large thermostatically controlled, walk-in shower, with sliding glass door, a flushing toilet and handbasin on a pedestal.  There's a small mirror above the handbasin although a lack of a shelf means you have to balance your potions and soaps on the handbasin itself – not ideal!  There are, however, a set of shelves behind the door for towels and linen.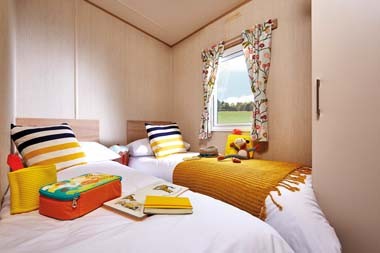 The first of the two twin bedrooms is on your left across the corridor and is a basic space with the twin beds, central bedside cabinet and a wardrobe at the foot of the bed.  By their very nature these twin rooms are going to be small and there's just enough room to shuffle between the beds.  However, as they are likely to be used just for sleeping in and not for hours of contemplative lounging, they're more than adequate.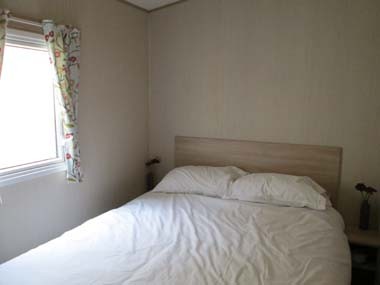 The back of the caravan is split between the second twin bedroom and the 'master' double bedroom. The twin is much the same as the other, with the added feature of a Jack and Jill door leading into a small en-suite toilet with handbasin. The gas combi boiler for the caravan's hot water supply is installed in the space between the en-suite and the shower room.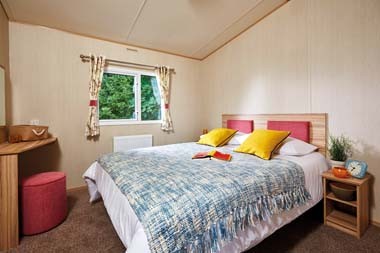 The double bedroom has a large bed with domestic mattress a small vanity unit with shelf, mirror and stool at its foot and a double wardrobe to the right.  You can upgrade the bed to one that lifts up for extra storage (a good idea in this space)  and plain duvet covers and pillowcases. Once again, there's just enough room to walk down each side of the bed.
Verdict
With seven different combinations of the Summer Breeze, ABI has offered the customer a real choice. If you're a couple you might want to opt for a two-bed model and have a different shaped, split kitchen. If you have kids, as a small family, one of the two or three-bed versions might be your choice.
Whatever the option, you'll get a strongly constructed, nicely designed caravan with contemporary features and plenty of upgrade options to increase the specification.
The Summer Breeze is a caravan that will give many years of happy, enjoyable holidays which, after all, is all you can ask of it.
Plus Points
Nice, open-plan lounge and kitchen.
Sturdy construction
En-suite bathroom
Minus Points
Seating fabrics may be subject to staining, although this is subjective!
Lack of shelf and shaver socket in shower room.
In-a-Nutshell
A good, well made and designed static, the Summer Breeze has a lot going for it at this price point and will have wide customer appeal.

FACT FILE
Size: 36ft x 12ft
Build Standard: EN 1647.
Berths:  Six in three bedrooms (two twin and one double). Plus an extra two on a pull-out sofa bed in the lounge.
Other layouts available: 28ft x 10ft, 2 bedroom; 32ft x 10ft, 2 bedroom; 36ft x 10ft, 2 bedroom; 28ft x 12ft, 2 bedroom; 32ft x 12ft, 2 bedroom; 36ft x 12ft, 2 bedroom.
Key optional extras: Deluxe Pack of extras; pre-galvanised or fully galvanised chassis; Thermaglass double glazing; free-standing fridge and/or fridge-freezer; integrated microwave; winter electric and premium packs; patio doors.
Ex works price: £21,924.16* inc VAT
For more information visit www.abiuk.co.uk or email [email protected]. Tel: 01482 678 000
*Additional charges will be made by park operators, and/or distributors for transport, siting and annual maintenance. Please check the price carefully before you commit to purchase, as prices vary considerably dependent, amongst other factors, on the geographical location of your chosen park.