A striking split-level holiday lodge with a stunning, contemporary interior and a touch of retro!
Prestige's new Lookout is a superb holiday lodge to look at. The first thing that strikes you is the glass balcony and the flat roofs – there isn't a pitched angle in sight! On first view, it appears as a series of timber clad boxes, cunningly linked together with the front, right hand cabin set slightly back and raised a foot or so above the left hand one.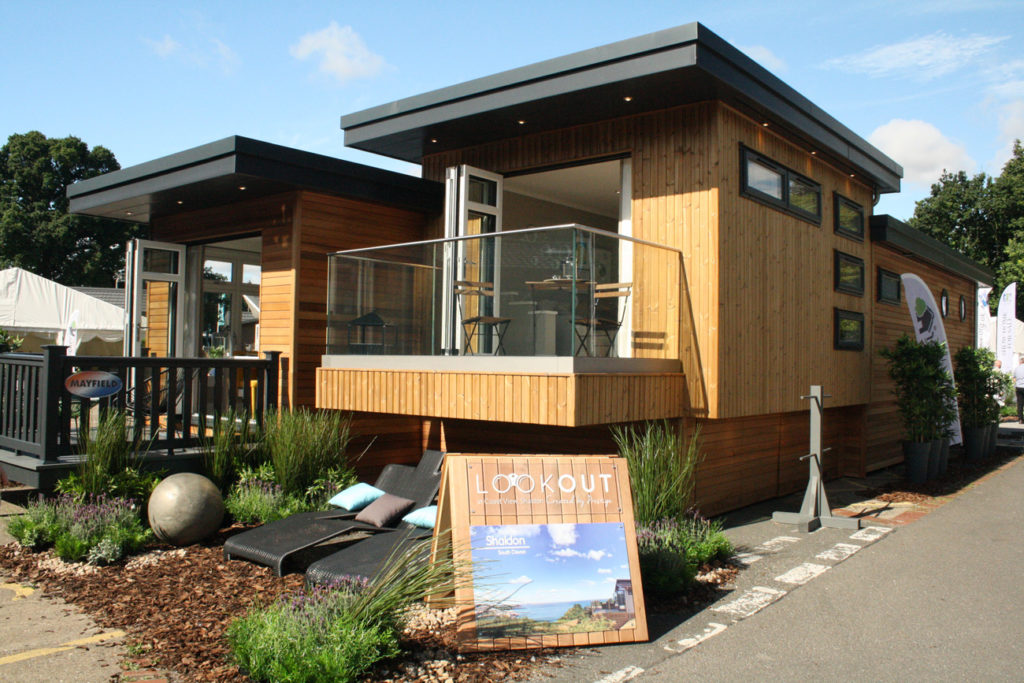 The exterior is predominantly clad in cedar, which will silver down to an elegant sheen over time, with a thermowood vertically clad raised section to one side. This provides a nice contrast to the horizontal planking of the other modules.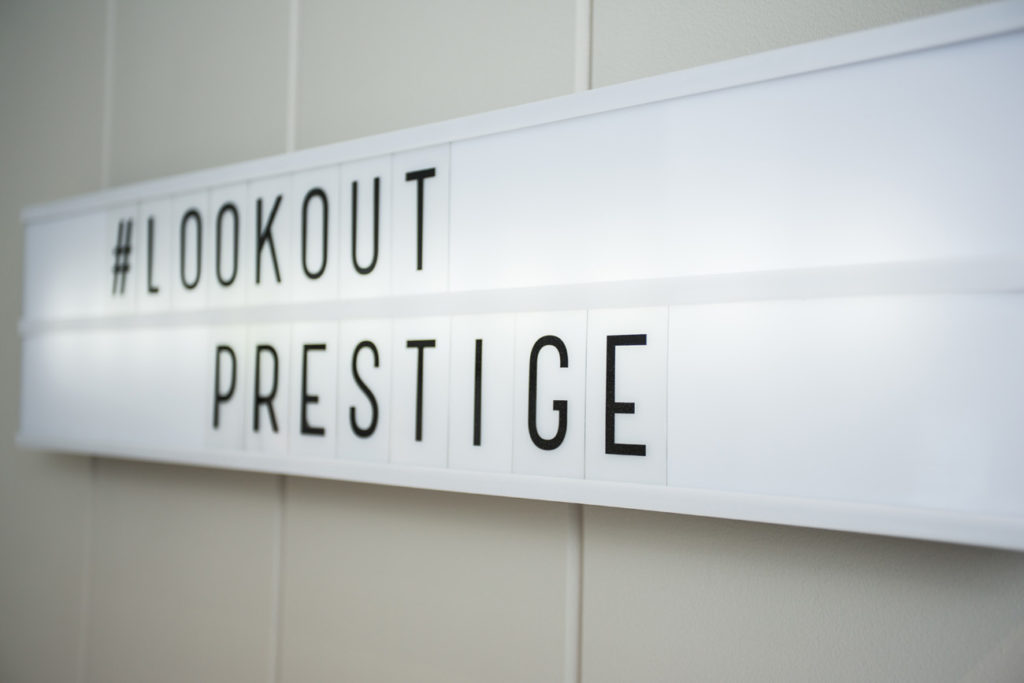 The roofing is in sections with a stylish slate grey overhang and inset downlighters to create a romantic ambience at night. The upper balcony that leads out from the lounge makes sure the views are easily accessible, unlike any traditional holiday lodge.  In fact, Prestige have created the Lookout to make the most of great views, providing every opportunity for occupants to chill out and soak up the brilliant panoramic views and bucolic countryside around them. This, of course, will depend on the chosen location and siting of the lodge, but we'd suggest a site where you're guaranteed to have the perfect outlook – or look out!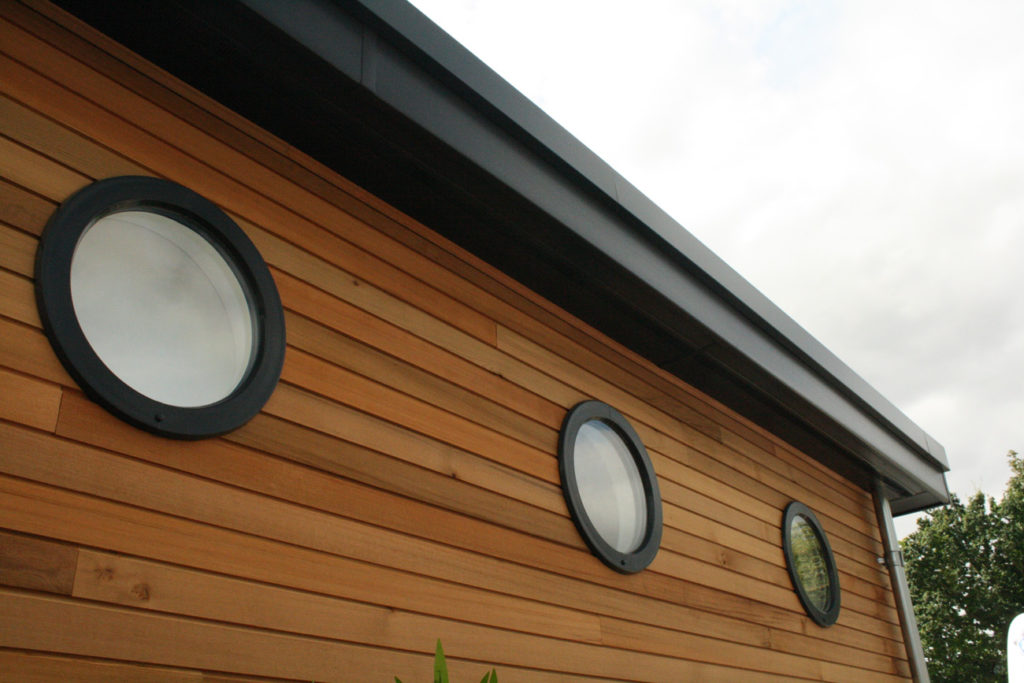 The exterior really pushes the boundaries of lodge design and the architectural styling and modular look are quite unlike anything else available from many UK manufacturers. There are two decked areas; a large one to the left, surrounded by a clear glass panel and steel railing – which not only extends the living accommodation, but adds an al fresco dining area for those hot, sunny days. A smaller deck seems to be suspended in the air and 'floats' out from the front of the right hand cabin and, as such, is really a large balcony.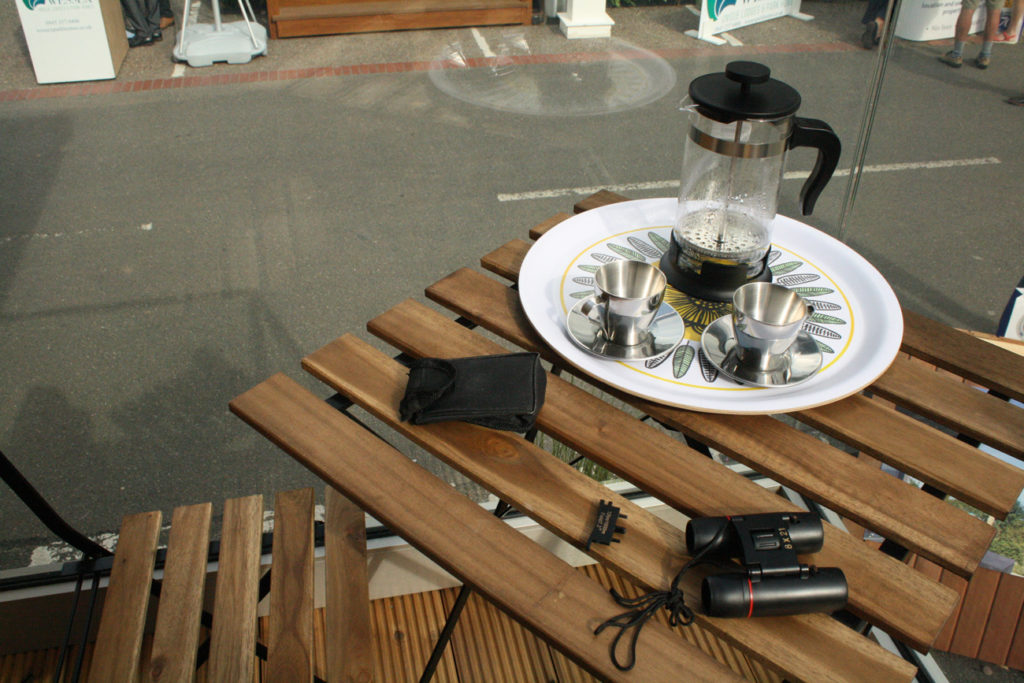 Both of the front modules are fitted with large bi-fold doors and there are smaller, slit-type windows down each side and three portholes to the back in the main sleeping accommodation module. These windows are all double glazed and the frames are in mid-brown which contrasts with all that cedar! The chunky, almost industrial style of the windows are another feature which makes this lodge just that little bit different.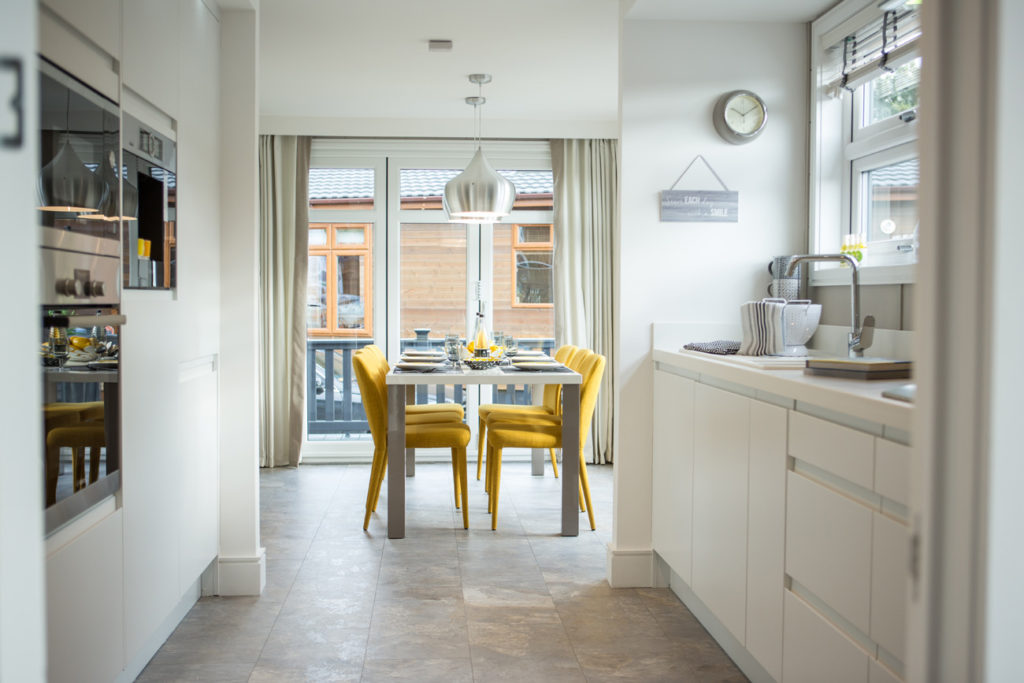 The main access door is set about halfway down the left hand side. You enter into a neat, carpeted lobby-cum-hallway with a padded stool and coat hooks on the wall. The walls are clad in vertical planking on some surfaces, and horizontal on others, giving a feeling of both height and space. It's a very stylish look and is a theme carried out through every room in the lodge – giving a modern, contemporary feel.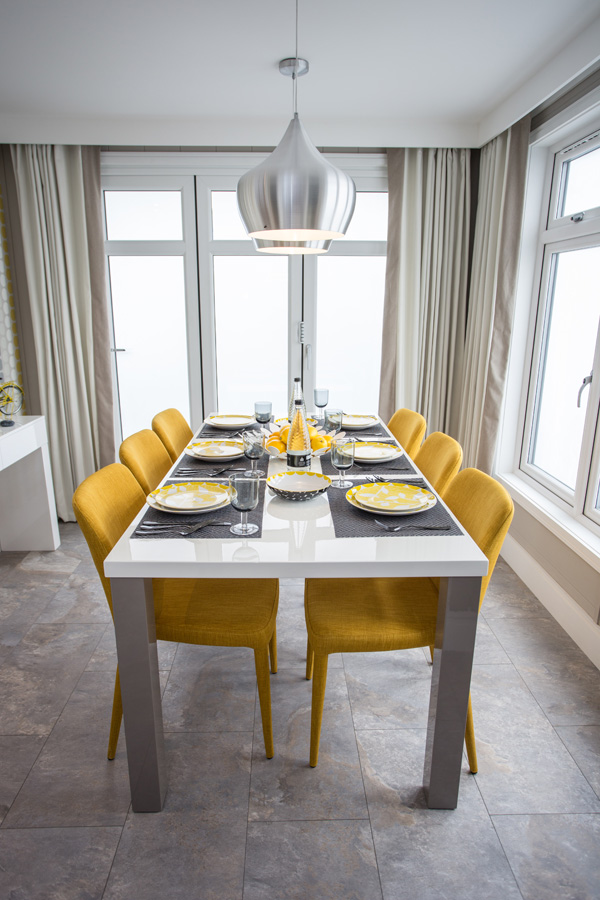 The  kitchen and dining room occupy the lower of the two front modules in the Lookout. The hi-spec, fully fitted kitchen is split onto two sides, with plenty of white, high quality storage cabinets with handle-less doors and drawers – all with soft close mechanisms. There's also a Corian moulded sink/drainer with single mixer tap.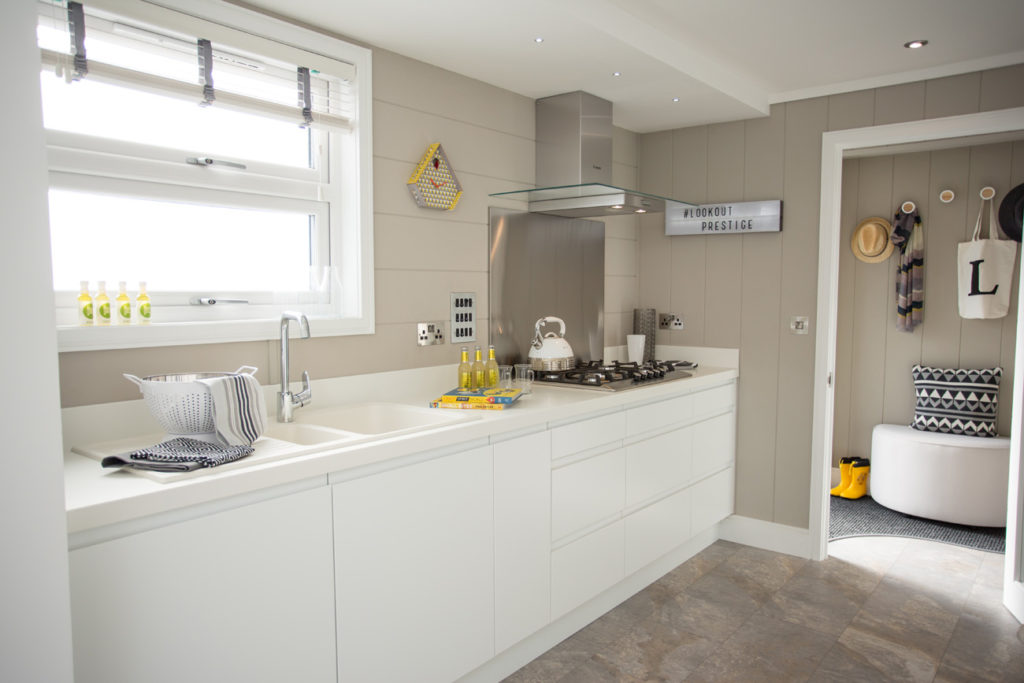 Appliances are mainly set into one wall, surrounded by cupboards, and include a five burner gas hob, eye-level oven, microwave, 
dishwasher, fridge/freezer and dual washer/dryer and you even get a built-in 
Bosch coffee maker – the height of luxury! The whole kitchen is simply stunning, with a clean, light and white look. There's a generous amount of floorspace and lighting here is mainly inset, small LED downlighters.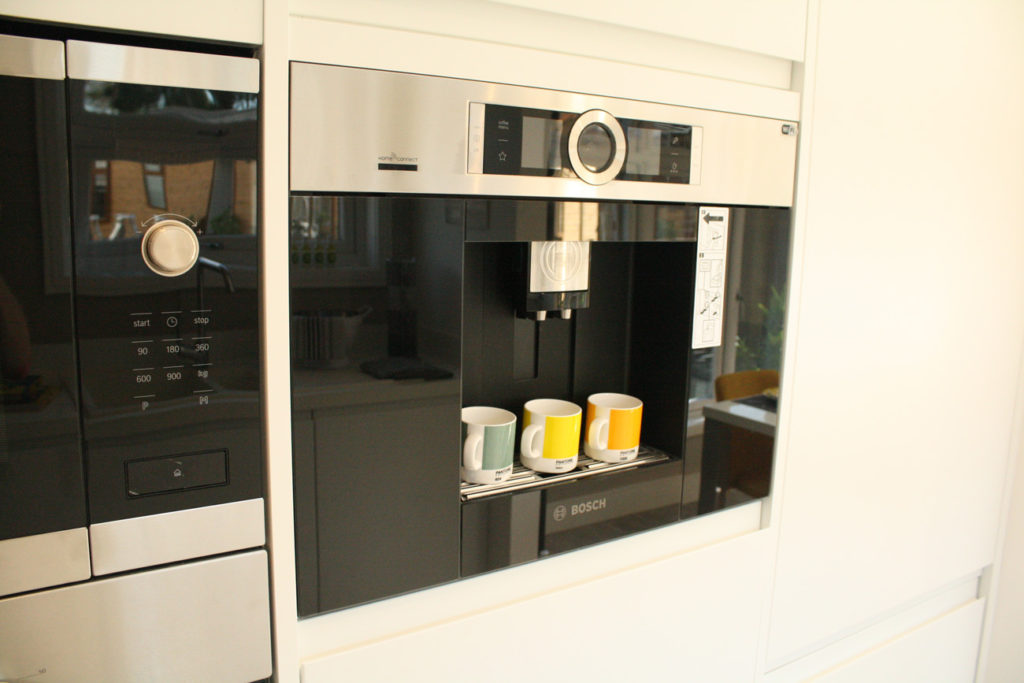 Through the kitchen is the dining space. To your left and right are floor to ceiling designer bar radiators in charcoal and in front, the dining table with six upholstered chairs, in a striking, zesty lemon colour – the accent colour used all over the lodge. This lemon, along with neutral browns, creams and greys on soft furnishings, wall paper and panels really do give the Lookout its signature style.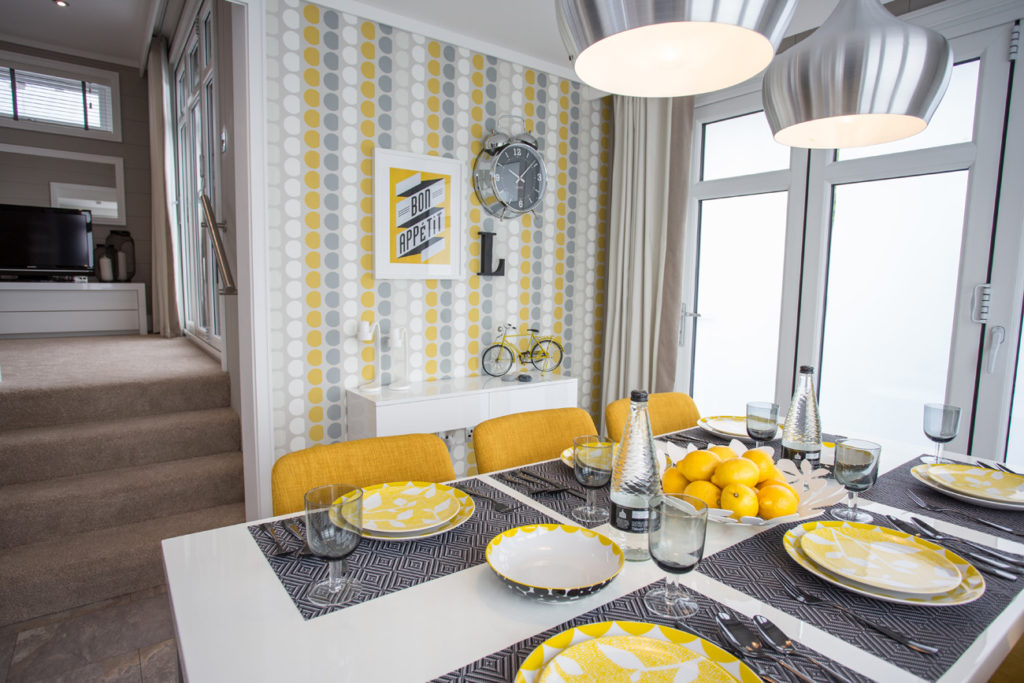 Above the dining table, two brushed aluminium pendant light fittings give nigh-time illumination and natural light floods in through the front set of bi-fold doors which lead out onto the lower deck.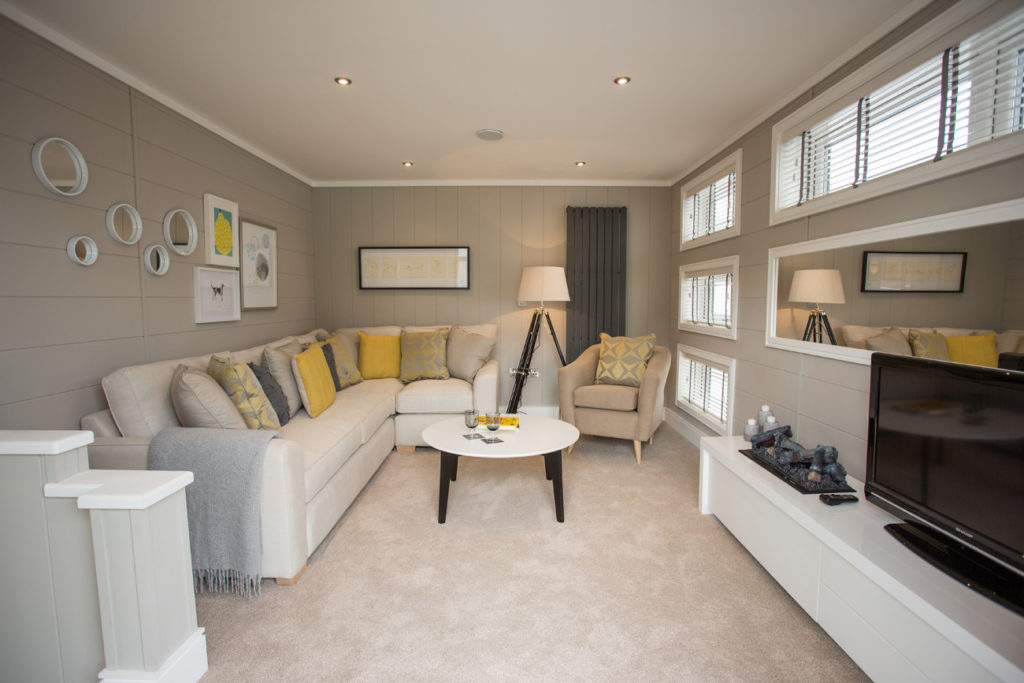 Leading off the dining room, four steps up take you into the lounge 'module'. We really like the split level idea here which adds a sense of drama and seems to give the lodge a more interesting flow as you move from room to room.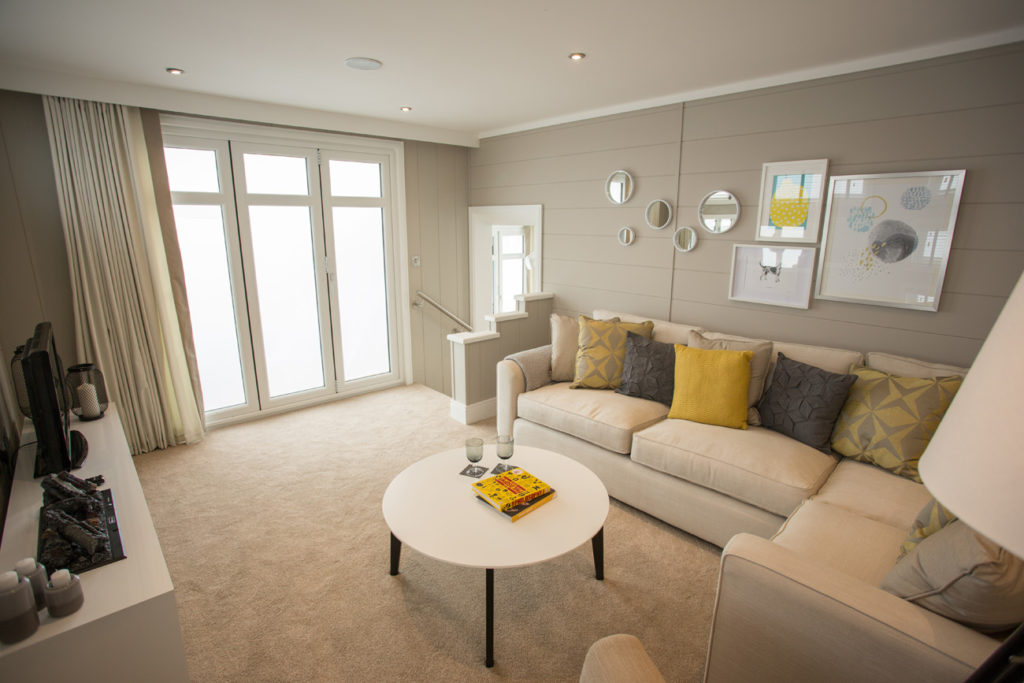 The lounge has a second bi-fold door leading out onto the balcony deck. Seating is a large corner sofa unit and there's also a single free-standing armchair, a sideboard and a circular coffee table with spindle legs – giving the whole room a slight retro feel.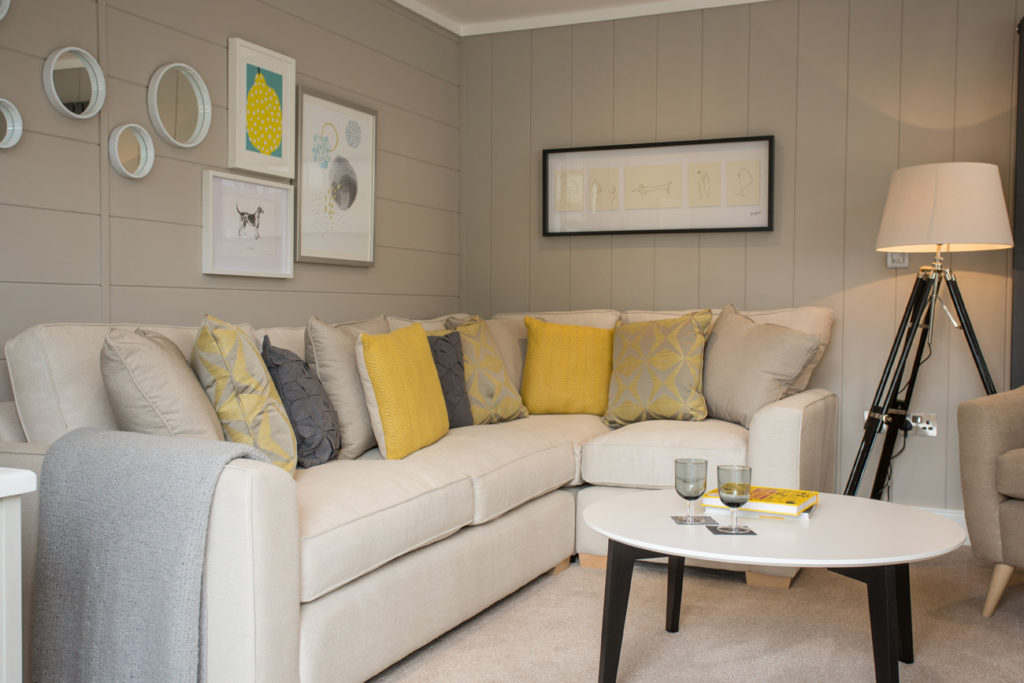 There's a low-slung TV at the top of the steps, sitting atop a long cupboard, which also incorporates an eye-catching log effect electric fire! The lounge is fully carpeted and is lit by inset LED downlights. Décor is enhanced by clusters of wall art and circular mirrors. Four of those slit windows we described earlier let in a fair amount of light and have Venetian blinds.  Also on this wall (and the exact same size as one of the windows), is another mirror. As we said, the Lookout really has a designer's surety of touch!
To access the sleeping accommodation from the lounge you have to retrace your steps through the kitchen and back into the lobby and hallway. This part of the Lookout is formed from the large, rear module – the last of the three making up the lodge.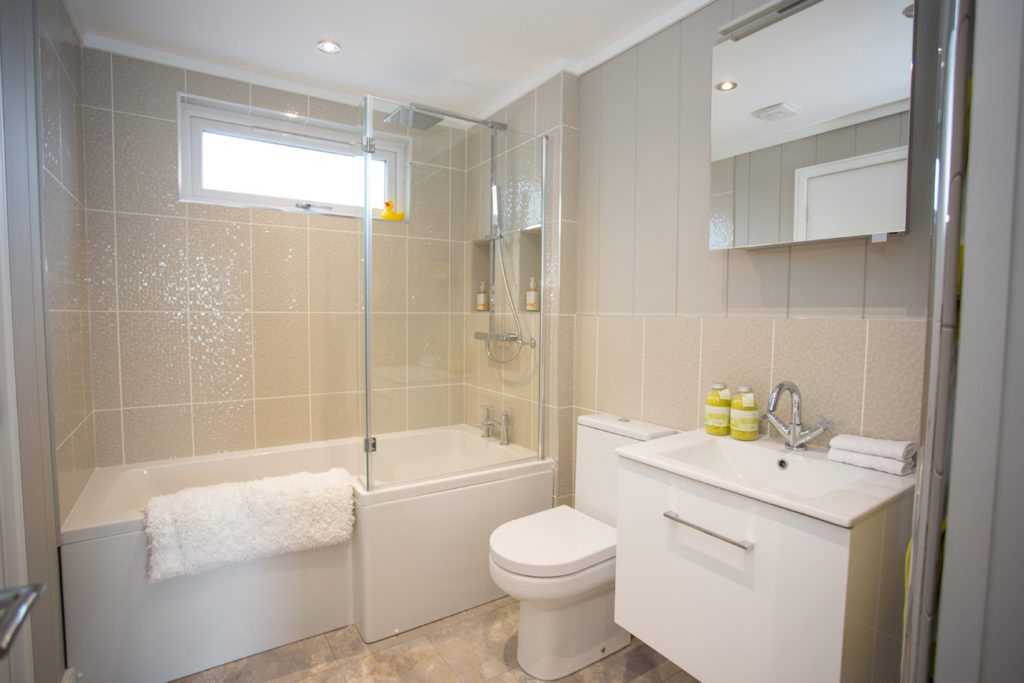 The family bathroom has a full length bath with shower and glass screen, as well as a low profile double flush toilet and a modern oblong hand basin set on top of a white storage unit. Above there's an illuminated, mirrored cabinet. The room is fully tiled and is spacious, neat and practical.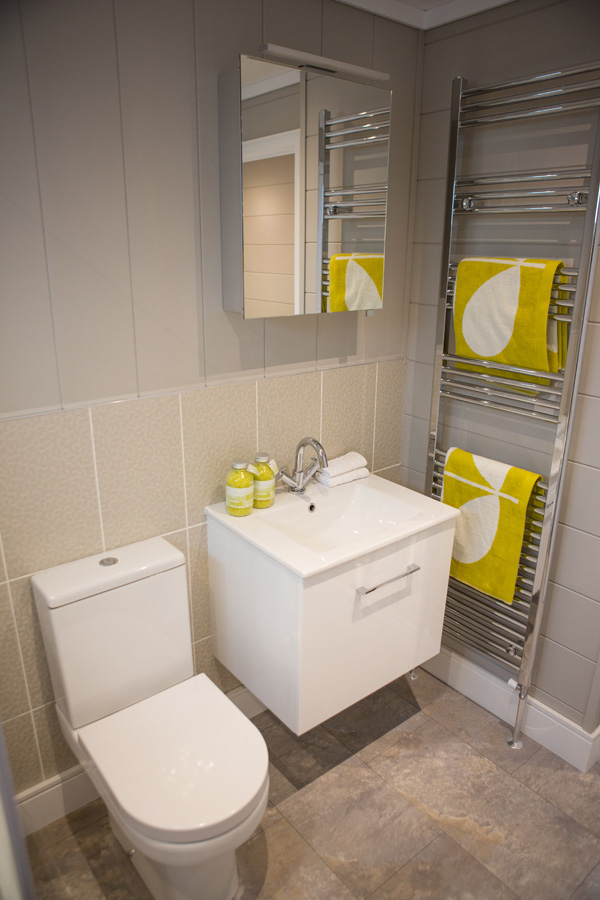 Moving on, the next room to the right is one of the more unusual highlights of the Lookout – a splendid corridor style bedroom with twin sets of cabin (or bunk) beds to the right hand side with a set of steps centrally positioned to allow access to the top bunk!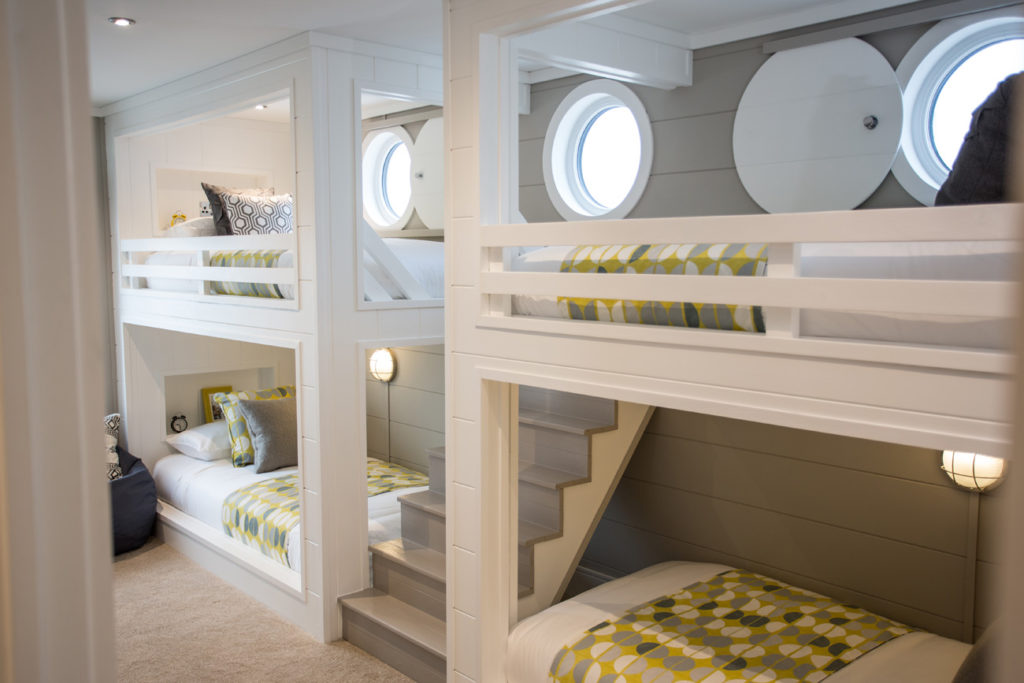 This room would be a real wow with children (and many adults!) and is replete with a full set of storage wardrobes along the wall opposite the beds. A cool feature are the three portholes with circular covers above the beds, making it feel like a ship's cabin! There's also a radiator, shelf and mirror here and a single tall window at the end lets in more light, plus a separate Jack and Jill door allows access to the bathroom without having to go out into the hallway.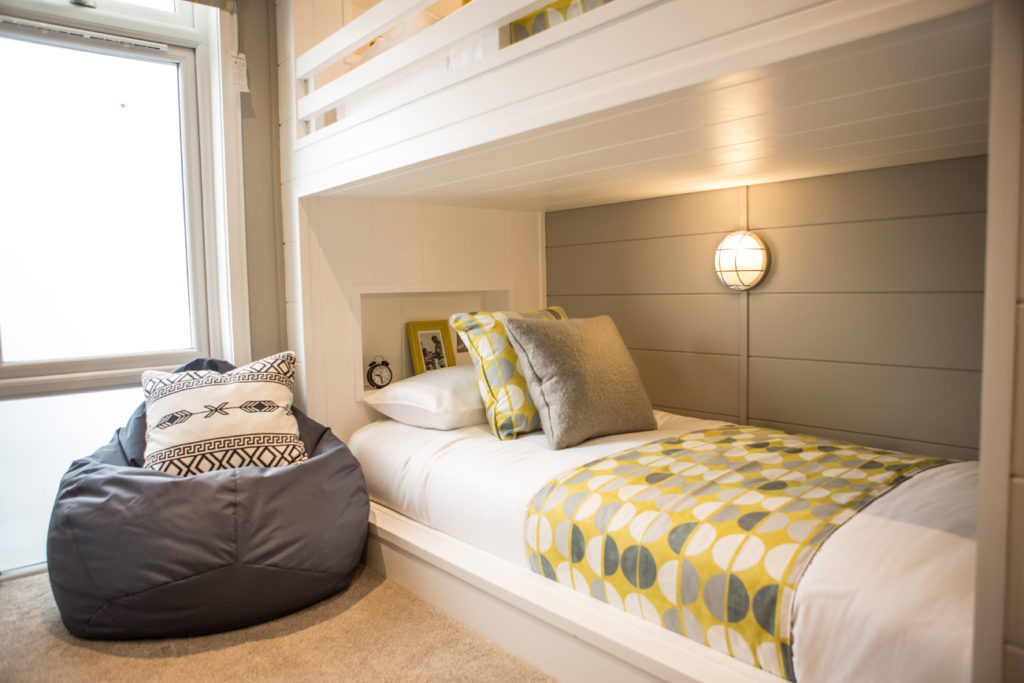 Peak inside the sliding mirrored wardrobe and there's a neat little desk and study area tucked away and making great use of the space.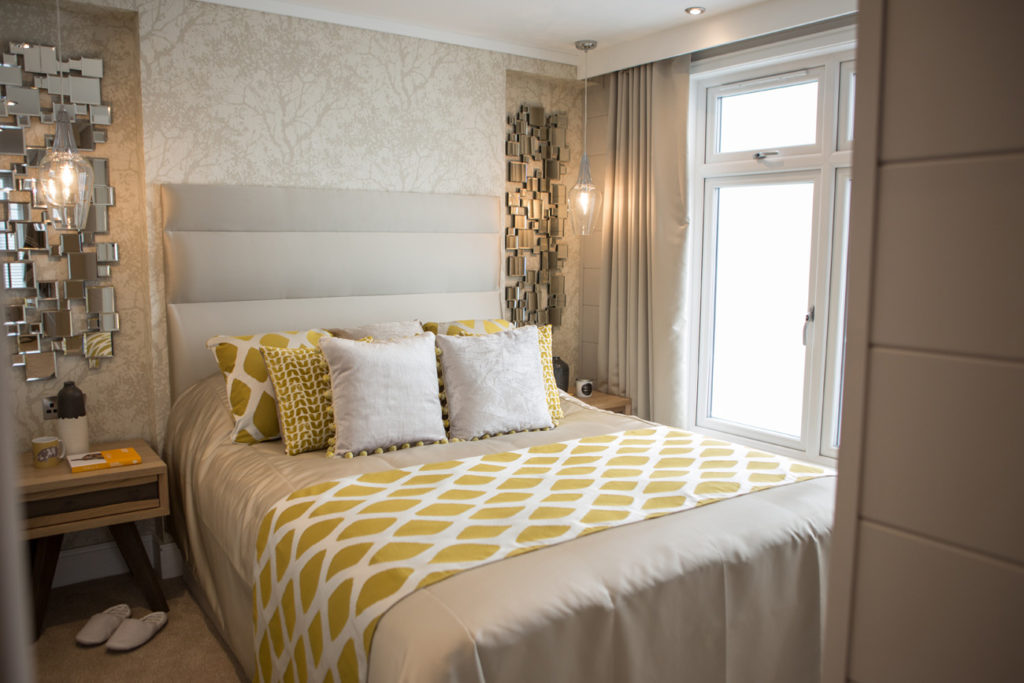 Across the hallway, a door leads into the master bedroom – another large, well appointed space with a double bed, tall padded headboard, twin bedside tables and feature mirror panels on the wall to both sides. Storage comes in the form of a huge, walk-in wardrobe and dressing room with vanity position and stool.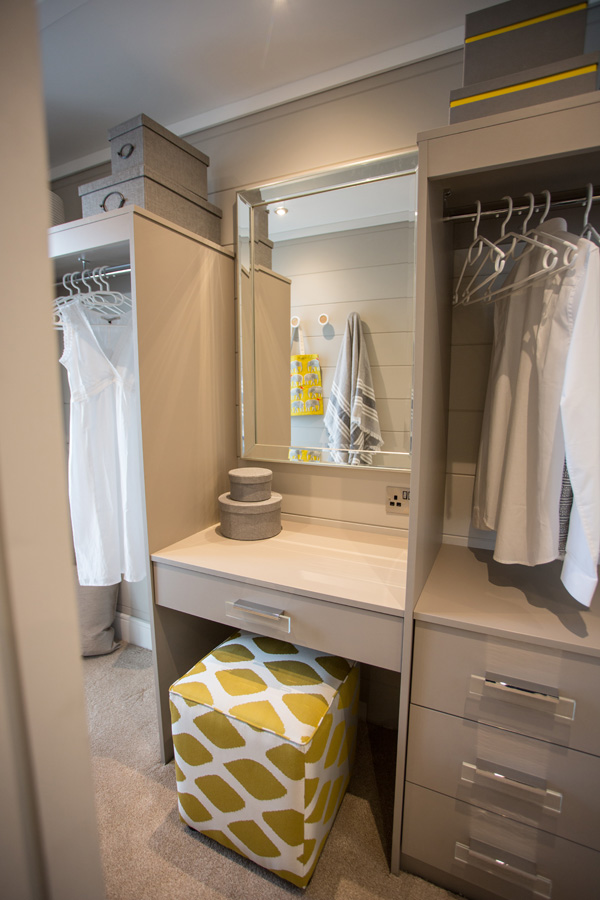 But there's more: in the corner is a sumptuous wet room with a massive, fully tiled power shower, toilet and washbasin. A nice touch here is that the toilet is in its own cubicle and separated from the shower by a door.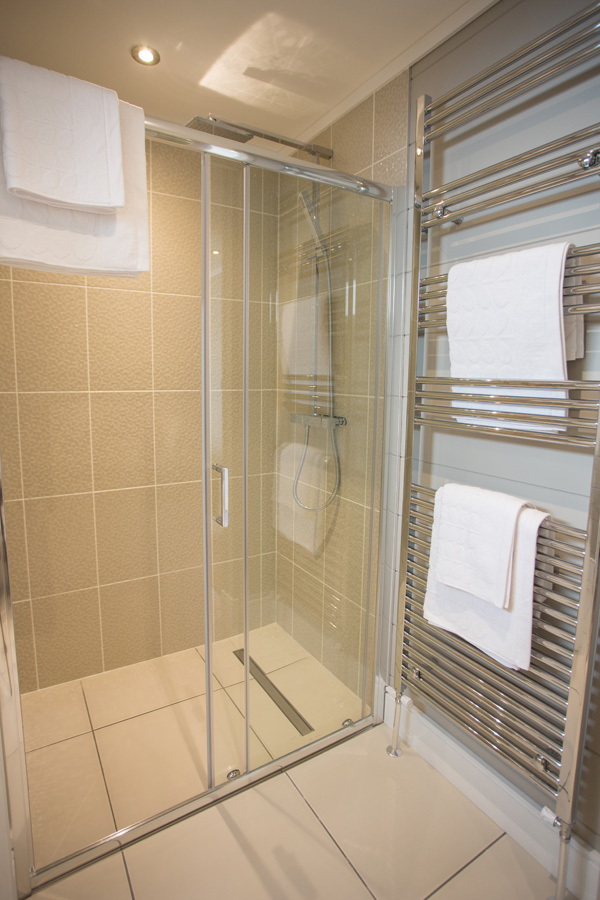 Verdict
Prestige have reported strong sales since the Lookout was launched at last year's Lawns show with the show model being sold almost straight away to a customer in Devon. With its cutting edge design and smart, stylish interior, it's easy to see why.
Plus Points
Stunning architecturally inspired exterior.
Elevated lounge area with adjoining balcony.
Four person cabin style bed feature with porthole windows.
Integral storage area to exterior.
Open plan en-suite and adjoining dresser area to main bedroom.
Minus Points
Couldn't really fault this lodge in any way!
In-a-Nutshell
A landmark in holiday lodges which really raises the bar!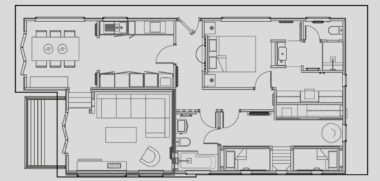 Factfile 
Size: 45ft x 22ft
Berths: 6, in two bedrooms (one master double and a family bedroom with two sets of twin bunk beds).
Build Standard: BS3632 residential and with a 10 year warranty.
Other layouts available: Lodges are available up to 65ft x 22ft in either 2, 3 or 4 bedroom options.
Ex works price: Price on application*
For more information e-mail: [email protected] or visit www.prestigeparkandleisurehomes.com
*Extra charges will be made by park operators, and/or distributors for transport, siting and annual maintenance. Please check the price carefully before you commit to buy, as prices vary considerably dependent, amongst other factors, on the geographical location of your chosen park.