The ABI Concept is a static caravan with a difference; well lots of differences actually!
Built on a standard chassis, the Concept has horizontal brushed silver aluminium cladding, with charcoal window and door frames for the triple glazed windows and external door.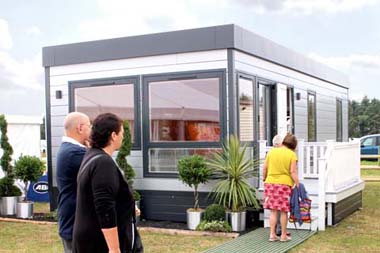 This unique 13ft x 30ft model has been designed and built as a concept following a challenge to the industry; ABI decided to focus on better utilization of internal space. This unit sleeps and accommodates nine people thanks to innovative and lateral thinking using motorised moveable walls.
Bi-fold doors with clip-in Venetian blinds lead to the flexible living space. A practical laminate floor covering throughout, and tiled floors in the bathroom and cloakroom, is laid on top of underfloor heating, yet there is a gas combi-boiler for hot water and to heat the towel rails in the cloakroom and bathroom.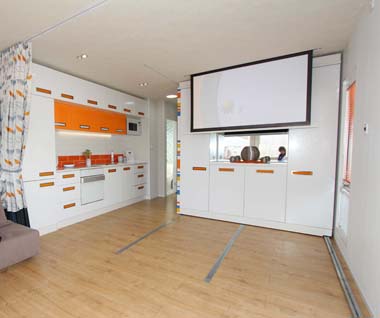 The daytime living space contains an L shape sofa, a swivel chair and beanbags. It can also serve as a cinema room. The space is so flexible it becomes a bedroom with a drop-down king size bed, or you can pull a five-leaf table out of a cupboard and seat nine to a meal.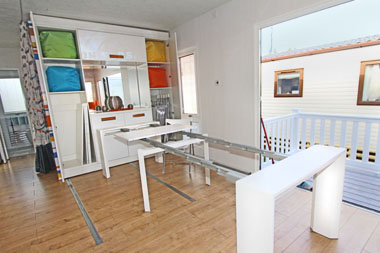 The kitchen has a fridge freezer, an induction hob, electric oven and grill and a combination microwave, with space to install a dishwasher if required.
The fabrics and décor scheme are very modern with a clean and bright look: High gloss Valencia orange and textured white cupboards, with contemporary curtains around the beds for night time and a feature horizontally striped wall featuring orange, lemon, grey, blue and white.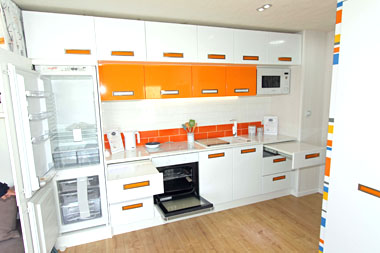 Another king size bed drops down to create a new sleeping area, and two bunk beds seem to appear from nowhere to complement the three fixed bunk beds at the rear.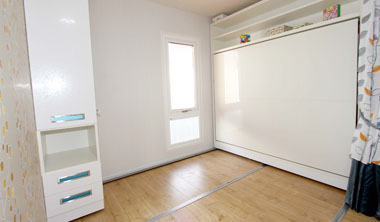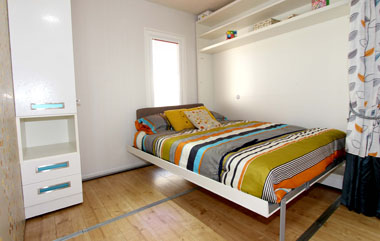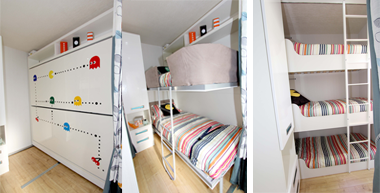 The shower room, fully tiled and including a mosaic tiled feature, is complemented by a cloakroom with a loo and a space-saving corner handbasin.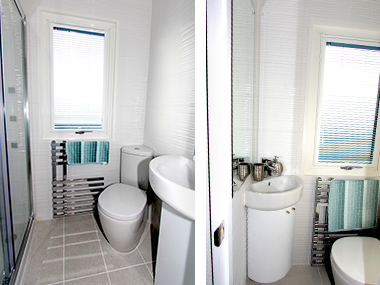 If it was for sale the likely ex works price would be from around £58,000, but if it goes into production the design might change. Additional charges would apply from park to park to cover transport, pitch preparation and other costs.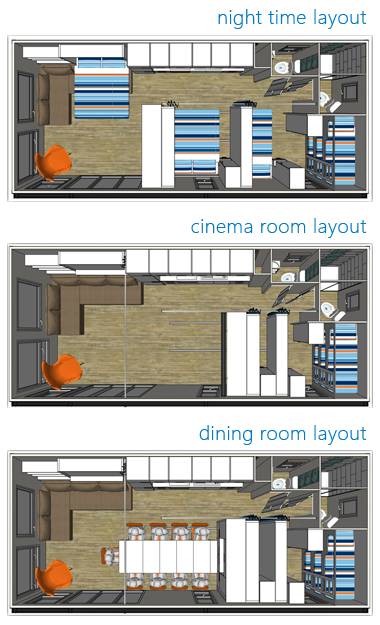 Verdict
The dual use of space, the funky layout, and the wacky concept takes the future design of caravan holiday homes to a new level!
Visit the ABI website for more information.
Tell us what you think about this though provoking concept caravan? Would you buy one if it went on sale? Would you like to see some of the features such as flexible layout introduced to production models? Please add your comments below.