So it's summer, you're on vacation in your holiday home, and it's time to chill 'n'grill so why not get the BBQ out.
BBQs should be fun, simple and easy to prepare and grill and whatever you cook in the kitchen you can easily do on the barbie! BBQs don't have to be sausages and burgers and whilst spontaneous BBQs can be fun, it does help to do a bit of forward planning and preparation.
Best Barbecue Safety Tips
Position BBQs on a sheltered, level site, away from anything that might catch fire – especially your holiday home!
Make sure that you preheat your barbecue to the correct temperature before you begin cooking.
Take care when using knives and scissors. Minimise distractions by preparing food inside your holiday home before guests arrive and before the alcohol starts flowing.
Only use BBQ fuel or lighters to light the BBQ – never flammable liquid such as petrol or paraffin.
Never leave a BBQ unattended; keep children and pets away from the cooking area.
Never move a BBQ while it is alight or hot – wait until it has cooled and empty ashes onto bare garden soil, not into the bin.
Keep a bucket of water or sand nearby in case of emergencies
If your barbecue has a lid, use it as it's really useful for keeping the internal temperature constant and making sure your food is evenly cooked.
Avoid food poisoning – cook meat and poultry until piping hot throughout, the juices run clear and there are no pink bits. Invest in a meat thermometer suitable for use on a barbecue.
Clean your barbecue properly after every use. If you don't, next time you use it you'll be cooking on top of last weekend's grease. Cleaning a barbecue is easy if you know the technique, just set your barbecue to the highest heat possible, and then after it stops smoking use a good quality wire brush to clean the cooking grate.
Tasty Starter!
This is one of the simplest starters that you can prepare on the barbie!
Fresh Asparagus with Parmesan and Lime dressing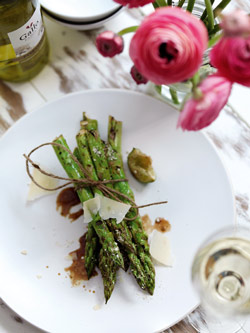 You need:
16 asparagus spears
Juice of 1 lime
30ml Extra Virgin Olive Oil
15ml balsamic vinegar
A small wedge of Parmigianino Reggiano
2 tsp sea salt
1 tsp cracked black pepper
Mix together lime juice, oil and balsamic vinegar plus half of the salt and black pepper and use to coat asparagus spears.
Grill asparagus slowly on medium heat, turning frequently and baste occasionally.
Remove asparagus once cooked through and lightly cover with shavings of Parmigianino. Drizzle over the remaining lime, oil and balsamic vinegar, season with salt and black pepper to taste.
Refreshing Cocktail
If you think of Grand Marnier as a liqueur then surprise your guests and try a refreshing cocktail.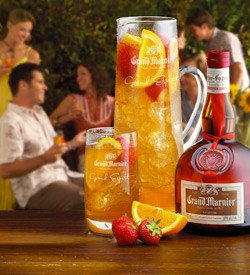 You need:
25ml Grand Marnier
25ml Elderflower cordial
Soda water
Fill a tall glass with ice and add the Grand Marnier and Elderflower cordial. Top up with soda water and stir well. Garnish with slices of fresh orange and strawberries. You can make it a big jug, too, if you like.