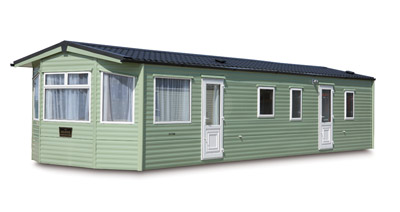 The 37ft x 12ft Carnaby Melrose is the largest of the six homes which make up the range. It has an aluminium clad exterior, a pantile steel roof, UPVC double glazing, and wet central heating all as standard. There are two entrances to the home, both in the front elevation, one giving access directly into the lounge area, and the other into a hallway leading to the bedrooms and the home's toilet.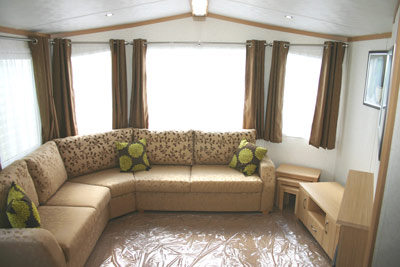 The feature of the lounge is the large picture windows in the end wall and the wrap round seating stretching from the entrance down the front wall and across the end wall below the picture windows. At night the seating below the picture windows becomes a sofa bed. An electric fire has been mounted at an angle on the rear wall of the home and beyond that is the dining area. This is essentially an alcove with a dining table and a permanent upholstered seat on the party wall with the one of the three bedrooms. There are also two chairs but additional seating would be needed if there were eight people dining.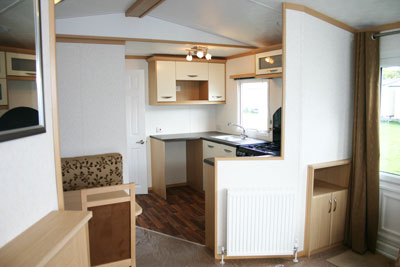 The kitchen is to the right of the entrance into the lounge and is fairly basic. It has a cooker, a sink and drainer, and a reasonable amount of worktop space. There is storage in the base units but not a great deal in the wall cupboards. There's room for a fridge below one of the worktops but there's no provision for a cooker hood and no microwave.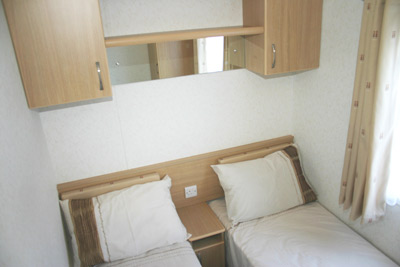 From the kitchen a door leads into the hallway. The first door on the left is the second bedroom. Although not large, there is room to walk between the two single beds and equally importantly, there is clothes storage in the wall cupboard above each bed and in the wardrobe at the bottom of the bed furthest away from the door. Between the beds is a cabinet with a single gang socket above it, and separating the wall cupboards is a shelf with a mirror below it.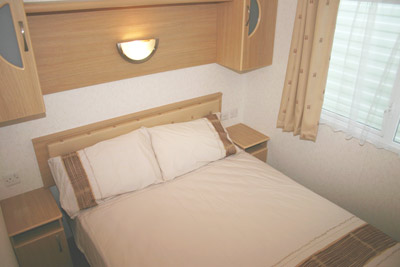 Opposite the second bedroom is the toilet. This is a small room with a toilet and pedestal washbasin set at 45 degrees in the corner. The door to the third bedroom is across the hallway from the toilet. This is slightly smaller that the second bedroom and doesn't have quite the same amount of storage for clothes. Then comes the main bedroom at the end of the home. This has a double bed, a built in wardrobe, and an ensuite with a large shower cubicle, toilet and washbasin.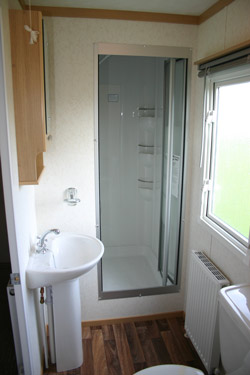 Main features
Aluminium cladding
UPVC double glazing
Vaulted ceiling in the lounge, dining and kitchen areas
Wet central heating
En suite shower room
Verdict
The Carnaby three bedroom Melrose has everything necessary for holiday home living throughout the year. In particular it is double-glazed and has wet central heating so subject to the park licence, the family can spend Christmas and the New Year in it.
Specification
Type: Single holiday
Standard: BS EN 1647
Size: 37ft x 12ft
Bedrooms: 3
For further information: Carnaby Caravans Ltd., Lancaster Road, Carnaby Industrial Estate, Bridlington, YO15 3QY.
Tel: 01262 679971.
Fax: 01262 670315.
Email: [email protected]
Website: www.carnabycaravans.com