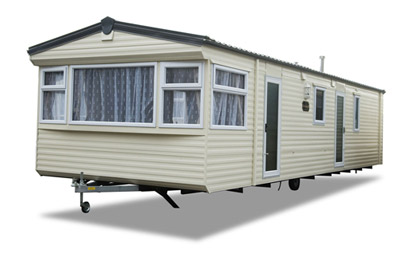 If you are in the market for a well-equipped and eminently affordable holiday home, the Delta Denbigh Deluxe could be for you.
It has the aluminium-clad exterior with now-familiar metal pantile effect pent roof. The 35ft by 12ft model is one of the cheapest of this size to be found today.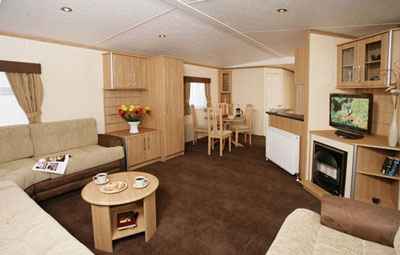 Inside, the comfortable, stylish seating is a massive U-shape. It is snug, looks good and has brown fabric kickboards. Cupboards throughout the unit are in light wood-effect with silver trim and brushed steel handles, each end having an arm, there is plenty of storage space, with room for your occupants – and friends!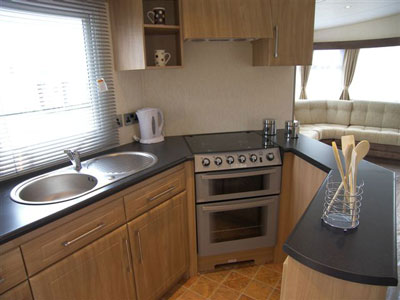 The Denbigh deluxe has a pleasing layout, with no tight corners. The kitchen has ample room for all equipment, such as a microwave, and a little bar hand-over area adjacent to the dining suite.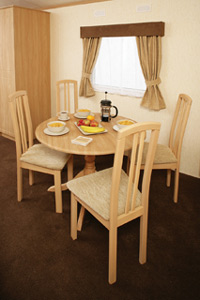 The two bedrooms are, as elsewhere, further adventures in beige and brown with the twin room a masterclass in compactness. The double has a large faux suede bedhead and there are ample wardrobes, shelves and cupboards, with a large walk-in wardrobe that boasts additional shelving.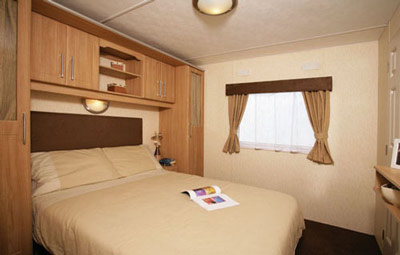 A door leads into the neat and roomy shower room from the master bedroom as well as from the hall.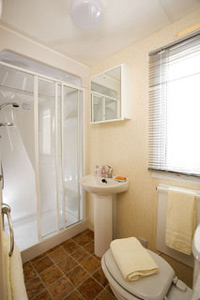 Central heating, double glazing, extra insulation, bedspreads to match the curtains, and a pre-galvanised chassis are optional.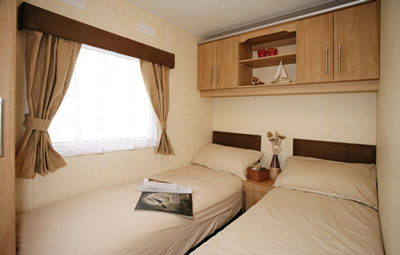 As standard you get panel heaters and plinth heaters, lagged pipes, a gas fire, an integral fridge-freezer, and a large luxury shower with a wide opening door. There are domestic-style panelled internal doors, a vaulted ceiling in living spaces and a quality kitchen.
The range includes a 26ft by 12ft baby, to this largest model. The smallest comes in a choice of one or two-bedrooms – and there are not many one-bedroomed models to choose from nowadays, especially at the Delta Denbigh's price level.
The Denbigh will accommodate a couple and two children (or grandchildren!) with ease, and it is perfect for the couple who want most of the facilities concentrated on the double room.
Main features:
Aluminium-clad exterior with metal pantile effect pent roof.
Large, walk-in wardrobe
Top-quality kitchen
Integrated full size fridge/freezer
Panelled internal doors
Gas fire
Verdict
For those who would like a modern but practical holiday home (trad-mod, anyone?) and are more interested in what it does than having the latest in gadgets, the Delta Denbigh Deluxe is ideal. Indeed, it is refreshing to find that some companies still cater for the good old 'caravan' holiday. That said, the kitchen could hold its head up high in a lodge, never mind a single unit holiday home.
Get a holiday home insurance quotation today from Leisuredays by clicking here.