A hot tub can be a great addition to your static caravan or holiday lodge – but they're not for everyone, and do need lots of looking after.
In last month's community poll, we asked static caravan and lodge owners if they had a hot tub.
Here are the results…
Despite the growth in hot tub holidays, 64 per cent of our poll voters said a hot tub definitely wasn't for them.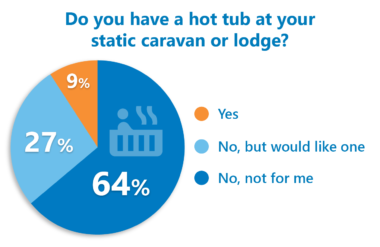 However, more than a quarter of voters (27 per cent) said they didn't have a hot tub but would like one at their holiday caravan.
Only nine per cent of voters said they already had a hot tub at their static caravan or lodge.
Your comments…
Val Pearce was concerned about the noise on her park.
"The caravan behind ours has a blow-up hot tub and the noise from the children using it was horrendous last year. Let's hope the complaints will be taken on board for this summer."
David Knowles isn't a fan either: "Hot tubs require running 24 hours a day to avoid any build-up of listeria and legionnaires infections and most blow-up spas have the cheapest, noisy pumps and equipment, so are not a sociable item in any circumstances," he commented.