Are you looking for a trouble-free 'garden' around your holiday home? I'm sorry but there is no such thing, I've looked for one for years and have discovered that you just can't order in the border or a lawn like a bowling green for the whole season. Children, pets and the inclement weather are the scourge of both; like last year's BBQ summer.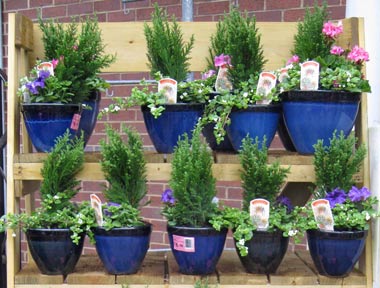 Have you tried herbs and salad crops in baskets or tubs? They are much easier to keep tidy this way, you have the pleasure of eating what you've grown and if you sow seeds regularly you can be eating your homegrown crops all season long.
You can grow several varieties of herbs in a strawberry planter. Mint is best planted in a tub on its own as it has a nasty habit of rampant growth. Rosemary is a fairly hardy perennial shrub. Most plants are ideal in multi-purpose compost but thyme prefers well-drained soil.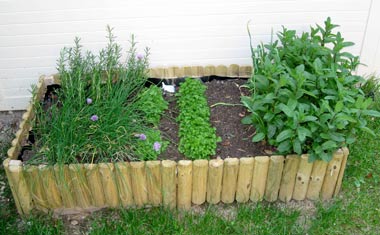 You could try sowing basil and sweet marjoram in individual pots but in cold areas, they might do better on a sunny windowsill over the summer rather than out in the garden. If you grow them in the garden they will like the hottest, sunniest and most sheltered spot in your garden.
Mint, lemon balm and chives form large clumps very easily. With herbs and salad growing in pots on your deck throughout the season means that you can just pull a handful of lovely fresh herbs just as you need them.
Lettuce is a dead easy-to-grow fast growing crop, so you can sow the seeds several times over the season but try choosing varieties that you pick a few leaves at a time rather than a whole lettuce. Try growing different colours in a pot and mix with rocket which adds a peppery bite to salads. Radishes grow well in pots too.
Be careful where you put your tubs as hot summer sun causes greens to turn bitter and go to seed quickly. If the weather is consistently over 85 degrees F, move your container to an area that gets cool afternoon shade.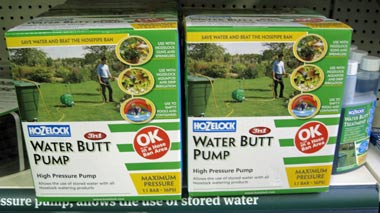 So what happens if you leave your holiday lodge or static caravan for a few weeks at a time during the summer? Well, it's always worth asking your neighbour to keep an eye on it or just take the risk that the garden will be OK. Or you can be pro-active and install an automatic watering system that gently pumps water from the tap to your plants using a simple network of narrow pipes and outlets hidden in the garden. This can be controlled manually or by a timer and can be as simple or as sophisticated as you want. They can work from a water butt, but are more efficient and use less water when you install a garden watering system from your mains water tap. Now that you aren't standing over a hosepipe or heaving watering cans around you could play some garden games; anyone for badminton, skittles or dominoes?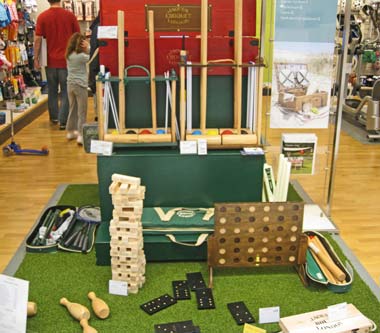 How do you make use of your garden at your holiday home? Let us know by submitting a comment below.
Get a holiday home insurance quotation from Leisuredays by clicking here.