The Eden is a twin unit holiday home for the practical person.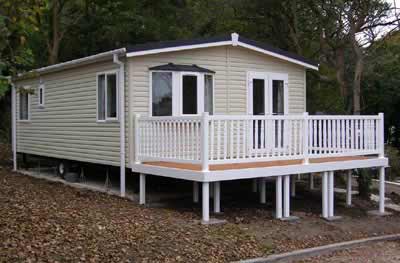 It would perfectly suit those who desire a holiday home that allows them to relax in a pleasant lounge and cook in an easy kitchen.
The Eden doesn't boast too many frills – it's for practical people whose needs are not at all flamboyant and who aren't swayed by the latest gadgets. But it still packs a decent amount of equipment for its size.
It's a neat home with good build quality. The manufacturer behind the new model is Leighton, a new company launched by decking and fencing company Stylique.
The 26ft by 16ft twin home is a popular size in parks with narrow entrances, since it comes in two parts just 8ft wide each.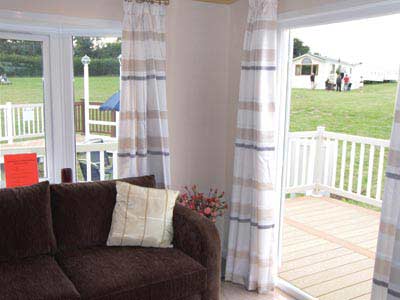 The living area gets papered walls and a wooden ceiling. As well as the bay window there's another set to the side, situated behind a comfortable L-shaped sofa. The lodge gets full gas central heating and a pebble effect electric fire.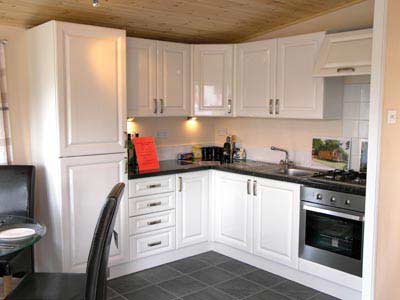 The kitchen area has a modern and contemporary feel, due mainly to its slate effect vinyl floor and polar white gloss colour. Chunky satin stainless steel handles are fitted to the doors and ceiling spots and under-cupboard lighting brighten up the area. It boasts a large fridge-freezer and an oven with a four-burner hob.
The dining area comes with a circular table and four black leather chairs placed in a light corner.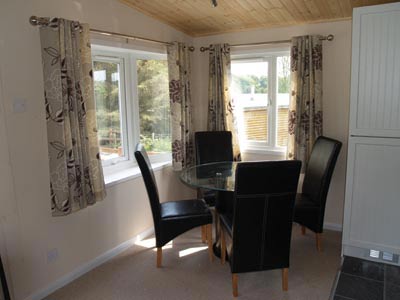 Outside is a decking area and additional decking is available as an option from Stylique, with a range of three types of material available, including a mix of wood sawdust and uv stabilized PVC.
The bedroom areas get stainless steel wall-mounted lights above the beds, the double bed has a metal head as a feature and while the single beds get no headboards there is a chest of drawers between them.
The double also has a roomy wardrobe with sliding, light wood-effect doors. Inside is built-in storage shelving, as well as a dressing table with mirror and light above. The single wardrobe in the twin bedroom is adequate enough for most people's holiday clothes.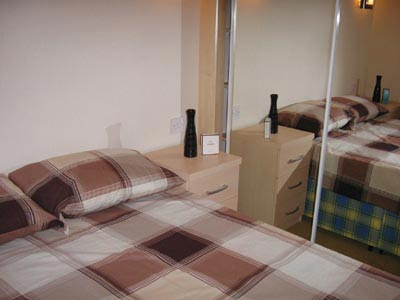 When comes to washing, the Eden offers a shower room fitted with a corner shower and a small basin.
One of the many advantages of buying a Leighton lodge is the access to a host of accessories manufactured by its parent company, Stylique, which offers a lot more than just decking.
There's the option of skirting/cladding to neaten off the sited unit and veranda. All materials are fire and flame spread tested. It also offers a range of sheds and vinyl gazebos etc.
Verdict:
Aimed at the practical rather than flamboyant person, this two-bedroom twin holiday home may lack expensive thrills but it is neat and contemporary.
Source: outandaboutlive.co.uk