We are thrilled to announce that Leisuredays has been shortlisted in the Risk Management category at this year's British Insurance Awards.
Held on the 3rd July at the iconic Royal Albert Hall in London, the Awards will see some of the country's best, most well known insurers gather to celebrate the year's highest achievers.
The Award celebrates our risk management strategy. This strategy is about managing flood risk and ensuring that we are not at unnecessary risk of flood on parks. For instance if a park is at risk of flooding we often work with the park operator and flooding experts to put in place flood defences which mean that the owners of caravans, lodges and park homes can take advantage of our competitive insurance prices.
Even with stiff competition from the likes of Zurich and Ecclesiastical, we are hopeful that we can bring home the silverware.
Chris Nettleton, Leisuredays Director, had this to say about the nomination:
"We are immensely proud to have received this British Insurance Award nomination and to be named alongside such big names. We are always striving to provide the best, most competitive service we can and such recognition shows that we're doing just that."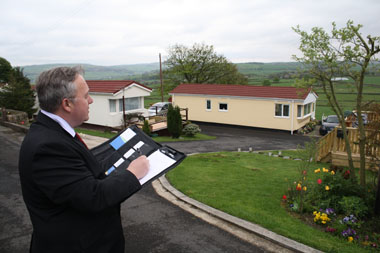 Leisuredays Director, Chris Nettleton, surveys a park