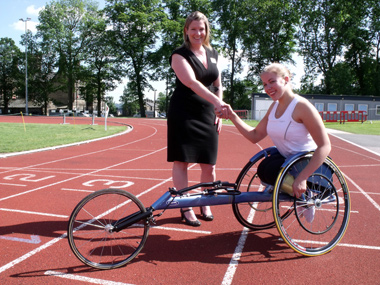 Leisuredays have renewed sponsorship of World Record holding wheelchair athlete Hannah Cockroft in her bid for a place in the 2012 Paralympics.
We recently handed over a £1000 cheque as part of our sponsorship of the 17 year old athlete, and have pledged to continue our support right up to the 2012 games.
Hannah's bid for glory is becoming increasingly likely after an intensive winter training program and new coach seem to have paid dividends, with a string of fantastic results already this season including breaking the 100m, 200m, 400m and 800m World Record in her classification this weekend. In fact, she broke three World records which were held by top UK athlete and Olympic Gold medallist Deborah Brennan, who was also racing in the events.
Hannah had this to say about Leisuredays continued support,
"My competition schedule has increased a lot this year in the need to get qualifying times for the 2011 World Championships that will lead to the 2012 games. The money helps me get to and compete in all these vital races and also have the equipment I need to perform to the best of my ability."
One of our Directors Louise Wilby, visited Hannah at her local training track in Halifax to hand over the £1000 cheque,
"Myself and everyone at Caravan Guard and Leisuredays have been hugely impressed by Hannah's accomplishments over the last few years – her dedication to the sport is astounding and we're extremely proud to be able to support her at the beginning of what we hope will be a long and successful sporting career."
Hannah is a mixed distance athlete and as well as her World Records in shorter distances also won the Virgin Mini London Marathon and recently took silver in the 10k BUPA Great Manchester Run, just behind Paralympic Bronze medallist Shelly Woods.
Our 70 members of staff are kept up to date with Hannah's progress and racing results with regular emails and photos being sent through by Hannah herself – she says it's a two way street and that knowing the whole company is behind her is a real confidence booster.
"The Caravan Guard and Leisuredays staff are there to support me every step of the way. They are interested in all my achievements and are there to celebrate them with me. Everyone there is friendly and full of encouragement and so their well wishes and hard work to help me achieve my dream keep me going even through the long hard winter months of training."