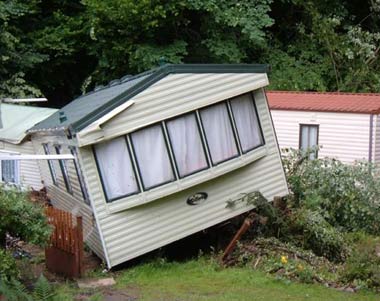 The extremely windy weather during December and the early months of 2012 has caused a 300% increase in static caravan insurance claims for storm damage when compared to the same period a year ago.
The majority of claims have been for roof lights or ceiling vents which have been ripped off or severly damaged in high winds, but damage has also been caused by objects being hurled in to static caravans, with large outdoor structures such as sheds being the main culprit. This highlights the necessity to properly secure any outdoor furniture, equipment, or other objects which could damage your static in high winds.
Sheds can be secured using caravan storm straps with heavy duty screw-in ground pegs. If you have room then consider bringing smaller items inside your holiday caravan or securely tie them to the underneath of your unit. Also consider nearby trees and speak to your park owner should you have a worry about branches which look like they could cause you trouble.
Teresa Eastwood, Claims Liaison manager at Leisuredays, had this to say,
"Whilst the risk of static caravans being blown over in high winds is small the results can be devastating, as part of our standard policy we require all static caravans to be anchored at the corners or fitted with skirting to stop this happening. It's for this reason that the vast majority of claims we handle are for objects flying in to the static caravan in high winds and damaging the side panels, sometimes causing severe damage."
It's easy to see how something like a large metal garden table could cause some serious damage to your static caravan, but even smaller items such as chairs, bird feeders, or rubbish bins need to be secured to avoid damage too.
Teresa also warned about roof lights and other external features being prone to damage,
"Any features that are exposed to the elements on the outside of your static caravan are at risk of damage in very high winds, but items with larger surface areas such as satellite dishes, sky lights or roof lights are particularly susceptible. Always ensure that sky lights, particularly the plastic variety often found on older units, are tightly closed in high winds, and consider removing satellite dishes which could be snapped off and damage your static caravan or someone else's nearby."
Leisuredays provide insurance for static caravans and park homes, both of which include cover for damage during storms. Cover from other insurance companies may be different though, so be sure to check your policy carefully before taking out insurance. If you have any questions, or would like a quick insurance quote, then you can contact us over the phone or via our email form.