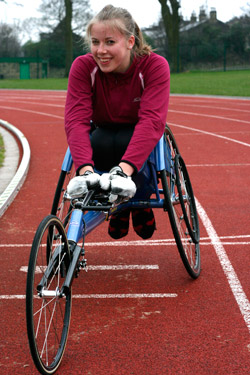 Leisuredays are thrilled to announce that Hannah Cockroft, a budding Paralympic athlete from West Yorkshire who we sponsor, has this weekend (27th May) broken a World Record in the 400m!
Hannah was competing in the 'Knowsley Disability Athletics Challenge' when she broke the 400m World Record in her classification by over 2seconds – beating the previous record which had stood since 2002.
It's a huge achievement which crowns a string of positive results, all of which help her bid to compete in the London 2012 Paralympics. 'UK Athletics' had this to say about her:
"Cockroft's World Record 400m performance at the UKA Disability Athletics Challenge event in Knowsley was an incredible result for the 17-year-old who won UK School Games 100m gold in 2008 and the Mini London Marathon wheelchair race for the first time in 2009. She reduced Deborah Brennan's previous world mark of 1:07.68 – set back in 2002 – by over two seconds."
Hannah also competed in the 10k BUPA Great Manchester Run yesterday and came in 2nd place behind Paralympic Bronze medallist Shelly Woods, and ahead of Paralympic athlete Anne Strike – a fantastic achievement for a budding athlete of just 17.  
To read more from UK Athletics about this weekend's results, or for further info, visit http://www.uka.org.uk/media/news/may-2010/24-05-10-world-records/