Back in December we asked you what it was that made you choose your current holiday park. Naturally, you want to find the right park to suit your needs, but what was the deciding factor for you and your family?
Typically, it's things like site fees, area and good facilities that attract people to a park, but are there any other features to look out for?
Susan got in touch to tells us that for her, location is key, "I find where my static to be so convenient! I can get a bus to the main area of Swansea and take a ride into town! The staff are so helpful when you need something, it's a great place to be!" 
Management standards were also very important to George, who got in touch to say, "The owners are extremely pleasant and helpful. The park is very well laid out and no caravan older than 15 years may remain on the site. It's grandchildren & dog friendly and there are no fast food or alcohol outlets on site."
It's now time to reveal the results
Over 200 of you voted this time around and despite having eight options to choose from, there was one clear winner.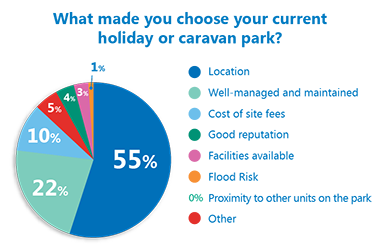 With over half of the overall vote, 55% of you told us that is was the location of your park that made you choose it.
Well-managed and maintained parks also ranked highly, receiving 22% of the final vote. 10% of voters said that the cost of site fees influenced their decision making, followed by reputation, facilities and flood risk.
Let's take a look at some of your comments…
Les chose his park because of its "low fees, location, fishing facilities and lovely walks up the river." 
Elizabeth, meanwhile told us her park at Cairnsmill was "well managed and maintained", adding "I can be sure of instant support and attention if a problem arises. Knowing they care about the caravanners is a source of comfort and relief."
Is location everything to you?
We would love to hear if you agree with the majority vote – is location one of the most important things to consider when choosing a park, or should other factors take priority? Share your view in the comment box below.