With great shows like the Caravan Extravaganza Hull and Holiday Caravan Show Beaulieu in recent weeks, and the upcoming Motorhome and Caravan Show NEC 2014, static caravan and holiday lodge enthusiasts are being tempted with 2015's biggest and best new models.
So with this in mind, last month, we wanted to know which manufacturer you had your eye on.
There were plenty of top names to choose from including Victory, Swift, Pemberton and Carnaby…but who did you vote top manufacturer for 2015?
Let's reveal how you voted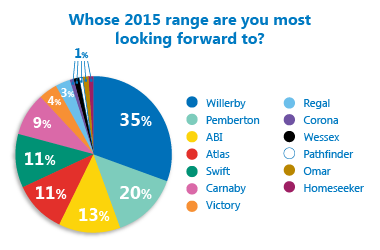 You crowned Willerby your winner with a huge 35% of the final vote. In second place with a very respectable 20% is Pemberton, followed in third place by ABI.
Rounding off the top five we have Atlas and Swift.
Do you agree with the 35% majority?
Have your say in the comment box below.