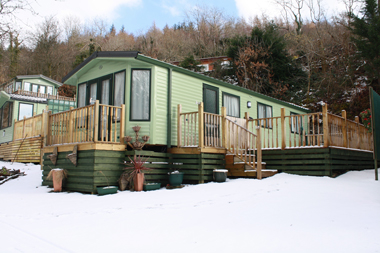 Last year's extensive snow fall saw a huge number of static caravans and holiday lodges damaged, many with buckled roofs that simply couldn't support the sheer weight of the snow. It's something that is extremely hard to protect yourself against, and with heavy snow fall and icy conditions forecast again this winter season, it's important that you have adequate holiday home cover in place.
James McConnell runs a park in the North East and his customers were on the receiving end of Mother Nature's worst last winter,
"The Damage was really odd, I've never seen anything similar in 27 years of park operations, we had so much snow that the weight of it buckled in the roofs."
Leisuredays insure many customers on his park, and out of this there were 15 holiday homes that were damaged by the unprecedented amount of snow and ice. The claim was settled in a matter of weeks.
Sharon Hudson is one of our Claims Liaison Officers, and worked closely with the customers, the park and insurance underwriter RSA to ensure the claim moved along quickly and was dealt with fairly, she explains why the snow caused such a problem,
"The unprecedented amount of snow that fell last winter caused problems for hundreds of our customers, but this park in particular was very badly hit because of its position in the North East, one of the worst affected areas. Because there was heavy snowfall for a prolonged period of time the snow built up on the roof of the units and became more and more compacted until the roof simply couldn't support the weight, and buckled under the pressure."
It's certainly not a situation that we are used to in this country, but with heavy snow predicted again this winter it's a story which highlights the need for extensive cover from a company which has a proven track record.  Leisuredays this year won Customer Service Provider of the Year thanks to the outstanding service we offer holiday home customers, and Park Operator James certainly seems to be happy with the level of service his customers received when the snow hit,
"Leisuredays were on the case pretty damn quick. All my customers who were with Leisuredays had their claims approved in a matter of weeks; some who chose to insure with others have still not got a settlement 8 months later."
To sample our award winning customer service, even if it's just for a few minutes to get a quote, please call 01422 396 819 or get a quote online by clicking here.