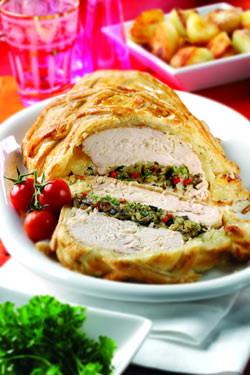 Turkey doesn't have to be just for Christmas; with Easter just a few weeks away, another time for family get-togethers, this recipe is ideal as it can be prepared ahead leaving you time to Hunt the Easter Eggs and it's easy to carve too.
En croute means baked in pastry and don't feel guilty about buying ready to use pastry for this recipe; life's too short to make puff pastry!
You must leave the stuffed turkey breast to cool completely before you wrap it in the puff pastry.
Preparation:     30 minutes (plus cooling and chilling)
Cooking:     1 hour 50 minutes
Serves: 8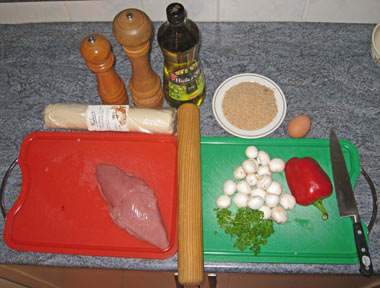 What you need:
2 x 500g/1lb 2oz British Turkey boneless turkey breasts
2 tablespoons olive oil, (plus a little extra for greasing)
125g/4½ oz Portobello or white cap mushrooms, peeled and finely chopped
½ red pepper, deseeded and finely chopped
3 tablespoons chopped fresh parsley
100g/4oz fresh breadcrumbs
1 egg, beaten
Salt and black pepper
550g/1½ lb ready to use puff pastry
Milk or beaten egg, to glaze
What you do:
Preheat the oven to 180C/350F/Gas 4.
Heat the oil in a pan and add the mushrooms. Fry for 5 minutes, then add the red pepper and cook for a further 2-3 minutes. Remove from the heat and transfer to a bowl. Stir in the parsley, breadcrumbs, beaten egg and seasoning and leave to cool.
Spread a large sheet of foil onto a large roasting dish and brush with olive oil.
Place one turkey breast in the centre, cut side up and spread with the stuffing, pressing it down in an even layer. Lay the second breast on top, cut side down.
Wrap the foil around the turkey, folding the edges over to make a tight seal. Now pop it in the oven and cook for 1¼ hours. Leave it to cool completely before unwrapping the turkey.
Roll out about one-third of the pastry into an oblong, and lift it on to a baking sheet. Place the turkey in the centre – the pastry should be large enough to leave a border of about 2.5cm/1inch all around. Roll out the rest of the pastry large enough to cover the turkey. Brush the pastry edges with milk or beaten egg and press them together to seal. Decorate the parcel with any pastry trimmings, and brush these with milk or beaten egg to fix in place. Now chill the pastry wrapped turkey for 30 minutes or until you are ready to cook it.
Preheat the oven to 200C/400F/Gas 6. Brush the pastry with milk or beaten egg to glaze and bake for about 25 minutes or until puffed and golden brown. Serve it with a selection of vegetables.
Tip: When cooking the pastry-wrapped turkey, use a baking sheet with a lip, or a shallow roasting tin, to prevent any juices that run out burning on the bottom of the oven.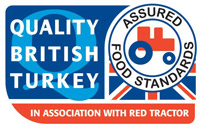 © The British Turkey Information Service