by Liz King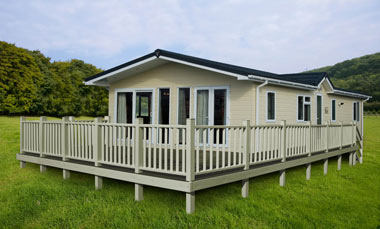 New from Victory Leisure Homes is a three bedroom Versailles holiday lodge. Using the same footprint as the two-bedroom version introduced last year, it has the advantage of an extra bedroom, but loses the utility room seen in the two bedroom model, but gains an entrance hall.
There's another advantage too; a dedicated entrance door into the hall instead of using the French doors in the living area. The living areas are to the left of the hallway with a door into the open plan living/kitchen area and the sleeping quarters are to the right.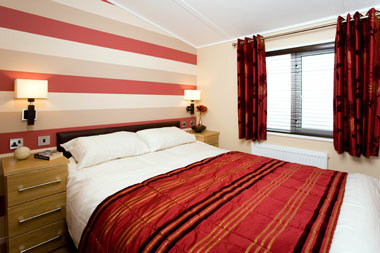 The Victory Versailles master bedroom finds room for a 4ft 6ins x 6ft 3ins bed which has an upholstered headboard and comes with bedding set, (duvet, duvet cover, pillows, pillowcases & contrast decorative throw). There is a feature wall behind the bed and we rather liked it! The en-suite shower room has his and hers countertop basins; will "he" clean his own basin, I ask.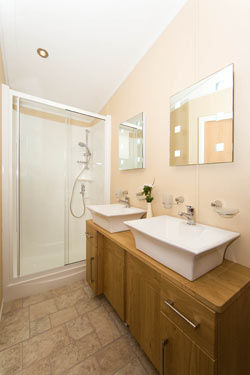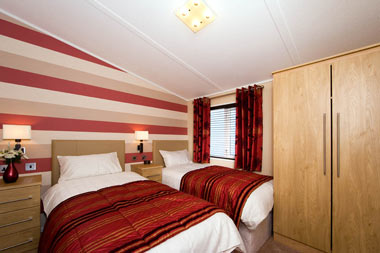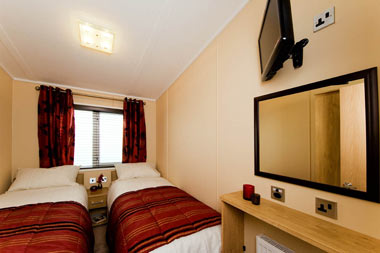 The second bedroom has twin divan beds, 3ft x 6ft 3ins and the third both have upholstered headboards and come with bedding sets but there's no feature wall in bedroom three. The family bathroom is uncluttered and we liked the vinyl floor as opposed to carpet.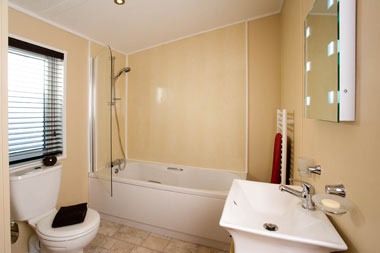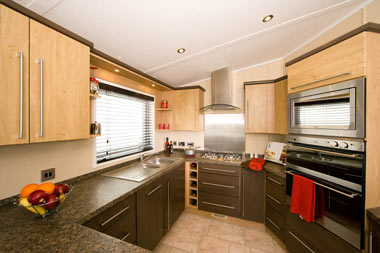 We liked the contrasting wood and sepia base units and wall cupboards in the kitchen which we thought was well specified and would be quite happy being chef for the day. Opening on to the dining area and with a breakfast bar, it's practical and light too. The floor in the dining area benefitted from a vinyl covering; so much easier to keep clean.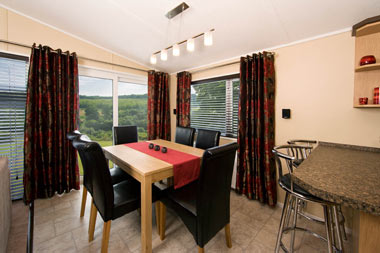 The living area with its two sofas, although covered in a light fabric we thought it was durable, seemed light even though the curtain fabric was very contemporary chocolate and red pattern.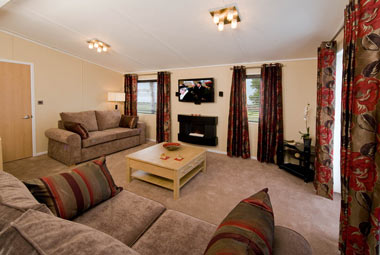 Verdict
The Victory Versailles has a bold interior colour scheme and yet a feeling of space. The better level of insulation, the greater heating efficiency and a more robust build of the residential specification will allow more comfortable use of the holiday lodge in the shoulder season, even if using it for just holiday or weekend use, so it's probably worth considering as so many parks have a holiday licence that covers the cooler times of the year.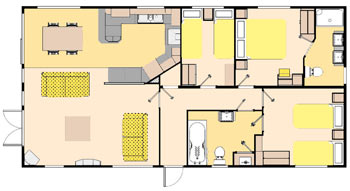 Specification
Size 40ft x 20ft
Twin unit
Built to residential park home specification BS 3632 as a norm, but can be dual registered to EN 1647 standard for holiday use only.
Cladding; Plank effect Cellutex cladding
Steel chassis with galvanised corner steadies
Number of bedrooms; 3
Options; Timber or Canexcel cladding, washing machine or combined washer/dryer and TV/DVD/iPod entertainment package.
Maximum Room Sizes (wall to wall)
Bed 1 – 2967mm x 2909mm
Bed 2 – 3014mm x 2909mm
Bed 3 – 2909mm x 1970mm
Lounge – 5057mm x 3066mm
Kitchen/Dining – 5861mm x 2796mm
To convert to imperial measurements, divide the metric measurements by 304.8
Price is available from Victory Leisure Homes.
**The price quoted will exclude delivery and installation and any other costs as determined by the manufacturer, distributor, dealer or park owner. Please check the price carefully before you commit to purchase, as prices vary considerably dependent, amongst other factors, on the geographical location of your chosen park.**
More information: www.victoryleisurehomes.co.uk
Get a holiday home insurance quotation from Leisuredays by clicking here.