The Victory Versailles lodge is one of the new models introduced by Hull based Victory Leisure Homes this year. It has bags of space packed into a 40ft x 20ft body shell.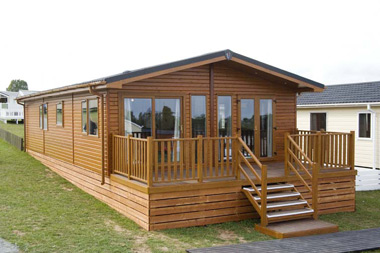 Interesting design features like the striking chocolate and red full length curtains in the open plan living area and the black Venetian blinds set the scene for the décor.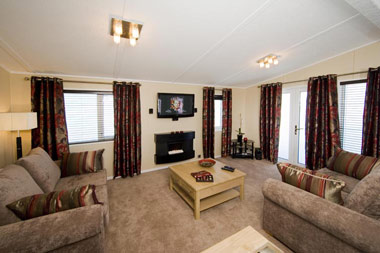 Two sofas were arranged in a cosy L-shape, good for generating conversation, around the electric fire, with a well placed large square coffee table nearby.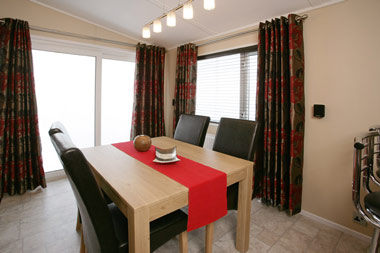 If you like entertaining and treating your family or friends to a meal, then the dining area is comfortable and practical; the black leather upholstered chairs coordinated well with the colour scheme.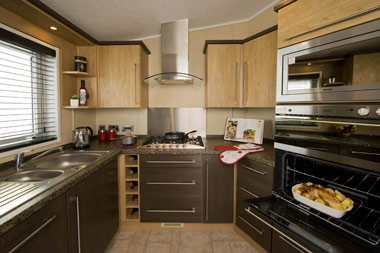 We liked the practical laminated tile effect floor which extended from the dining area into the kitchen and it's definitely the sort of kitchen, including a breakfast bar, which we'd be happy to use, given the equipment level. With extra storage in the utility room where there's a door to the exterior too, it's user-friendly.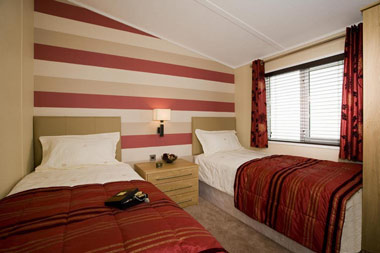 The second bedroom has 6ft x 3ft divan twin beds with a freestanding central bedside table and the feature wall behind the beds is, well, a real feature with wide stripes of mushroom, cream and claret colours which co-ordinate well with the sill length curtains and bed runner. It might have the Marmite effect but we liked it. Jack and Jill doors lead to the bijou shower room.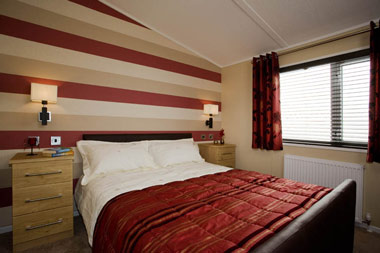 A lift-up king size bed in the good sized master bedroom adds extra storage space and the headboard and footboard co-ordinate with the feature wall. A dressing table and a chest of drawers are complemented by a compact dressing area with wardrobes.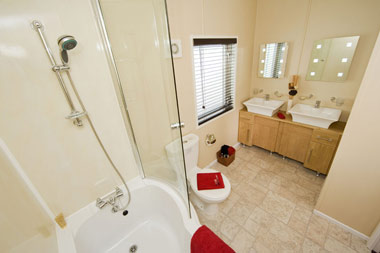 The en-suite bathroom with a P-shaped bath has a surprise: his and hers washbasins.
Verdict:
The Versailles is surprisingly well equipped and designed. It definitely has an up-market feel to it with good use of colours. It's spacious and needs a well chosen plot to maximise the French doors on the front aspect. A three bedroom version will be manufactured in 2011.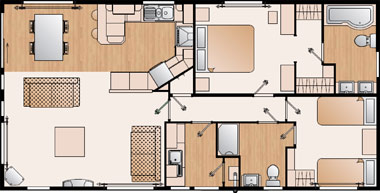 Specification
Size 40ft x 20ft
Built to BS3632 residential standard
Steel chassis with galvanised corner steadies
Plank effect Cellutex cladding
Vaulted ceilings
Room sizes
Master bedroom: 3.2m x 2.9m
En-suite bathroom: 1.7m x 2.9m
Dressing area: 0.8m x 1.9m
Second bedroom: 2.9m x 2.9m
Shower room: 2.1m x 2.1 max
Utility room: 2.5mx 1.8m
Kitchen: 2.8m x 2.9m
Living area/dining area: 5.00m x 6.00m overall dimension
(To convert to imperial measurements, divide the metric measurements by 304.8)
Options
Exterior cladding: Genuine timber cladding £1450.00
Three wall mounted televisions with Blueray DVD, iPOD docking stations and surround sound package
Integrated washing machine
Integrated washer/drier
More information about this holiday lodge:
www.victoryleisurehomes.co.uk
More information about insuring your holiday lodge.
What do you think about the Versailles lodge? It certainly has some very modern design features. Love the colourful bedrooms? How about the 'his and hers' washbasins?