The new Linear from Willerby's three model Bluebird range is, at first glance, an imposing and very modern looking holiday caravan. It comes in two versions, a 40 x 13, two bed model sleeping six and a 40 x 13 three bed sleeping eight. The range is also offered with a residential specification to the usual BS3632.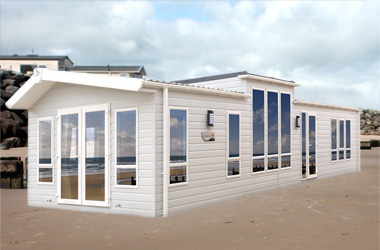 An unusual aspect of the Willerby BK Bluebird Linear its central 'dormer' style section which features huge windows. The caravan comes with either French doors or standard windows in energy efficient white PVCu and are, of course, double glazed.  The exterior is clad in high performance rigid white vinyl with an overhang to the front and rear and would look quite stunning in any setting – especially so near the coast.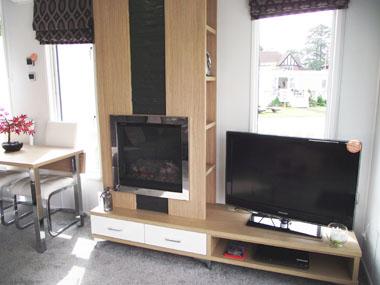 The roof features a pleasing asymmetrical line and is made up of sturdy steel pantile roof sheets. It sits on a fully glavansied chassis (again, important if situated close to salt air conditions) and has moulded GRP bargeboards, underfloor insulation with fully lagged pipework and under-canopy exterior lighting. In other words, fully protected from the ravages of weather in every way possible!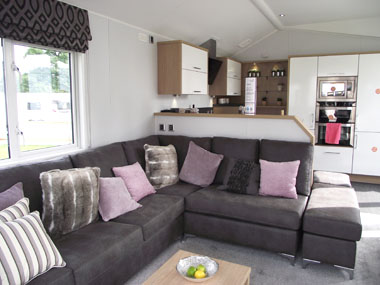 Options for the exterior include genuine timber cladding, Canexel aluminium and environmentally friendly windows.
As soon as you step through the double French patio doors you are immediately struck by the open plan design of the Linear. Large windows allow natural light to flood in and the monochromatic colour palette creates a modern, minimalist style. Central in the lounge is a feature fireplace with slate effect detailing and a flame effect electric fire (a gas fire is available as an option).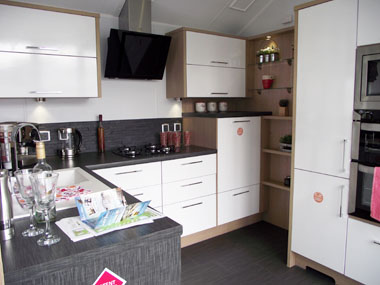 Drawers below offer useful storage and to the right is a low TV/digibox unit (an optional MP3 player can also be fitted). Seating is in the form of a large L-shaped faux leather sofa with a fold-out occasional bed and accessorising scatter cushions which compliment the blinds and curtains. The pitched ceiling has inset lighting and a centrally placed wooden coffee table completes the scene.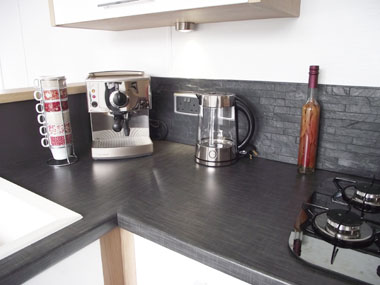 Moving from the lounge into the kitchen/dining area, the dining table seats four – two on conventional chairs and two on a padded Ottoman style box bench with storage under. The kitchen itself is in the form of an L-shape with masses of storage in cupboards and under counter units. Standard appliances include an integrated fridge-freezer and microwave oven along with a double gas oven, hob and grill. Options include a washer/dryer and dishwasher.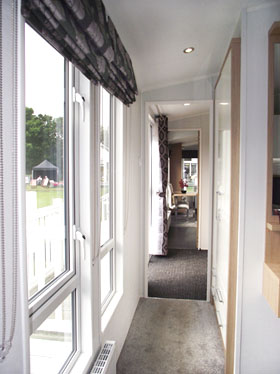 Tile effect vinyl flooring and an elevated ceiling make for a stylish and easy to keep clean kitchen; there are plenty of food preparation surfaces and the slate grey counter tops and high gloss white cupboards and brushed aluminum appliances give the whole area a smart, contemporary feel. This is a kitchen meant for serious cooking – not just heating up the odd curry in the microwave – although this, too, can be done with ease!
A door leads from the kitchen into a small central porch/lobby where the front door is situated, and then to the main accommodation of the Linear. Immediately on the left is the family shower room with large, walk-in shower and a dual flush toilet. Along one wall is an array of storage units, a big mirror and integrated wash basin. There is plenty of space on the unit for tooth mugs, brushes, oils, potions and towels. It's also worth mentioning that the three bedroom model also features a second toilet.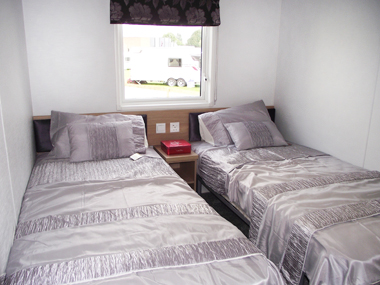 Next, on the left, is the twin bedded room; a cosy space with a central, small, shared bedside table, lights, power socket and, above, a window. At the foot of the beds, a small but adequate wardrobe provides clothes storage.
The master bedroom of the Bluebird Linear has a king-sized bed (standard double on the three bed model) which lifts up to provide bedding storage, is offset from the centre of the room and with bedside tables either side. Above, a linear set of cupboards with under lighting provide storage as does a set of drawers. There is also an attractive down-lit featured wall panel adding a touch of luxury. Numerous narrow shelves could be useful for nick-nacks and ornaments.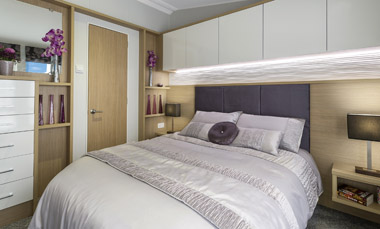 A door leads off to the en suite with its thermostatically controlled shower, WC and wash handbasin. The colour scheme used in the bedrooms on the Linear carry on the light, sophisticated theme set by the lounge – muted colours which are easy on the eye.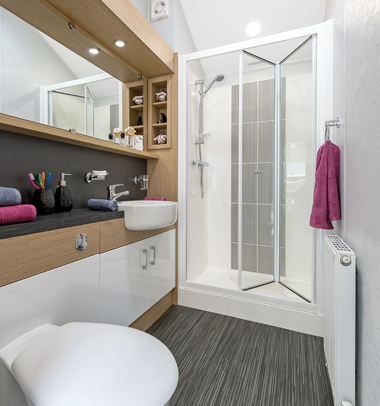 Verdict
For those looking for something a little different, the Willerby BK Bluebird Linear won't disappoint. The spacious, contemporary styled open plan interior, huge windows and a chic colour scheme give this home a striking, sophisticated feel – boutique hotel, if you will. Willerby also offer an array of optional extras which make this home well worth a second look.

Ex works price: £50,666 inc VAT
Visit the Willerby website for further information.
Could you see yourself in this caravan? Why not add a comment below
*Additional charges will be made by park operators, and or distributors for the transportation and siting of your unit. Please check the price carefully before you commit to purchase as prices vary considerably dependent, amongst other things on the geographical location of your chosen park.