New for 2016, two models with ingenious design features and new layouts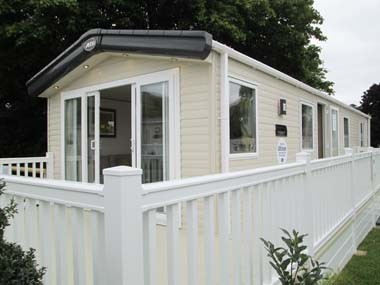 The Harewood from veteran caravan manufacturer ABI Holiday Homes has been specifically designed as a mid-priced holiday caravan and for the first time this year is available in both standard and residential specifications. The model we looked at was the 40ft x 12ft 6in two-bedroomed version.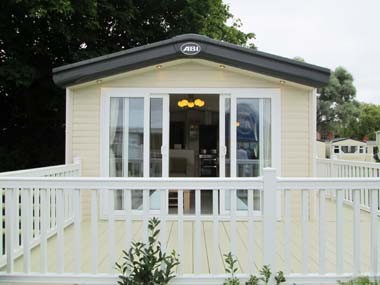 From the outside, the caravan displays a fairly standard configuration in terms of looks. It's clad in aluminium in a pale cream colour and has a black steel pantile roof, white uPVC guttering and downpipes with a nice overhang in charcoal to the front elevation.  This overhang also incorporates four downlighters set above a set of large sliding patio doors.
The windows are all uPVC frames and uses ABI's special low 'E' Thermaglass double-glazing. The caravan is mounted on a steel, pre-galvanised twin axle chassis.  It might be worth considering upgrading to a fully galvanised chassis, which would benefit from ABI's 10-year warranty. We also think it would be money well spent, considering most holiday caravans are situated near coastal areas with all the associated problems of salty air, winds and general corrosion.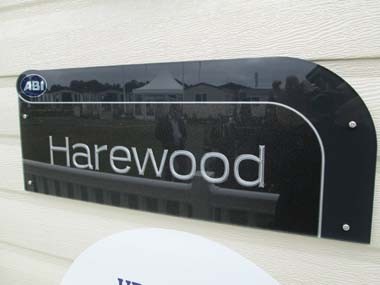 Insulation on the ABI Harewood is 100mm in the roof and below the floorboards with 50mm in the walls. ABI also offers buyers of the Harewood the option of a special Winter Premium Pack, which they've designed to keep the caravan warm and cosy during the cooler months.  These packs include things like 300W heaters to all bedrooms, heated towel rails and domestic central heating. If you enjoy using your caravan 12 months of the year, it 's worth considering.
As well as the front patio door, the caravan has four good-sized windows down both sides and, on the right side, a main 'front' glazed door with exterior light to one side.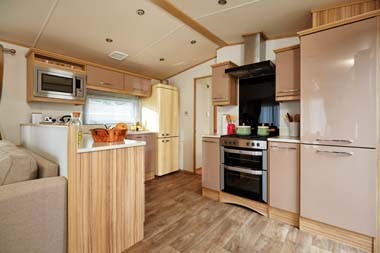 Stepping into the caravan from the side access door, you have the kitchen ahead and the dining area to your left. A smart, free standing square wooden table on a single leg has four upholstered chairs and is set in front of a side window. There's a modern three-globe light fitting above and a radiator behind.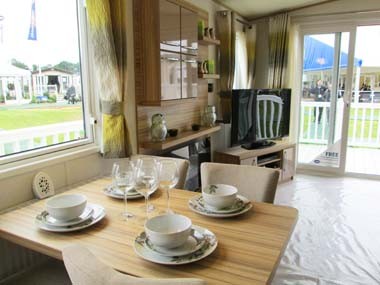 The  lounge has  an L-shaped corner sofa unit which ingeniously incorporates a fold down double bed.  Move a few of the seating cushions and pull the bed down from its hiding place in the wall!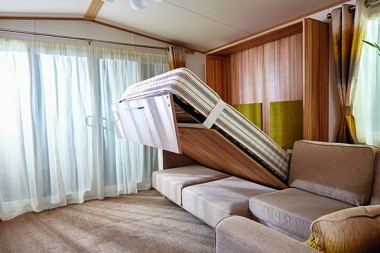 I remember this method of producing a double bed in the holiday caravans of my youth and it's still exciting to watch the mechanism operate, like something from Thunderbirds! A standard fold-out version is also available.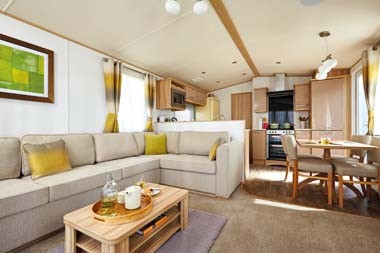 The lounge is fully carpeted and the delineation between lounge and kitchen is by a nice curve in the floor covering. Opposite the seating area is a feature wall unit with four slimline cupboards and three 'floating' shelves, set above a black flame-effect electric fire.  The colour combination here is light oak timber, dusky pink doors and accents of green!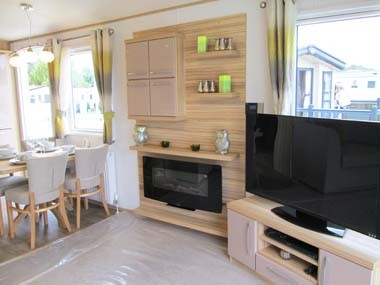 To the right of this unit, there's a standard TV and DVD/satellite box table with DVD storage able to accept a 32inch flat screen television (available as an optional extra). Curtains, fabrics and scatter cushions all co-ordinate nicely with the furniture and the overall impression is of a retro feel. The ceiling is vaulted and trimmed in timber and there are two pendant lamp fittings.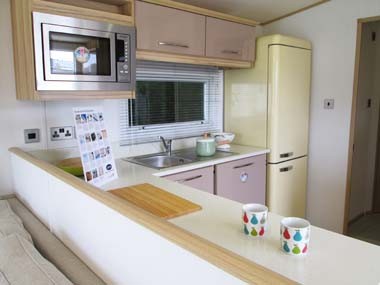 The kitchen is a split affair with units in an L-shape to the left, with the sink and a separate set of units and cooker to the other side.  This arrangement allows much more room to move and means the door to the bedrooms is offset to the left.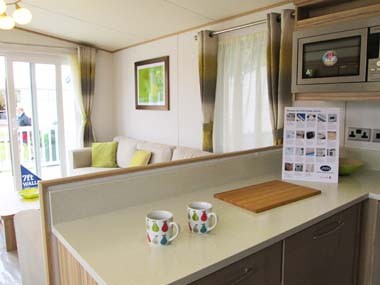 A range of cupboards sits below a wide counter top which separates the kitchen from the lounge.  All doors and drawers are fitted with soft close mechanisms and the door faces are in that same dusky pink colour as those in the lounge. A built in microwave is fitted along with long, thin wall cupboards above the sink and the window has venetian blinds. There's a feature free standing fridge freezer in a retro style with rounded corners.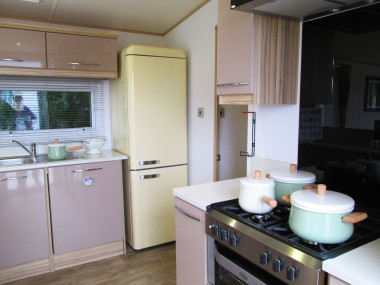 The other side of the kitchen has a four-burner cooker with separate oven and grill, with externally vented cooker hood.  Wall and floor cupboards are fitted to either side of the cooker and a large cupboard on the right near the front door houses the Harewood's gas combi central heating boiler. Splitting the kitchen in this way is interesting and unusual but seems to work, although the combination of timber trim, pale yellow fridge, dusky pink units, glossy black cooker and chrome microwave might be a little frantic for some tastes.
At the back of the caravan, a kinked corridor has a door on your left taking you into the shower room. It's a simple room featuring a shower cubicle, handbasin and toilet along with a mirrored cabinet.  The walls are easy to clean white and there's a vinyl floor. It's not the biggest shower room we've seen, but it's functional and that's all you can ask.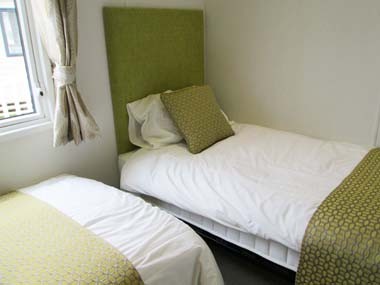 Opposite the shower room and to your right is the twin bedroom. We really like what ABI have done here. Instead of having the beds side by side in the usual way they've put them at right angles to one another thus giving the room a really spacious feel. There's also a double wardrobe with drawers and over bed cupboards with neat integrated LED light strips set into the cabinet tops.
Bedding and covers are plain white with a green accent in the throws and the beds have green padded headboards.  The overall impression is of a stylish and comfortable space, ideal for children or adults. So much better than having to struggle down a thin strip of floor between side-by-side beds!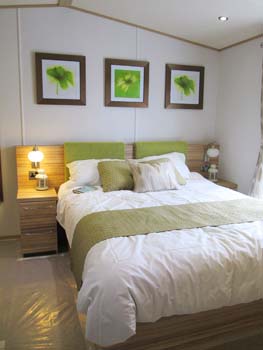 The rear portion of the Harewood is taken up with the master bedroom and its associated en-suite bathroom. Again, ABI have worked wonders with the space, fitting in not only a huge double bed (pocket sprung mattress available as an option), but wardrobes, shelves and a vanity unit with stool, a mirrored dressing table and bags of storage in drawers.  Again the colour scheme is a restful light timber with green accent and discreet LED lighting in the cabinets.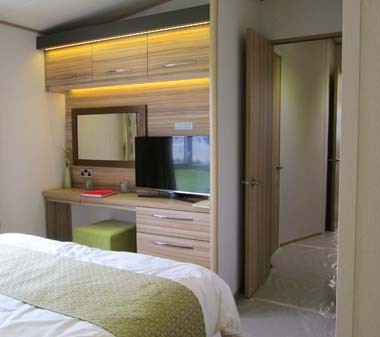 The en-suite boasts a full-length bath with hand shower, a small handbasin and double flush toilet. The handbasin is a bit of a squeeze to get at, but is usable – just! There are feature décor panels above the bath and the room has a bright, airy feel. It would have been nice to have some storage for all those bottles and potions here, but it's difficult to see where a cabinet could be fitted.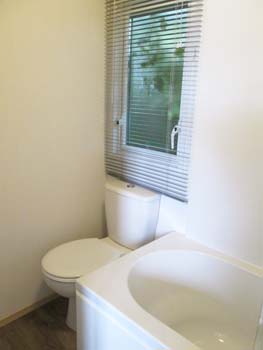 Verdict
ABI have taken the standard static layout and turned it on its head with the Harewood. The wall bed, retro styling and unusual kitchen layout make it stand out from the crowd. We could see this one finding favour with young, forward thinking families.
Plus Points
Clean, contemporary styling throughout.
Concept design features.
Ingenious positioning of beds in the twin bedroom.
Minus Points
Combination of colours in the kitchen may not be to everyone's taste.
In-a-Nutshell
A pioneering design concept that offers flexibility at an excellent price.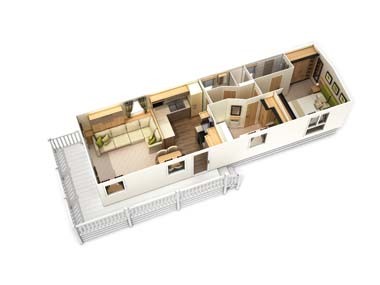 FACT FILE
Size: 40ft x 12ft 6in
Build Standard: EN 1647.
Berths: 4, in two bedrooms (one twin and one double). Plus an extra two on a pull-down wall bed in the lounge.
Other layouts available: 40ft x 12ft 6in three bedrooms (two twins and a double).
Key optional extras: Can be supplied as residential specification to BS3632 with all the usual increases in specification and enhancements this brings; integrated microwave; washing machine; 32inch television; fold-out bed in lounge; fully galvanised chassis; Bluetooth sound system; pocket sprung mattresses.
Ex works price: £42,384.58 inc VAT*
For more information e-mail [email protected] or visit www.abiuk.co.uk
*Additional charges will be made by park operators, and/or distributors for transport, siting and annual maintenance. Please check the price carefully before you commit to purchase, as prices vary considerably dependent, amongst other factors, on the geographical location of your chosen park.