Back for 2016 with a host of refinements, the Carnaby Serenade is a striking static caravan!
The Serenade from Carnaby Caravans is one of their most popular models and comes in two configurations. We reviewed the 39ft x 12ft two-bedroomed model – the first in the line-up of two that runs up to a 39ft x 12ft 3-bed model sleeping up to eight.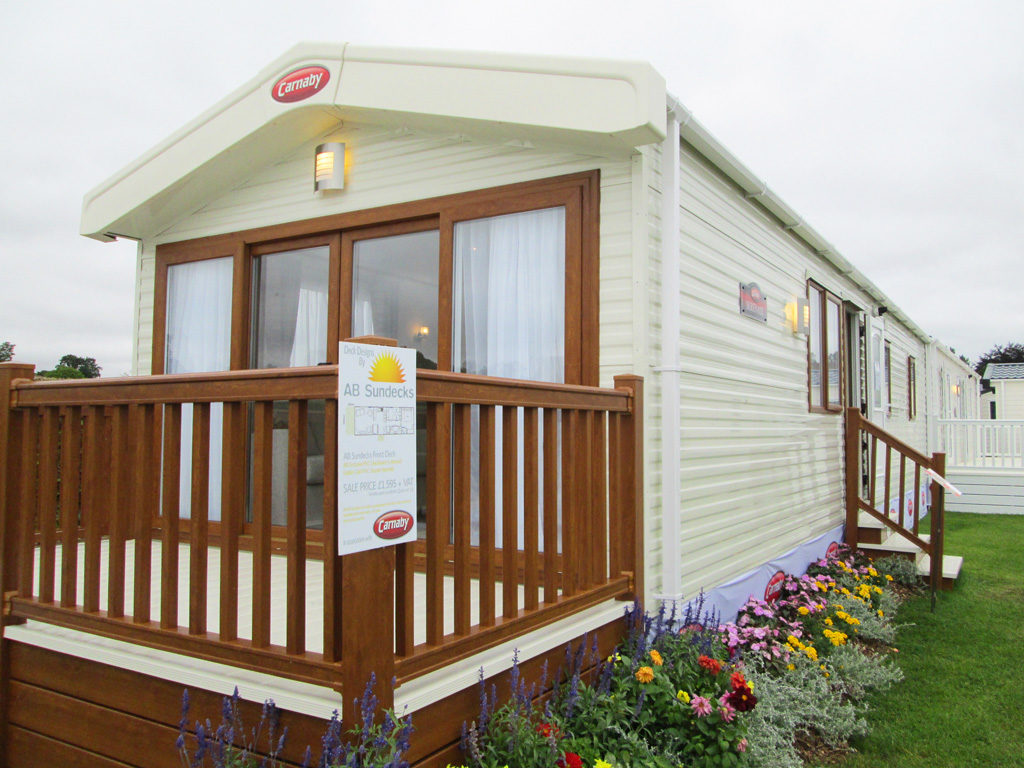 Outside, the Serenade has front facing patio doors with two tall windows either side and a side access door with external light. There are a range of cladding options available from standard aluminium to plastic, real timber and the ever-popular Canexcel cladding in a range of colours.  Our review model was in standard aluminium in a light creamy.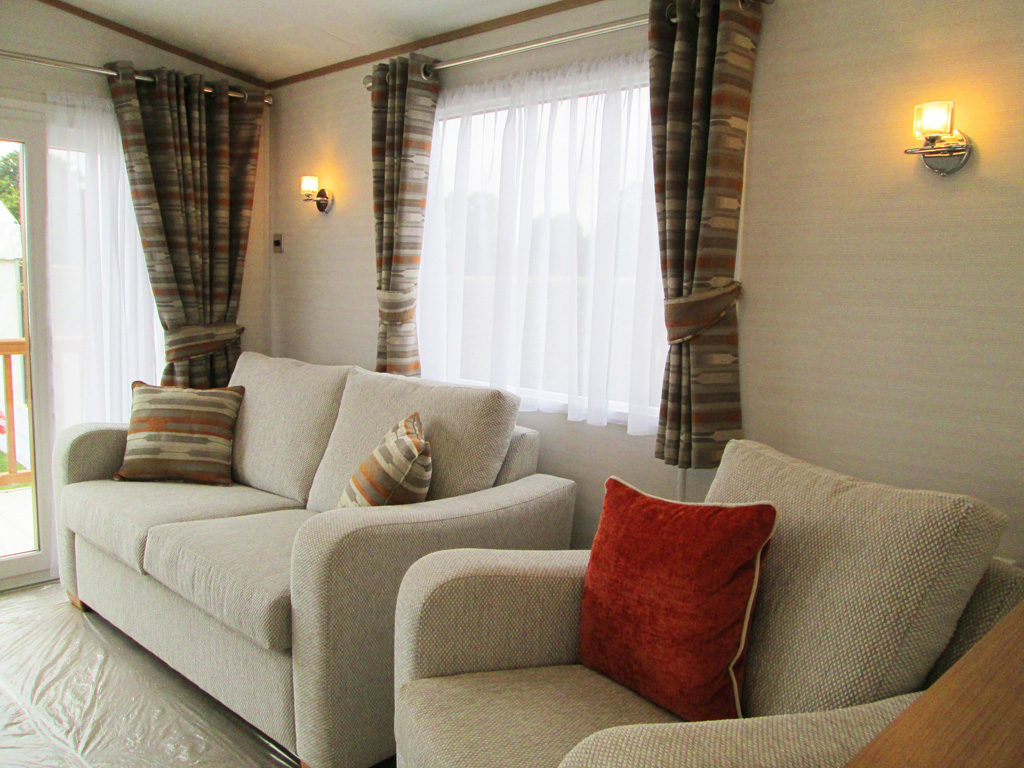 There are plenty of windows – four large lights down each side and four individual ones to the front plus a fully glazed 'front' door.  uPVC is available as an optional extra as are frames in three colours, ours being a wood effect medium brown which gave a nice contrast to the rest of the unit. The caravan features a painted steel chassis with galvanised legs and reversible towbar. Fully- and pre-galvanised chassis are also available.
The normal insulation specification is provided in walls (25mm), roof (120mm) and underfloor (25mm) but Carnaby also offer a beefed up package of insulation they call Ultrawarm which, for the extra money, seems worthwhile, especially if you want to get the best value from your investment by using it 12 months of the year. This package also extends to a wet system radiator network with thermostatic valves throughout the caravan.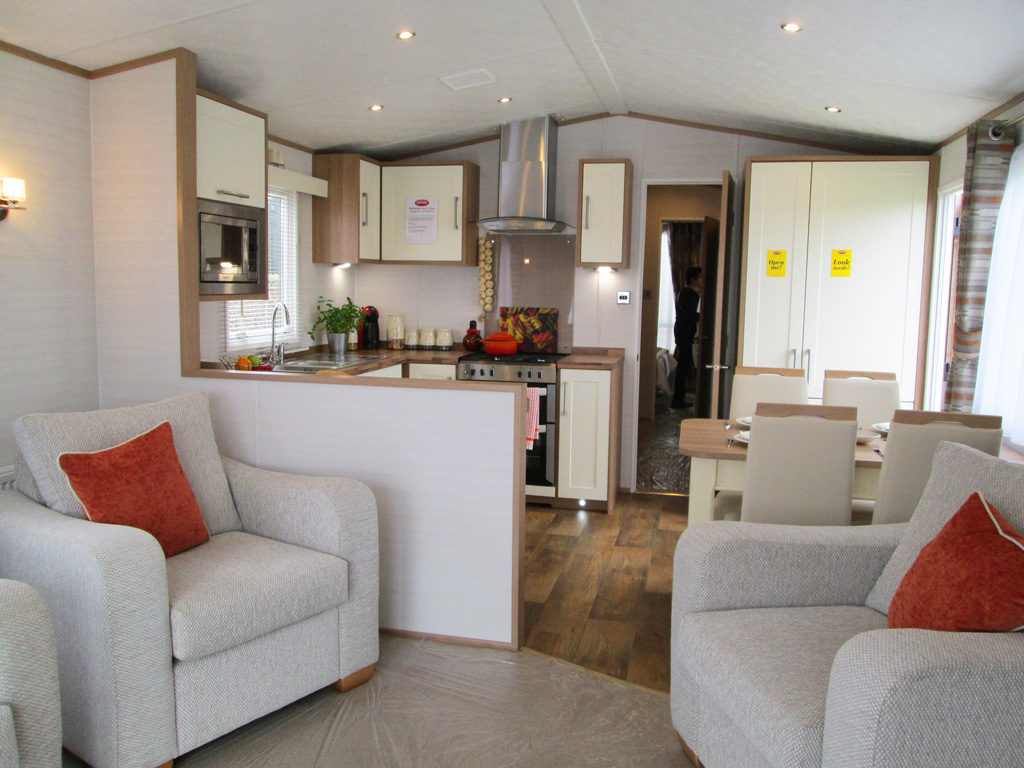 Stepping into the lounge is a pleasant experience, made more so by those huge patio doors and windows to the front of the caravan. Walls are decorated in a light hessian effect covering, and the beige fitted carpet and light sofas and chairs add to the impression of a light, airy space.
Furniture in the lounge comprises of twin free standing armchairs and a two-seater sofa, which also doubles as a pull out bed for occasional visitors. There's also a corner TV unit with shelves and a central coffee table set in front of a stylish MDF central fireplace with integrated gas flame effect fire.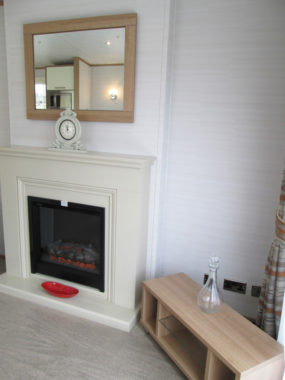 Curtains and cushions are a combination of reds and browns with the drapes themselves being fitted on rods. The lounge is wired with what Carnaby describe as a media hub and has twin USB charging sockets and the option of Bluetooth ceiling speakers. There's also a TV point with mains socket, co-axial socket and HDMI output. Altogether this room would be very comfortable and a great place to relax and enjoy some canned entertainment after a busy day sunning yourself on the deck!
Once relaxed, you'll probably fancy a good meal and the Serenade's large, C-shaped kitchen would be just the place to prepare it. Featuring a lovely array of under-the-counter cupboards and drawers, there's plenty of room for all of your kitchen paraphernalia. There's also wall cupboards including an integrated microwave oven and a large four-burner cooker with oven and grill, with a smart stainless steel extractor hood and vent.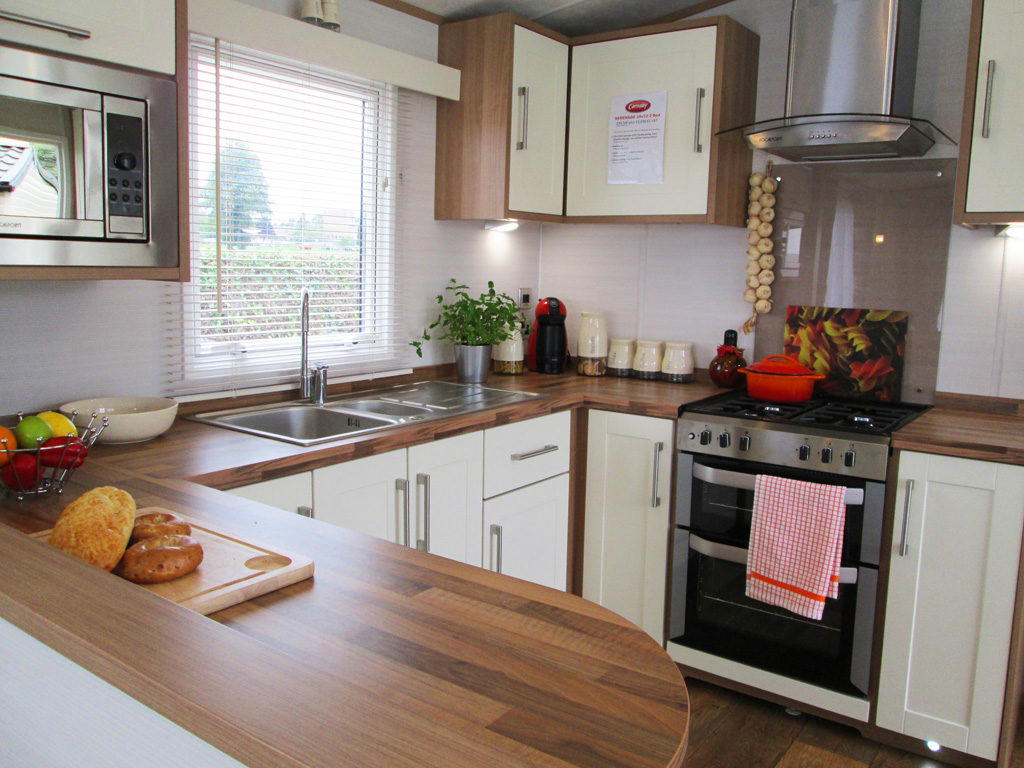 Countertops are in a wood block pattern and contrast nicely with the cream cupboard doors with their stainless steel handles. Underplinth lighting at floor level illuminates the vinyl effect timber floor to great effect and adds a touch of class. The kitchen also boasts an integrated fridge/freezer with a washing machine and dishwasher available as optional extras.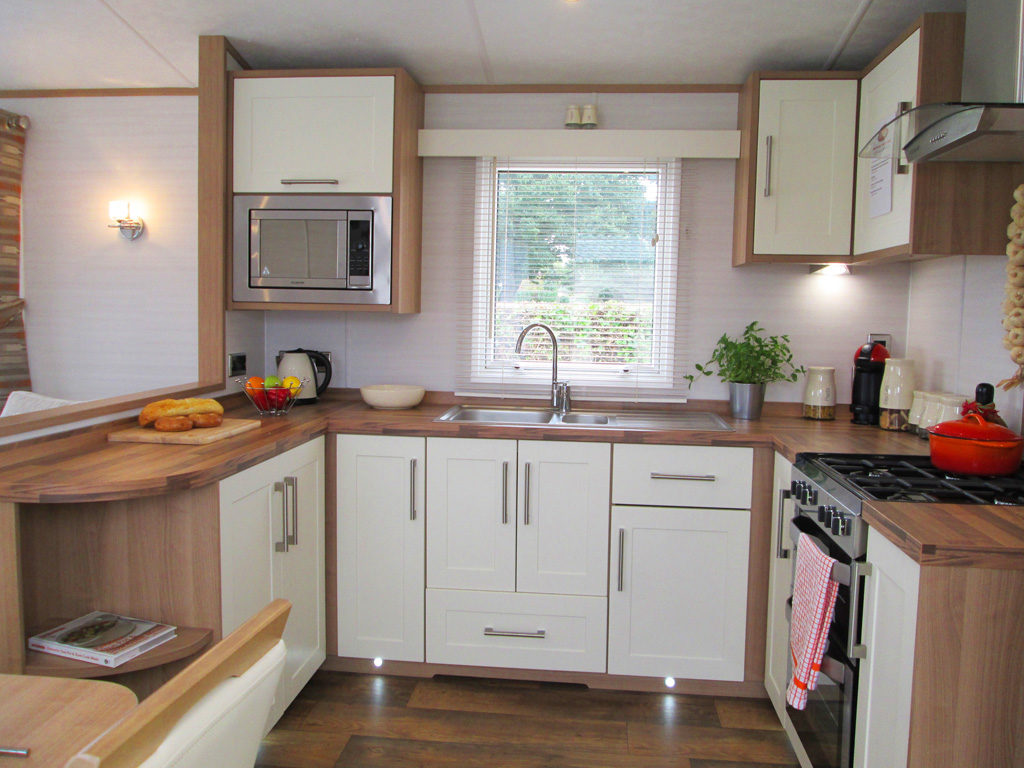 Set into the same area as the kitchen is a dining table with four upholstered chairs to the left of the front door and opposite the fridge/freezer. A handy window is fitted near the table throwing plenty of natural light directly onto it. We were very impressed with the number of cupboards and storage solutions in this kitchen which, along with plenty of useable worktop space would make it a pleasant and uncramped place in which to prepare food.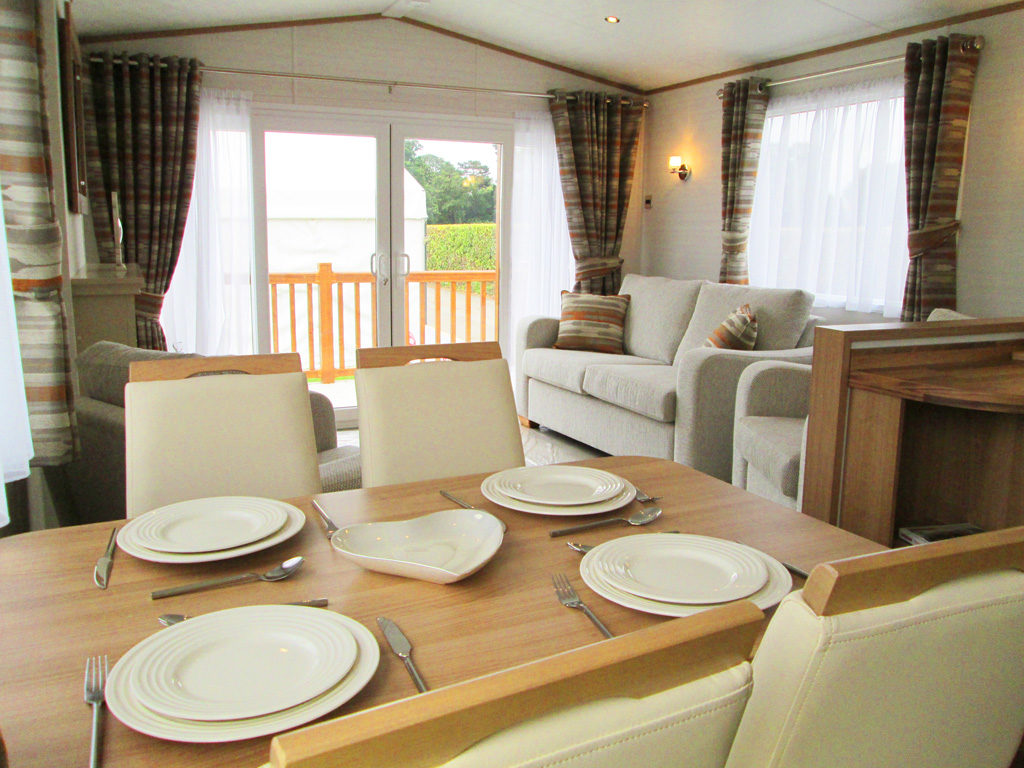 Out of the kitchen towards the bedrooms and bathroom is a small lobby cupboard containing the boiler and room for coats and boots. The twin bedroom is next on your left. Carnaby have done a great job in only fitting two bedrooms into the 39ft length of this caravan, which means they are both larger than usual.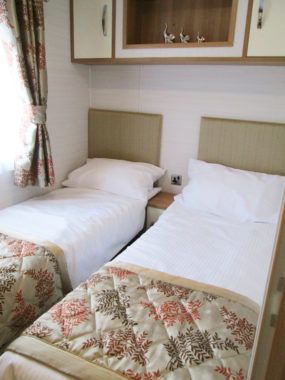 The twin room in particular is bigger than many we've seen; you have space to walk easily between the beds and there's a huge double wardrobe with storage, and a vanity unit at the foot of the beds. The beds themselves have padded headboards and a slim central table with light socket. Over the beds are a large cupboard-cum-shelf unit for clothes, nick-knacks and books and the bedding and curtains are presented in a stylish floral fabric.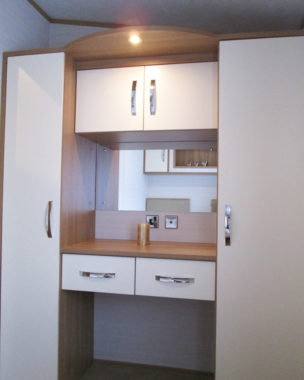 Opposite the twin room is the family bathroom which has a walk-in shower with sliding glass door, a stylish contemporary hand basin and a low profile double flush toilet. There's a storage shelf with mirror and the basin itself is set into a spacious storage unit with cupboard and open end shelving.  It's very good to see a bathroom with so much storage and the space given over to this room means, too, that it's not at all cramped.
The final area on the Serenade is given over to the master bedroom and for once the word 'master' is well used. This room takes up around a quarter of the whole footprint of the caravan and as a result, allows not only lots of room to walk around, but also spacious wardrobes and a private en-suite bathroom. The bed was set at a right angle and has lift-up gas strut storage –  ideal for bedding and extra clothes.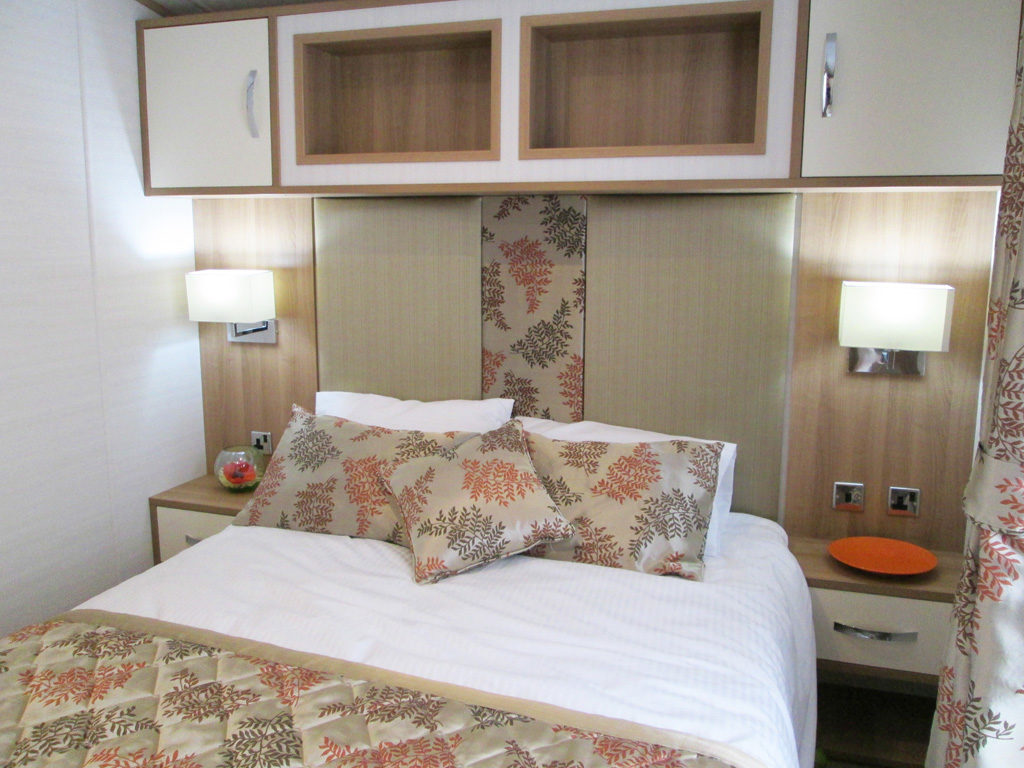 One corner is taken up with a double wardrobe and a vanity unit with shelves, an illuminated mirror and a set of drawers below and there's a door leading to the en-suite, which features a hand basin and toilet with mirror and shelf. The room is well endowed with power sockets and lighting and has been wired for TV – an essential item in most bedrooms these days!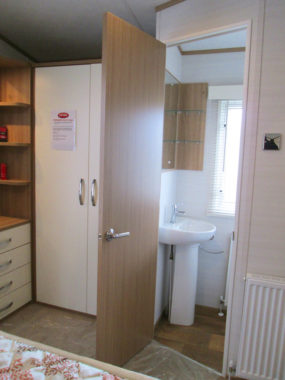 Verdict
Carnaby's Serenade caravan has been updated and enhanced for the 2016 season with luxury additions like the seating, mattresses and charging stations in the lounge. The new interior décor with its combination of light wood tones and warm fabrics gives it a quality feel.
Plus Points
Stylish, open-plan lounge.
Flexibility offered by free-standing furniture.
Loads of storage in a well designed kitchen.
Sizeable bedrooms with good storage – especially the master.
Minus Points
Nothing we could put our finger on!
In-a-Nutshell
Perfect for retired or young, professional couples requiring a certain standard of luxury, as well as getting the best value from their money.

FACT FILE
Size: 39ft x 12ft
Build Standard: EN 1647.
Berths: 6, in two bedrooms (one twin and one double) plus 2 in occasional pull-out sofa bed in the lounge.
Other Layouts Available: 39ft x 12ft – 3-bedroom.
Key Optional Extras: Various cladding options including Canexcel and real timber; French doors; Velux roof window; various chassis options; insulation packs; radiators or electric panel heaters; integrated dishwasher, washing machine and/or tumble dryer; special mattresses; space saving fold under bed in the twin room.
Ex works price: £37,538.65 inc VAT*
For more information e-mail: [email protected] or visit www.carnabycaravans.com
*Additional charges will be made by park operators, and/or distributors for transport, siting and annual maintenance. Please check the price carefully before you commit to purchase, as prices vary considerably dependent, amongst other factors, on the geographical location of your chosen park.