Sophistication and lavish style are the hallmarks of this handsome lodge
The Rivendale lodge from Pemberton Leisure Homes has become very popular since being launched in its original configuration a couple of years ago. For 2017 the interior layout remains the same with a side entrance to the lounge and a set of patio doors to the kitchen, snug and master bedroom and with bi-fold doors to the front elevation.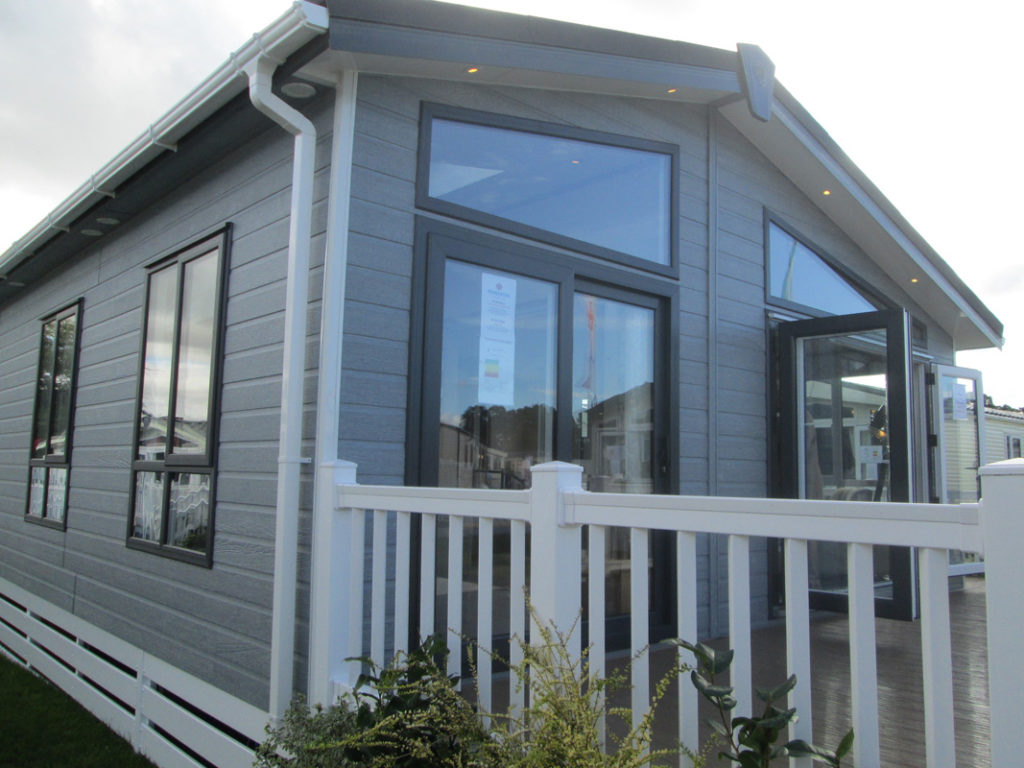 One change for this year is the option to have a closed lounge, giving privacy as well as a cosier feel. You can also upgrade to have a utility room fitted, to give that little bit of extra space for coats, washing machine and tumble dryer, as well as a sink – the perfect place to do your laundry away from the kitchen.
The review model, one of two in the Rivendale range, was the 40ft x 20ft – two bedroomed lodge.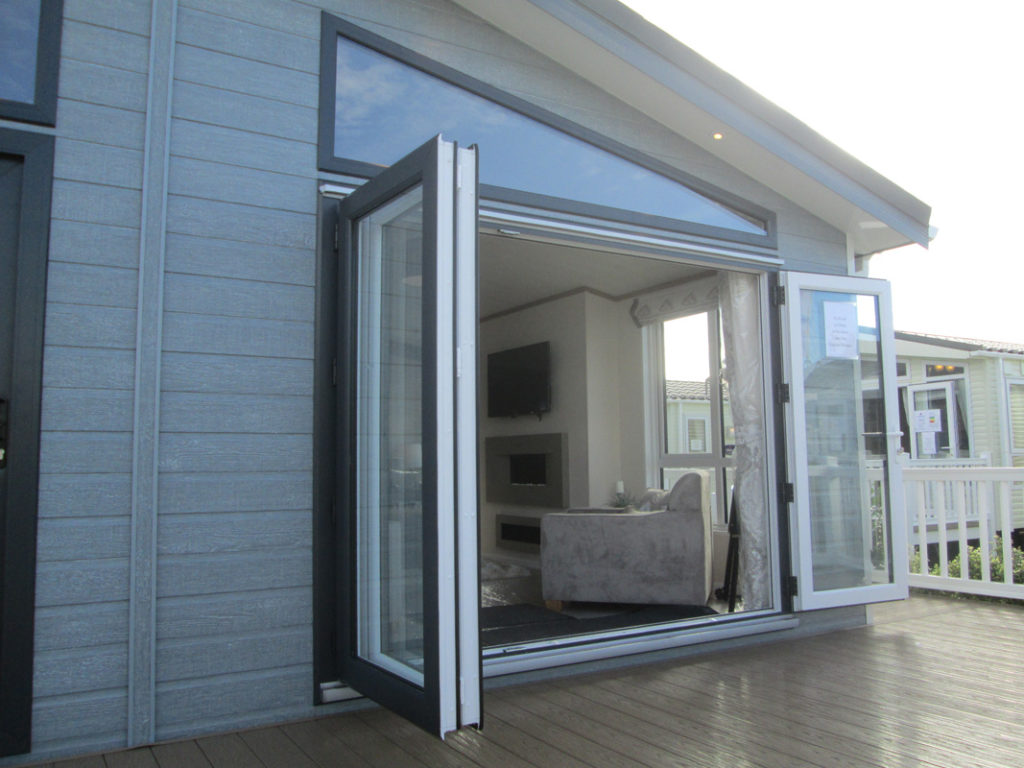 From the outside, the Rivendale has the pleasing look of a contemporary styled lodge with a fully pitched pantile roofline which has its centre slightly offset to the left. The review model was in grey Canexel cladding with slate trim to the roofline and a central finial. It stands on a pre-galvanised twin axle chassis and is available in a range of cladding. Pemberton offers four different types – from vinyl and aluminium to timber and Canexcel. Various colours can be specified to suit both taste and location.
Insulation in walls is 100mm of fibreglass with the roof having 250mm and 60mm under the floor. There are uPVC gutters and drain pipes (all in white) and the flooring uses moisture-resistant boards and all exposed pipework is fully lagged. All windows and doors are uPVC double-glazed and on our review model there were two, large French style doors with a double opening at the front and triangular windows above, which mimic the angle of the roof. The window frames were in slate grey, which contrasts nicely with the cladding.
All of these windows are classed as Low E glass and are Argon filled. There's also an overhang to the roof at the front end with four inset LED downlights.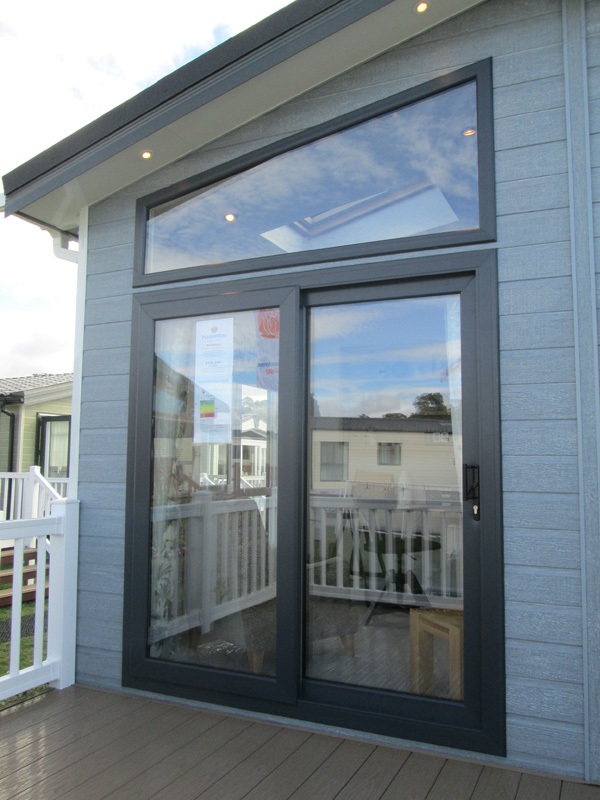 There are more patio style doors to the side and rear elevations as well as the usual tall windows. The Rivendale certainly has enough glazing to allow the maximum amount of daylight to enter the interior! Pemberton offers a choice of decking options in a variety of colours and styles, along with exterior lighting if needed.
The lounge is a square shaped room which, while not massive, is still a comfortable and a serene place to sit and unwind watching the flat panel television whilst warming yourself by the inset flame effect fire.  Sofas and armchairs are complemented by a large padded ottoman stool with storage inside and smaller timber side tables.  Roman blinds are fitted to the windows which give multiple aspects outside.  If your lodge were sited in a spot near the sea or mountains, then these windows would certainly make the best use of the view.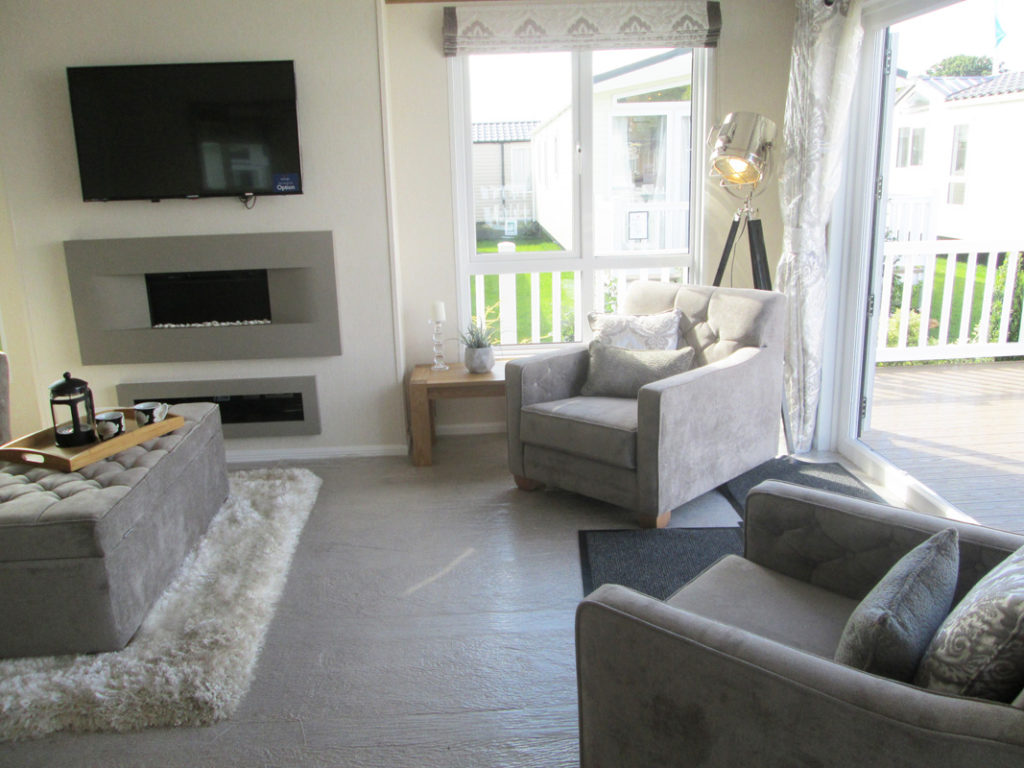 The décor is very easy on the eye, being a series of greys, light timbers and fabrics with light, off white walls.  We particularly liked the colonial style timber 'beams' and tall, designer radiators. The room is, of course, fully carpeted. There's also the option to have the lounge closed off from the kitchen as a separate room.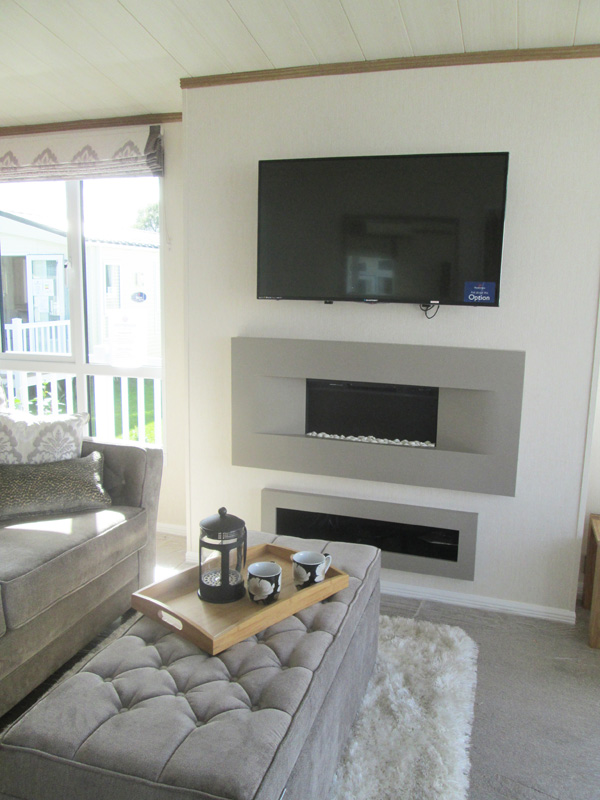 Off the lounge, and set behind the second set of sliding doors at the front of the lodge is a charming and very attractive study room or office which Pemberton call the snug. It's accessed through a timber framed and glazed bifold door and comes with a trestle style desk and swivel chair, a set of wall shelving and a small armchair.  There's a Velux rooflight as well as a window and those front doors, so light really does flood in. The room is decorated in a similar style as the lounge and, if you didn't want to use it as a study, you could always remove the desk, fit in a small sofa and use it as a sun room.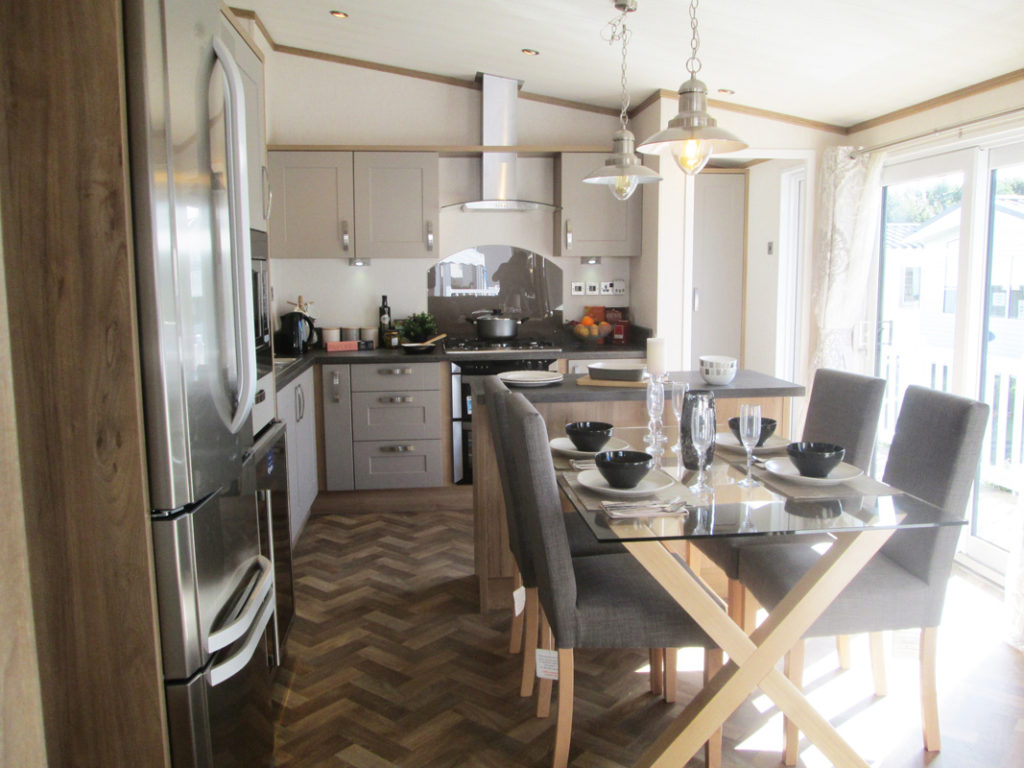 Moving into the kitchen/diner, a stylish glass topped dining table set on a timber trestle sits next to a wide topped island unit with storage under and two bar stools. The kitchen is laid out in an large L-shape with American style fridge freezer, sink and double oven/hob, along with an integrated washing machine – all fitted as standard. The hob has a huge glass splashback and there's a stainless steel extractor fan above.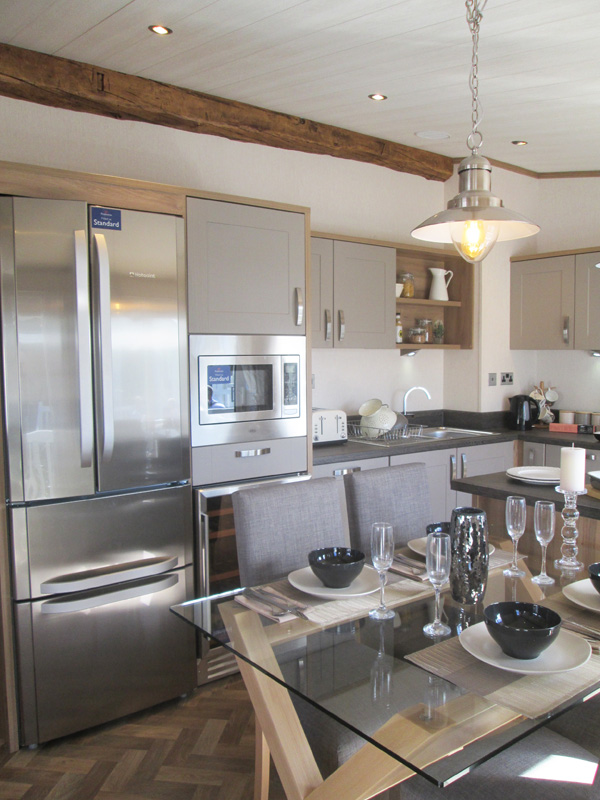 Kitchen units are matt grey with panelled doors and attractive brushed aluminium bow handles. Glass fronted cupboard storage and open shelves with built-in microwave are also provided and the whole kitchen is finished with slate grey effect worktops. All in all a very attractive but also functional space in which to relax as well as prepare food.
The two bedrooms on the Rivendale are positioned a little differently to many similar lodges in the respect that the second bedroom is located along one side of the lodge with the head of the bed abutting the end wall of the snug. Between this room and the family bathroom is a short corridor which also leads into the master bedroom across the back of the lodge.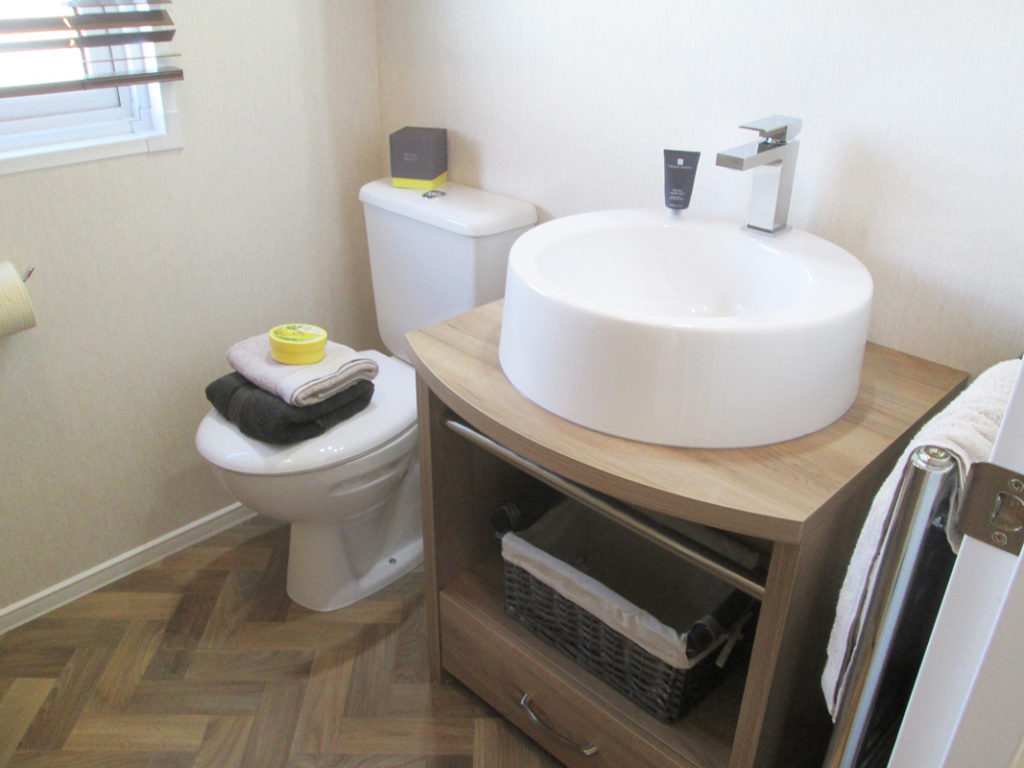 The family bathroom features a full-length bath/shower with glass shower screen opposite, plus circular ceramic hand basin with open storage shelves under and a low profile double button-flushing toilet. This is a bright room with tiling and finishes that don't feel at all cramped – always important in a bathroom.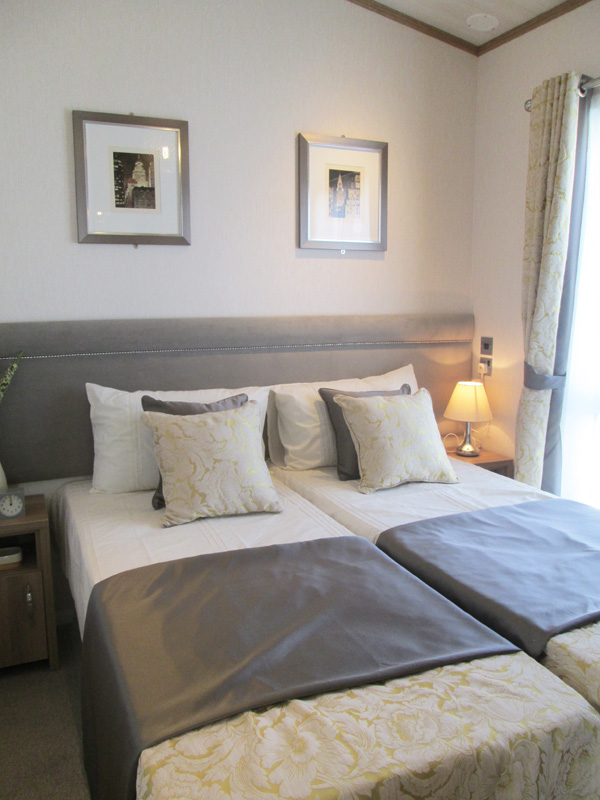 The second bedroom has twin beds, tables and tall, designer radiators. A built-in dressing table and wardrobe combination with mirrored doors (another positive space maker) are also provided here. The room is very spacious and has a luxurious feel with tan padded headboards, light beige walls, timber trim and wall art.  A wide window with nets and curtains lets in the light and a fitted carpet gives added comfort.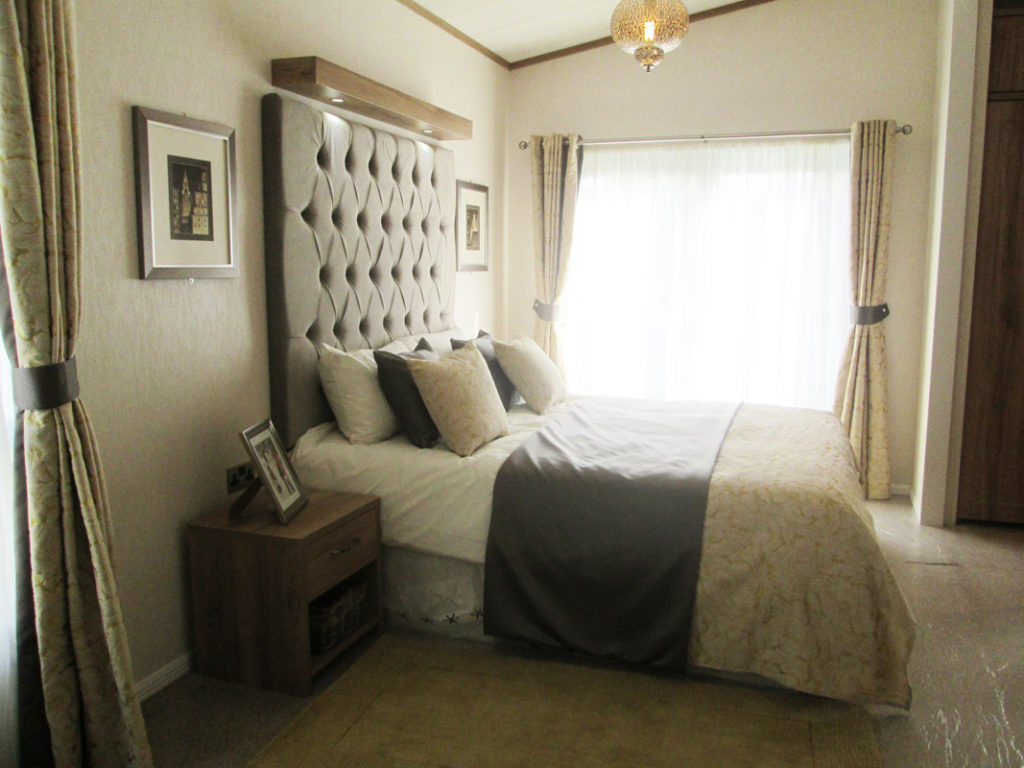 Straight on down the main corridor takes us into the master bedroom – a huge, impeccably well appointed space. The colour scheme here is predominantly shades of light browns, beiges and tans with contrasting bedding and light wood furniture. Double built-in wardrobes with glass doors and storage above sit opposite a king size double bed with deep-buttoned padded headboard and side tables.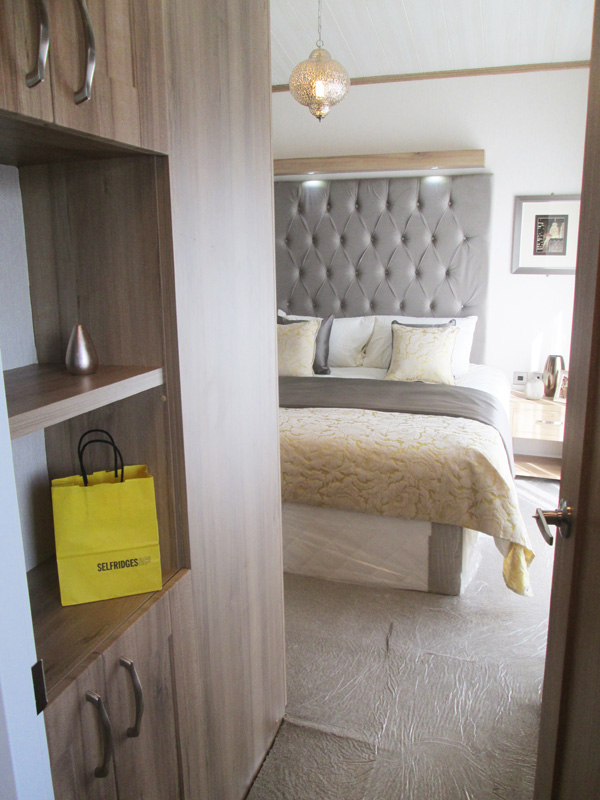 Passing even more storage in the form of open shelving and wardrobes, we move into the en-suite bathroom. The central feature here is a huge walk in shower with enough room for two or more, with sliding glass door, low profile, double flush toilet, circular hand basin and storage – the whole room and facilities feels like a five star hotel bedroom.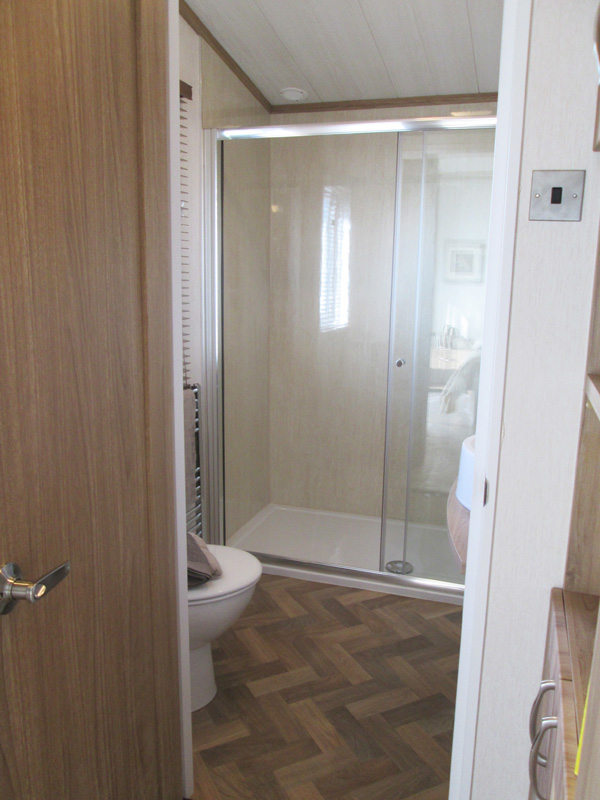 Verdict
Pemberton have really gone to town with the Rivendale. For a luxuriously appointed holiday lodge, the price of just over £100k is well pitched for the market and with the excellent range of optional extras means that you can customise it to your taste and needs. The larger model even allows the addition of a separate utility room.
Plus points
Spacious, well planned layout.
Excellent little snug room.
Kitchen has a lovely ergonomic flow.
Sumptuous, spacious bedrooms.
Minus points
Nothing springs to mind.
In-a-nutshell
Excellent design and superb value in a lodge you would be proud to own!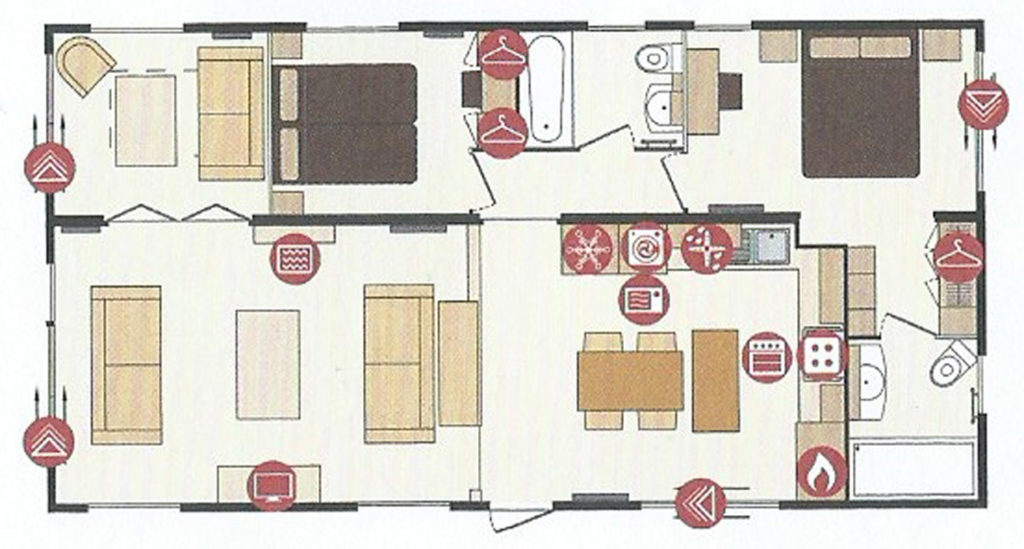 Factfile
Size: 40ft x 20ft
Build Standard: BS3632 Residential Standard.
Berths: Four, in two bedrooms (one twin and one double).
Other layouts available: 44ft x 20ft – two bedroomed.
Key optional extras: BS3632 Residential Standard; Platinum Package (Metrotile roof, wood panelled ceiling, wall paper finish, tiling and aqua-board finishes, domestic interior doors); alternative range of cladding; closed off lounge; privacy curtains for the snug; safe; slectric heating in lieu of gas combi central heating system; windows in place of patio doors; wine cooler in kitchen (44ft only); utility room (44ft only); alternative sized beds; stowaway occasional bed.
Ex works price: £103,486.63 inc VAT*
For more information e-mail: [email protected] or visit www.pembertonlh.co.uk
*Extra charges will be made by park operators, and/or distributors for transport, siting and annual maintenance. Please check the price carefully before you commit to buy, as prices vary considerably dependent, amongst other factors, on the geographical location of your chosen park.