A new design of static caravan that's ideal for families with younger children
The Victory Sandhurst CL static caravan comes in two models, the 38ft x 12ft 2 bed, and the 38ft x 12ft 3 bed.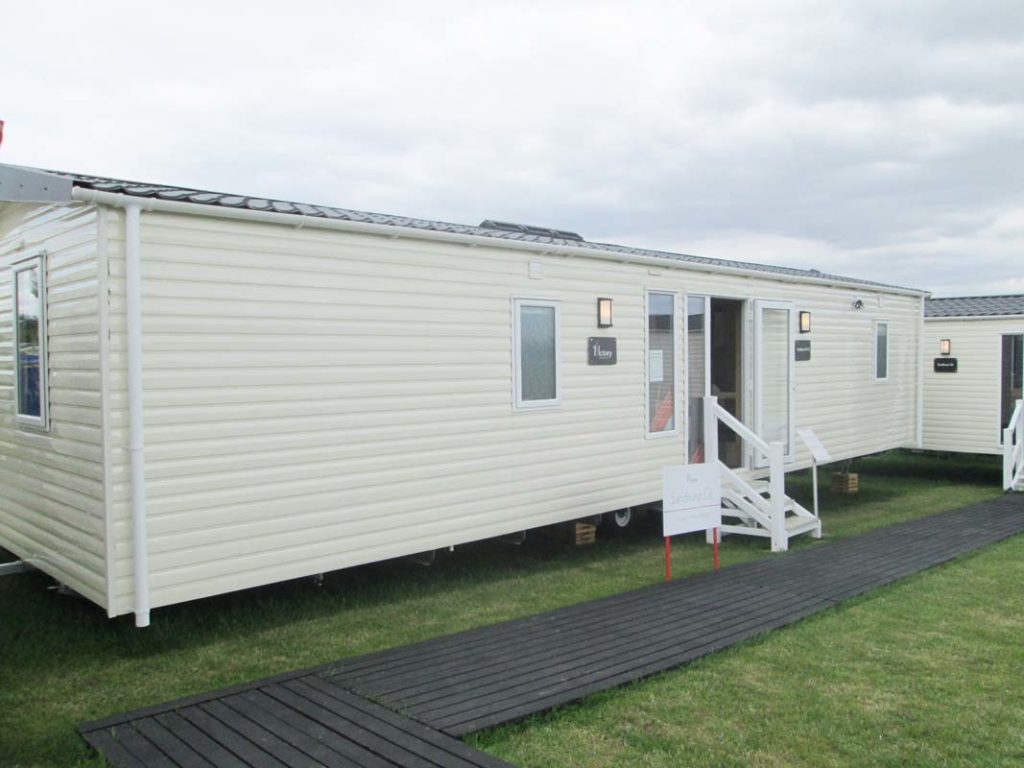 Here we review the all-new 2 bedroom Sandhurst with RVC aluminium coated wall panels in cream.  Canexel cladding in the usual variety of colours can be specified as an optional extra and both windows and guttering can be changed to match whichever colour of cladding chosen.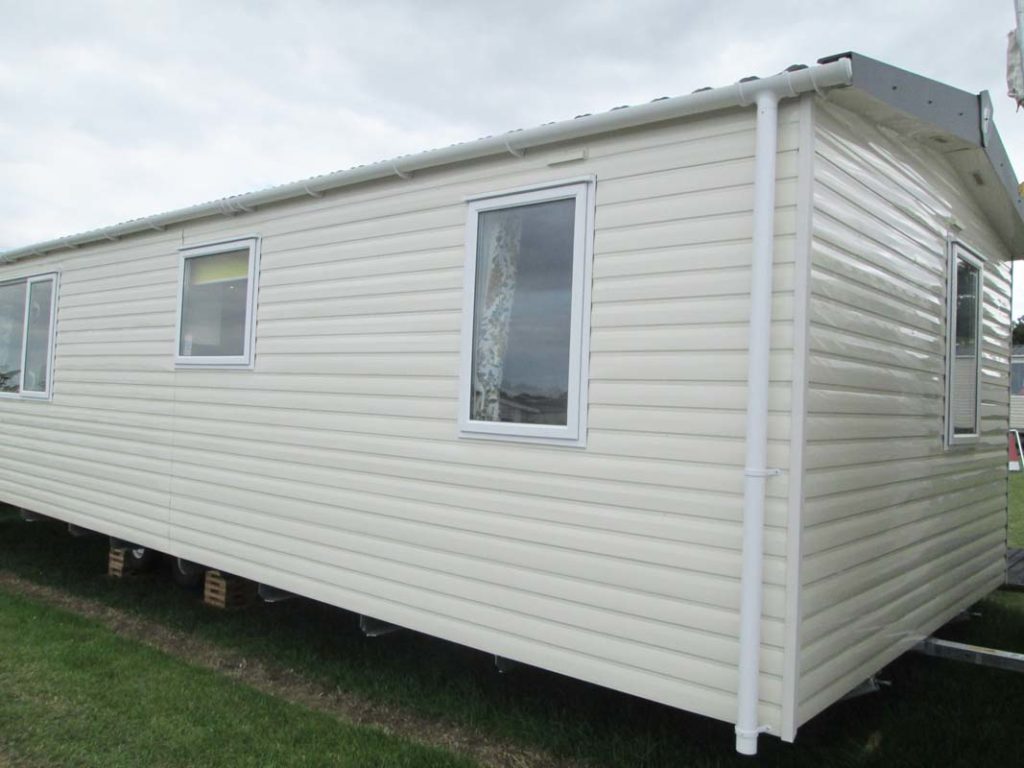 The caravan sits on a steel chassis and pre-galvanised and special Fusion galvanised versions are available as options, which would definitely be worth the extra investment.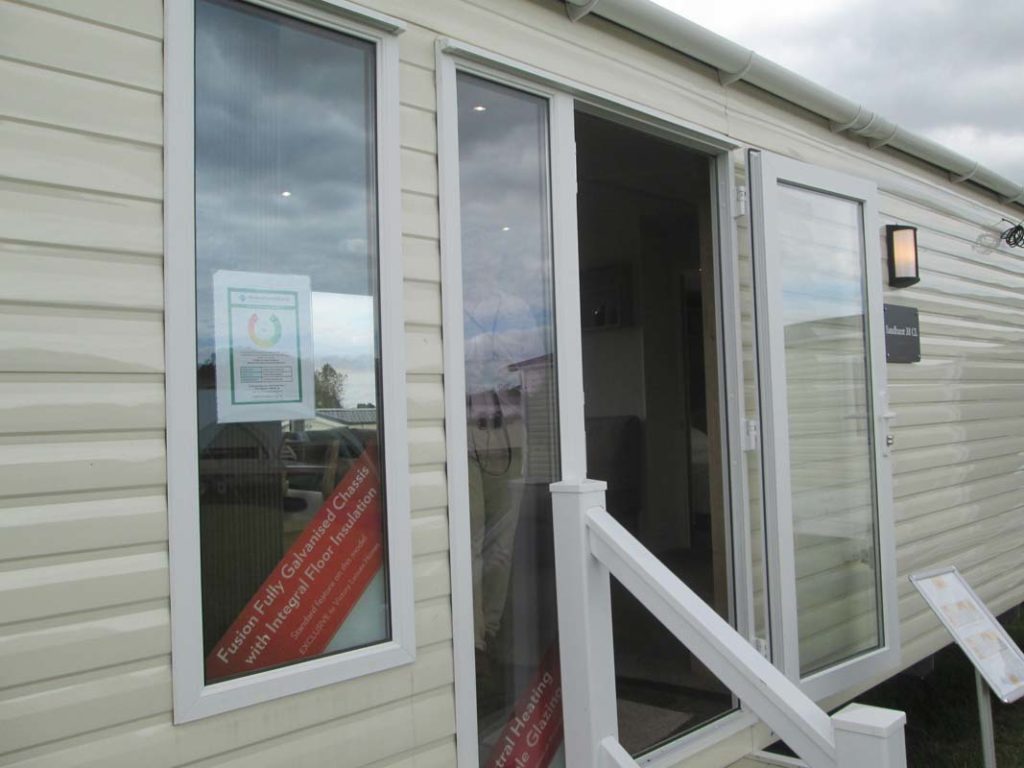 As the Victory Sandhurst has bedrooms at both ends – an unusual and attractive design feature – the main access door is offset on one side and is a large, wide door with a matching tall window to the left and another large window to the left of that.  The opposite side of the caravan has four more windows.  There's an outside light by the access door to illuminate this area and the steps or deck at night.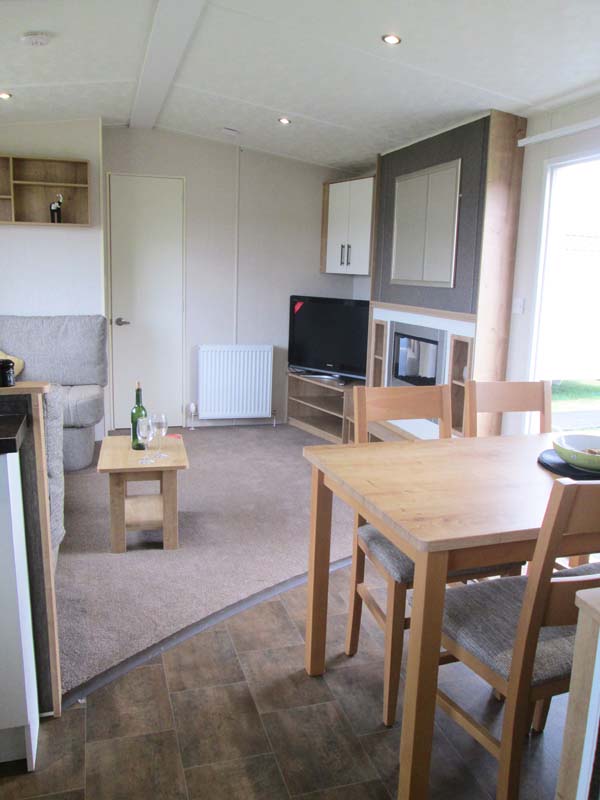 You might expect the Victory Sandhurst to be quite dark as you enter due to the lack of a large French or patio door in the lounge.  However, we were pleasantly surprised here as the lofty pitched ceiling in white with numerous LED downlights allows a feeling of light as well as space. The 'CL' appendage to the Sandhurst moniker stands for central lounge and has been designed to provide all the space and features demanded of a family.  This central open plan living area provides the perfect space for relaxing or dining together.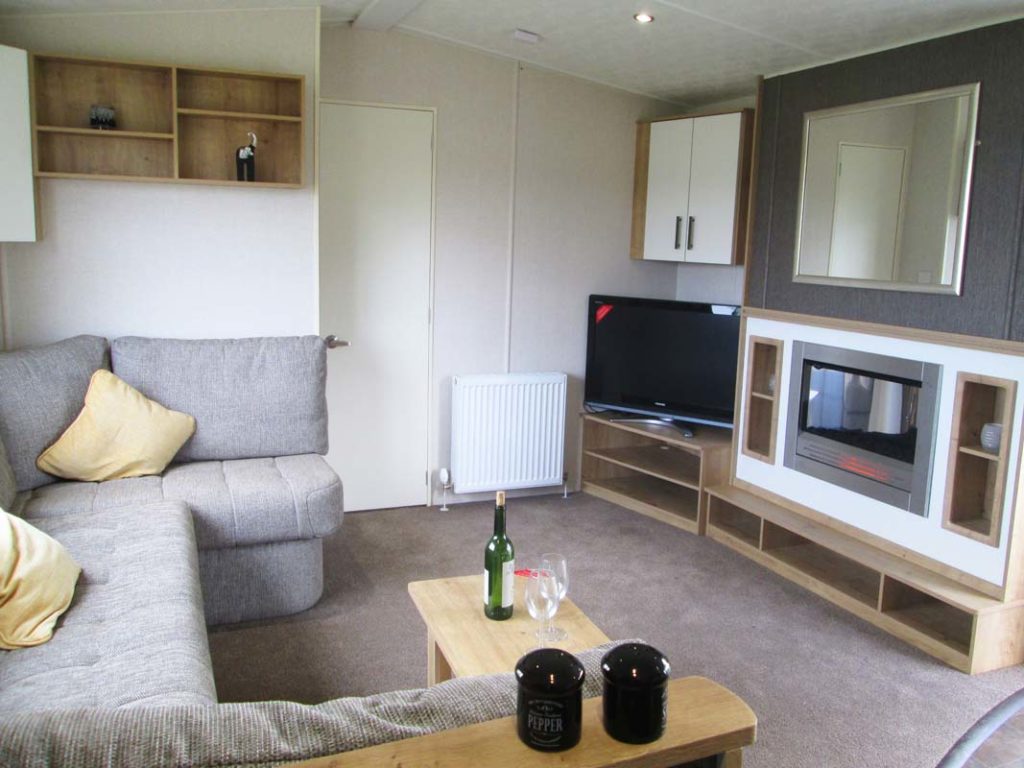 The accommodation is split with a bedroom and bathroom on each side of the lounge/kitchen and this, we feel, would be an attractive solution to families with two smaller children who  will be off to bed earlier than the adults. Separating the bedrooms should help solve a lot of potential issues!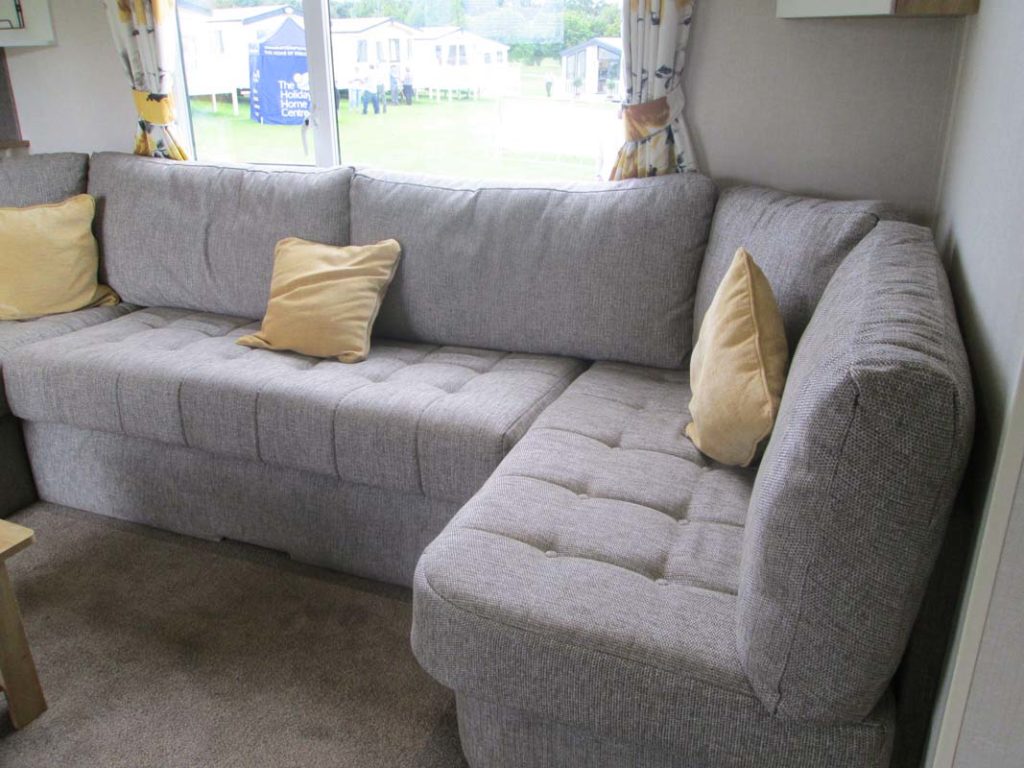 The lounge itself is pleasing on the eye with a big, grey sofa in a 'C' shape to one side (there's a pull-out bed concealed in here) and a built in fireplace with electric flame effect fire and storage shelves in a light oak on the other.  There's also a corner unit for the TV, with cupboard above and, above the fireplace, a large mirror. The room is fully carpeted in contrasting light grey and you also get other shelving units dotted about the room.  Lighting is mainly by LED downlights set into the ceiling and heating is via standard radiators supplied from the Sandhurst's combi gas boiler, which also supplies hot water to the kitchen and bathrooms.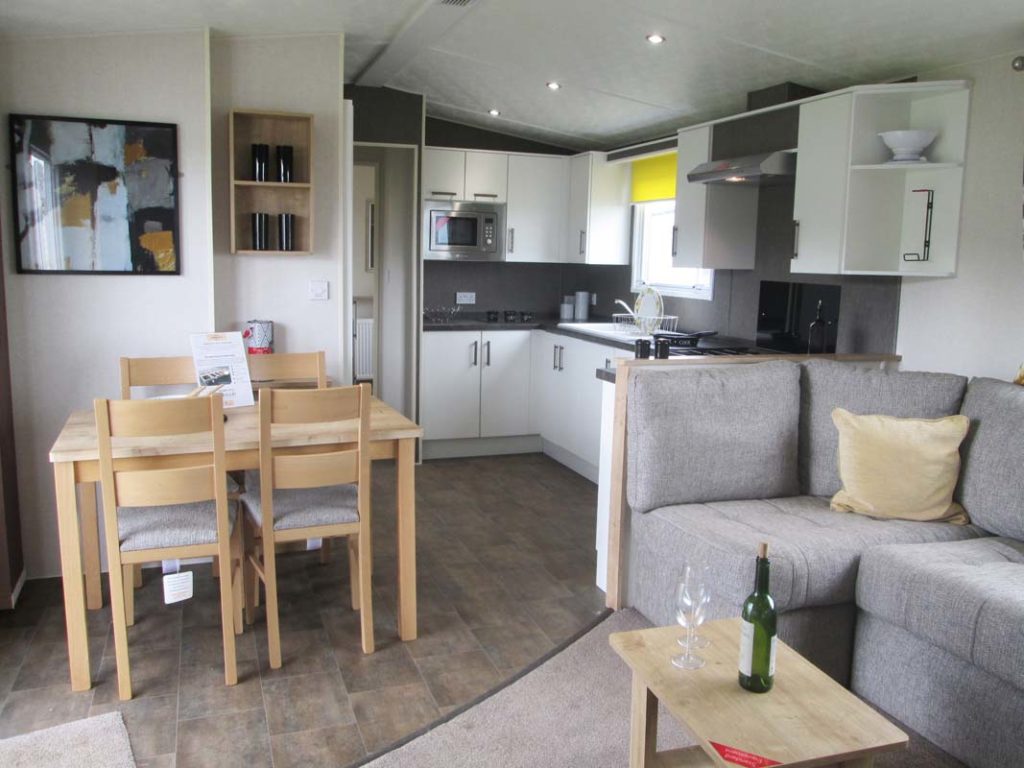 Other nice touches in the lounge are colour co-ordinated scatter cushions and USB charging points.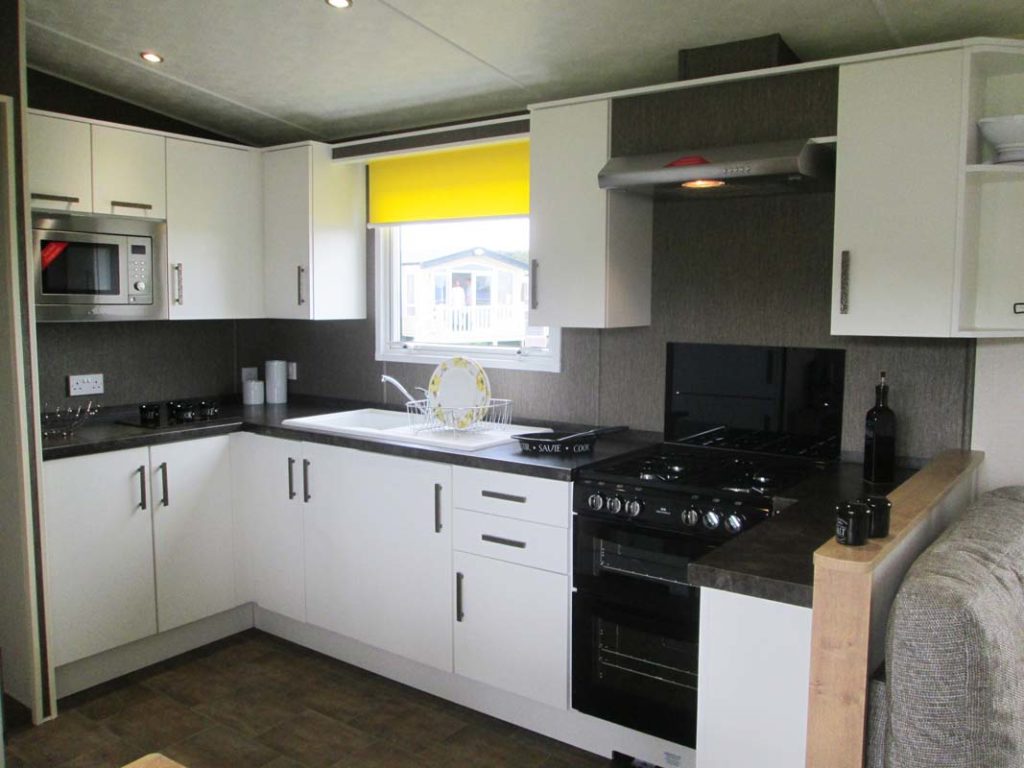 The kitchen is very well appointed and is 'L' shaped with an array of cabinets and wall-mounted cupboards in white with brushed aluminium handles.  The worktop is in a contrasting black granite effect. There's a four-burner gas hob with oven and grill above, and a multi fan extractor hood with light.  You also get an integrated microwave oven and a fridge/freezer in the standard specification.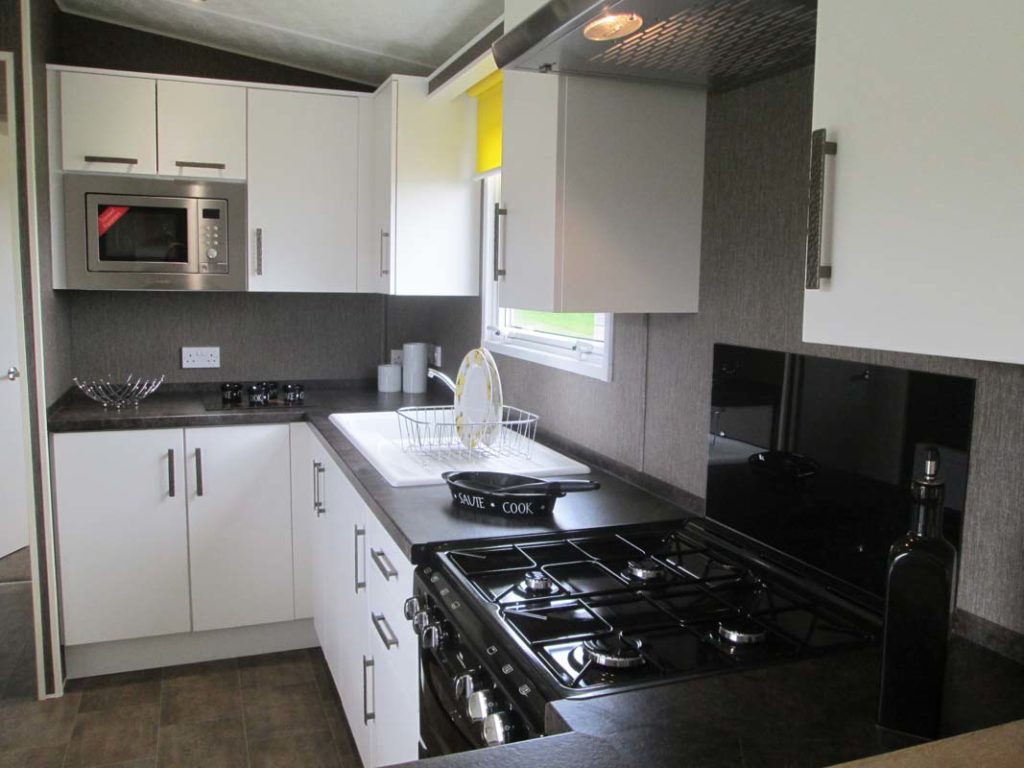 The centrally placed sink is in white (for a nice change) with a white mixer tap and there's a window with yellow roller blind behind this. Although the kitchen is not massive, it does have bags of storage – more than enough for most people – and would work well for preparing family meals.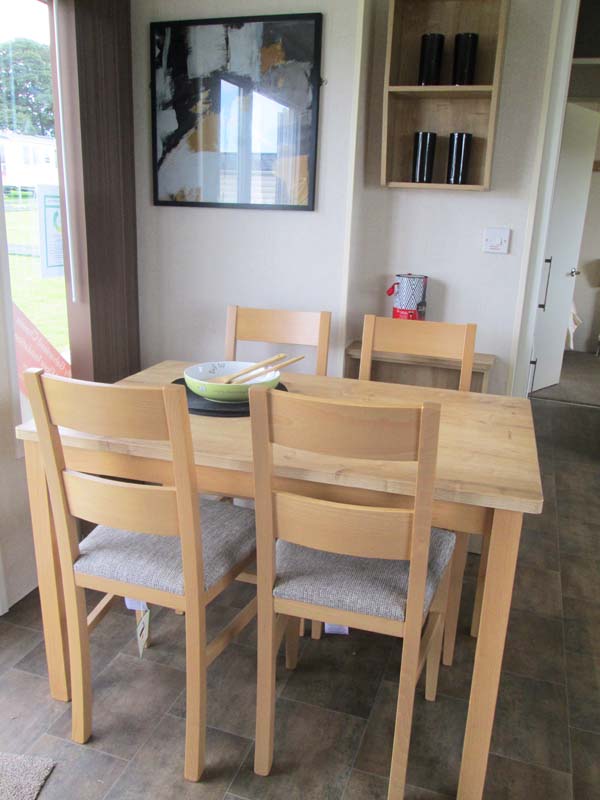 Opposite are a free-standing timber dining table and four upholstered chairs which are set on the marbled effect vinyl flooring. This flooring has a nice, gentle curve in it to delineate the lounge area from the kitchen and looks very good!
So, standing in the middle of the lounge, which way should we go? Let's turn to our left and look first at the twin bedroom, which is accessed through a door at the side of the kitchen. On entering the twin room you're immediately struck by the unconventional layout.  Instead of the usual beds side-by-side with a narrow walkway in between, the beds here are separated and on either side of what is a very spacious room. In fact, they're at right angles to each other making an already large space seem even bigger. The room takes up the whole width of the caravan allowing two wardrobes to be installed as well as a vanity shelf and mirror above the radiator.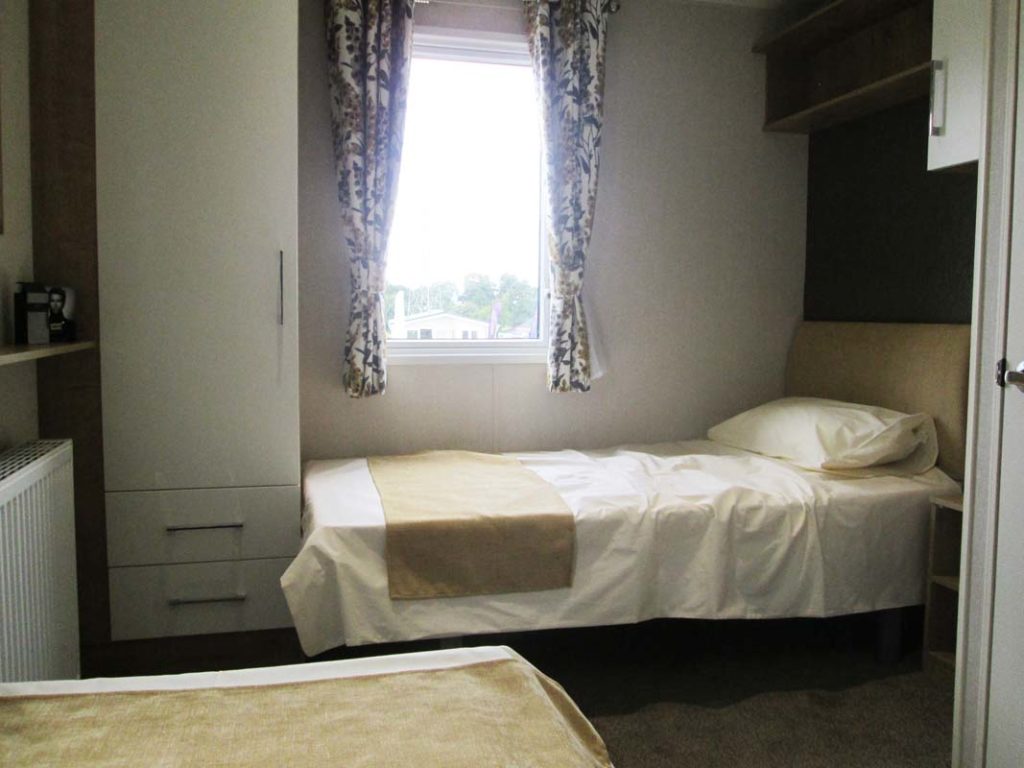 The entrance to the twin room's bathroom is in the short corridor leading from the kitchen. It's a nice space with a shower cubicle, handbasin and close coupled ceramic toilet with dual flush. Normally this would be classed as a simple en-suite, but here it's a genuine facility for the twin room – a luxurious touch indeed.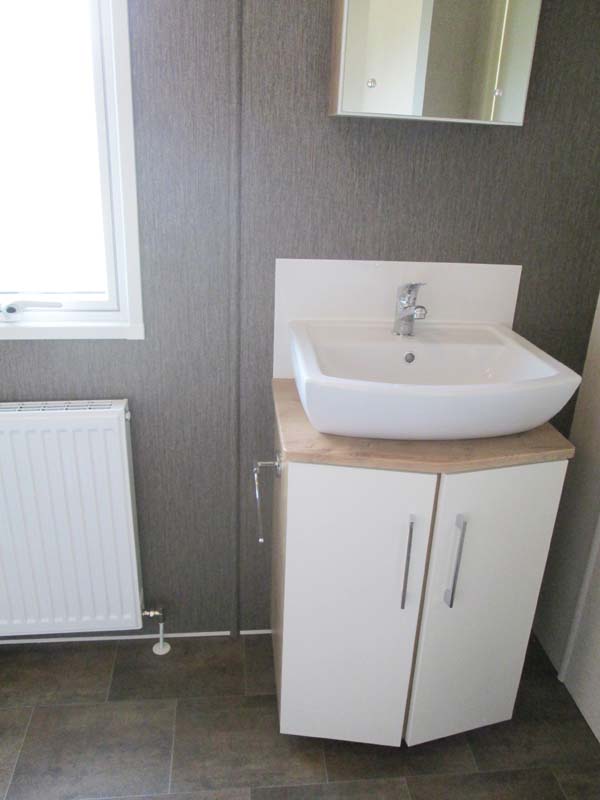 At the opposite end of the Sandhurst you'll find the master bedroom, which is accessed through a door off the lounge. Like the twin bedroom, Victory have not skimped on space and the master feels roomy, light and airy.  The big double bed is on one side and is set against a luxurious padded headboard with bedside shelves and reading lights on both sides. Above, is a central shelf for nick nacks and two storage cupboards.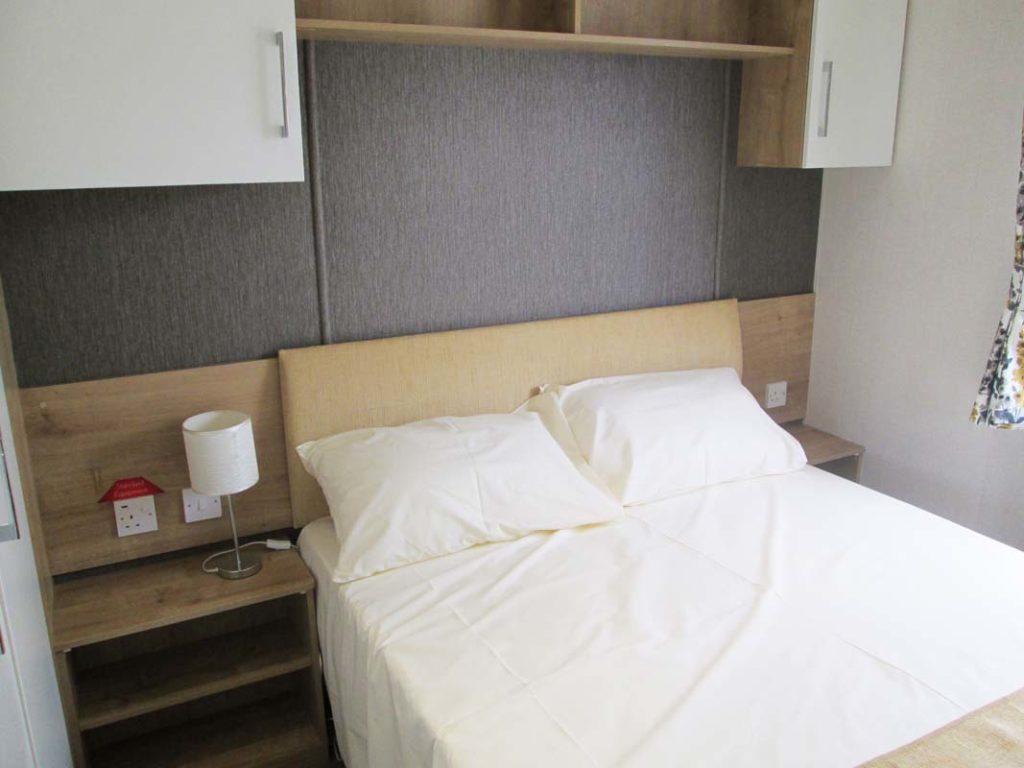 In one corner is a niche containing a vanity shelf with mirror and stool and to one side, double wardrobes with hanging space. Décor is restful with light coloured walls and muted, pastel colours to the bedding.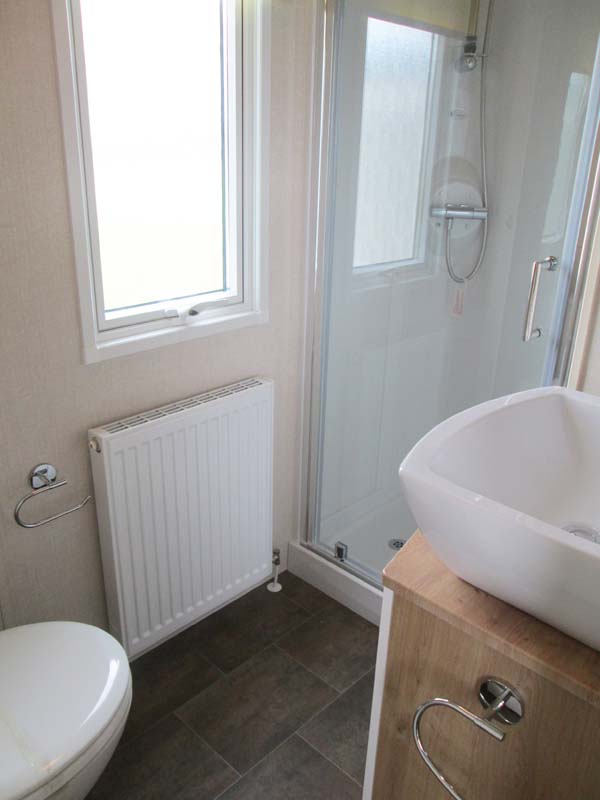 Another door leads to the shower room with a big cubicle with sliding glass door containing a thermostatically controlled shower, the same style of low profile double flushing toilet as the twin shower room, a handbasin and storage.
Verdict
The Victory Sandhurst CL is certainly something different. The centrally placed lounge and spacious lounge-cum-kitchen along with plenty of storage really sets it apart from similarly priced static caravans. The separated bedrooms with their own washing facilities make a real change to the norm and would really appeal to those wanting a certain level of privacy when on holiday with children or friends.
Plus points
Large, sweeping lounge with comfy seating.
Small, but stylish kitchen with bags of storage.
Integrated microwave (so often there isn't one!)
Excellent split bed twin room.
Separate bathrooms.
Minus points
Not everyone will like the split accommodation.
Rather plain exterior.
In-a-nutshell
Central lounge layouts are the upcoming trend in this type of static caravan design and we can see that with the Sandhurst CL, Victory will surely have a winner on their hands.

Fact file
Size: 38ft x 12ft
Berths: 4 + 2, in two bedrooms (one twin and one double) plus a further two in a pull-out sofa bed in the lounge.
Build standard: EN1647 (non residential)
Other layouts available: 38ft x 12ft 3 bedroom.
Key optional extras: Canexcel external cladding (various colours); environmental exterior with colour co-ordinated windows and doors; bedding packs.
Ex works price: £38,811.85*
For more information e-mail: [email protected] or visit www.victoryleisurehomes.co.uk
*Additional charges will be made by park operators, and/or distributors for transport, siting and annual maintenance. Please check the price carefully before you commit to purchase, as prices vary considerably dependent, amongst other factors, on the geographical location of your chosen park.
Get a holiday home insurance quotation from Leisuredays by clicking here.