It's summertime and it's time for a well-earned break in your static caravan or lodge. And we want you to enjoy those breaks without any mishaps.
So by analysing our insurance claims statistics from May to September last year we've highlighted the top five caravan mishaps that happen over summer and what steps you can take to minimise the risks.
And of course, these claims highlight the importance of specialist insurance cover to pick up the repair bill should the worst happen.
Damage
Taking the top spot were damage-related incidents, which accounted for 61 per cent of all our static caravan and lodge insurance claims.
The cost of these claims ranged from as low as £40.00 up to thousands of pounds for all manner of damage, including accidental damage, third party damage and even damage caused by vermin.
And they can happen inside or outside the caravan. We dealt with dents to caravans sides and walls, damaged shower trays, spilt paint, dropped irons, smashed cooker doors and broken windows to name a few!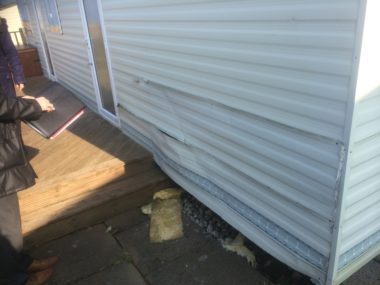 Whilst some accidental damage claims cannot be avoided there are some things you can do to try and stop them happening.  For example taking care when showering by storing shampoo bottles low down will  stop them being dropped onto the tray and causing cracks.
2. Weather and escape of water
The second most common claims amongst static caravan and lodge owners in the summer of 2016 were down to the weather or escape of water – almost a third of all claims during this period.
Many were storm related, with wet and windy weather causing damage to skylights, doors, vents and windows. We also dealt with a few cases of hailstone damage and in some extreme cases the roof was blown off the caravan.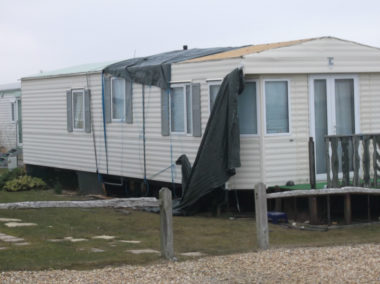 It's always worth making sure furniture and other belongings outside your static caravan or lodge are securely fastened down when you're not there so they don't get blown into the side of your holiday caravan or another persons. Also, making sure rooflights and windows are closed and locked whenever leaving the caravan unattended, can help to prevent unnecessary damage.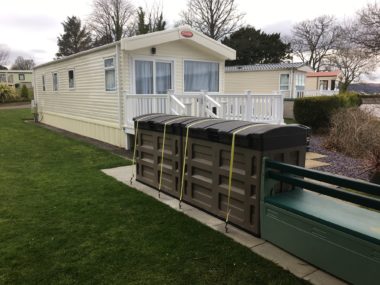 Leaky pipes and taps left running can cause thousands of pounds of damage to your caravan, so keep a close eye on your pipework every time you visit. If you notice any problems with your taps, sinks, shower, toilet, washing machine or boiler, be sure to get them checked out early and call in expert help to carry out any essential repairs so you can avoid any long term damage.
3. Theft
Third place in our claims list were theft-related incidents. Although they were very far and few between and only made up four per cent of all claims. Thieves have forced their way in through windows or doors and stolen items.  or tried to steal items and caused damage.
Keeping valuables out of sight and fitting extra security such as a  caravan alarm with help to deter thieves.
4. Fire
Whilst fire damage is rare and only accounts for three per cent of our claims, the damage it leaves behind can be devastating both to the owner and to neighbouring units.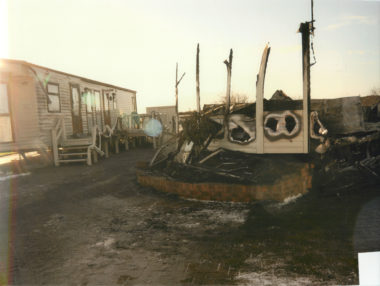 Make sure you test smoke alarms regularly, it's also worth investing in a dry powder fire extinguisher and a fire blanket if your unit doesn't already have them. Never leave pans on the hob unattended and switch off heaters and cooking appliances when they're not in use. We have more fire safety tips here.
5. Vandalism
Last on our list, we had a very small number of vandalism claims reported to us last year, which sadly can be very hard to avoid but are thankfully very rare.
Reporting an insurance claim
Make sure you keep your static caravan insurance provider's claims helplines with you in case you ever need to report a claim. It's worth keeping contact numbers and your policy details on a card in your purse or wallet or having a link to your policy documents on your smartphone.
It's important to contact your insurance provider as quickly as possible to let them know what's happened should you ever need to make a claim. This helps to make sure any temporary or permanent repairs can be quickly carried out or replacement parts be ordered.
If you need to make a claim or speak to us about an existing claim, just pick up the phone and call our claims helpline on 01422 501085.