Something a little different – and definitely special – from Willerby's botanical collection.
Willerby has really shaken up the luxury lodge market with the launch of its new luxury Mulberry this year.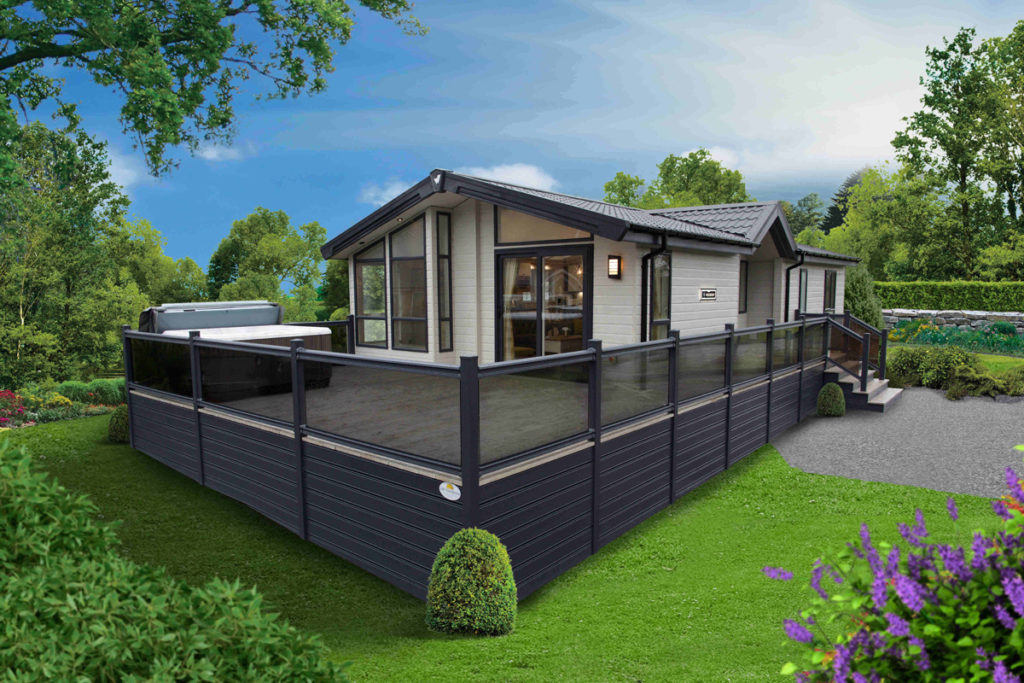 Designed to feel more like a cosy country cottage retreat than a traditional holiday lodge, the Mulberry is the first product in Willerby's new premium Botanical Collection. It provides the ultimate home-from-home experience for holidaymakers thanks to its new Thermowise system, which combines excellent insulation and acoustic technology to create a warm and quiet environment.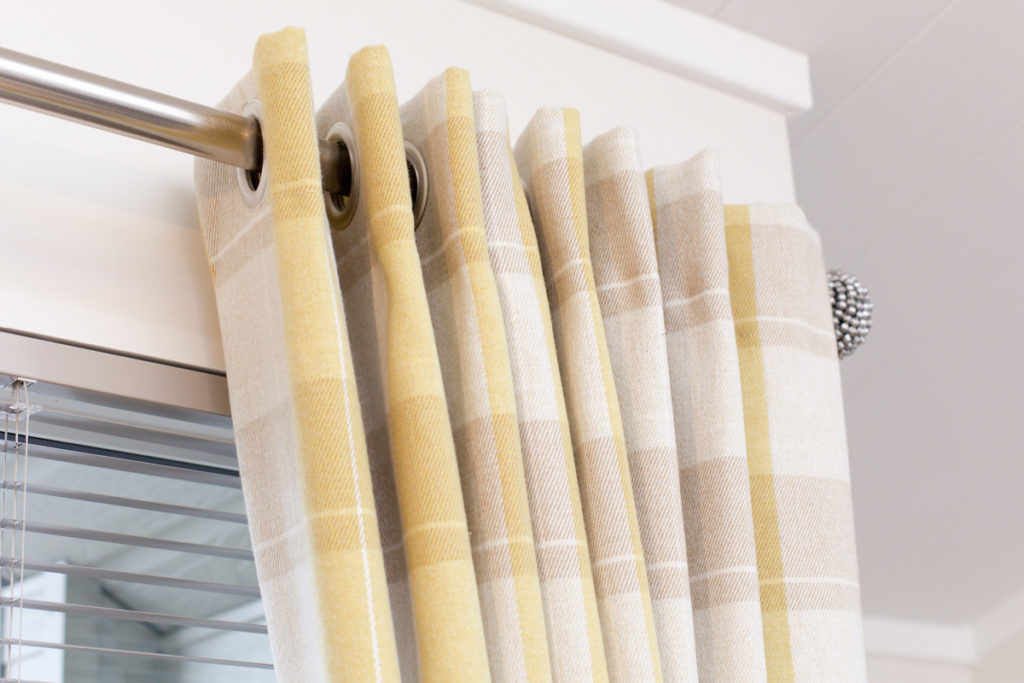 The Thermowise system, is estimated to save lodge owners on average £150 annually on energy bills, and is exclusive to the manufacturer. Consisting of a multi-layered wall construction, which includes membranes to trap in heat and reduce noise, plus high performance thermal floor panels and vaulted roof design, the Thermowise system delivers a lodge that is 14% warmer and quieter than current industry standards.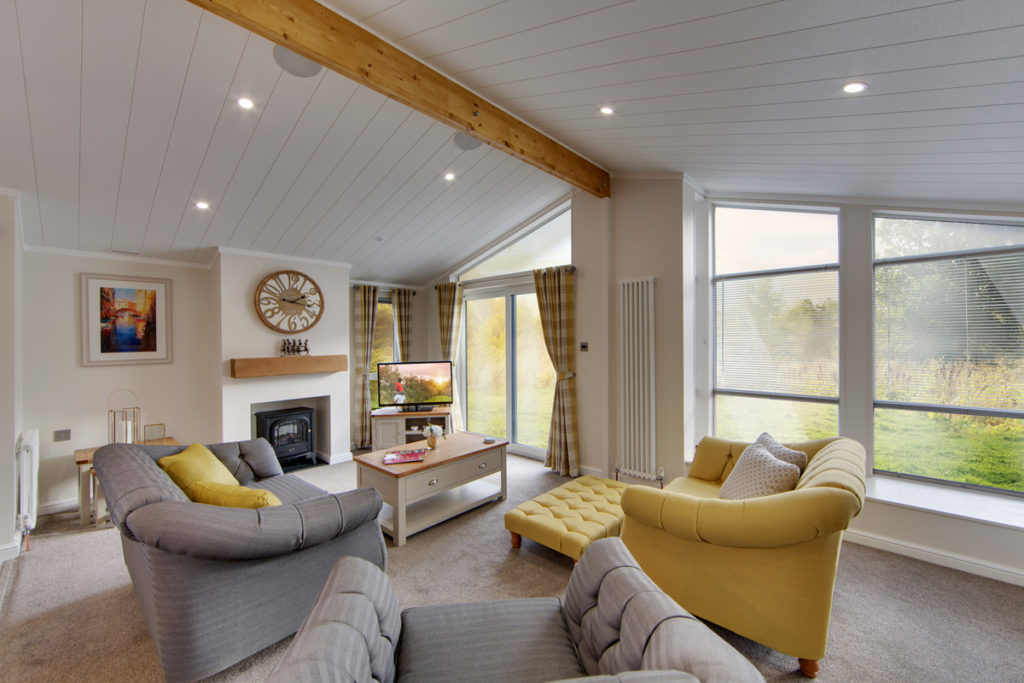 The Mulberry is mounted on the new NGPH (Next Generation Park Home) chassis, the construction and design of which consists of two robust "I-Beam" members, fully welded to form a single length piece. Heavy duty cross members are then affixed to them by specially designed brackets.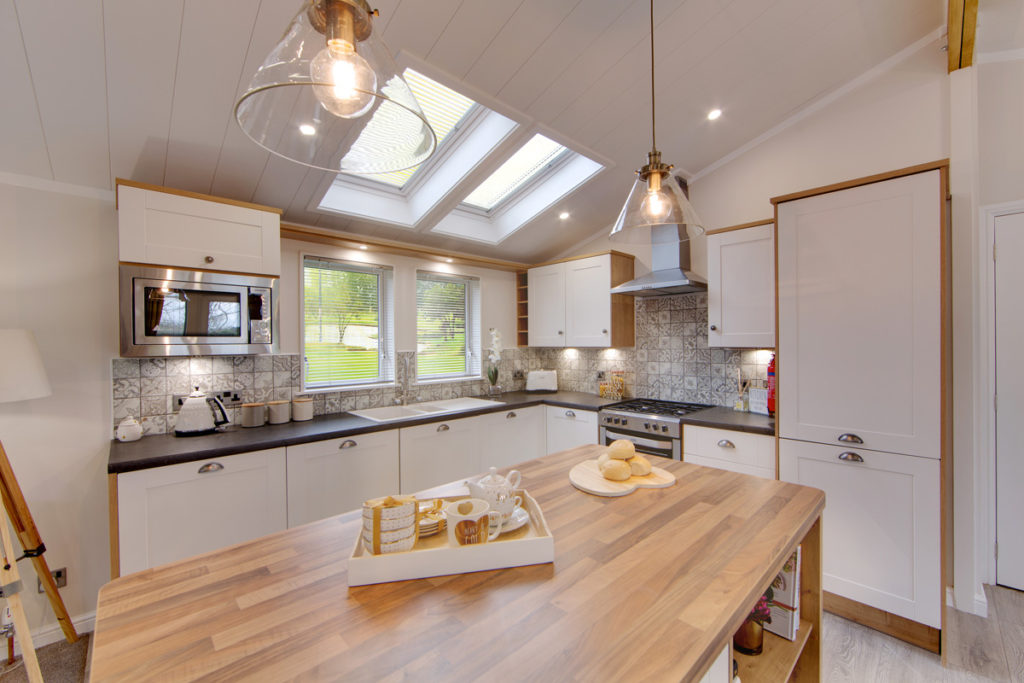 On the Mulberry lodge a ringed beam is used around the perimeter of the chassis to increase the stability of the structure and support its extra weight. The chassis is fully galvanised using a hot dipped method to maximise the prevention of corrosion, either on a coastal or inland location.
Construction of the floor uses SIPS (Structural Insulated Panels) flooring. This is a high performance system, made by sandwiching a core of rigid foam plastic in between two structural facings, such as OSB (Oriented Strand Board). It offers excellent thermal performance alongside lightweight structural strength, providing ecologically friendly and energy efficient flooring.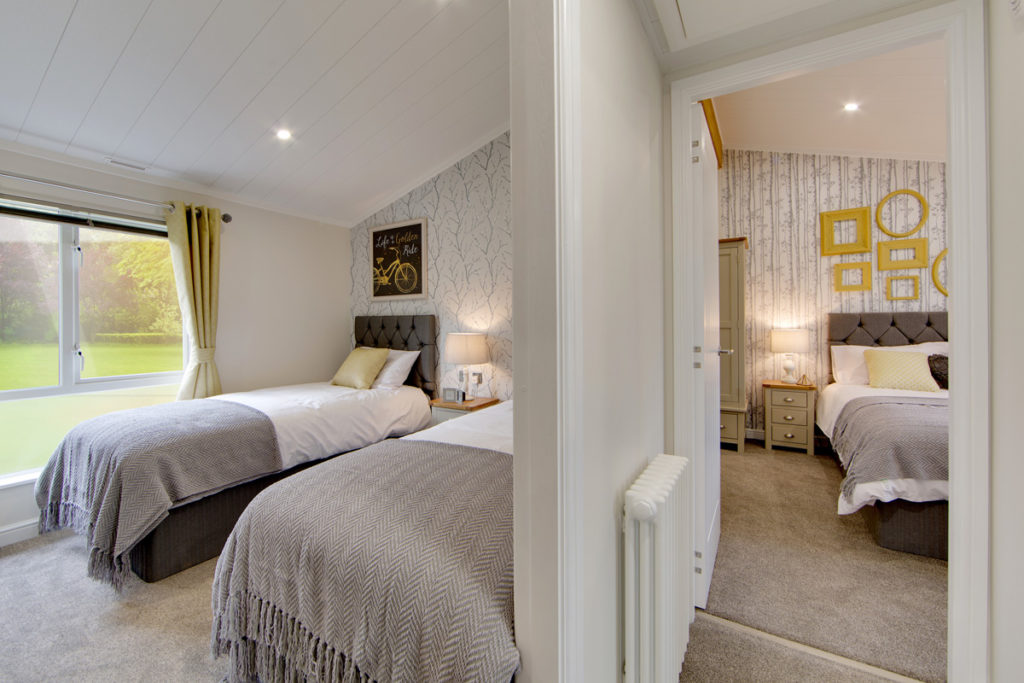 Glulam timber beams have also been used in the Mulberry to support the roof over the living spaces. The beam runs the entire length of the lodge and is cleverly exposed to add a feature in the living area and master bedroom.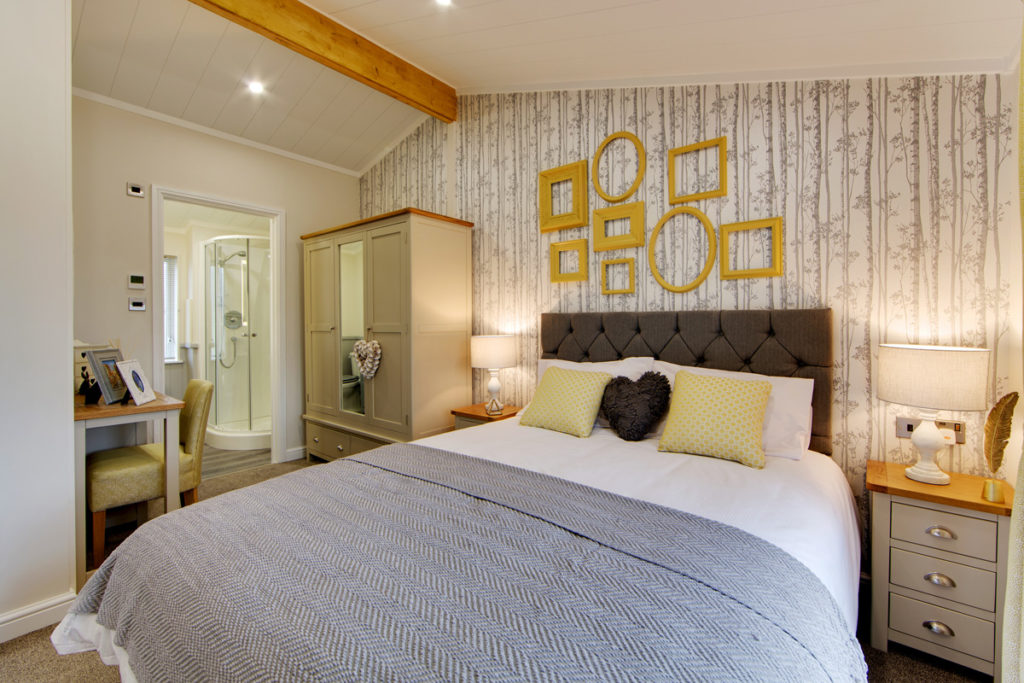 The lodge has a standard exterior finish of UV resistant Canexel cladding (standard colour – Mist Grey). The Canexel is a class 3 rating and complies with the NCC fire regulations BS 466-part 7 and a range of optional claddings and colours are available.
The exterior finish is fixed onto tanalised timber to create an air flow gap for the cladding. The tanalised timbers are fixed directly onto a membrane (Frameshield 100) which covers the 11mm OSB boarding – making the structure more rigid. The breathable membrane is used to protect the structure against moisture ingress but allows for the escape of vapour from within the structure.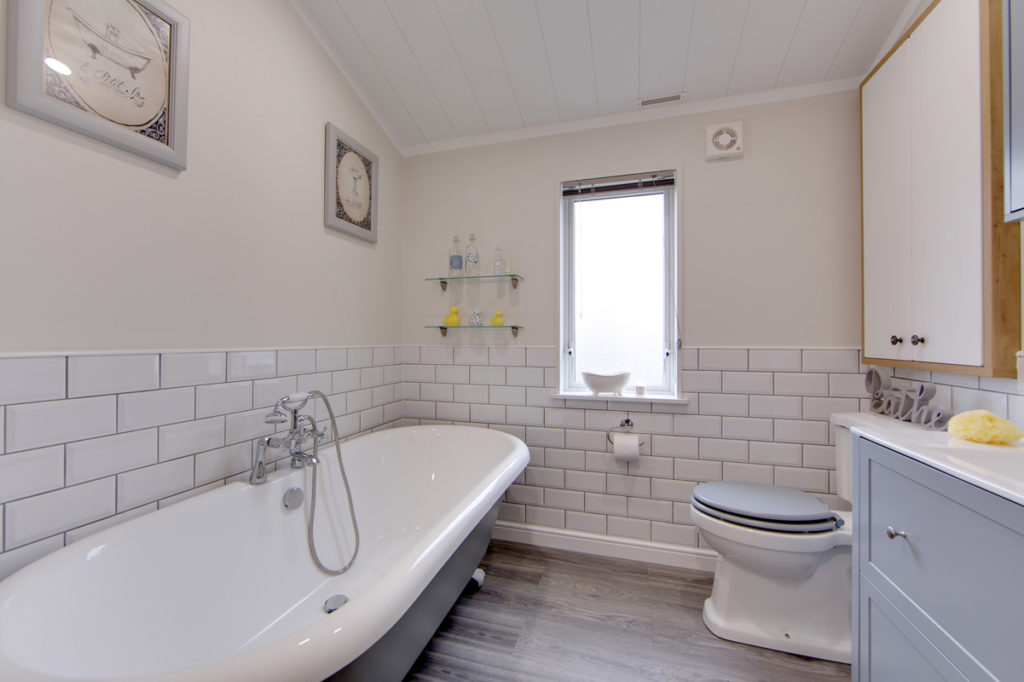 Inside, the walls are covered with Fermacell Gypsum fibreboard. This is a high performance multipurpose board which improves acoustic, fire, moisture and load hanging properties. All walls are finished with either paint, wallpaper or tiles.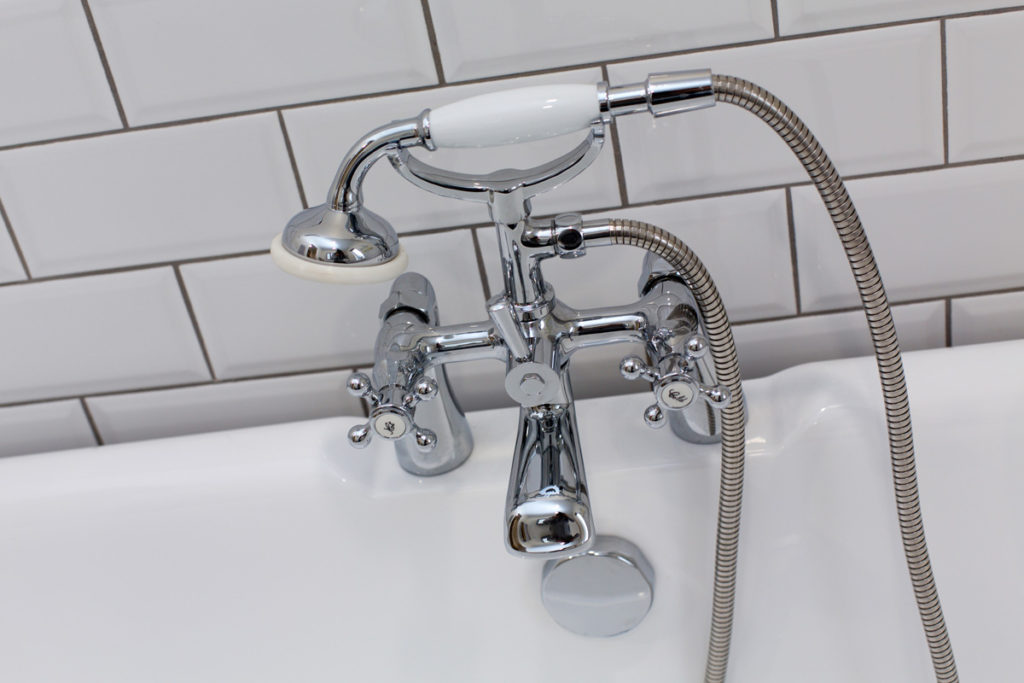 High performance thermal insulation is used in the exterior walls, floor and roof and all windows and doors are energy efficient double glazed Low-E argon filled glass.
Inside, the Mulberry takes inspiration from both traditional country home style and current interior design trends, to create a timeless, contemporary space. The colour palette used is mainly greys and lemon but, if that's not to your taste, there are three accent colours to choose from – yellow, purple or blue – so lodge and park owners alike can create the look that suits them.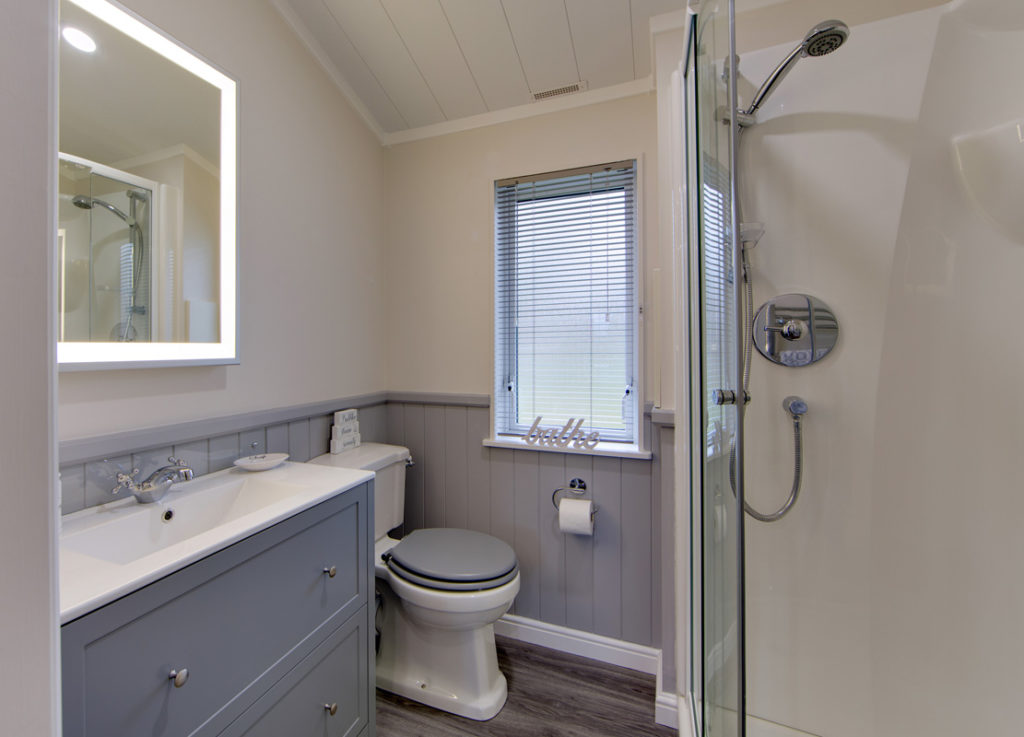 The Mulberry lodge has all the luxury finishes you'd expect – central heating throughout, well equipped kitchen, quality furnishings, feature radiators – and even a freestanding roll top bath. There's also the option to make it ready to accommodate a hot tub on the deck outside – to make it that extra bit special.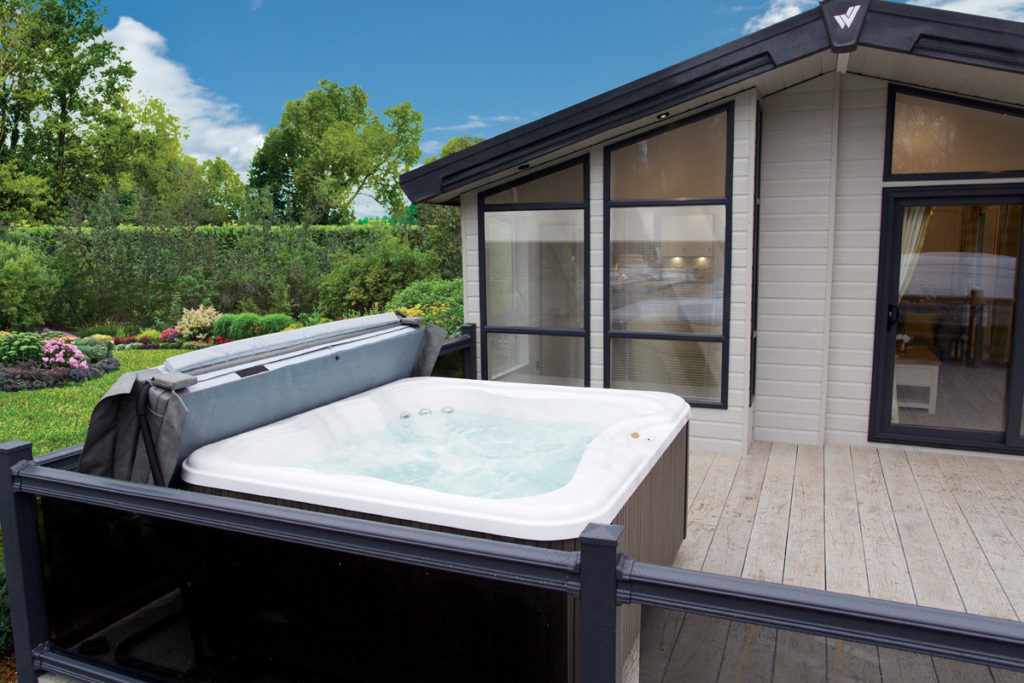 Willerby have put their money where their mouth is and have designed the Mulberry to meet and exceed residential standards, BS3632. With its energy efficient heating, windows and doors and innovative new Thermowise system, it's definitely a base that's usable all year round.
One other thing that sets the Mulberry apart is how Willerby have reduced the turnaround time from order to delivery. If you order a Mulberry lodge you can expect it to be on site within four months and they're confident this is going to have a big impact on the market.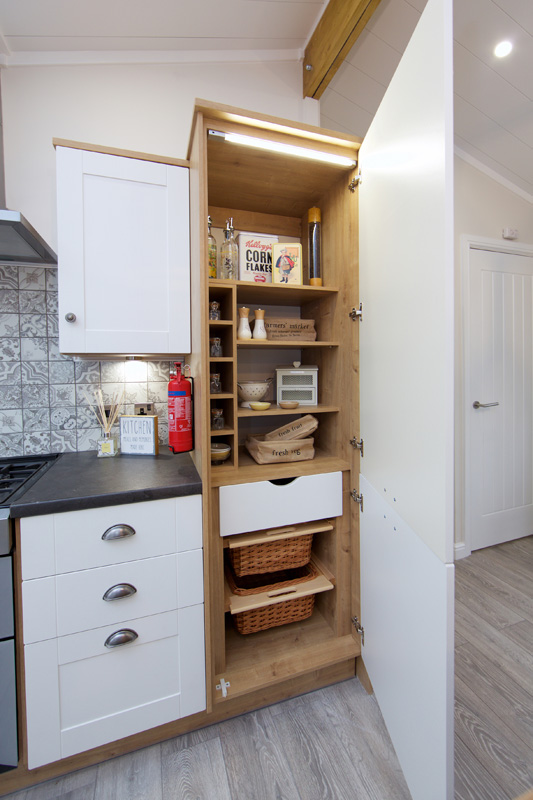 The Mulberry proved to be an instant hit when Willerby officially launched the lodge at the Scottish Caravan Motorhome and Holiday Home Show in Glasgow earlier this year and then at the Caravan, Camping and Motorhome Show at the NEC in Birmingham. Since then 25 units have been sold so it's obviously proving popular.
Inside, the Mulberry comprises a family bathroom, twin bedroom and master bedroom with en-suite and triple wardrobe, providing the ultimate experience for holiday makers with everything about it designed with luxury firmly in mind.
It includes all the luxuries you'd expect including integrated MP3 Bluetooth system with speakers, modern vertical feature radiators, hidden loft storage as well at that aforementioned freestanding roll top bath.
At its heart is the large inviting open-plan kitchen and dining area complete with social kitchen island, high stools and integrated larder.
Verdict
There's no doubt about it – Willerby have gone the extra mile to produce a stunning holiday lodge that exudes sophistication and quality at every turn. There's obviously been a lot of thought put into the design and materials used – and it shows!
Plus points
Excellent build quality with lots of eco materials.
Choice of colour schemes to suite most tastes.
Big, bright and well appointed kitchen.
Hot tub option!
Minus points
Couldn't really fault this one!
In-a-nutshell
An amazing holiday lodge that would find favour with families or retired couples. It's a bit like having your own smart boutique hotel!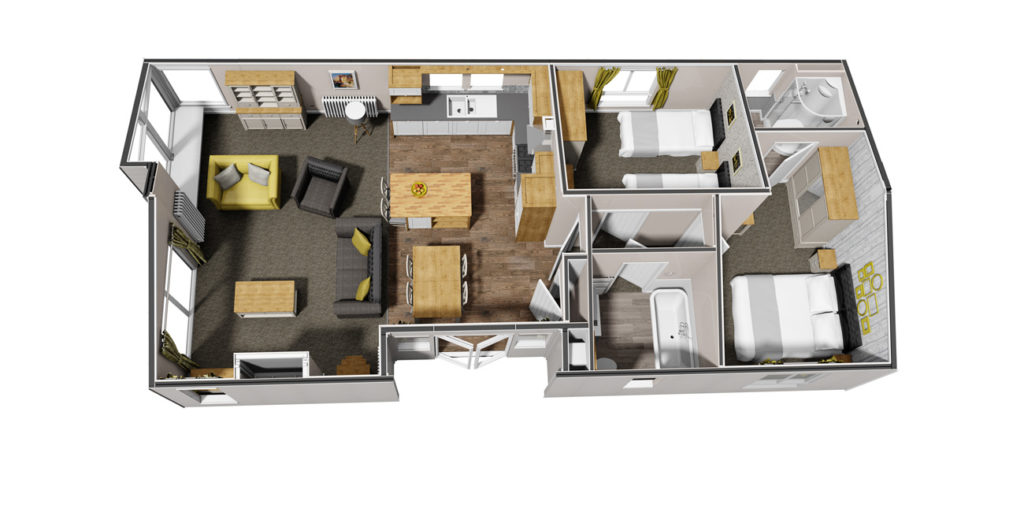 FACT FILE
Size: 40ft x 20ft.
Build Standard: BS3632 Residential Specification (exceeded, say Willerby).
Berths: Four, two in a double bedroom and two in a twin bedroom.
Key optional extras:  Various cladding options; hot tub option; European specification; alternative heating to bathroom and en-suite; shower in place of bath in main bathroom; alternative lounge seating configuration; Integrated 70/30 fridge freezer in place of larder cupboard; double bed in place of twin beds.
Ex works price: Price on application*
For more information email [email protected] or visit www.willerby.com
*Extra charges will be made by park operators, and/or distributors for transport, siting and annual maintenance. Please check the price carefully before you commit to buy, as prices vary considerably dependent, amongst other factors, on the geographical location of your chosen park.