When the sun is shining wouldn't you rather be cooking and eating outdoors? We know a large percentage of static caravan or lodge owners like to dine al fresco when on their holidays, as shown in our recent poll results.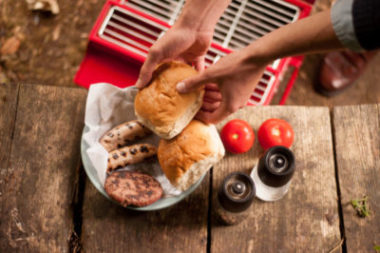 So here we bring you our guide on eating outdoors and then kind of kit you might want to consider.
Tips for eating outdoors
Be careful using any kind of outdoor cooking appliance, such as a stove or barbecue near your static caravan or lodge. Keep your distance from anything flammable in case the appliance accidentally topples over for when flames start licking the air.
Don't put barbecues, or hot pans, directly onto your caravan decking or any grassed areas around your caravan. It might cause scorching, or worse still damage the decking or grass. Make sure cooking appliances are always on a stable surface too.
Check the date on the rubber hosing on your gas barbecue or patio heater. They generally have a five year "working life" and the date of manufacture will be stamped on to the hose. Replace it after five years.
Be considerate of your fellow holidaymakers if you're about to light up the barbecue and generate lots of smoke. Although there's nothing quite like the smell of grilled food on a summer's evening!
Don't bring a barbecue inside your static caravan. It can give off potentially lethal fumes, such as carbon monoxide, plus it's also a fire risk. Make sure it's cool before packing away and once any embers have cooled, dispose of them safely, preferably in a metal container.
When preparing your perfect outdoor meal, use separate chopping boards and knives for fresh meat and vegetables and don't let raw meat touch cooked meat. Brushing meat with vegetable oil will stop it sticking to the grill.
Have your fire blanket or extinguisher close by in case of accidents.
Here we take a look at some pieces of kit to make eating outdoors the perfect experience!
Cadac Carri Chef
The Cadac Carri Chef barbecue is a popular choice for many caravanners as it can be tucked away neatly into its carry case for easy storage for use at home or on holiday. It's modular system offers a number of cooking surfaces, perfect for grills, stews and even paella or pizza!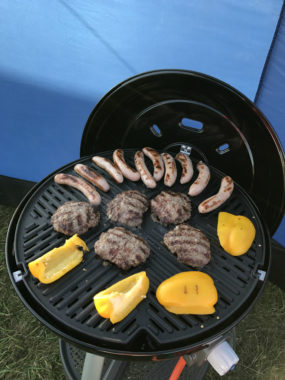 Price from £169
Key features: Fold-away legs and neat carry bag.
More info: www.cadacinternational.com
Royal Seashore dining set
When eating outdoors you don't want to be using your best crockery. Melamine is great for eating outside as it's virtually unbreakable and you can pick up an array of colours and designs to brighten up any outdoor meal. You can spend as little or as much as you like with sets available from many supermarkets, camping shops or static caravan accessory shops.
We loved this 16 piece Royal Seashore set, complete with plates, bowls and cups.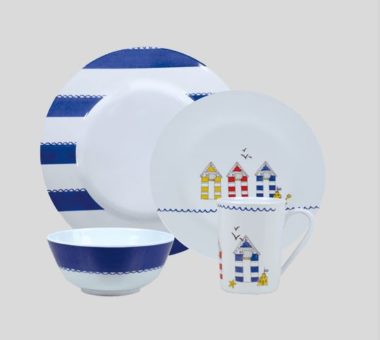 Price from £26.94
Key features: Dishwasher safe, 100% melamine.
More info: www.royal-leisure.co.uk
Patio heaters
A patio heater for your static caravan or lodge deck can be a great way to keep warm when the temperatures drop and you want to stay outdoors into the evening. There are quite a few different types of heaters on the market, from free-standing to tabletop and heaters which are powered by propane gas or electricity.
The usual safety warnings apply:
Don't leave a patio heater unattended or use too close to your static caravan or other hanging or flammable materials.
Only use in a well vented area and don't let children operate or be left near one.
Always make sure it's completely upright so it doesn't fall over and be on a stable, level surface. Plus never move it when it's lit.
Also, check with your park owner that you're allowed to have a patio heater and make sure it's stored away safely in winter so it doesn't get blown away or cause damage to your unit.
A table top heater is probably the best option for static caravan owners. We found this neat unit.
Kingfisher PH300 table top patio heater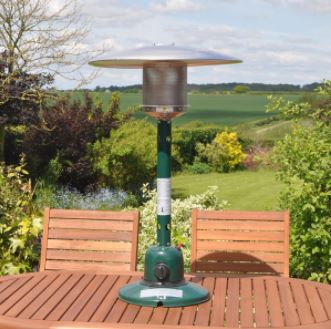 Price from £74.99
Key features: Use propane or butane fuel, piezo ignition, coloured finish, adjustable heat settings (1kW o 4kW)
More info: www.amazon.co.uk
Outdoor seating
When dining outdoors you want to be comfortable but you also want something that's going to withstand the British weather, so it needs to be durable. Plus you might want to inject a bit of style or colour to your static caravan veranda – although the size of your decking and the number of people eating will influence how big or small you want your outdoor seating to be.
You'll also want something that will tuck away neatly or be easily stored away in the winter months so it isn't at risk of blowing away or into your caravan during stormy weather.
We liked this rattan dining set, which has seats that can all be stored underneath the large 1.25m dining table – including the stylish grey cushions.
Borneo nine piece cube dining set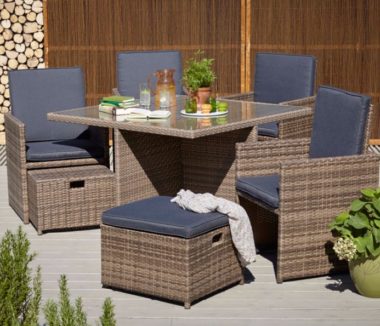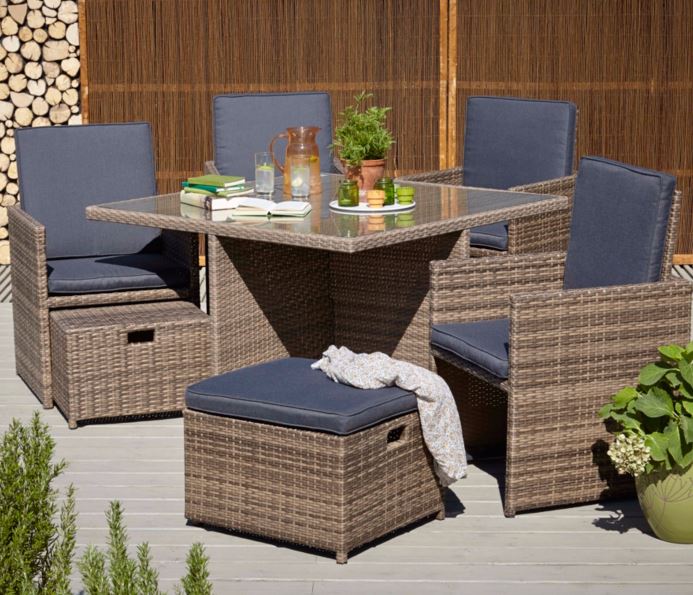 Price from £499
Key features: Four poly rattan armchairs with seat and back cushions, four matching ottoman style stools; no rust aluminium frames; 5 mm toughened glass table top
More info: No longer available on ASDA website.