Contemporary and comfortable caravan that won't break the bank!
The Hainsworth from Carnaby Caravans is one of three models under this name and aimed at the mid-priced section of the market. There's a 36ft x 12ft two bed model, a 39ft x 12ft two bed model (which we review here) and the larger 39ft x 12ft three bed model.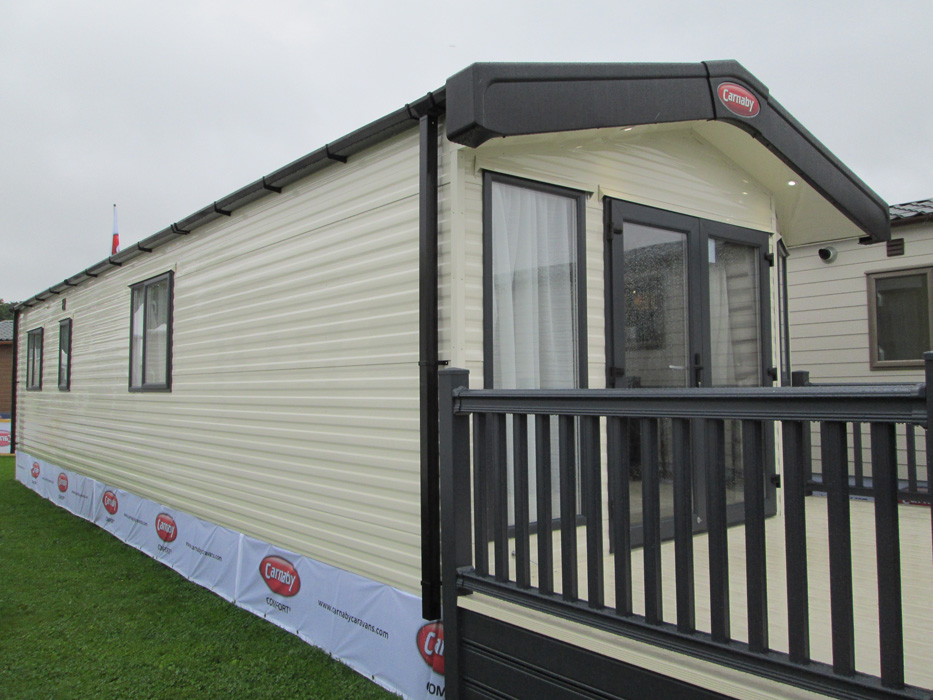 The review model featured standard uPVC cladding in a medium cream colour as well as the normal arrangement of gutters, downspouts and front and rear barge boards with a small overhang carrying the Carnaby badge at the front.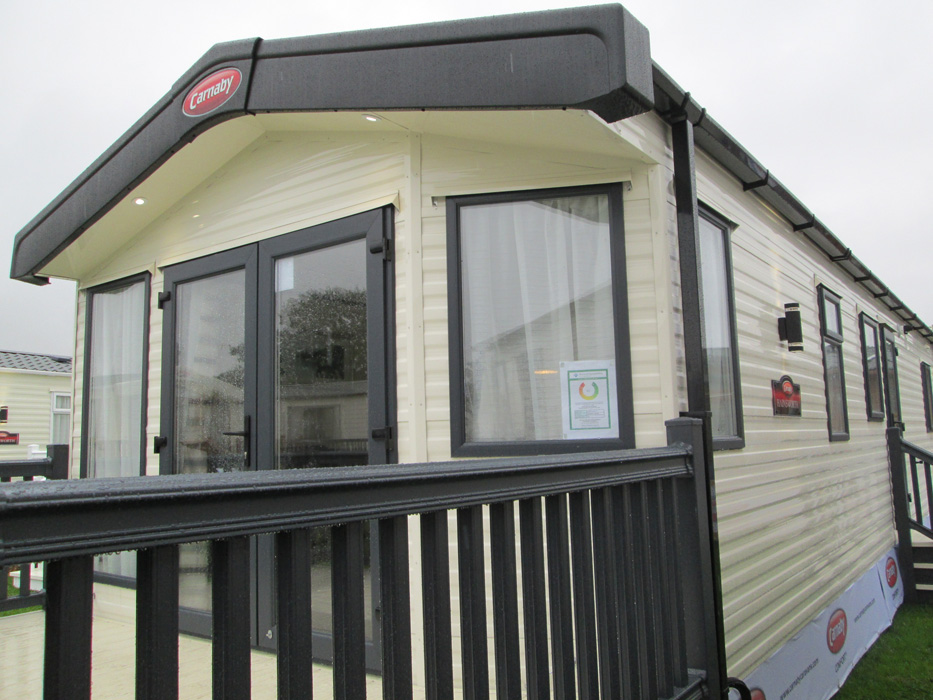 There are plenty of windows, plus sliding patio doors to the front of the static, and a main access door down on the right hand side. An exterior light is fitted above the Carnaby sign near the side door.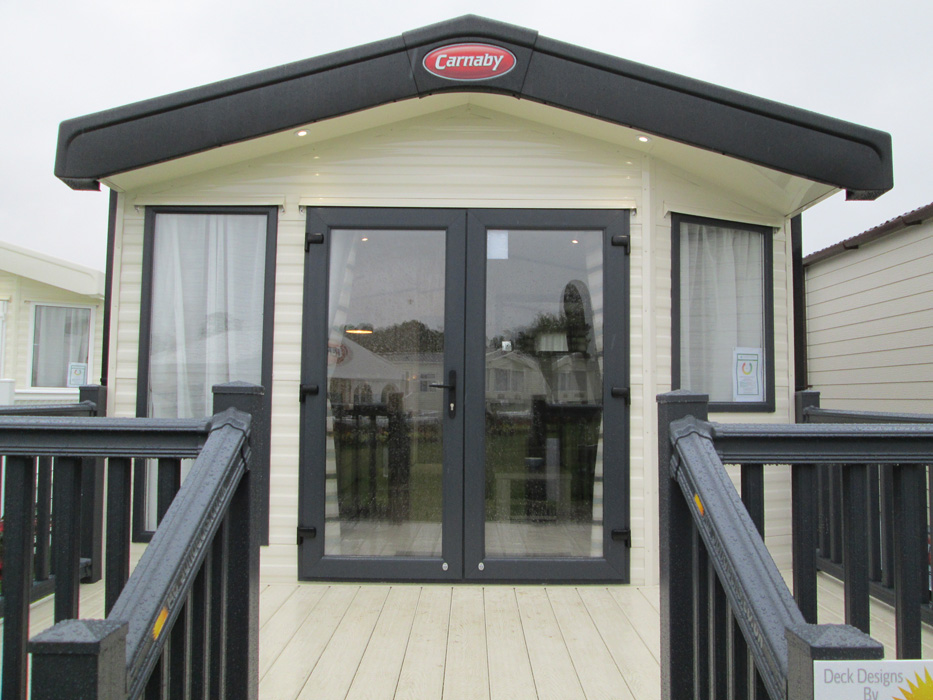 The caravan features a painted steel chassis with galvanised legs and reversible towbar and the usual fully- and pre-galvanised chassis are also available as optional extras.
The normal insulation specification is provided in walls (25mm), roof (120mm) and underfloor (25mm) and Carnaby has fitted their superior Ultrawarm package of insulation which, on the Hainsworth comes as an upgrade for £3,500 and, in our opinion would be worthwhile if you want to get the best value from your caravan by using it year round. This package also includes a wet system radiator network with thermostatic valves throughout the caravan plus extra thick insulation and Argon filled double glazed windows.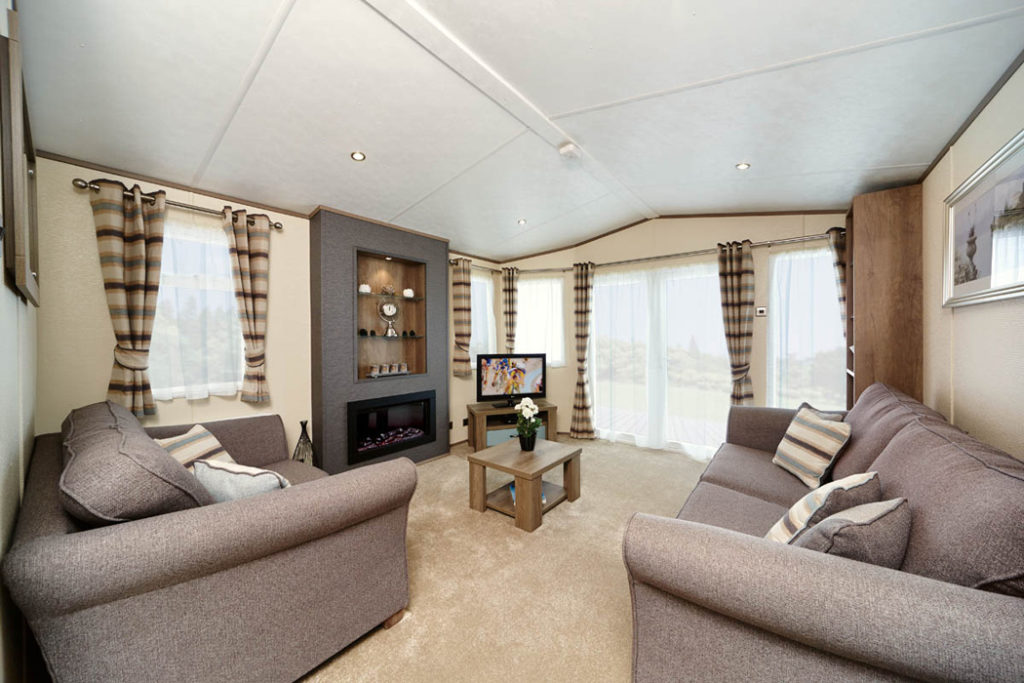 The percentage split of accommodation inside the Hainsworth is about 50-50; the lounge and kitchen taking up the front end with the bedrooms and bathroom all at back of the caravan.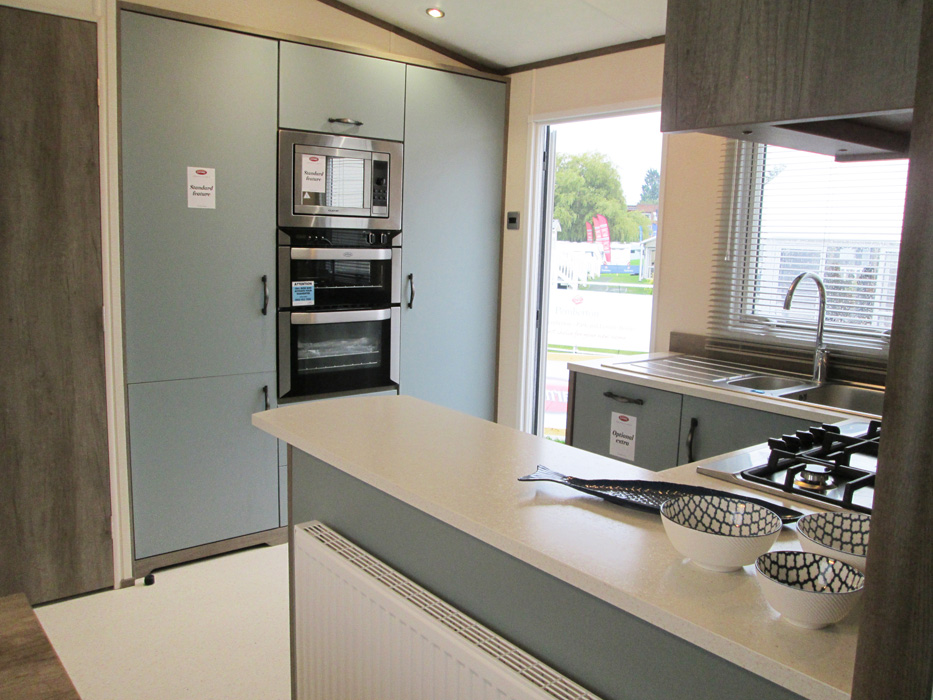 Entering via the side door, you step straight into the kitchen. This is an unusual layout as you are immediately into the main C-shaped arrangement of units with the sink immediately to your left, the stove in the centre and the final arm of the 'C' forming a nice breakfast bar.  Usually, you get the dining table near the door, but in this case it's set on the opposite side of the room meaning it might be a little warmer for dining during the cooler months.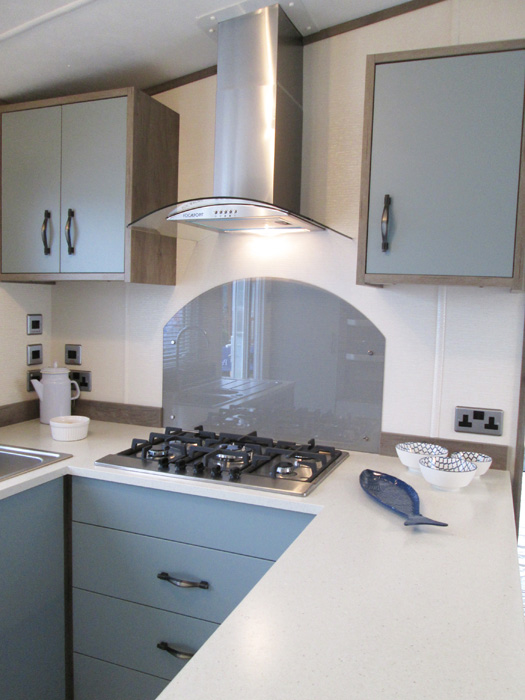 The kitchen is very stylish and there are plenty of cabinets, which are finished in a contemporary light teal blue with contrasting white worktops and dark oak sides. The wall on your right is completely self-contained with huge cupboard doors which hide the fridge/freezer and combi boiler. The central section has a built in double oven and grill with a microwave above while the hob is inset on the opposite side along with a nice smoked glass splashback and extractor hood. This is a very workable arrangement giving plenty of space to move around with hot pans and roasting trays.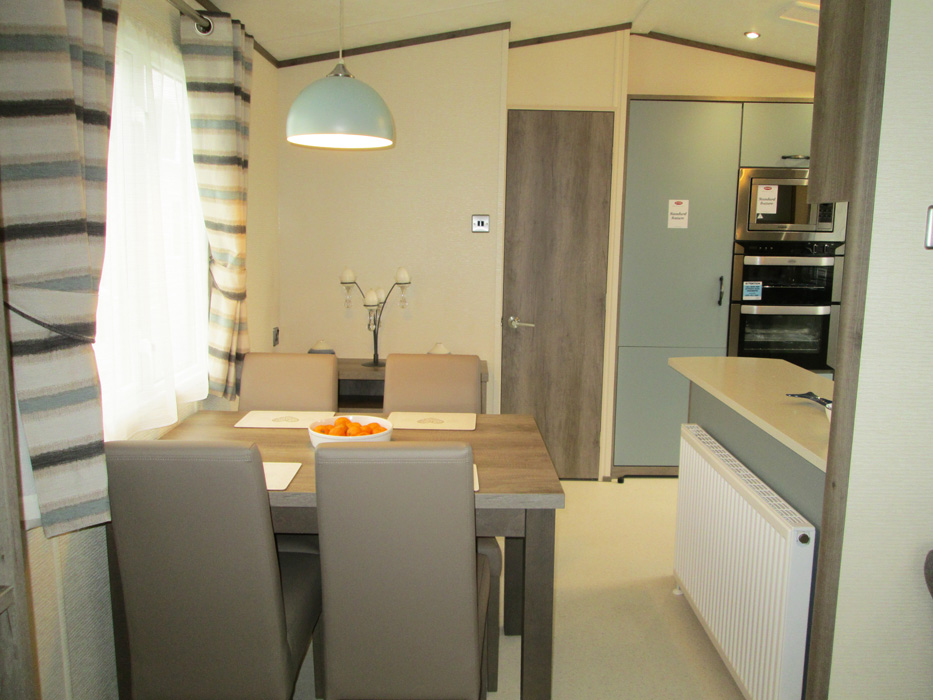 The sturdy wooden dining table has four fully upholstered chairs in brown leatherette. It sits in front of a big window and would comfortably sit four people. There's also an option for a further two people to sit on stools (optional extras) at the adjacent breakfast bar which sports a wide, spacious top.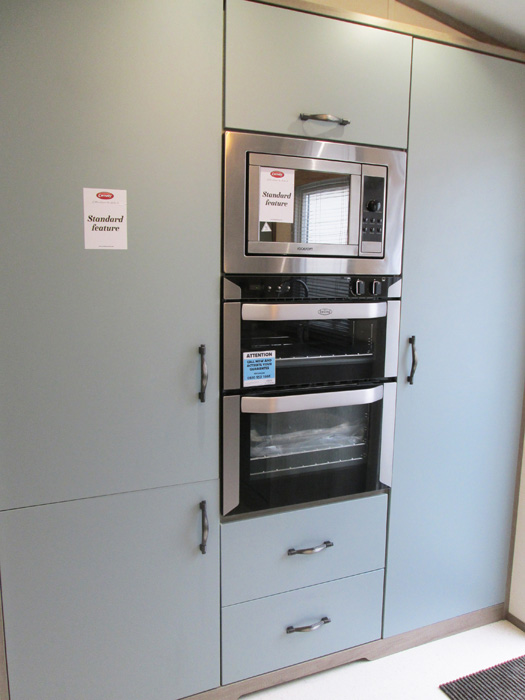 The reverse arrangement of the kitchen means that the Hainsworth's lounge is more enclosed than usual which would definitely appeal to those not wanting a huge, open plan caravan. The back of the kitchen forms a bulkhead wall in the lounge and access is near the dining area.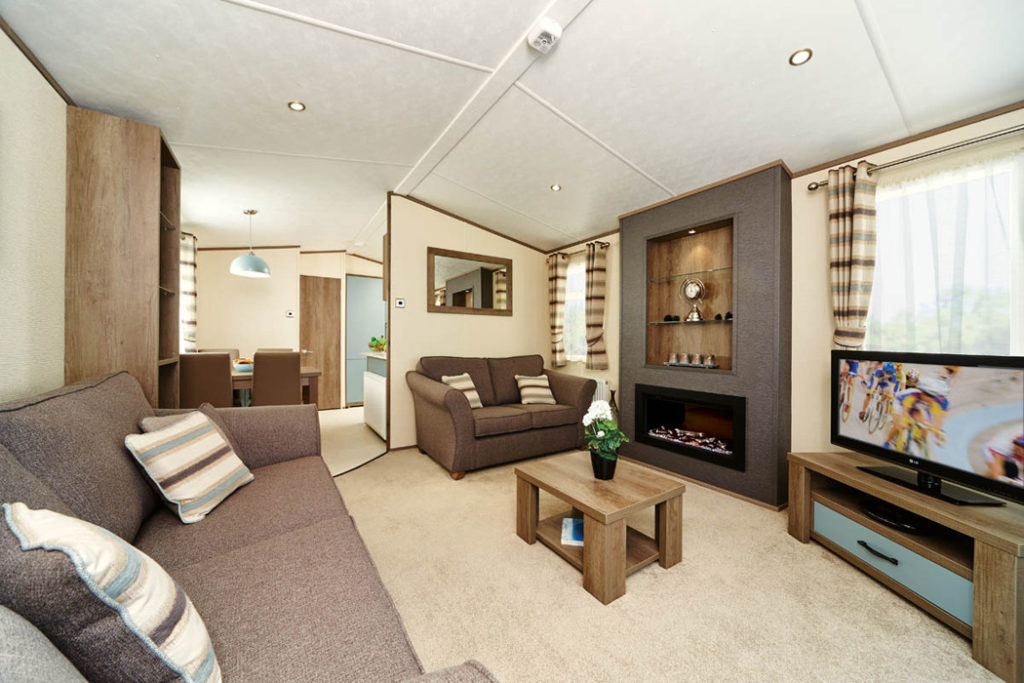 The lounge itself is spacious with a sophisticated colour palette of browns, beige and dark wood timbers with cream walls, all offset by striped curtains on rods, and that light teal blue we saw in the kitchen on scatter cushions and drawer fronts. Furniture supplied as standard includes two sofas; two and three seaters, a coffee table and corner unit which acts as a stand for the television and has a slot for digi boxes as well as a big storage draw underneath.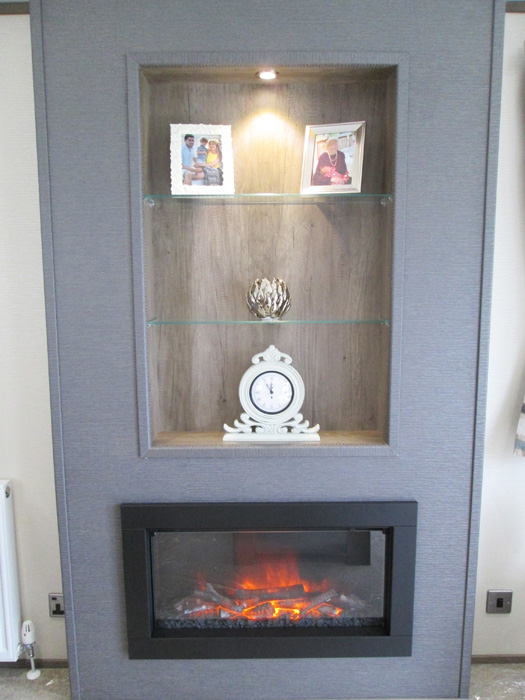 Central to the room is a floor to ceiling fireplace in a grey material that looks like it has a fabric finish, with an inset flat flame effect electric fire with a set of glass shelves in a niche above.  This is illuminated and looks very stylish. Other lighting comes from several inset LED downlighters in the full height pitched ceiling. The lounge is both bright and airy due in no small part to the large patio doors and the two other windows in the front wall.
Now let's turn to the sleeping accommodation and washing facilities of the Hainsworth!
Moving back through the kitchen, a central door takes you into a long corridor off which are the doors leading to the bedrooms and bathroom. First on the left is the main bathroom, a long shaped space with shower cubicle and sliding glass door and a modern low profile toilet at the opposite end. In between is a long, oblong handbasin perched on top of a double storage cabinet (a great thing in a bathroom with all those bottles and potions), with a large mirror above and a set of glass shelves to the right.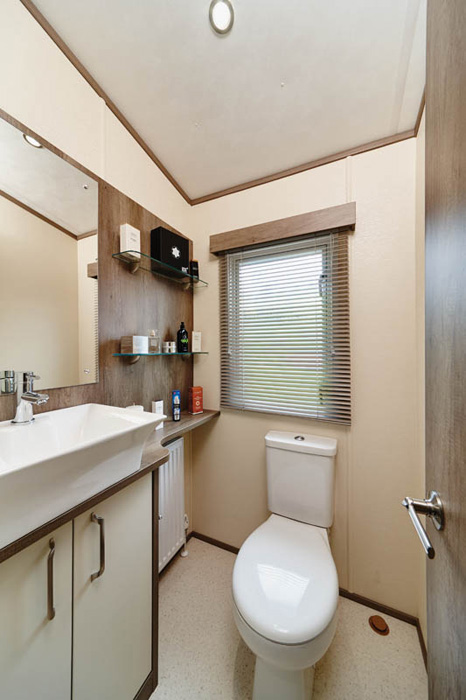 The mirror and shelves are mounted on a dark oak panel which gives a really nice 'finished' look to the bathroom. The quality of taps, fixtures and fittings are high and, like the rest of the Hainsworth, Carnaby have given this caravan a five star look at a three star price.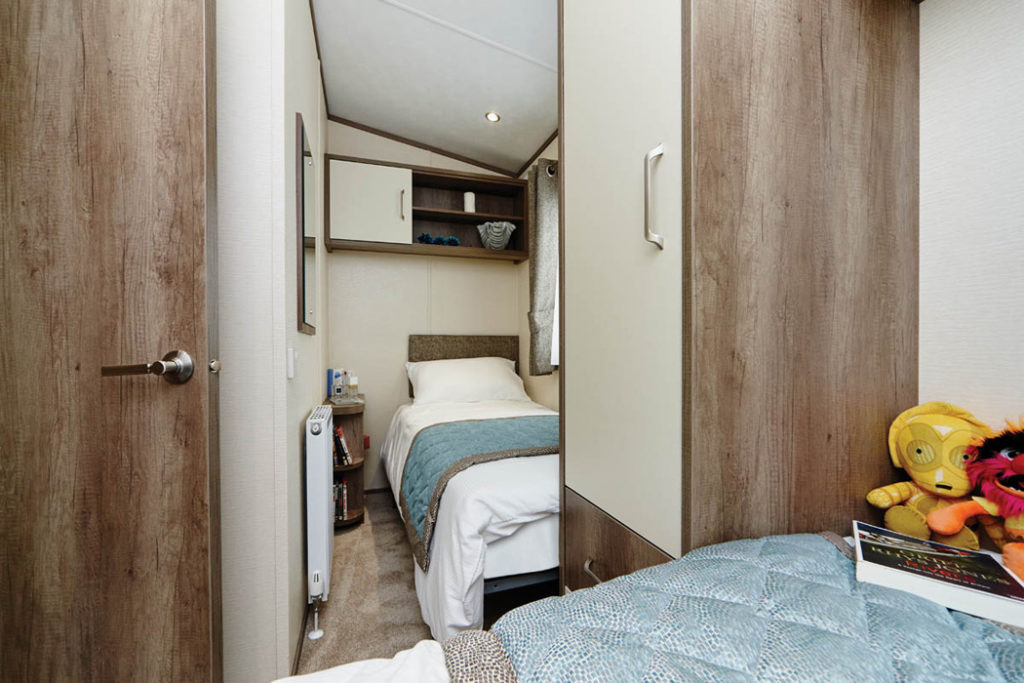 The twin bedded room, like that kitchen, has a different layout.  Instead of cramming in two 3ft beds side by side with little room even to climb into them, Carnaby have instead positioned one bed at right angles to the other. This means that when you walk into the room you have some very useable space to turn around and put your clothes away in the central wardrobe that separates one bed from the other.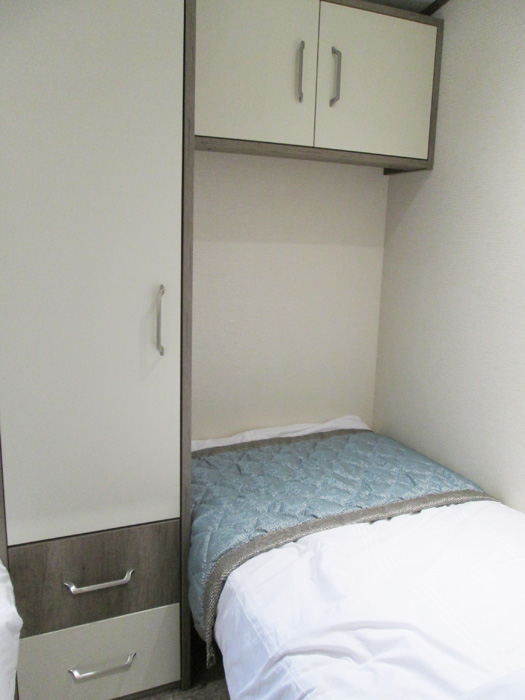 We think older children in particular would love this arrangement as they would not be on top of each other and would have their own space in the room. You even get over the bed storage as well as a small set of shelves in one corner – well thought out and very practical.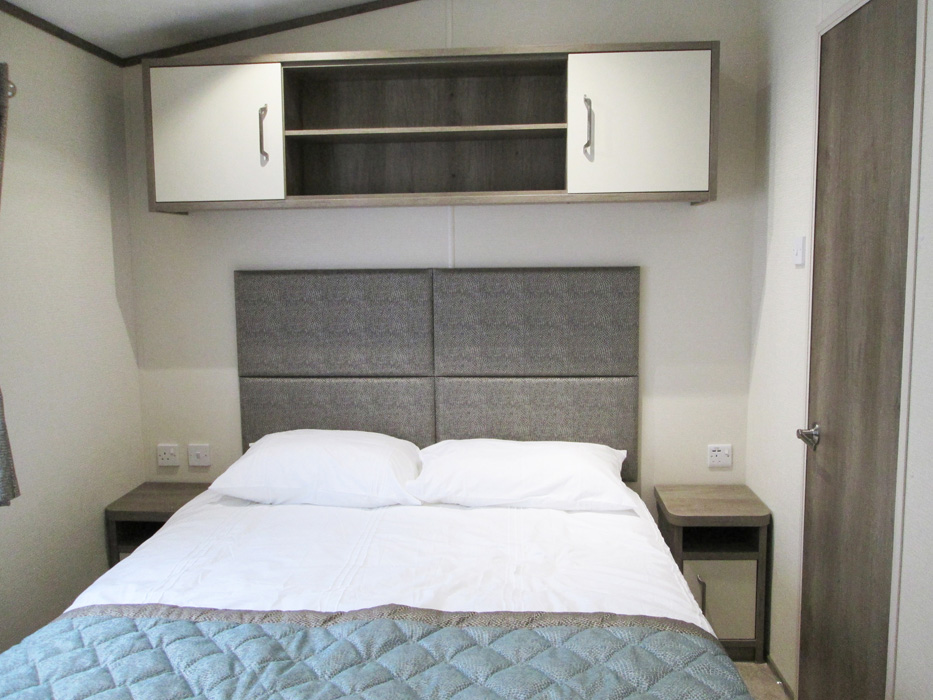 The master bedroom has a centrally located double bed (lift up version for extra storage is available, too), there's a nice, big padded headboard and a set of cupboards and shelves on the wall above. Built in at the foot is a large double wardrobe with hanging space and you also get a small vanity shelf with a mirror.
A door leads off to a tiny but useable corner en-suite with a similar toilet to that in the main bathroom and a handbasin with cabinet, mirror and two glass shelves – all you really need in an en-suite.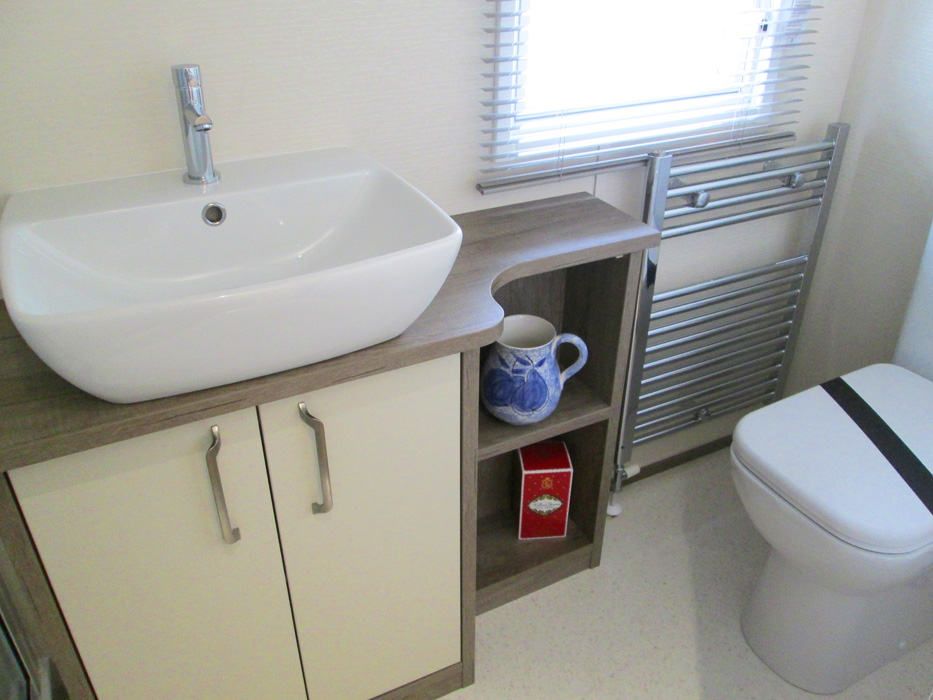 Verdict
Carnaby have come up trumps with the Hainsworth range.  All three models look both stylish and comfortable and those different layouts in the kitchen and twin bedroom allow for that bit of extra privacy when entertaining guests. All this at a price that's not to be sniffed at!
Plus points
Stylish, practical kitchen with bags of storage space.
Comfortable lounge with big, squashy sofas and good-looking décor.
Spacious bathroom.
Great layout of beds in the twin bedroom.
Minus points
Nothing springs to mind.
In-a-nutshell
A great looking caravan with contemporary styling at a fantastic price. Well worth a look!

Fact file
Size: 39ft x 12ft
Build Standard: EN 1647.
Berths: Four, in two bedrooms (one twin and one double).
Other models available: 36ft x 12ft 2-bed; 39ft x 12ft 3-bed.
Key optional extras: Various cladding options including plastic, plastic environmental, Canexcel and real timber; Fusion Pro-Tech fully galvanised chassis; uPVC double glazing, Coloured uPVC window frames; Ultrawarm upgrade; trace heating; electric panel heaters; Integrated dishwasher; plinth lighting in the kitchen; luxury bedding sets; gas strut lift up bed.
Ex works price: £36,342.86 inc VAT*
For more information e-mail: [email protected] or visit www.carnabycaravans.com
*Extra charges will be made by park operators, and/or distributors for transport, siting and annual maintenance. Please check the price carefully before you commit to buy, as prices vary considerably dependent, amongst other factors, on the geographical location of your chosen park.