Central, open plan living in a stunning, light soaked, contemporarily designed interior.
Introduced for the 2018 season, Omar's superb Atrium lodge really does take the concept of finding the best view and having the means to enjoy it to the extreme.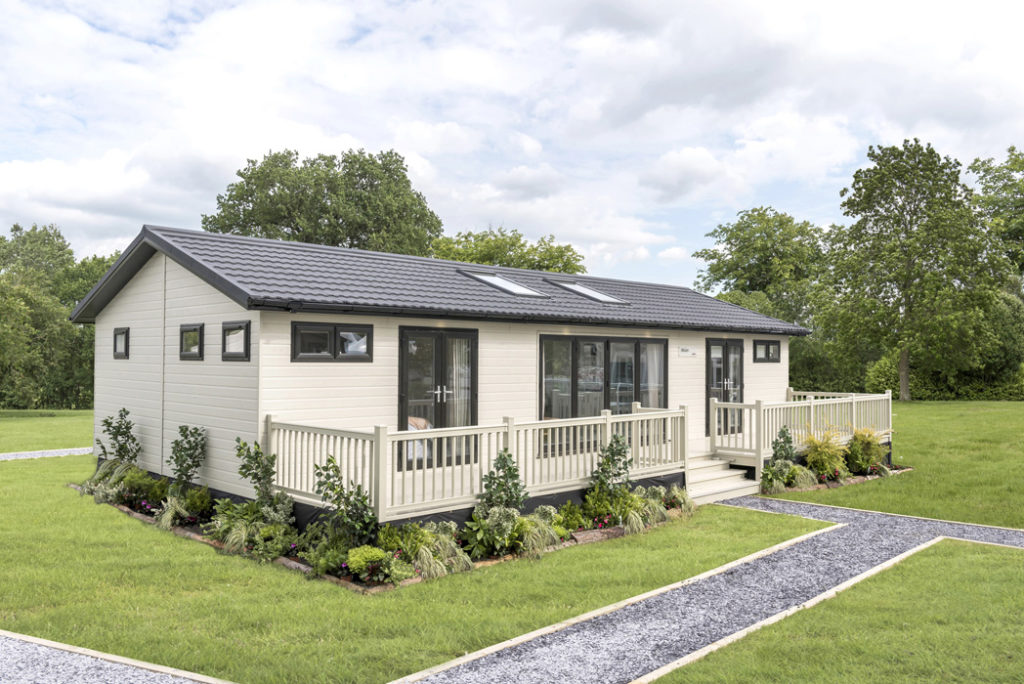 The exterior which, let's face it, is nothing radical in terms of looks, does have a massive set of quad-fold doors centrally positioned on one side. These will maximize any available vista, as well as bringing the living space outdoors and with the added bonus of letting bags of natural light to flood inside.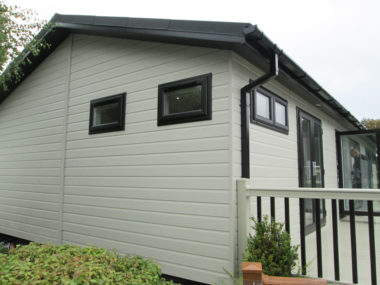 Not only that, but the master bedroom also has a set of French doors, as does the second bedroom, which means that view can be enjoyed from the beds as well as the living areas.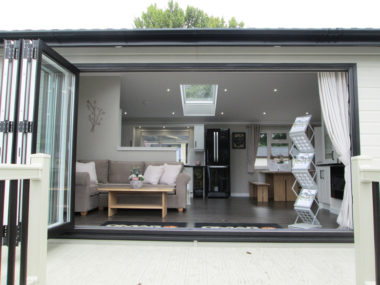 In fact, the whole 45 feet of the front side of the Atrium is mainly glass giving it a pleasing, symmetrical front.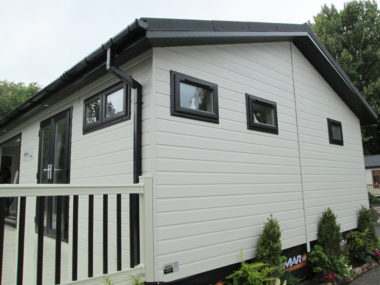 The lodge features a pitched, charcoal Metrotiled roof along its length which is covered by Omar's impressive 40-year guarantee and the line of the roof is punctuated with large skylights over the kitchen and lounge areas allowing even more light to enter.
The Atrium is built to BS3632 (2015) residential specification and protected by Omar's 10-year Gold Shield structural guarantee. It's clad in Canexcel in a colour called River Rock which contrasts well with the roof, door and window surrounds. The Atrium is also available in a wide range of other colours and claddings and has all the usual high value insulations in floor, walls and roof.
There are two versions available: the 45ft x 20ft 2-bed (our review model) and an extended 50ft x 20ft unit with a master and two twins. At the showground, Omar had fitted a long deck along the whole width of the lodge which really did extend its useable footprint and was a superb accompaniment to the folding doors.
All windows and doors are uPVC and double glazed with a 10-year warranty on the frames and five years on the glass. Although it looks like the main access is through those big folding doors, there is a normal-sized glazed door on the opposite side, giving access to a short hallway, complete with a cupboard with coat hooks and storage.
One of the things we really liked in the Atrium was the fact that the bedrooms were located at either end of the living space. This would be fantastic for families with (especially young) children who could retire to bed leaving the adults to enjoy the lounge late into the night – or vice versa!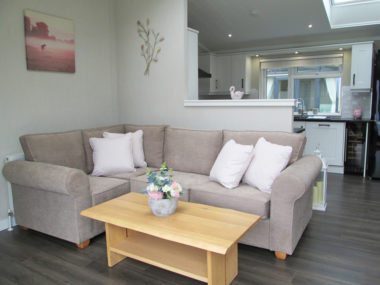 Stepping into the lounge is an impressive event! The tall, vaulted, panelled ceiling and the skylights really do make the space feel huge and bright. Omar have furnished the lounge in a very simple manner; you get an Isla corner seating settee with coordinating scatter cushions, a coffee table and… that's about it! However, owners of a lodge this size would undoubtedly wish to bring in some of their own furniture – bookshelves, side tables etc – and there's plenty of room for them to do this.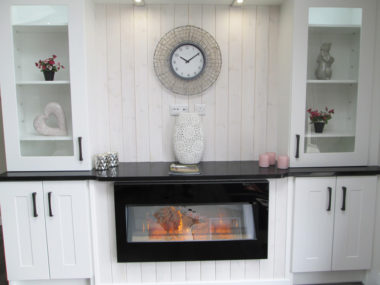 The other main feature of the lounge is a feature unit housing the Flamerite Omniglade black mirror fire with logs and embers. This upright unit had white panelling with built-in white Ash glazed cabinets and under cabinet lighting – just the place for ornaments, books and DVD's. The central section has a shelf for the flat panel TV and is ready-wired with power and aerial sockets. Lighting in the Atrium is supplied by inset LED downlights and there are also plenty of USB charging points with the power sockets.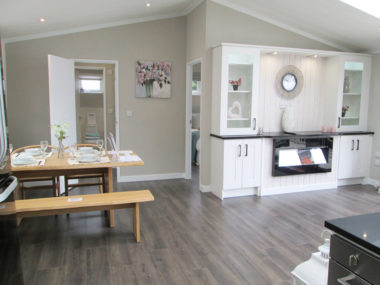 The only detail separating the lounge from the kitchen and dining areas is a low, half height wall (also in white panelling). The kitchen, as you can imagine, is superb. Set around a 'D' shape, the central feature is a huge, black, Belling Farmhouse range cooker with chimney-style extractor hood and black glass splash-back.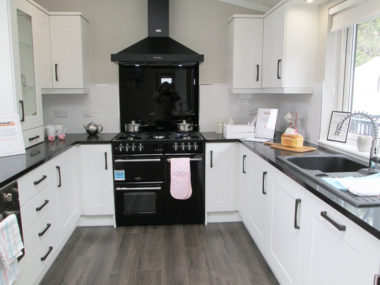 The overall look is monochrome with white high gloss cabinets to walls and floor, surmounted by Silestone worktops in black. There's a Belfast sink with arched mixer tap, Porselanosa feature tiling and under cabinet lighting which gives a very sophisticated effect. Supplied appliances include an American style freestanding fridge/freezer, a wine cooler, plus an integrated dishwasher, washer/dryer and a microwave. This kitchen lacks for nothing!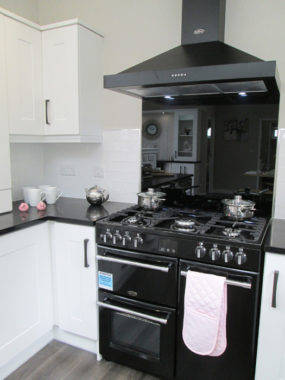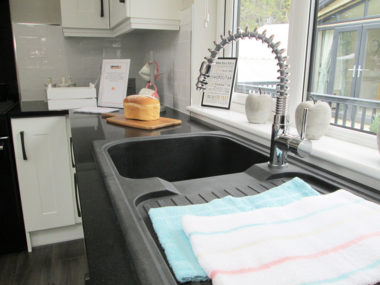 The dining area is really wherever you want it to be – there's plenty of room to position the supplied freestanding dining table with two chairs and a bench seat. Having said that, it will always be within easy plate serving distance from the kitchen.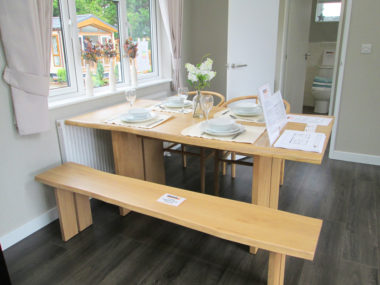 Now to the bedrooms – let's look at the twin first. This is accessed either from a door in the corner of the lounge or through the French doors at the front of the lodge. Although many twin rooms can be tiny, that's not the case here and at over 12ft x 9ft you're definitely not cramped either for space or style.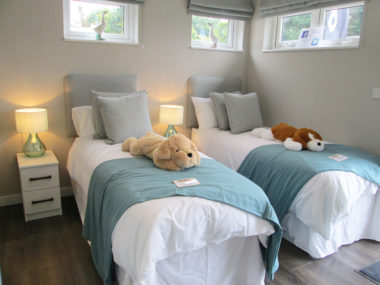 The full size, 3ft 6in beds have wall mounted headboards and freestanding bedside tables with drawers. Beds have colour co-ordinated bedding and runners and windows are fitted with both white Venetian style blinds and roll down blinds. You get a big integrated wardrobe with smooth sliding doors as well as a four-drawer chest.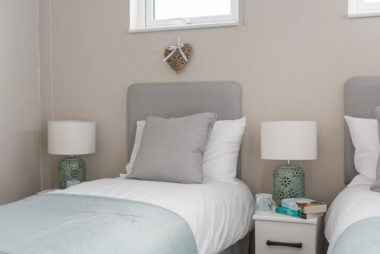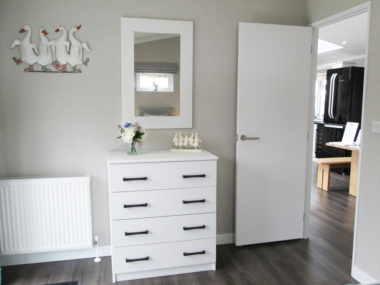 The twin bedroom sits conveniently next to the family shower room. In here you'll find a walk-in shower with 'Deluge' thermostatically controlled shower and a sliding glass door, a low profile double flush toilet and a stylish circular handbasin set atop a storage cabinet with illuminated mirror above. The walls are lined to half height with tiles called Madagascar from Porcelanosa and the floor is covered in an easy clean vinyl.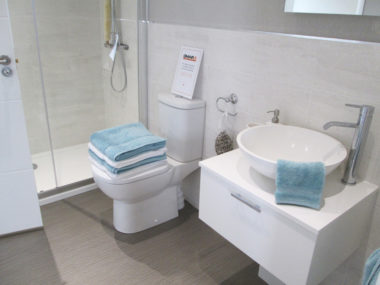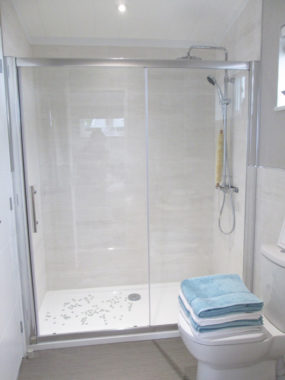 The master bedroom at the other end of the lodge is very luxurious and open plan in its design. For starters the double bed is located in the centre of the room – almost an island – and is separated from the en-suite by a half-height panelled wall similar to that found in the lounge. Freestanding bedside tables have reading lamps and, again, bedding is colour co-ordinated with runners and scatter cushions. All curtains are thoughtfully lined.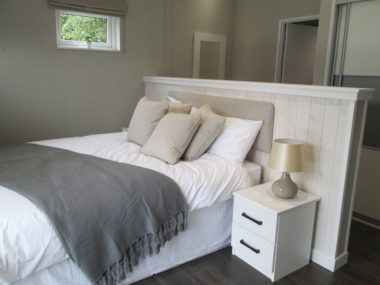 The master has a massive walk-in wardrobe with sliding doors and hanging space which would be the envy of many people's standard homes. Near the wardrobe is a well-lit dressing area with vanity unit, mirror, stool and storage.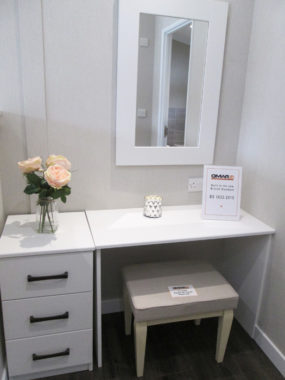 Like the twin, the master bedroom is a lofty room with, not only a walk-in shower, but also a full-length fixed bath. Décor and accessories also mirror the twin, in what is a luxurious space to soak one's bones after a hike along the coastal path!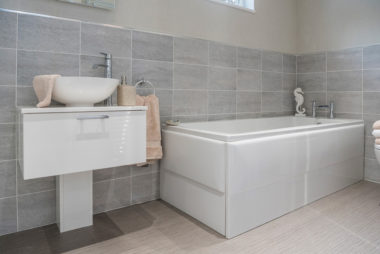 Verdict
In the Atrium, Omar have produced a practical, contemporary design. The minimalist look, combined with a grey and pastel colour palette works well and we like the ability to customise if needed. Those huge glazed doors would make the absolute best of hot, sunny, summer days – especially if you've got a view to match!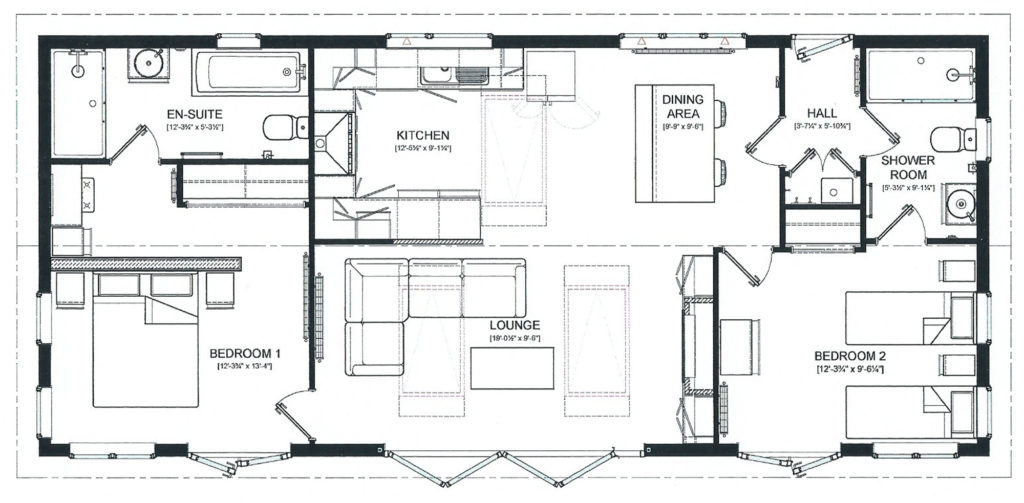 Plus points
We love that huge expanse of glazing to the front!
Bright, light and impressive lounge/kitchen.
Ability to customise with own furniture.
Bedrooms separated from each other.
Stunning, well-appointed kitchen.
Stylish bathrooms.
Minus points
Apart from a rather plain exterior, nothing at all.
In-a-nutshell
Style combined with space, light and practicality – what's not to like?
Factfile
Size: 45ft x 20ft
Berths: 4, in two bedrooms (one twin room and one master double).
Build Standard: BS3632 (residential standard).
Other layouts available: 50ft x 20ft – three-bedroomed, sleeping six.
Key optional extras:  Various colour and cladding options.
Ex works price: POA*
For more information e-mail: [email protected] or visit www.omar.co.uk.
*Extra charges will be made by park operators, and/or distributors for transport, siting and annual maintenance. Please check the price carefully before you commit to buy, as prices vary considerably dependent, amongst other factors, on the geographical location of your chosen park.