A superbly designed lodge that makes a bold style statement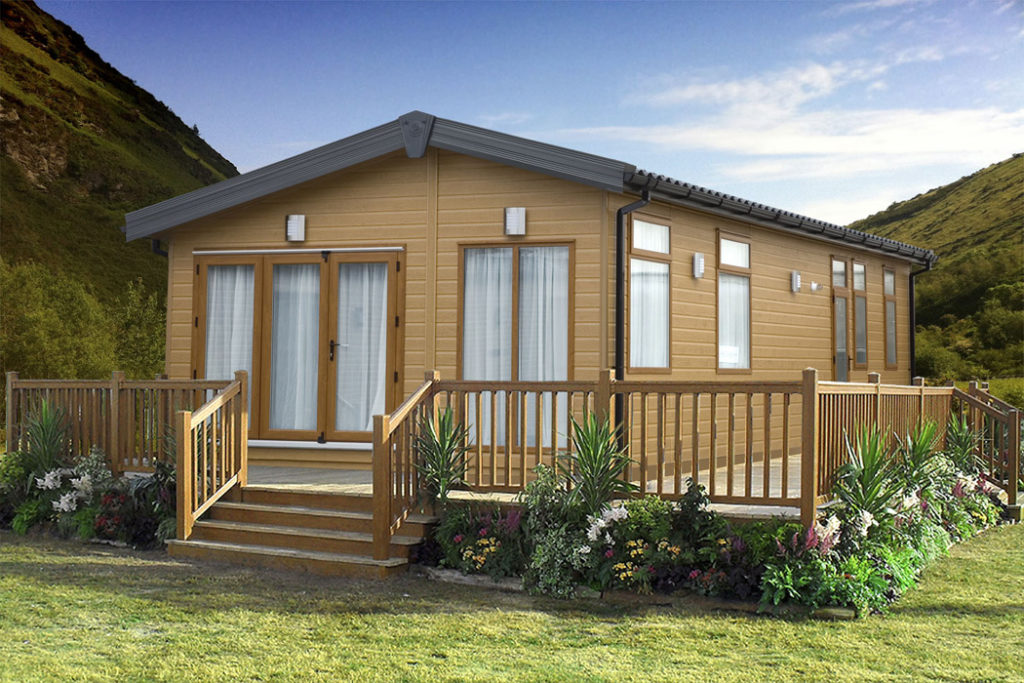 The Arrondale lodge from Pemberton Leisure Homes is one of their most popular models. There are two available – the review model at 45ft x 16ft and a slightly smaller 42ft x 16ft.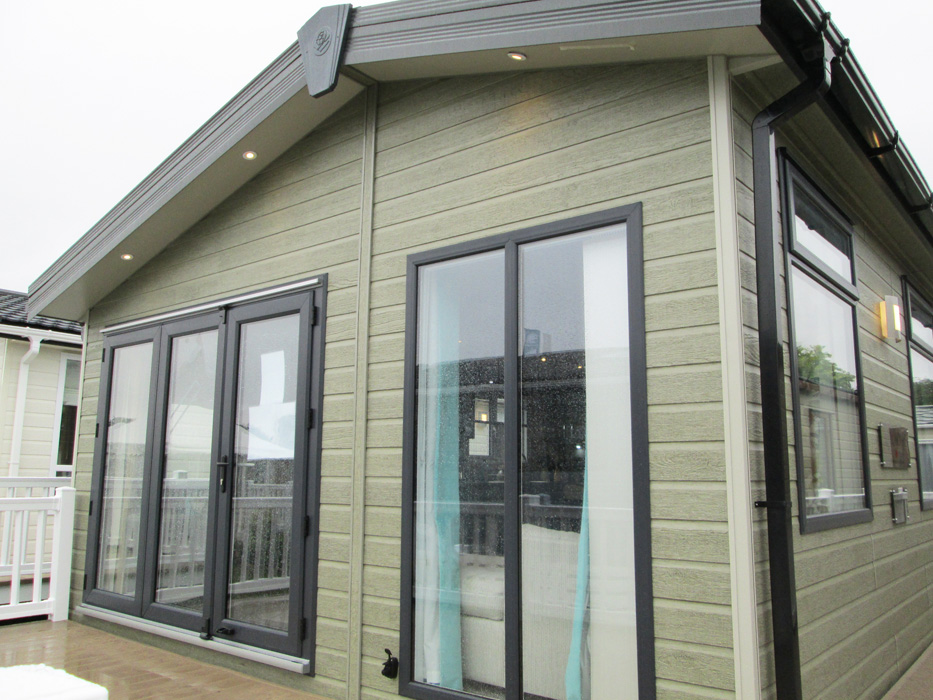 The Arrondale is available to residential specification BS3632, which includes 200mm insulation in the roof, 100mm in walls, at least 65mm in the floor as well as insulated windows with low E glass and filled with Argon gas, and superior U-values which, claim Pemberton, exceed the British Standard. There's also the option to upgrade to have a utility room fitted to give that little bit of extra space for coats, washing machine and tumble dryer, as well as a sink.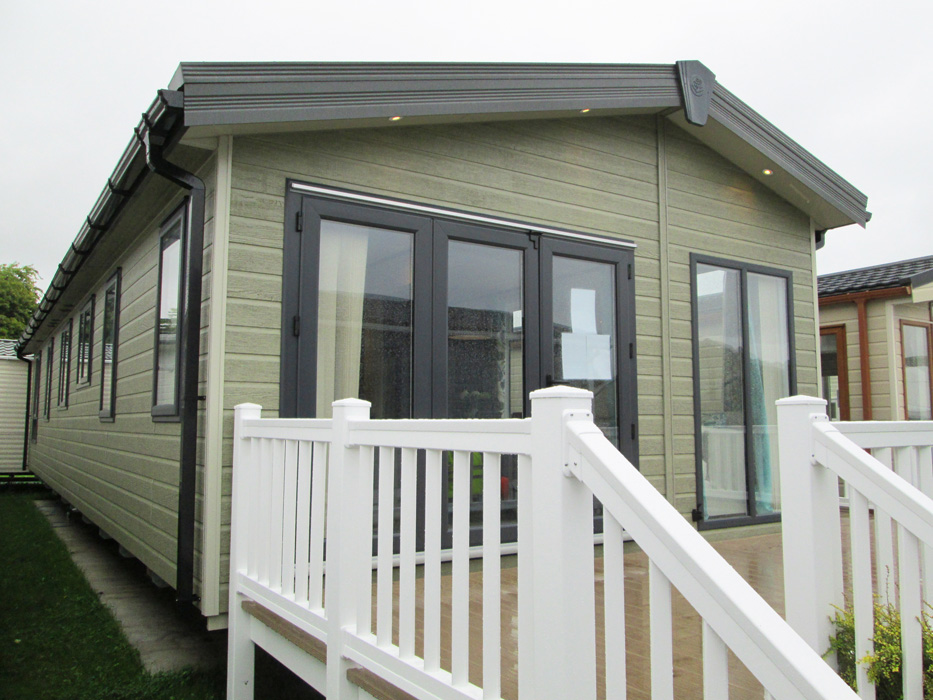 There's also a Platinum Package available on both models which includes a Metrotile roof instead of the usual steel pantiles, wood panelling to the ceiling, a wallpapered finish, tiling and aqua-board finishes to the bathroom and kitchen and domestic interior doors.
From the outside, the Arrondale has a fully pitched, pantile roofline, which has its centre slightly offset to the right hand side. The review model was in light green Canexel cladding with slate trim to the roofline and a central badged finial. The lodge is mounted on a pre galvanised twin axle chassis and is available in a range of cladding and colour options. Pemberton offer four different types, ranging from vinyl and aluminium, to timber and Canexcel, with various colour options.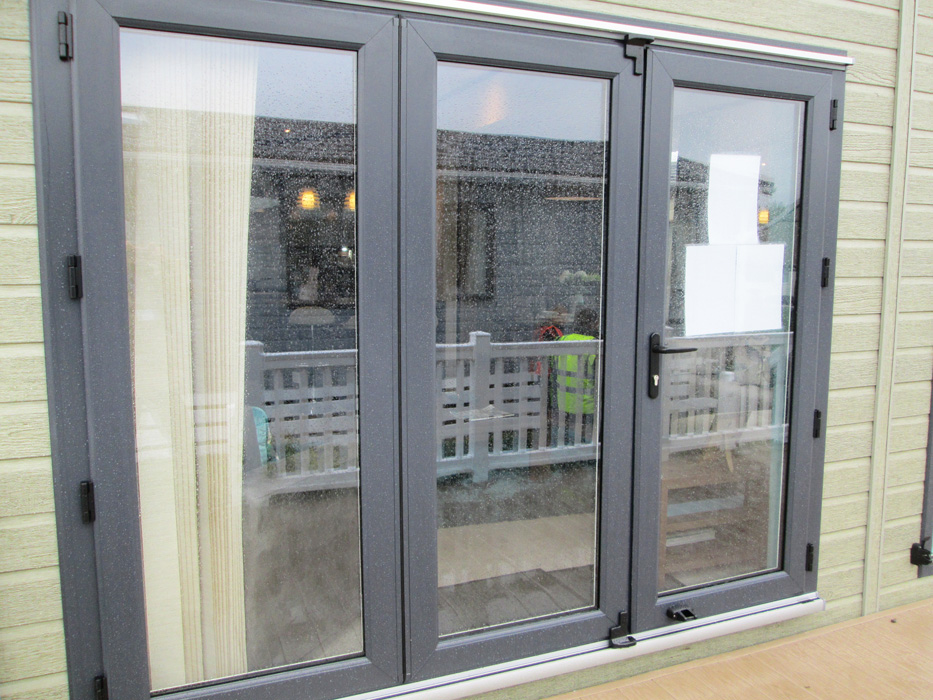 The flooring uses moisture-resistant boards and all exposed pipework is fully lagged. All windows and doors are uPVC double-glazed and to the front elevation there's a large single window to the right and a set of bi-fold doors to the left, which allows access to the front deck (if fitted). Pemberton offers a choice of decking options in a variety of colours and styles, along with exterior lighting. There's also an overhang to the roof at the front end with three inset LED downlights.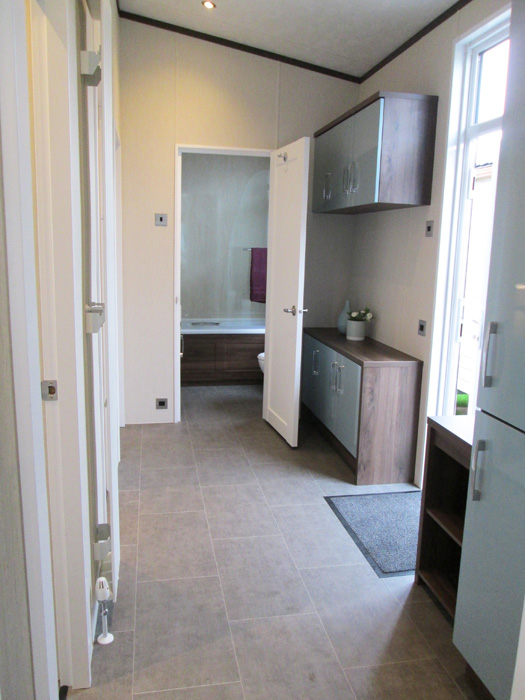 The central lobby has doors to the right, leading to the bathroom and two bedrooms, and to the left takes you into the main open plan kitchen and lounge area.  Straight ahead is the optional utility room fitted with cabinets, a sink and washing machine. This is a real boon as it not only gives you useful extra storage space but a place to hang coats, muddy boots and other items.  The lobby itself has fitted cabinets for extra storage.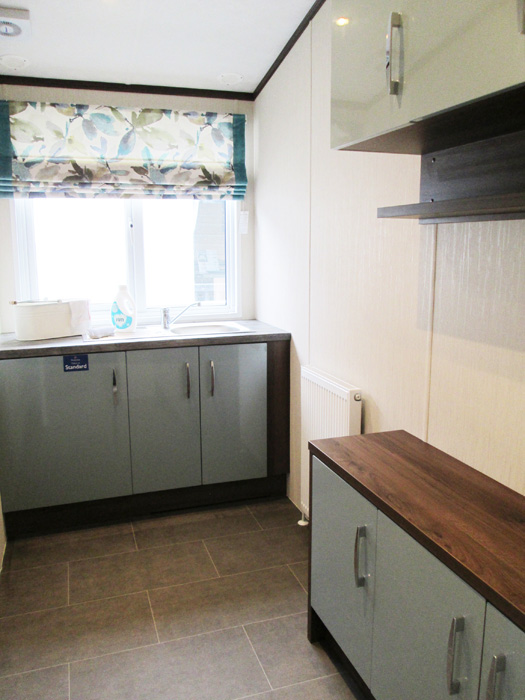 The main living area with lounge, kitchen and dining space is impressively large and completely open plan – apart from a single floor to ceiling column near the island breakfast bar. The most striking thing is the statement colour palette chosen – a combination of browns, beiges and creams with accents of teal and turquoise in a central rug.  All very stylish and pleasing on the eye.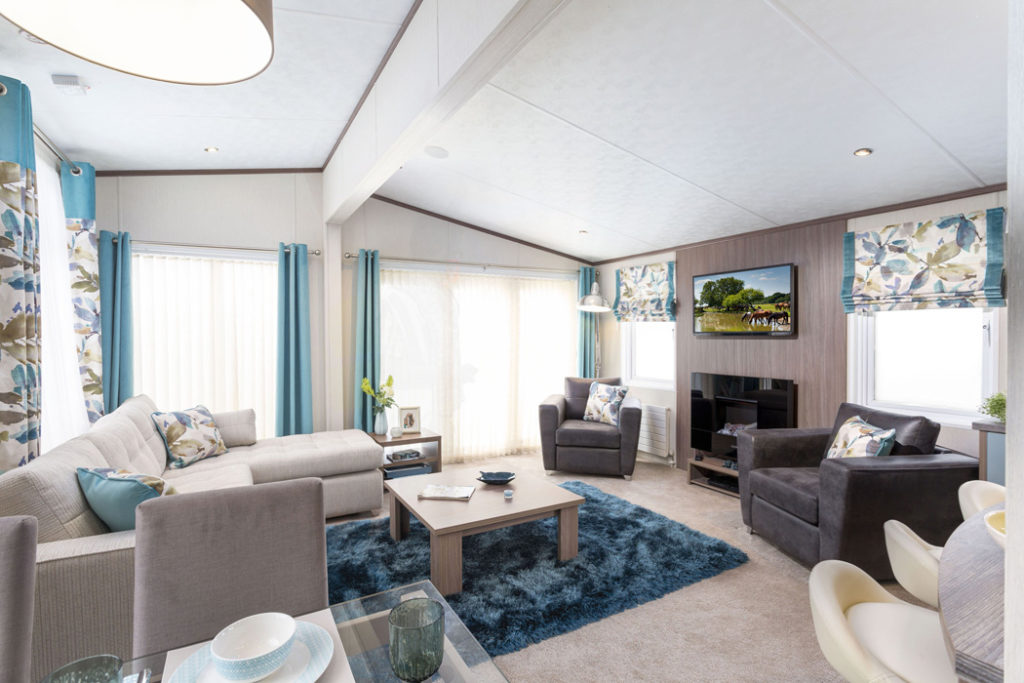 You also get retro-styled armchairs and a chic corner chaise sofa, which are all stylish yet, durable, too. The bifold doors leading outside give an impressive opening, allowing the outside in, and curtains and roman and vertical blinds are both subtle and practical. There's a coffee table and a two-shelf side tables but also plenty of available wall space if you wanted to bring in a bookshelf or two.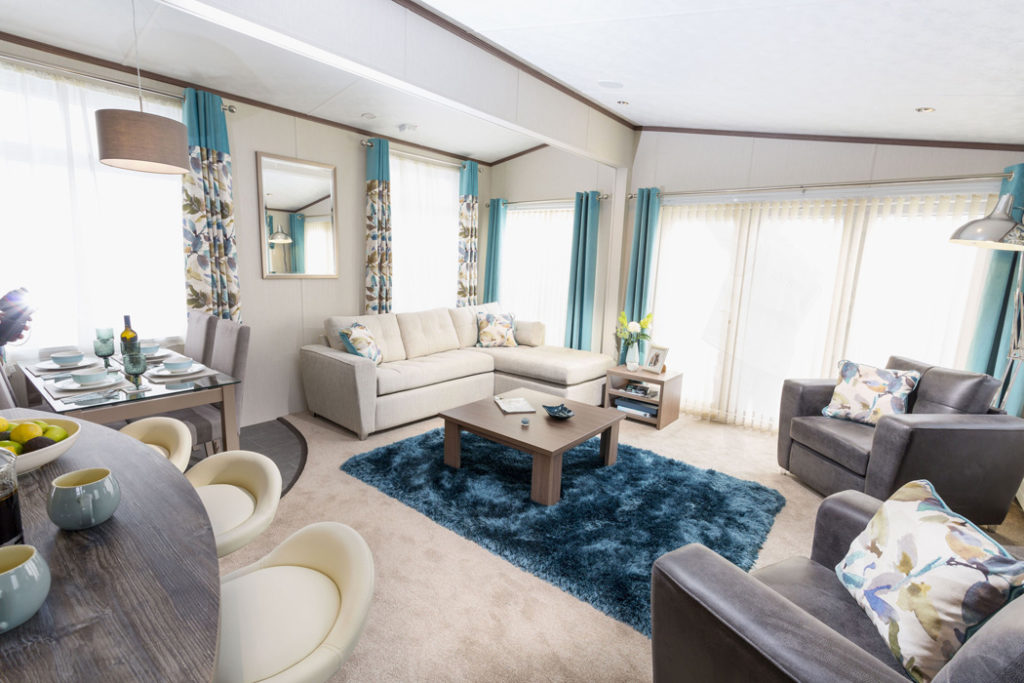 A central fireplace in dark timber effect has a remote controlled flame effect electric fire and above, on the 'chimney breast' is space for a large flat panel television.  There's a protruding shelf at floor level, presumably for the TV digi boxes and a bit of storage for DVD's.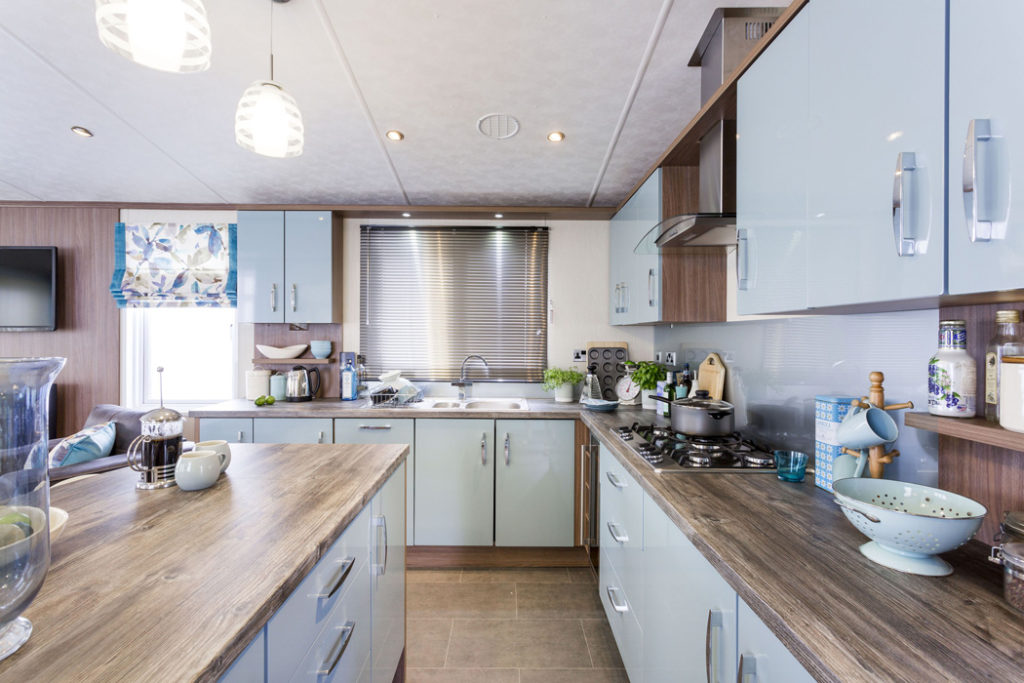 The kitchen carries on the stylish theme with teal coloured high gloss doors to cabinets, a bespoke worktop and pale grey vinyl flooring.  A huge breakfast bar with three, leather, high stools acts as a separator between lounge and kitchen and sits opposite the dining table, which has four high back upholstered chairs. A large window and pendant light fitting above mean that mealtimes will not be dark!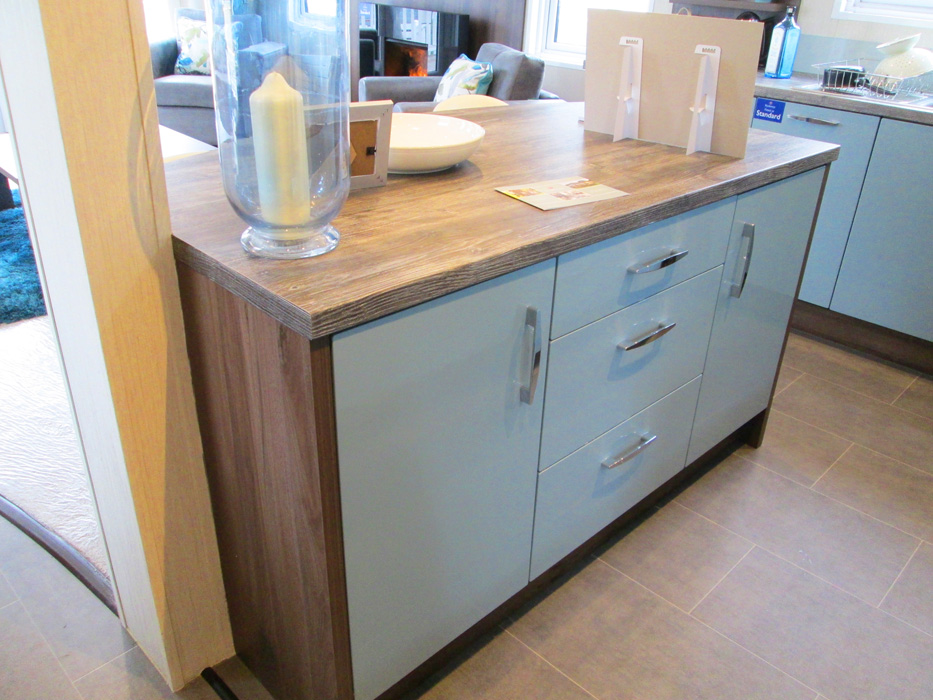 The main kitchen is split across the lodge with a wall taken up with built-in, high-level double ovens and microwave surrounded by storage to the left and a fridge/freezer to the right.  There are plenty of cabinets for storage and a built in five burner hob unit with extractor hood and fan.  Lighting is a combination of inset LED downlights and three glass pendants suspended above the breakfast bar.  Other appliances supplied include a dishwasher and washer/dryer.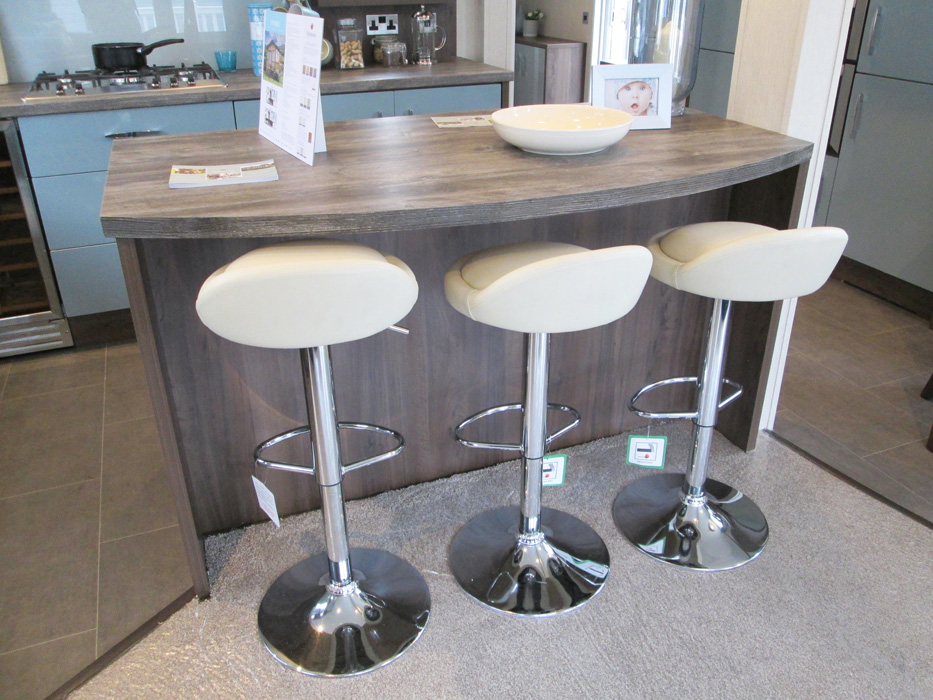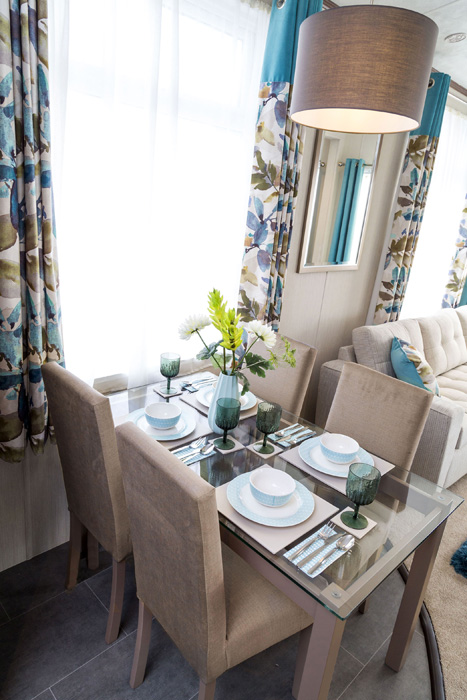 Moving on, the twin bedded room is first on the left after the utility room. Nicely decorated in shades of beige, browns and with an accent colour of dark green, the room is most welcoming. Curtains, blinds and bed throws all co-ordinate well and are included in the Arrondale's specification. The beds are supported on legs, which allows for suitcases etc to be pushed and stored under the beds.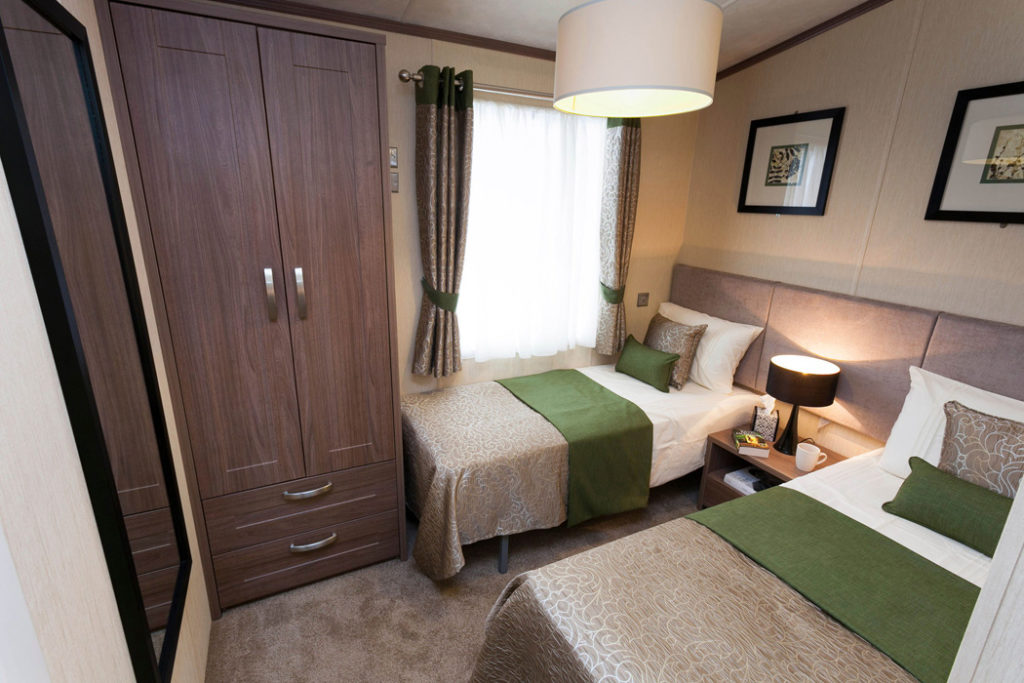 Each bed is wide with a built in padded headboard that runs across the width of the room. There's a central table with shelf and a reading lamp, a tall wardrobe, and a full-length mirror completes the scene. The room does not feel at all cramped and there's plenty of room to walk between the beds!
Incidentally, if you do want to squeeze in an extra single bedroom – perhaps for a smaller child – you can have this fitted into the space usually taken up by the utility room – on the larger 45ft model lodge.
At the end of the lobby is the family bathroom with Jack and Jill doors allowing access from the lobby, as well as the master bedroom at the back of the lodge.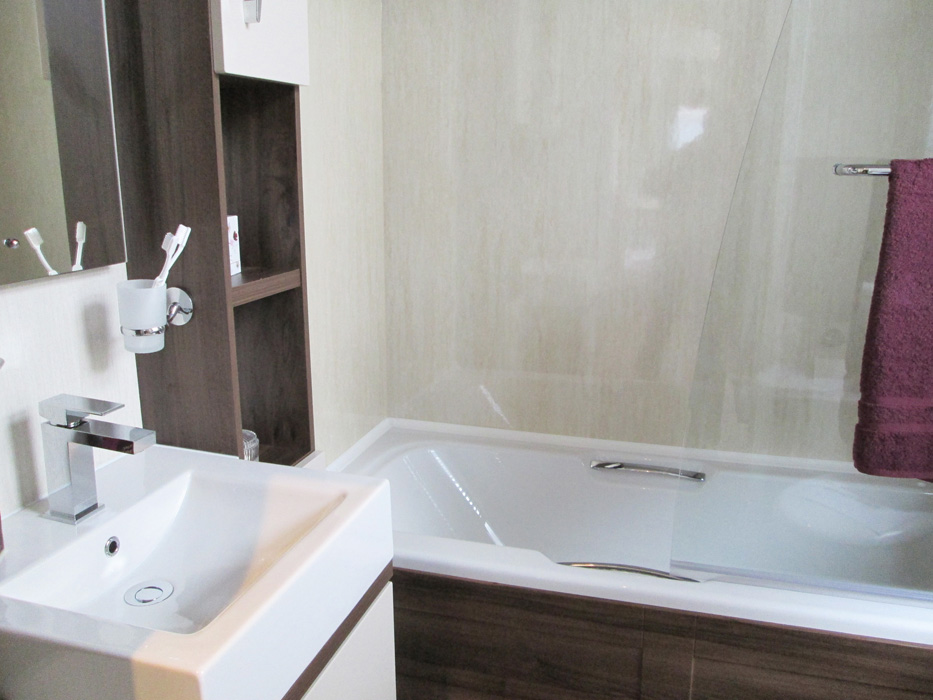 The bathroom features a full-length domestic bath, contemporary square hand basin and a low profile, double flushing toilet, set on an angle in the corner to maximise space. A easy-wipe, grey vinyl floor has been provided and the walls are all clad in waterproof material.  Brown Venetian blinds, timber cabinets and open shelving, give the room a stylish appearance and, if you don't like taking baths, you can opt to have a large shower cubicle installed instead.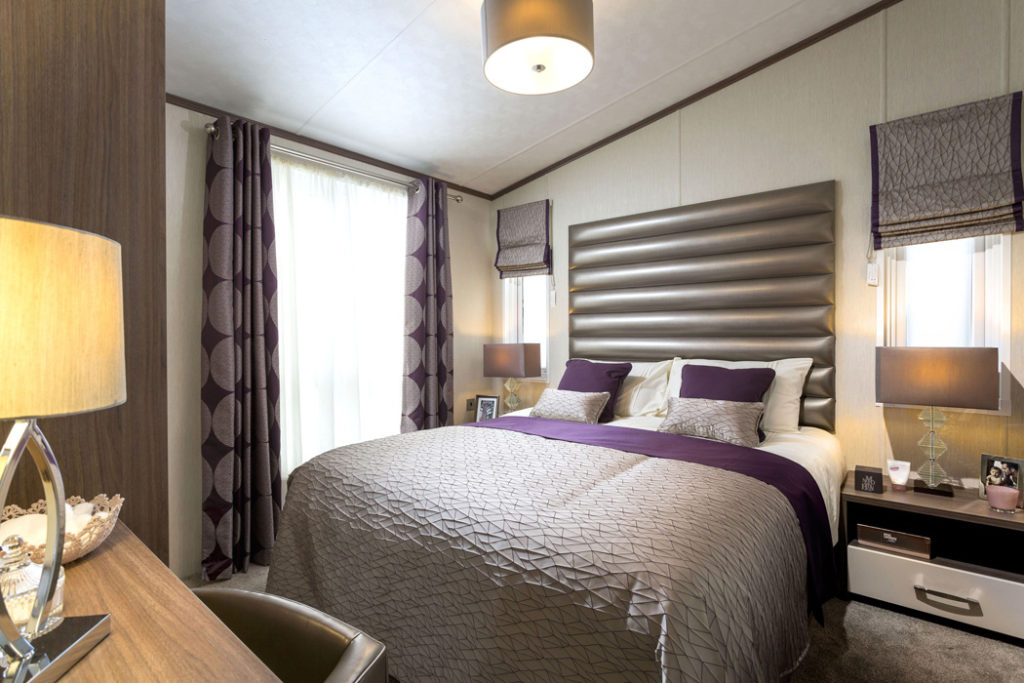 The master bedroom on the Arrondale is very glamorous with a huge headboard that looks almost like a series of shiny inflatable bars! You get a large 5ft, lift-up bed, with a luxury mattress and coordinating throws, curtains and cushions.  On the review model the accent colour was a striking purple – Pemberton really do know how to use colour.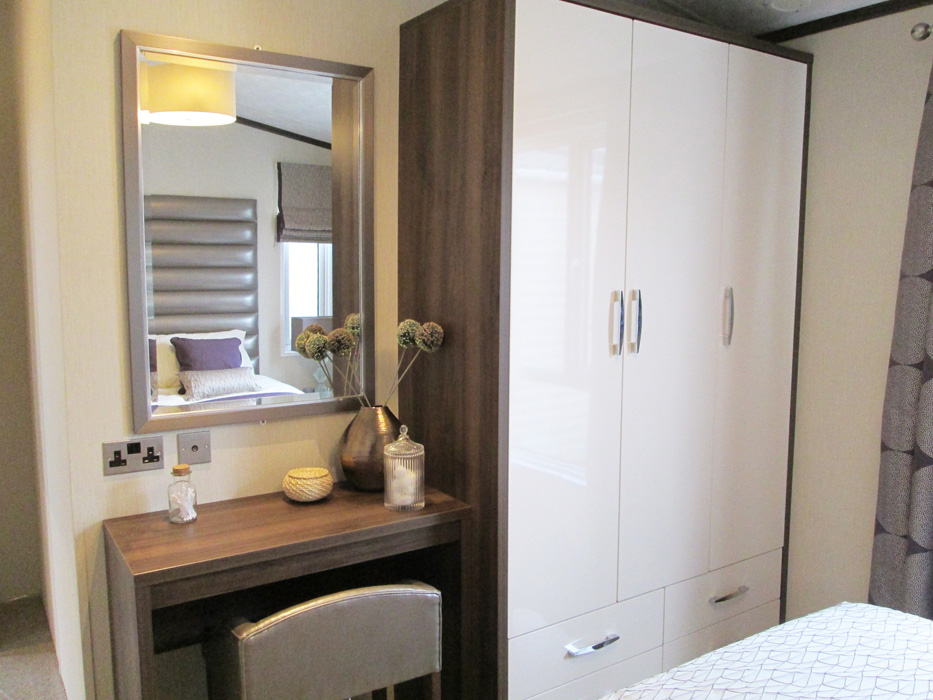 The master also has a great vanity unit with shelf, storage, mirror and a chair and to one side is a large, double wardrobe with hanging space. Lighting is discreet with soft reading lamps on the bedhead, suspended pendants and table lamp. Walk through the door to the en-suite and you'll find a generous shower, storage and the usual toilet and hand basin.  All-in-all the master with its en-suite is a haven of luxury with a touch of decadence thrown in.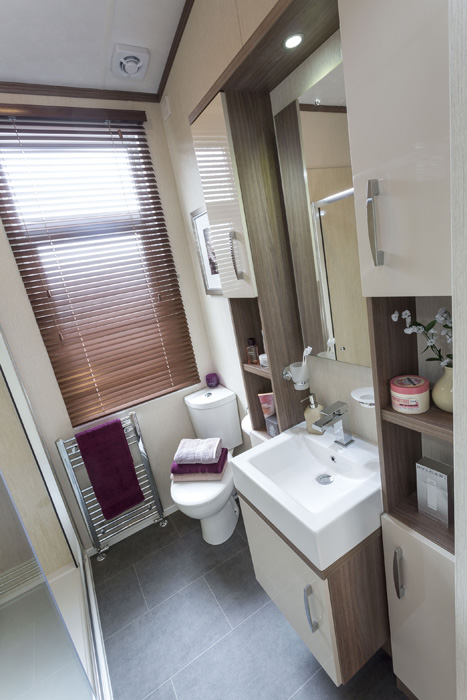 Verdict
Pemberton have designed an eye-popping lodge.  Immediately impressive on entry, you know that if you choose the Arrondale you will have bought a quality lodge that ticks all those essential boxes for great holidays year after year. This lodge would be very attractive to younger trendy couples with small families.
Plus points
Spacious, open plan living.
Superb, contemporary design and stylish colour palette.
Well appointed kitchen.
Comfortable and attractive bedrooms.
Not a bad price either for what you are getting.
Minus points
Nothing springs to mind.
In-a-nutshell
Stylishly designed with bags of space and maximising on comfort.

FACT FILE
Size: 45ft x 16ft
Build Standard: BS3632 Residential Standard (review model).
Berths: Four, in two bedrooms (one twin and one double).
Other layouts available: 42ft x 16ft – 2 bedroom.
Key optional extras: BS3632 Residential Standard; Platinum Package (Metrotile roof, wood panelled ceiling, wall paper finish, tiling and aqua-board finishes, domestic interior doors); alternative range of cladding; alternative electric heating in place of gas combi central heating system; windows in place of bi-fold door (not on residential spec); wine cooler in kitchen; stowaway occasional bed as an optional accessory; alternative sized beds available; utility room; closing lounge curtains; Ivory gloss kitchen doors; utility as single bedroom (45ft only); lounge curtains instead of roman blinds; shower in lieu of bath.
Ex works price: £87,777.00 inc VAT*
For more information e-mail: [email protected] or visit www.pembertonlh.co.uk
*Extra charges will be made by park operators, and/or distributors for transport, siting and annual maintenance. Please check the price carefully before you commit to buy, as prices vary considerably dependent, amongst other factors, on the geographical location of your chosen park.