A stylish static that's very canine friendly!
Brand new for 2018, the Willerby Lymington two-bed static caravan has had a special, fun makeover making it appeal to families who want to take their dog on holiday with them.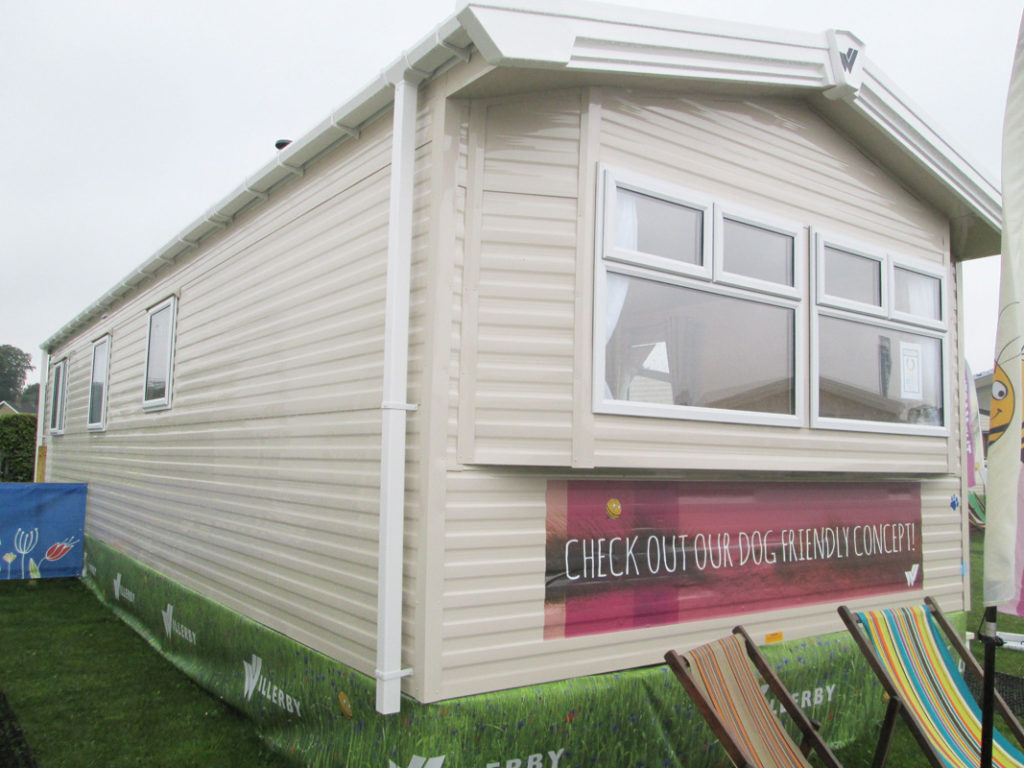 We reviewed the all-new dog friendly caravan concept, as accommodation to suit all the family – including the pets – grows in popularity.
The first thing you notice as you step onto the deck is the exterior water tap and twin steel drinking bowls in a stand – Willerby call this the "pooch station"! A hose fitted to that outside tap means dirty pooches can be given a quick shower before they're let back into the caravan.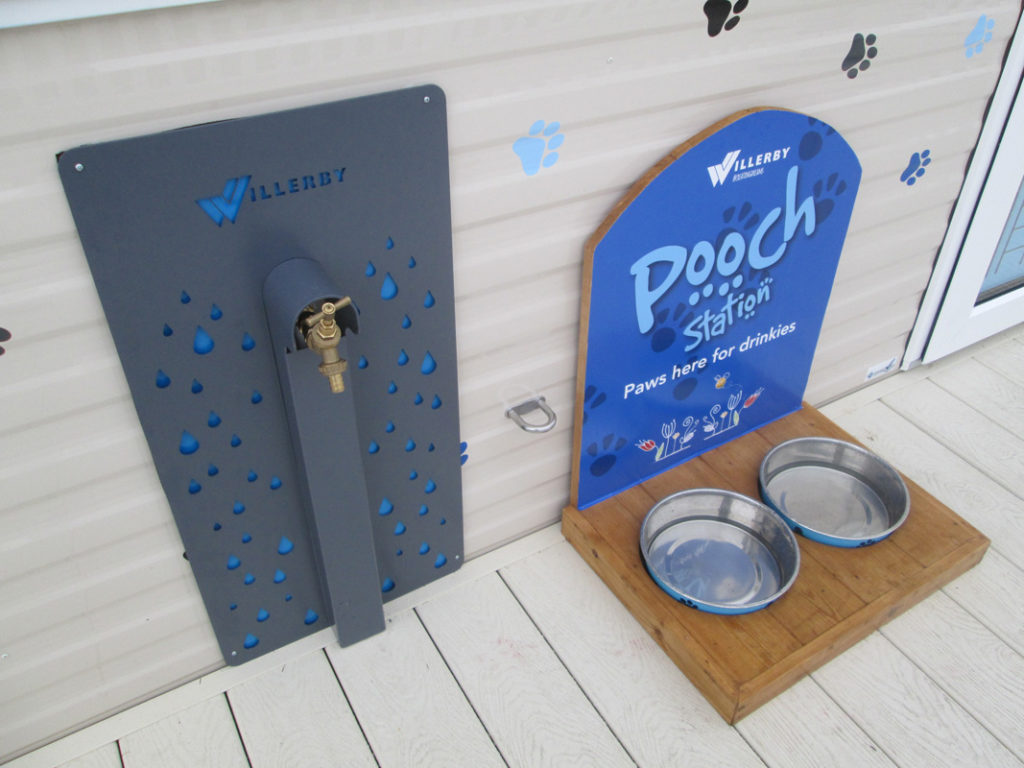 The graphics on this dog-friendly concept model are also quite neat with doggy paw prints in light blue and black dotted around the entrance.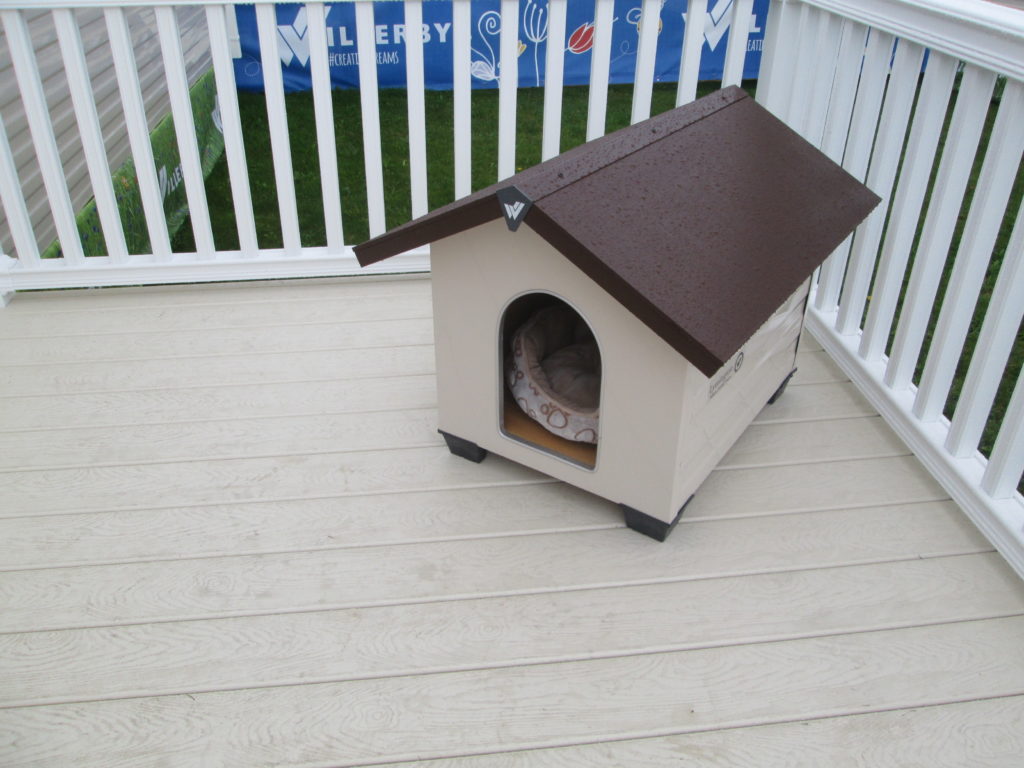 There's also a useful stout eye bolt near to the door to anchor your pooch's lead – ideal if you want to leave it outside to enjoy the weather. Also on the deck (although not an optional extra) was a sweet little kennel designed to look like a mini holiday caravan!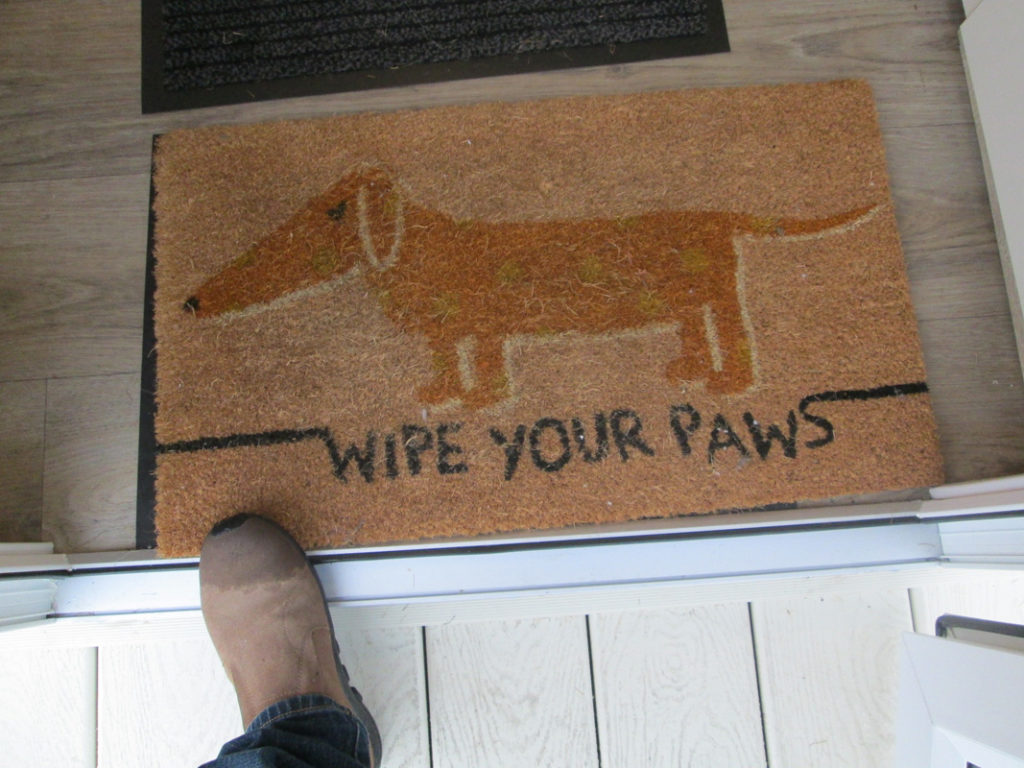 Stepping inside, the doggy theme carries on with a "wipe your paws" doormat to take you into the entrance lobby with the kitchen in front and the lounge to your left.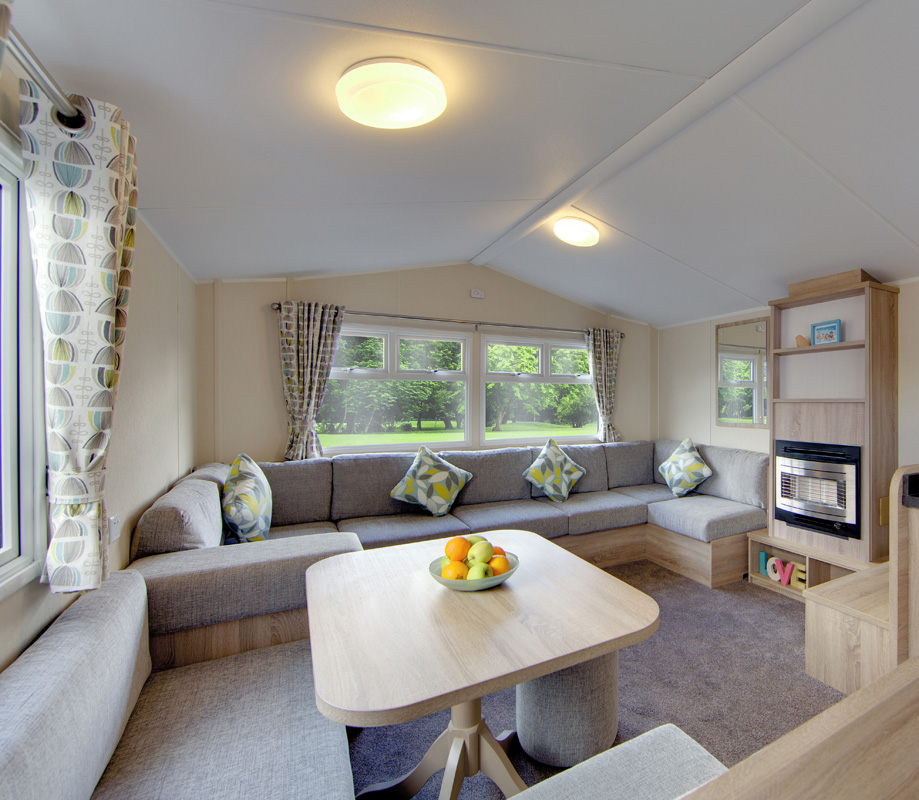 To prevent muddy paws from jumping onto the sofa there's a draw-out screen gate made of tough vinyl that can be pulled out between the lounge and kitchen to prevent access. Or if you don't want your canine companion under your feet while cooking you can pen them in the lounge area.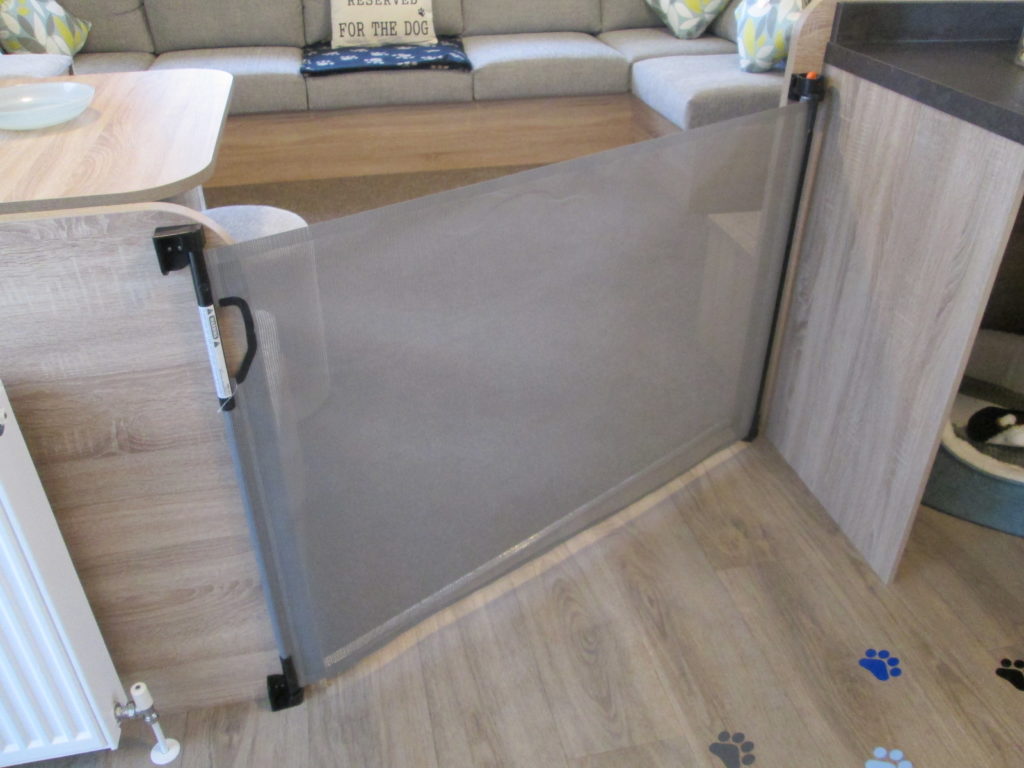 The kitchen in the Willerby Lymington itself is a fairly simple affair and is wrap around with floor and wall cabinets aplenty. You also get a double cavity gas oven with hob and grill plus a glass splashback, although no extractor fan or microwave, which, along with many other things on this budget, entry level range, is an optional extra.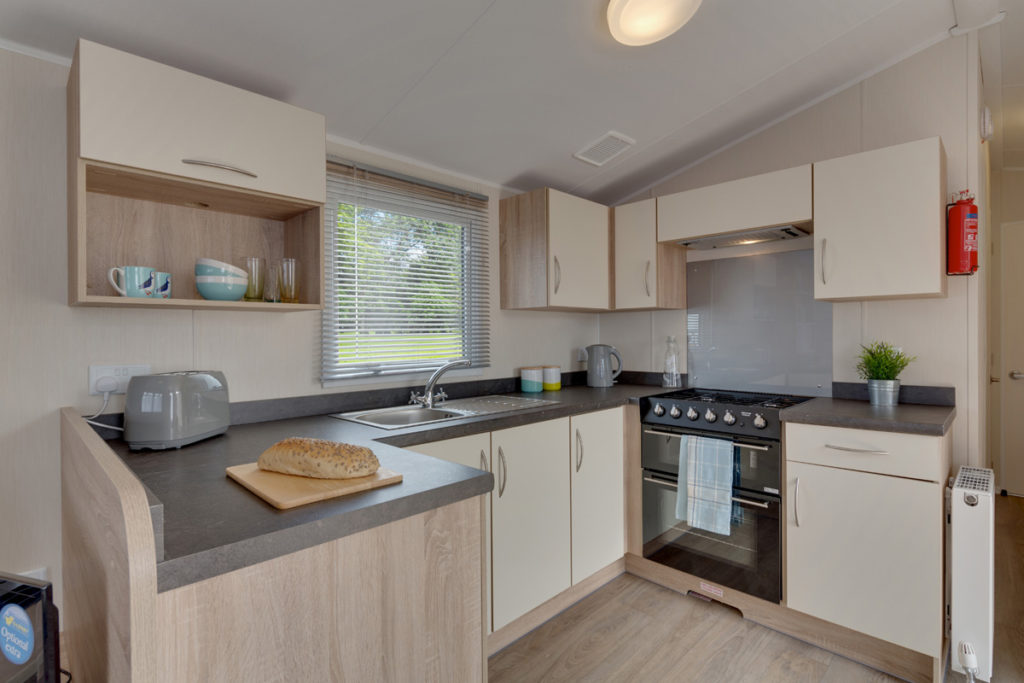 That said, the kitchen would be more than adequate to prepare all types of meals as well as wait for it… accommodating the dog! Yes, an end cabinet has been arranged without a door so that a dog bed can sit under the worktop. Our four legged friends are really well catered for here.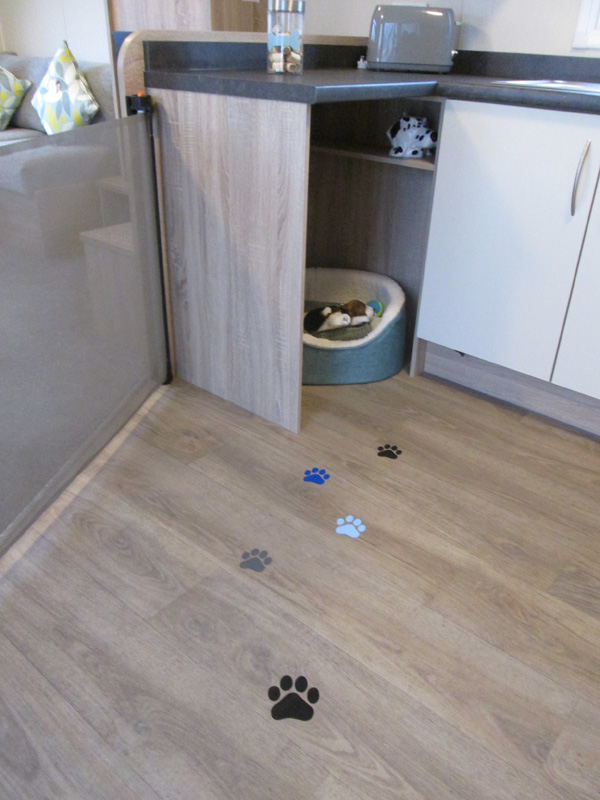 Opposite, near the front door are cupboards for an optional fridge/freezer and the boiler. On the outer side of these cupboards are three, big, dog themed, plastic hooks for (you guessed it) the dog's leads and toys!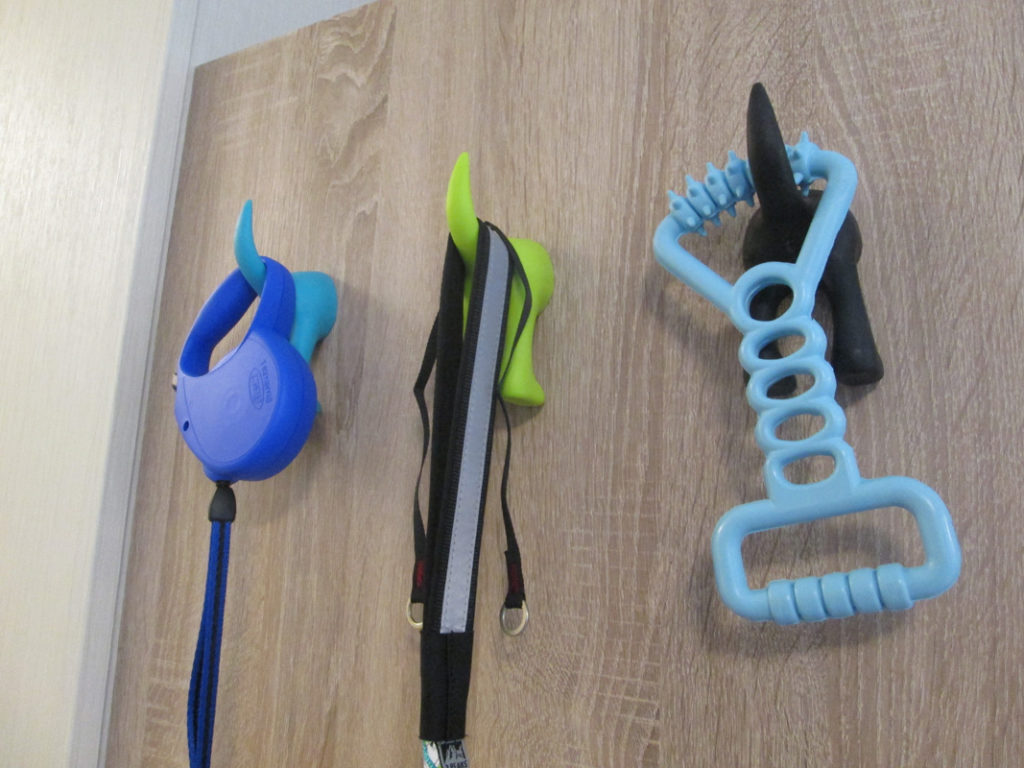 The lounge is a lovely big space, made more so by the high pitch of the ceiling, the large bay window and the light fittings in the form of squashed globes attached to the ceiling. In front of the bay was a large C-shaped sofa unit in light beige, containing a pull-out sofa bed taking the accommodation up to six. There's also a timber clad shelf unit that also contained the gas fire and separating the kitchen was a low TV shelf with storage under.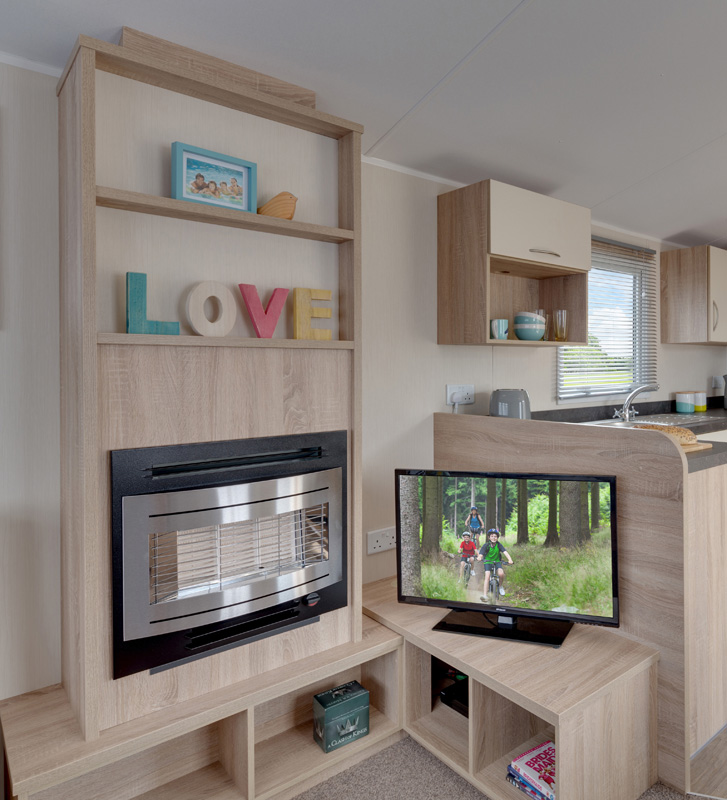 The other corner near the door features the free standing pedestal dining table which has a fixed dinette bench seat to one side and two free standing cylinder shaped upholstered stools on the other. An upholstered top cupboard separates the dining area from the main seating.
The well-appointed family shower room has all the usual equipment, such as a shower enclosure with thermostatically controlled shower, a designer handbasin on an open plinth with towel rail and a standard flushing toilet with tank above. You also get a radiator (if you've gone for the central heating option on your caravan).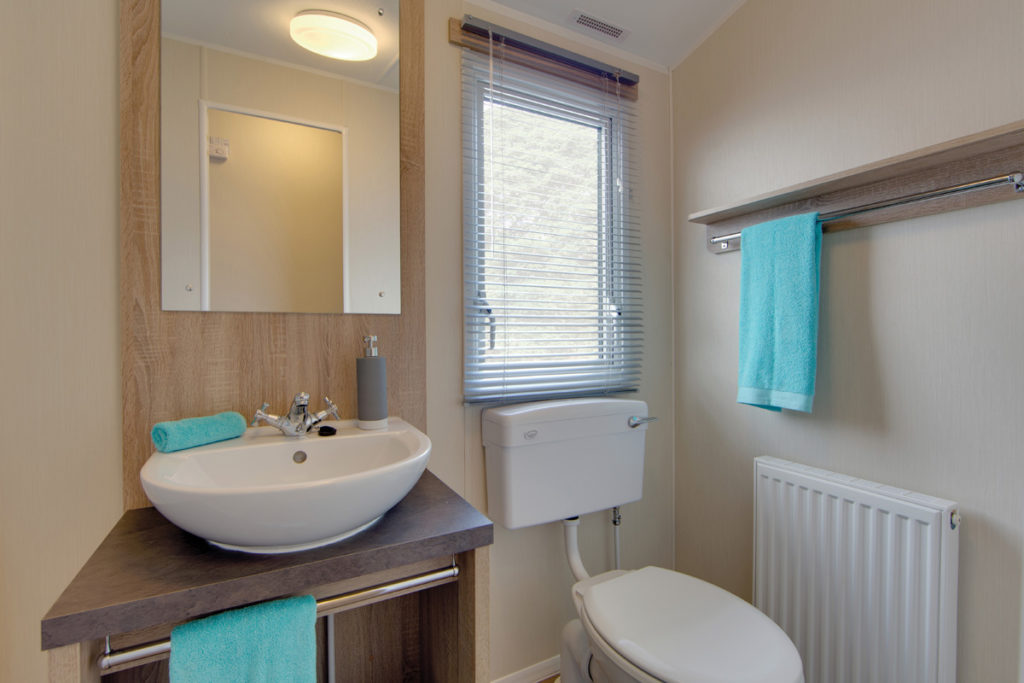 The twin-bedded room is opposite the shower room and in this dog friendly concept model the bedding pays homage to the canines with a nice arrangement of different breeds in coloured silhouette.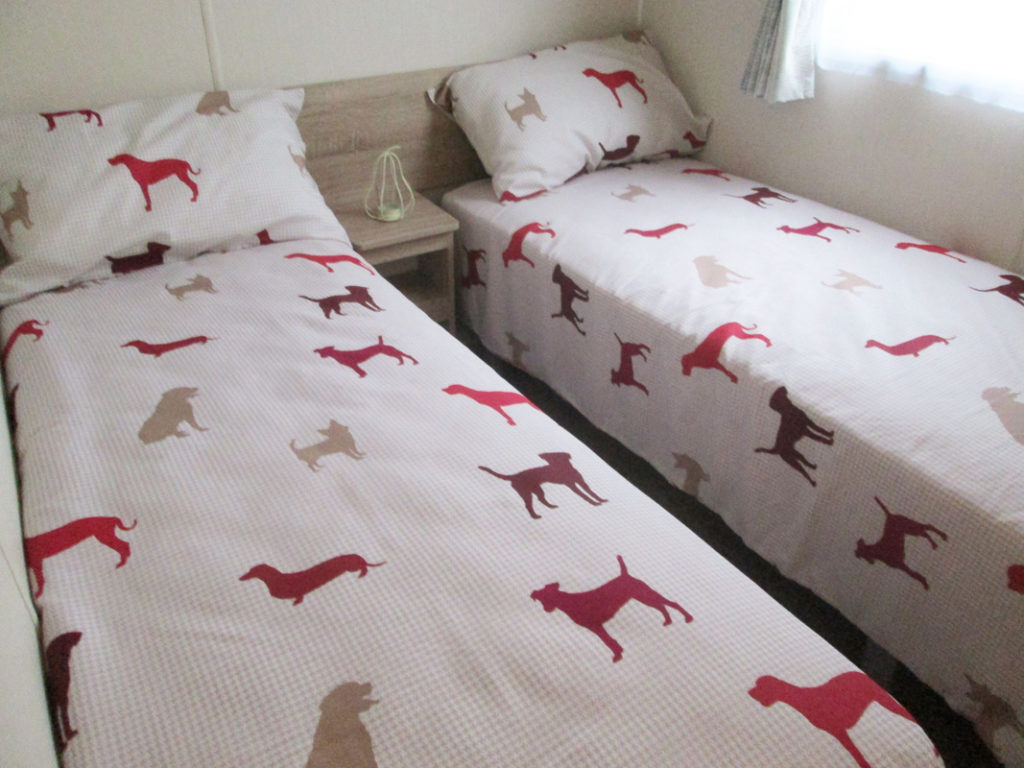 The master bedroom, across the back of the Lymington is fairly spacious with an offset king size double bed with double full height wardrobes to the right and floating shelves above. You also get twin bedside cabinets with shelves and a mirrored dressing table with shelving unit.  A door leads to a compact en-suite toilet with handbasin. Décor is muted with a combination of cream walls and light blue bedding and scatter cushions.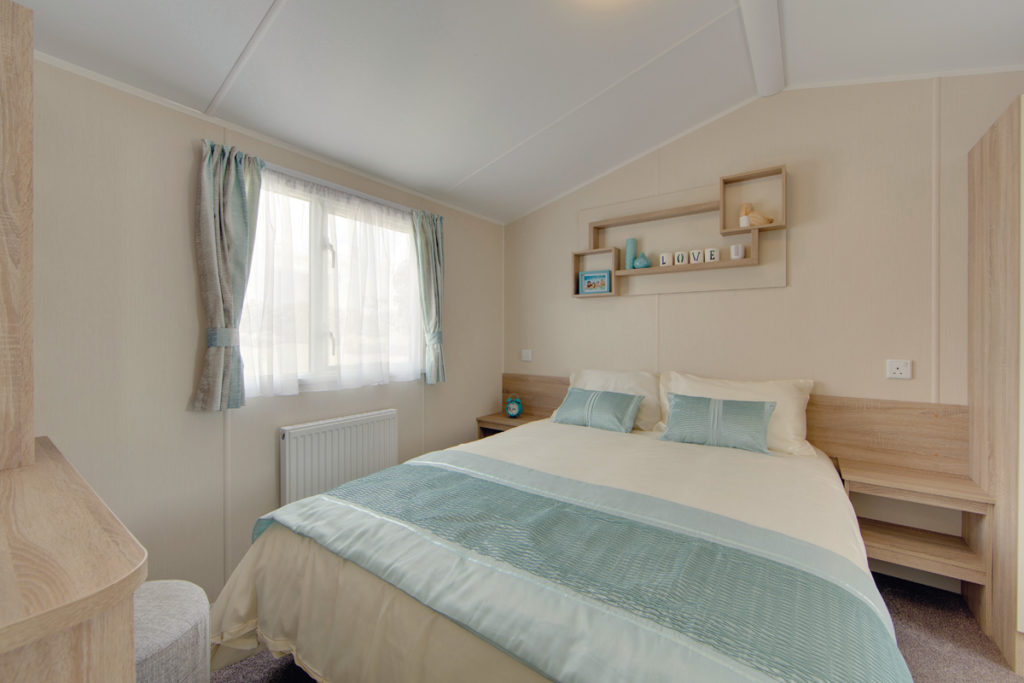 From the outside the Lymington shows nice, clean lines with a pitched roof, clad in black pantiles and a full width bay window. Access is via a door on the right hand side with a useful outside light near the door.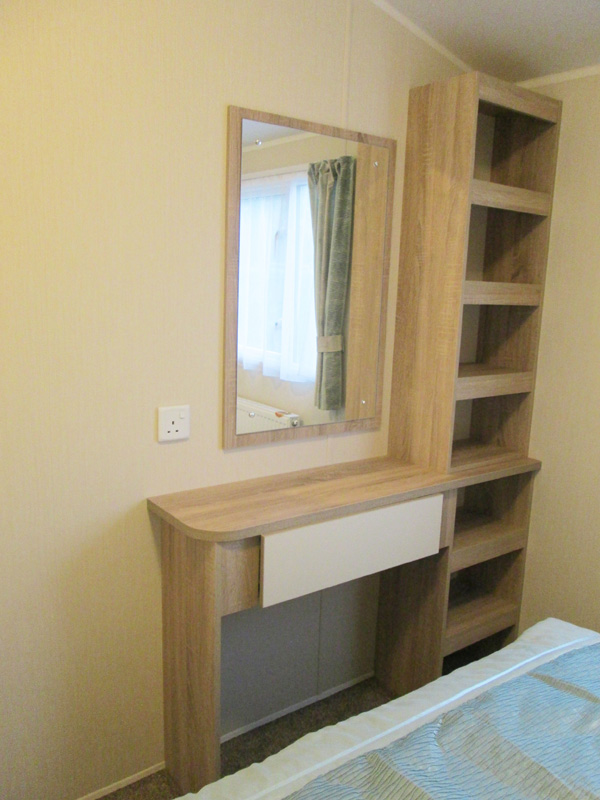 The Willerby Lymington static caravans have been designed primarily as an entry-level series appealing directly to families. The range encompasses five models from the 29ft x 12ft, 2 bedroom sleeping six (two on a pull out bed in the lounge) to the 37ft x 12ft four bedroom which sleeps up to 10 people.
Our review model featured standard aluminium cladding in a light sandstone colour with contrasting white uPVC double glazed windows and doors as well as uPVC guttering and downpipes, also in white. A range of vinyl cladding options are offered in a variety of colours and there's also an option of upgrading the windows and doors to 'Environmental Green' exterior frames.
The home sits on the usual fully galvanised chassis which is essential if it's to be sited near the salty air of a coastal park and there are three other types of chassis available – a standard heavy duty galvanised type, an optional 'Fusion Protec' galvanised chassis and a type with a protective coating – full details of which can be had from the manufacturer.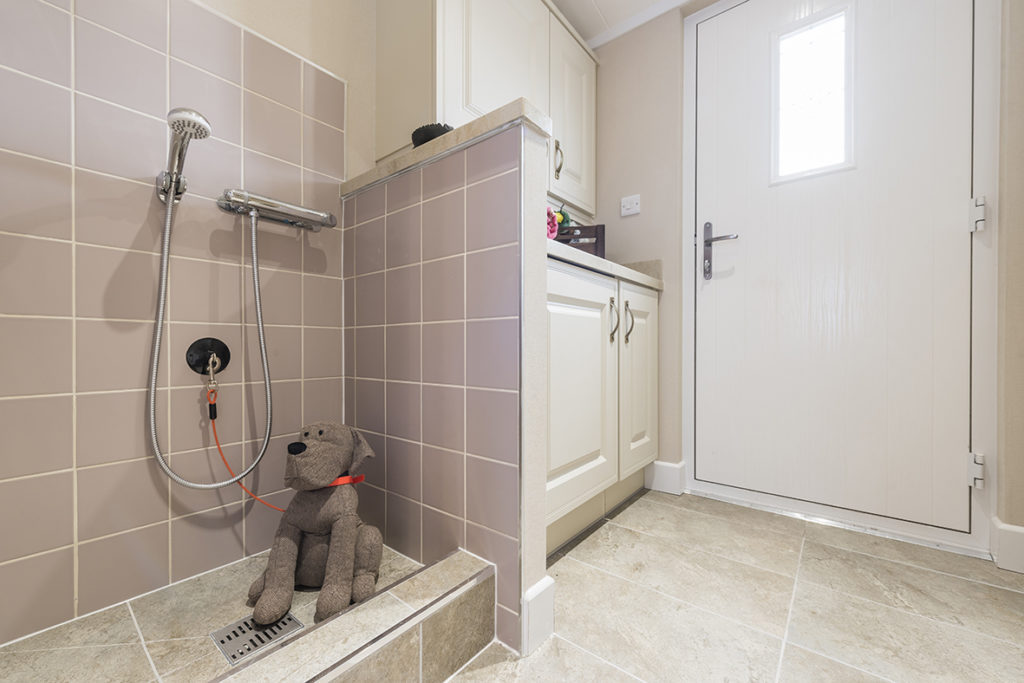 And it's not just Willerby who are barking about dogs – Wessex also launched a pet-friendly lodge at the Lawns Show. The all-new Allure is a beautiful country-styled lodge where pets aren't just welcome – they're catered for – with laminate flooring, wipe clean furniture and a doggy shower!
Verdict
The Willerby Lymington is obviously designed as a practical no nonsense holiday caravan and, with its neutral colour scheme and overall practicality gives the customer the flexibility to add their own touches. Although the base specification is fairly basic, there are a large number of optional extras available so that the individual can get the best value from whatever budget they have.
Plus points
Neutral colour palette.
Practical, workable kitchen with lots of storage.
Spacious lounge and dining areas.
Five models to choose from.
Minus points
We know it's a basic entry-level model, but no microwave?
In-a-nutshell
In the Willerby Lymington has really done a fine job to cater for families on a budget or for those wanting to get on the first rung of the holiday home ladder. The dog-friendly concept modifications are also rather more than just gimmicky – plenty of people have dogs and want to take them along on holiday! If you liked it then let Willerby know.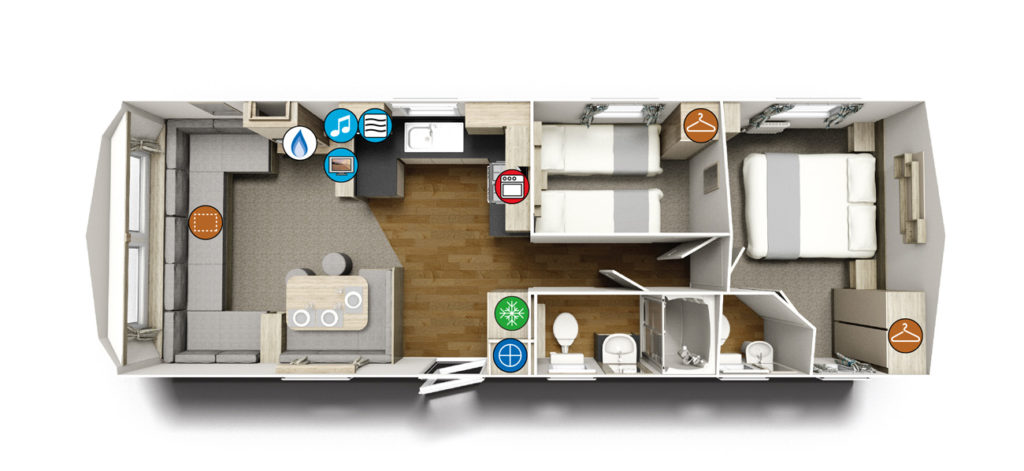 FACT FILE
Size: 35ft x 12ft.
Build Standard: EN 1647.
Berths: Six in two bedrooms (one twin and one double) with two on an occasional fold down bed formed from the corner sofa in the lounge.
Other models available: 29ft x 12ft 2 bed; 32ft x 12ft 2 bed; 35ft x 12ft 3 bed; 37ft x 12ft 4 bed.
Key optional extras: Exterior cladding vinyl options; green window and door frames; gas central heating system with combi boiler; electric fire; scatter cushions (lounge); MP3 sound system; coffee table; integrated fridge/freezer; under-counter fridge; integrated microwave; bedding packs; heated towel rail; European specification.
Ex works price: £25,091.60 inc VAT*
For more information e-mail: [email protected] or visit www.willerby.com
*This does not include the dog-friendly modifications as this is just a concept model at this stage. Extra charges will be made by park operators, and/or distributors for transport, siting and annual maintenance. Please check the price carefully before you commit to buy, as prices vary considerably dependent, amongst other factors, on the geographical location of your chosen park.
Get a holiday home insurance quotation from Leisuredays by clicking here.