Atlas Homes are one of Hull's oldest names in holiday caravans. Is their latest lodge a good example of their years in the industry?
Beginning as Aztec Caravans in 1974 the Atlas name is no stranger to holiday caravan buyers. The company did have a brief flirt with tourers in 1980 with a two model luxury range named Hilton. However after a year Atlas concentrated on holiday caravans and that's paid off.
In 2019, the company produces several ranges to suit all budgets and one model we were keen to see was the all-new Debonair lodge – a 40ft x 20ft with two bedrooms, built to residential specification.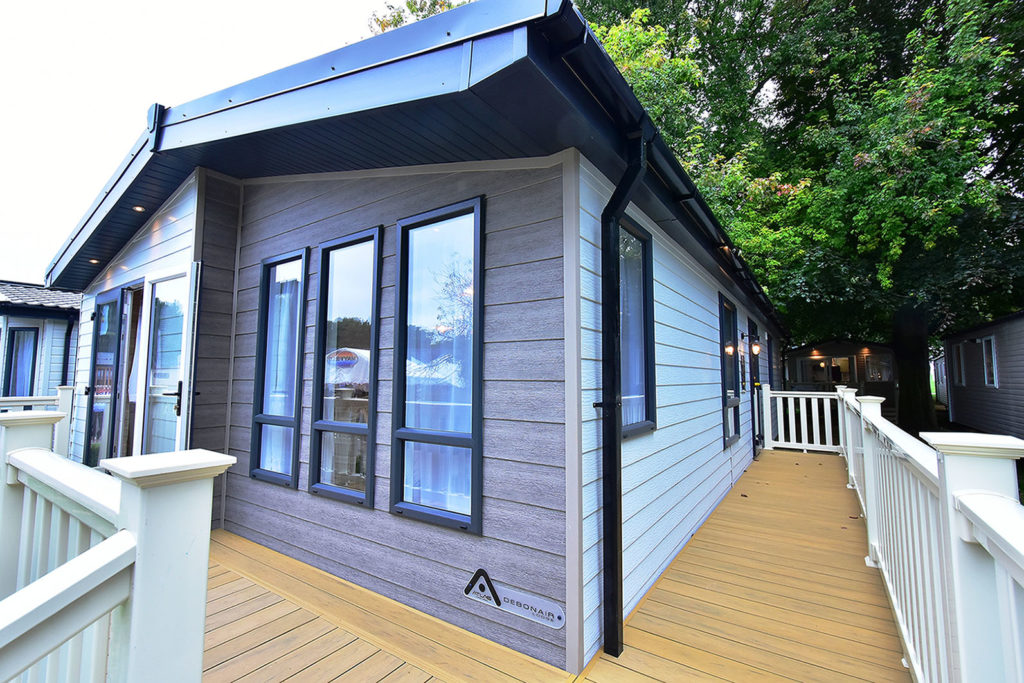 The 2019 Atlas Debonair looks good from the outside, with rigid PVC cladding and smart PVC double-glazed windows. Full guttering and a galvanised chassis are standard, as well as extra insulation, to make this a lodge built for all seasons.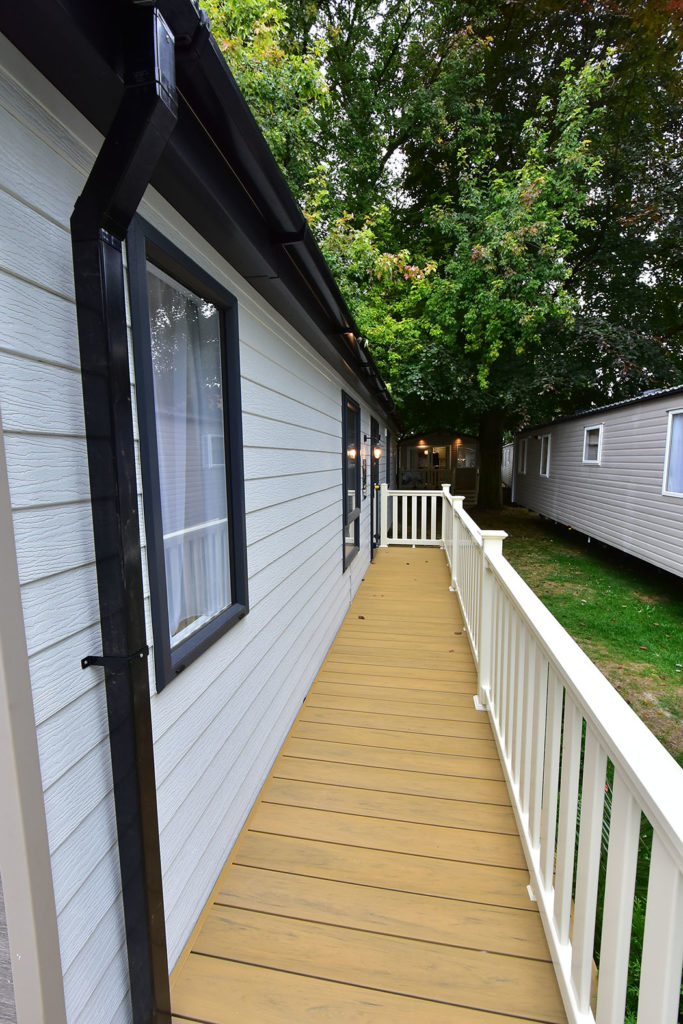 Step inside the lounge area and you're greeted with a country feel design which seems to be a popular choice.
There are two comfy settees and an armchair, which are placed near the fireplace which comes with mock solid fuel stove electric fire – adding to that country house effect. There's a TV stand and large lounging stool too. It's all very homely and as you would expect there's some good night lighting.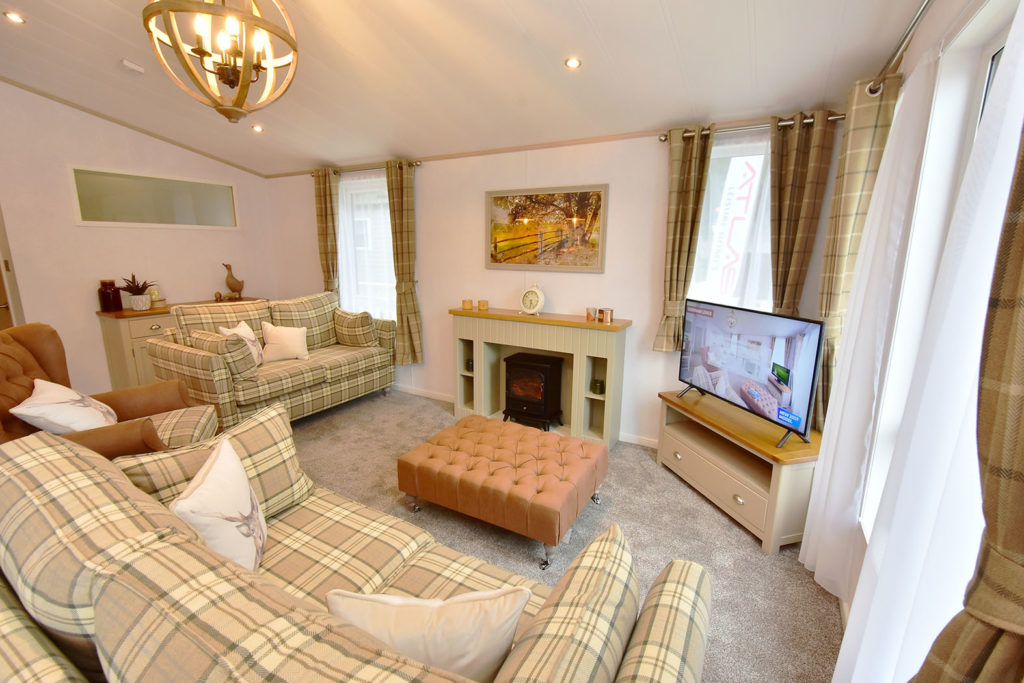 Off to the left is the dining area, right by the large patio doors, with modern pendant lighting above.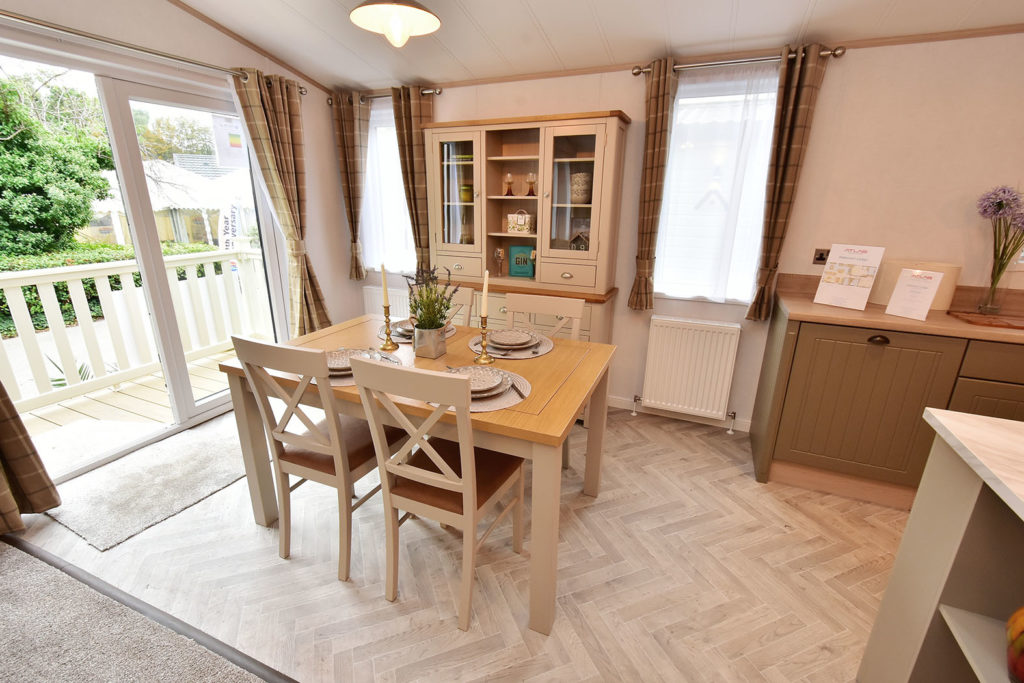 There's a side dresser and then into the open-plan kitchen there's a breakfast bar for two.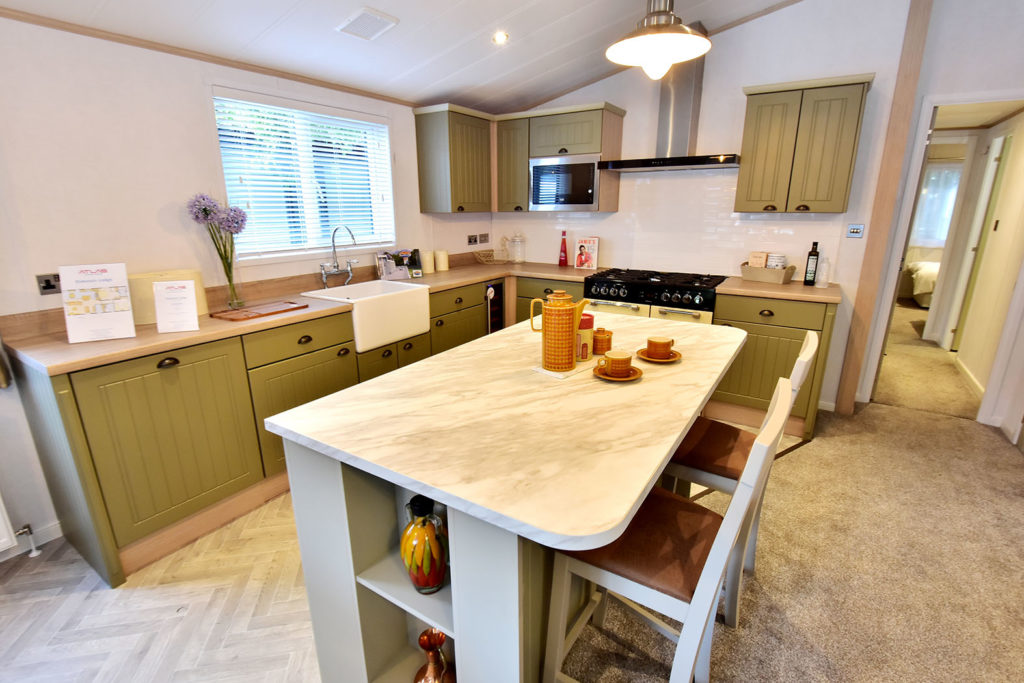 The kitchen is L-shaped and comes with great storage, plus excellent worktop too. It's finished again in with country house touches, including a huge Belfast-style sink and comes with all the appliances , such as dish washer and microwave, plus fridge/freezer and a full cooker with extractor hood.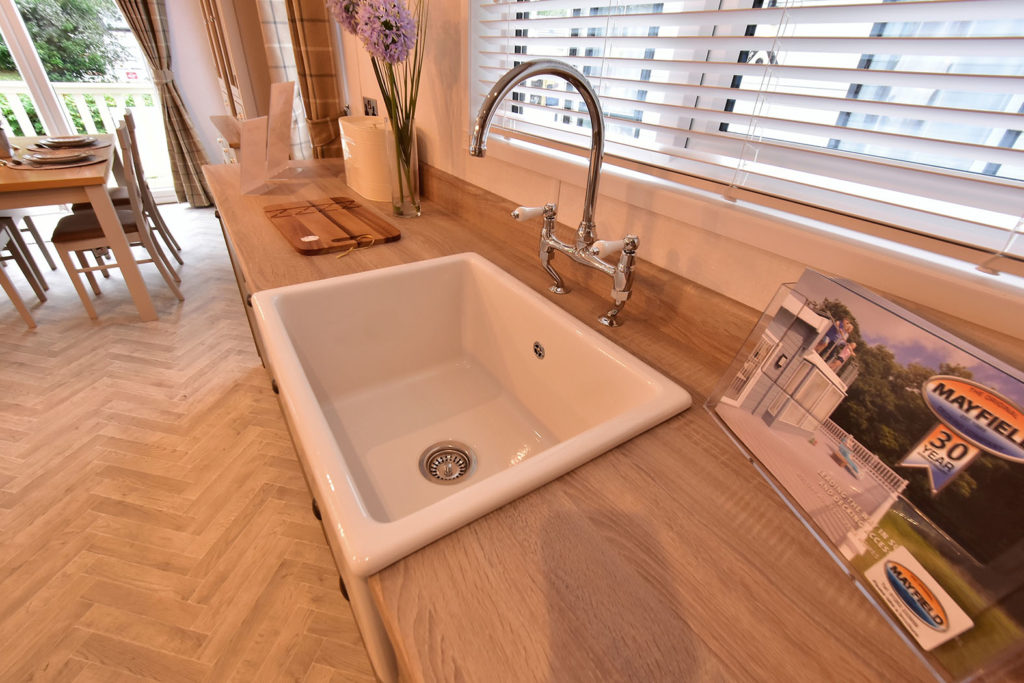 A side door takes you through to a utility room and a place to hang wet clothing, store coats and shoes, etc. It will also take a washing machine if needed.
Through to the master bedroom the Debonair offers a double bed with small side dresser tables, plus a dressing table and chair, and a walk-in wardrobe.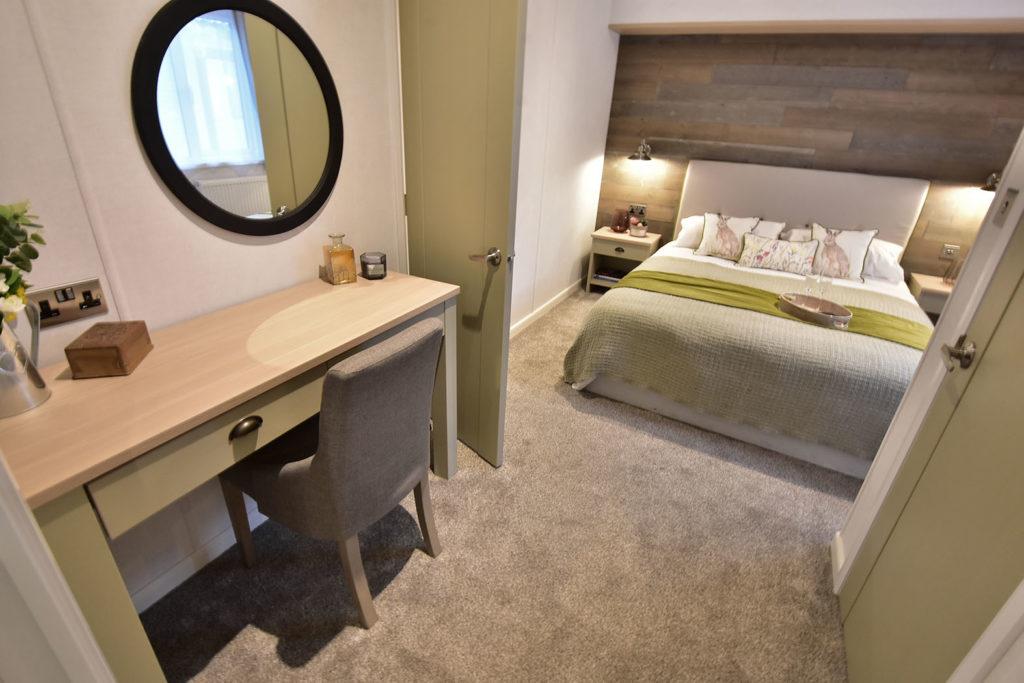 Behind the double bed, wood effect panelling creates a warm, modern, lodge-like feel.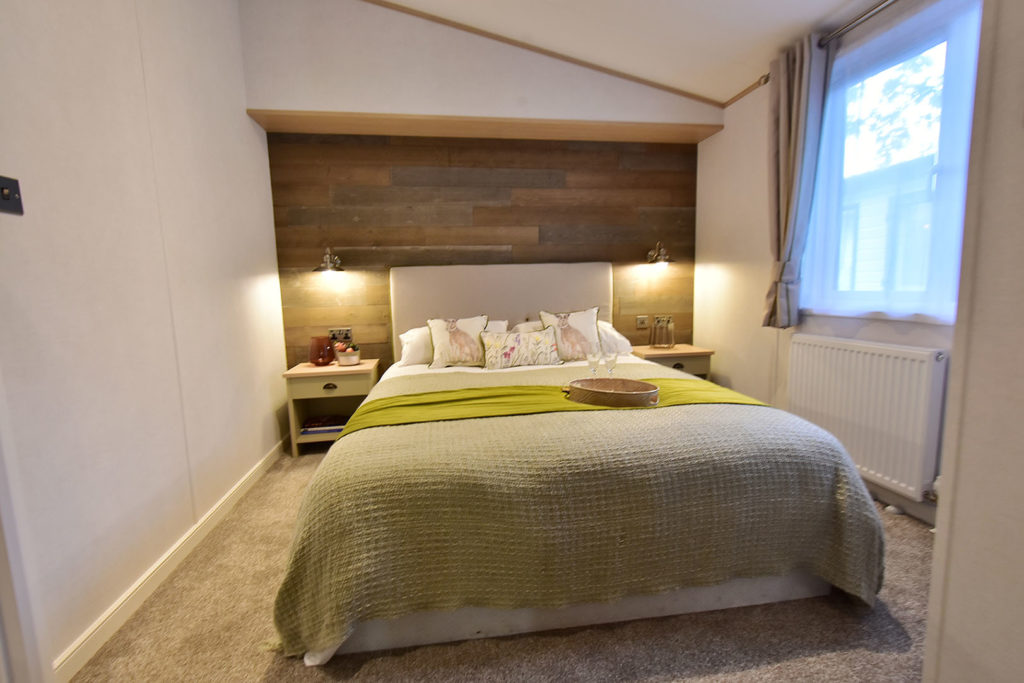 The en-suite bathroom is just that, with a bath and shower combined. It's nicely fitted out and again comes with good night lighting. Plus a large window allows in lots of natural light. The hand basin comes with storage beneath it and the wall tiling is very modern.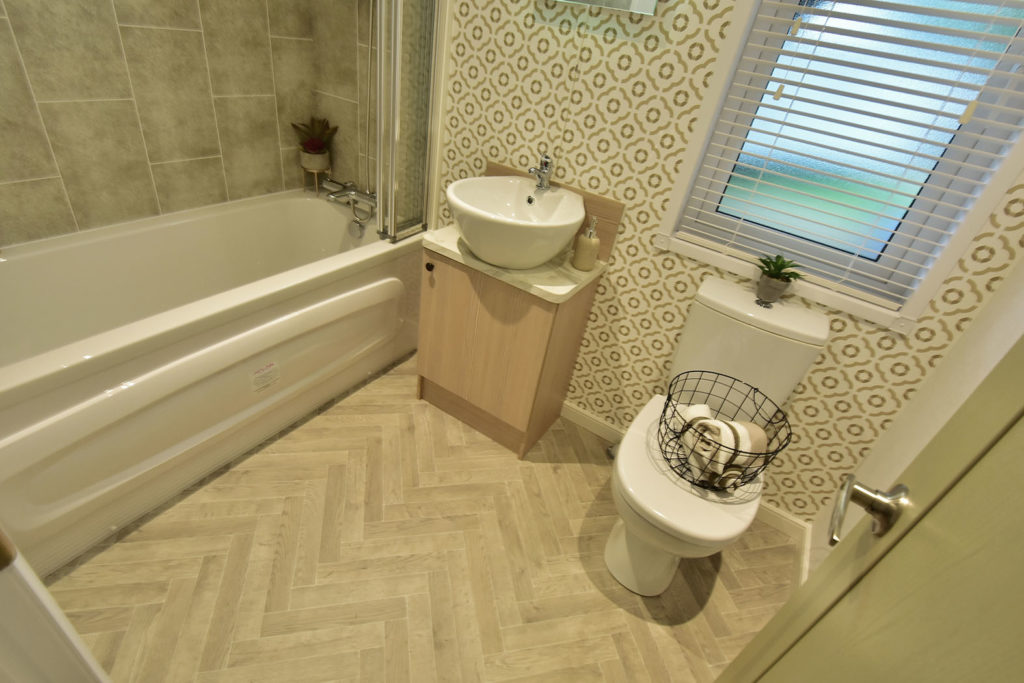 The main bathroom is also a good-sized room and has a walk-in shower cubicle and the window lets plenty of natural light to flood into the room. The décor is the same as the en-suite, with grey patterned tiling – very chic.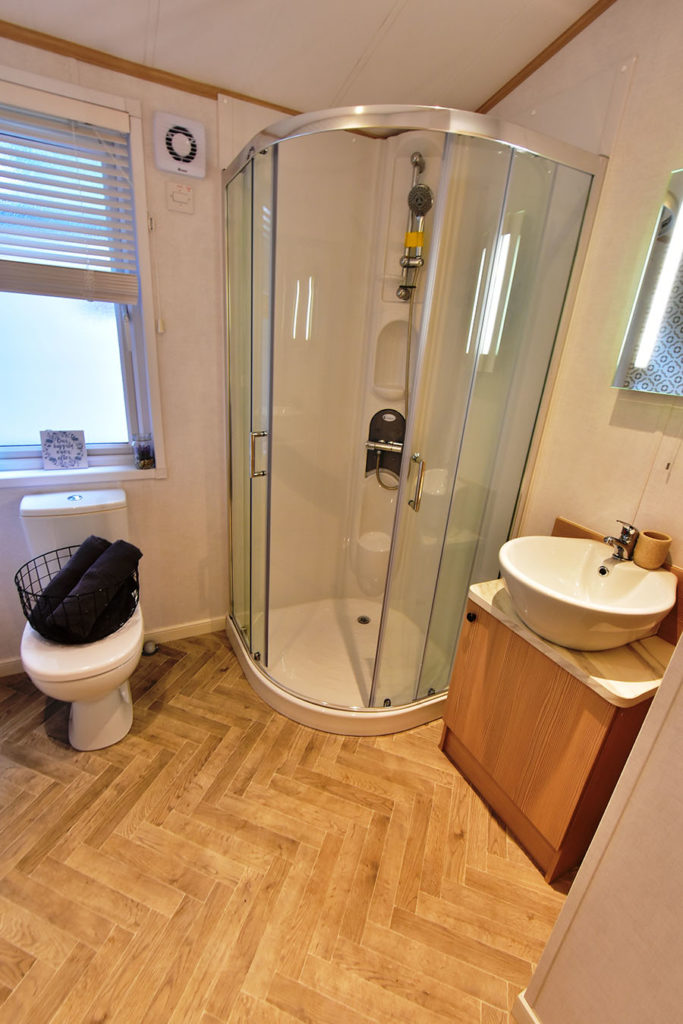 The second bedroom has twin beds, and similar to the master bedroom, there are plenty of mains sockets and USB points. The twin room also comes with good wardrobe storage and a small central storage unit between the two beds.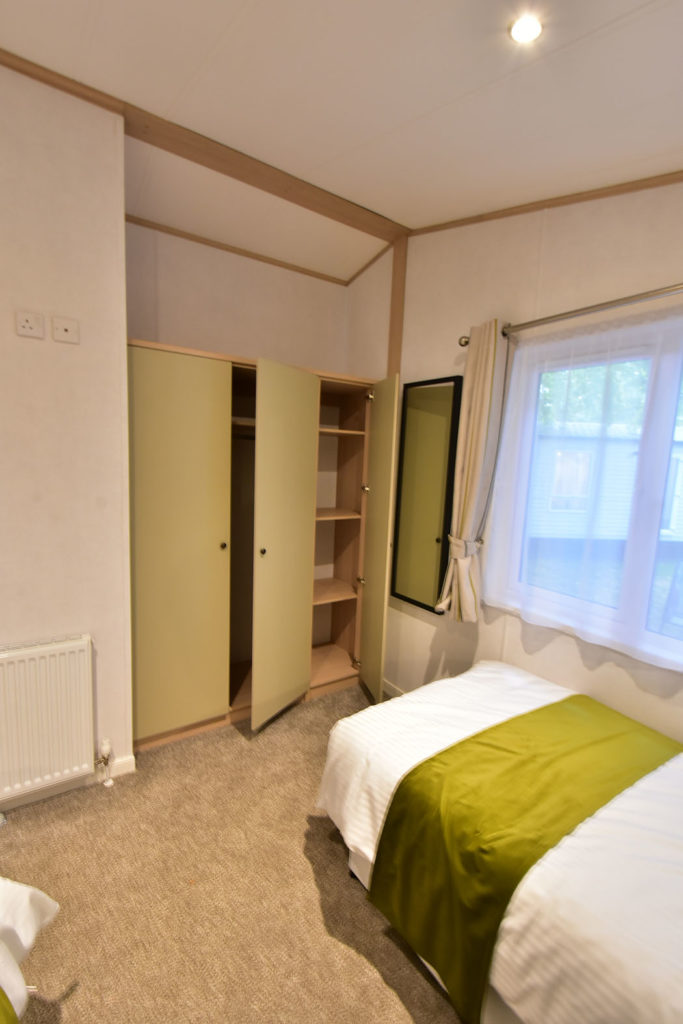 ---
Verdict: The Debonair is a homely lodge that has a country cottage influence in its style. The layout works well and for a family you'll get some great value from your investment as it's suitable for use all year round.
Plus points: Kitchen is practical and has good appliances, good washroom/ bathroom, comfortable lounge area.
Minus points: Small dresser units by the beds
In a nutshell: Atlas brings together modern living and a touch of the countryside with their Debonair Lodge. Distinctive features and open plan living make it perfect for socialising and holidaying.
---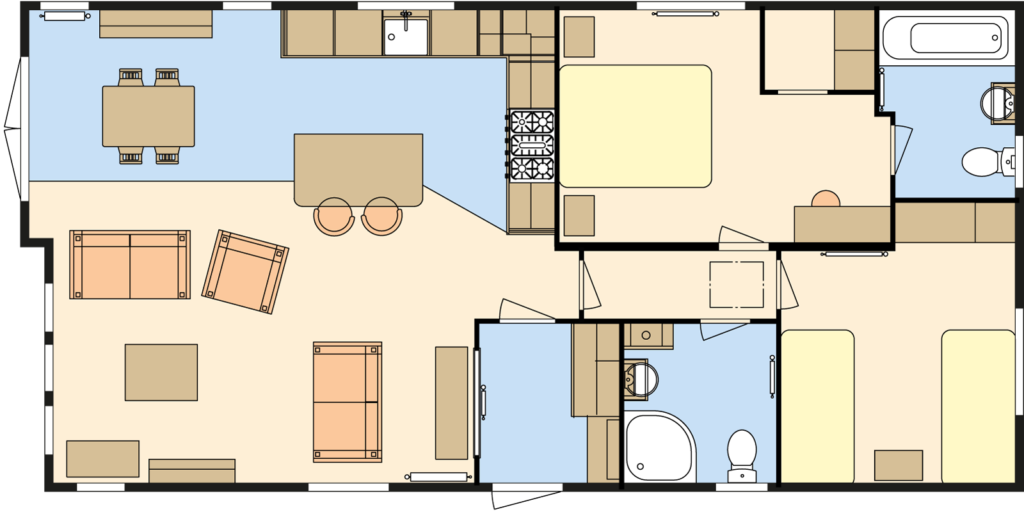 Fact file
Size: 40ft x 20ft 
Build standard: BS3632
Sleeps: 4
Bedrooms: 2
Other Debonair holiday caravans: 36ft x 12 ft two bed, 38ft x 12ft three bed and a 39ft x 12ft wheelchair accessible unit.
Others to look at: Victory Monaco Duo 40ft x 20ft 2 bed, Pemberton Glendale lodge 40ft x 22ft 2 bed, Willerby Forrest Grove 40ft x 20ft 2 bed
Key optional extras: Exterior cladding colour choice, Canexcel/ timber cladding, washer dryer, pull-out sofa bed, wine cooler, shower instead of bath, extra dining chairs.
Ex-works price: £93,774.35*
*Extra charges will be made by park operators and/or distributors for transport and siting and annual maintenance. Please check the price carefully before you commit to buy as prices vary considerably dependant amongst other factors, on the geographical location of your chosen park.
For more information visit www.Atlasleisurehomes.co.uk, call 01482 562101 or e-mail [email protected].
---
If you're looking to buy this holiday lodge why not get a great lodge insurance quote from us today.
Spotted in the classifieds: An Atlas Debonair holiday lodge sited in Norfolk (NR25). Sited cost including decking £169,995.
Cost to insure this sited holiday lodge would be £443**
**Leisuredays holiday lodge insurance quote based on Atlas Debonair insured for £169,995. Owners are a 68-year-old retired couple with prior holiday caravan insurance and three years no claim discount. Caravan fitted with skirting and an alarm system. £5,000 contents included. Insurance premium includes insurance premium tax at the current rate and is correct as of 06/08/2019.