Back in 1961 a Mr K Pleszko began building holiday static caravans and by 1964 the Omar brand was set up and the first Omar holiday lodge was on the market. By the early 70's. Omar was one of the bestselling holiday styled lodges and park homes, with twin units being part of the model line up. Despite the crash of 2008/9, Omar has grown and produces some of the best lodge designs on the market. We checked out their latest luxury lodge – The Omar Alderney- a twin 45ft x 20ft three bedroomed design which has seemingly sold well.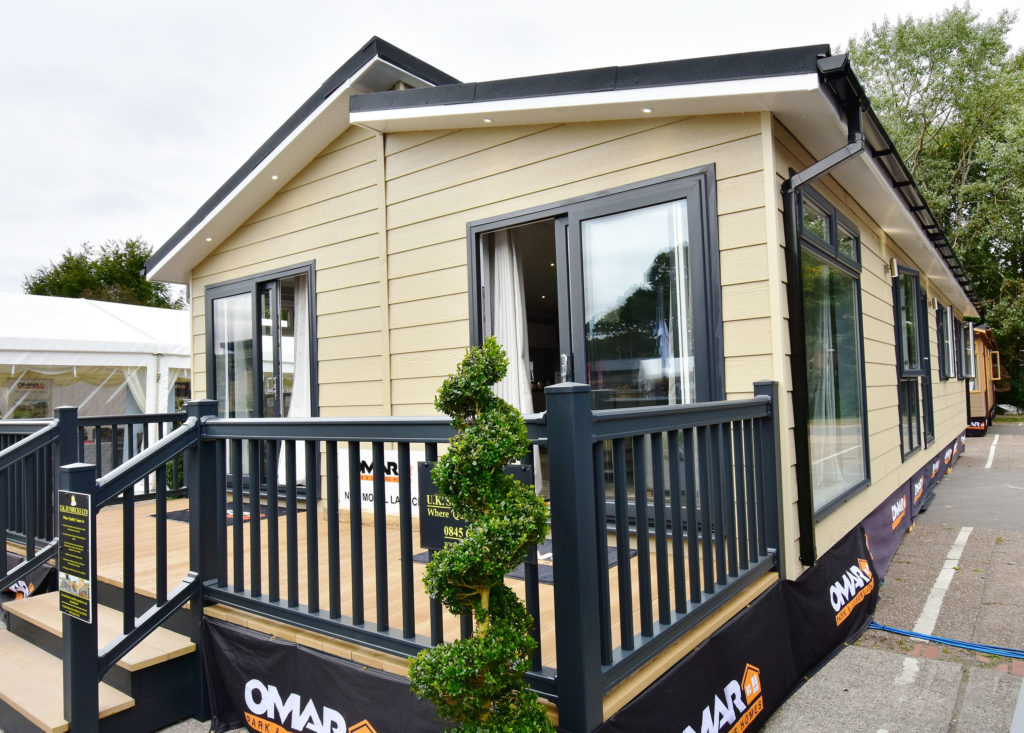 The Omar Alderney is a split roofed lodge and has French front doors on both sides. The exterior is in a Canexcel sand colour with Ced-R-Vue 9″ lap cladding, plus a Metrotile roof design. Full guttering and downspouts are fitted and it comes on a galvanised chassis.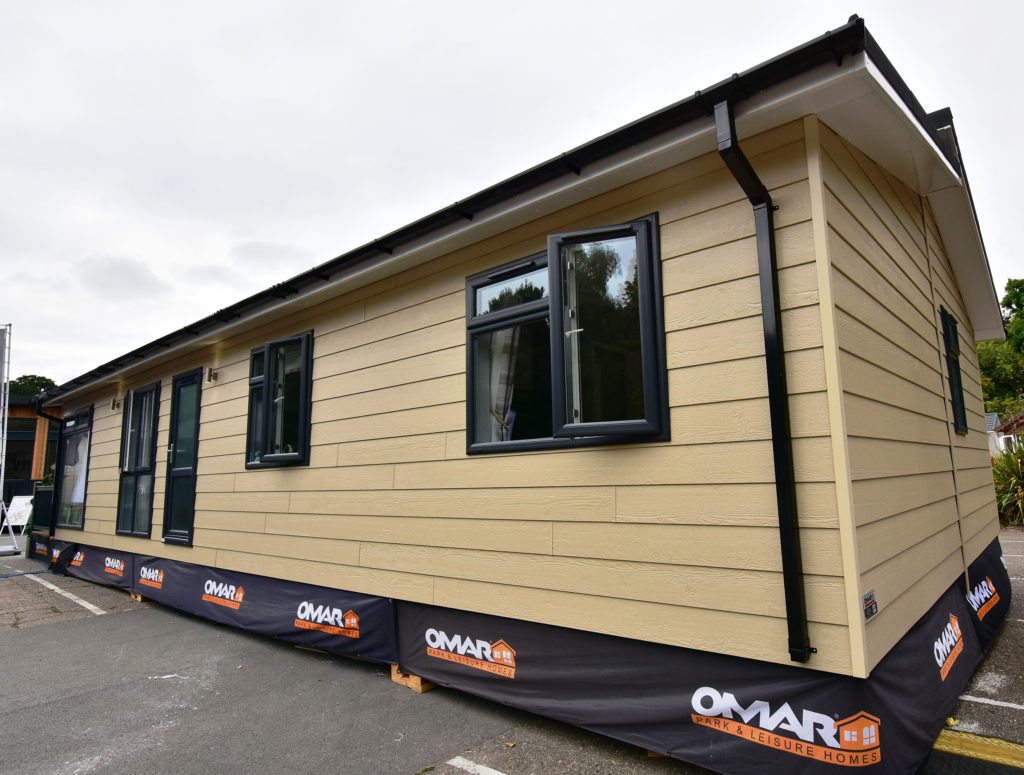 The Alderney lodge has a super spacious front lounge with two, three-seater settees and two smart coffee tables. There's plenty of natural light from the large side windows, plus the Velux roof window.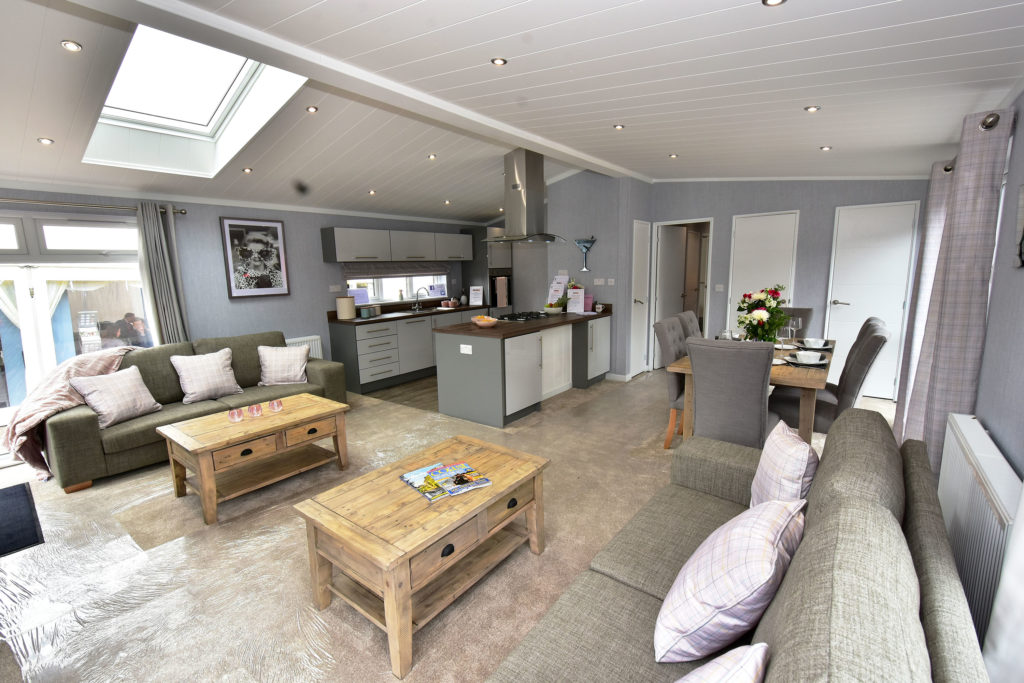 The kitchen is one of the vasted we've seen. It's got loads of storage and worktop too and has an island section houses a five burner gas hob.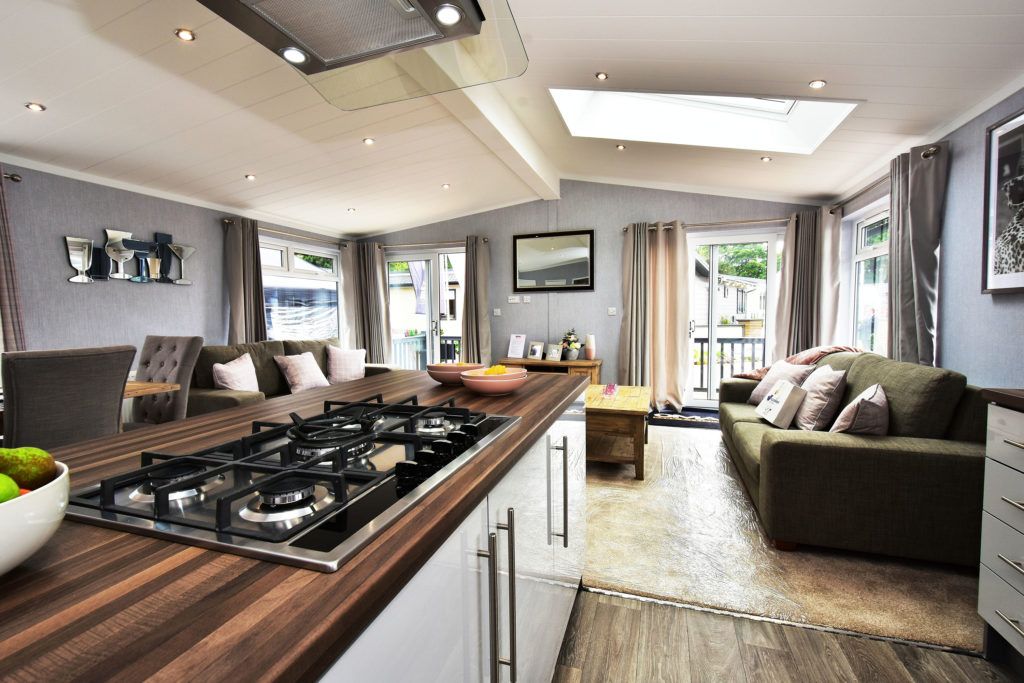 As you might expect there's plenty of floor area for the dining table, which has six upholstered chairs, and in the kitchen there's an array of integrated appliances to make light work of kitchen duties.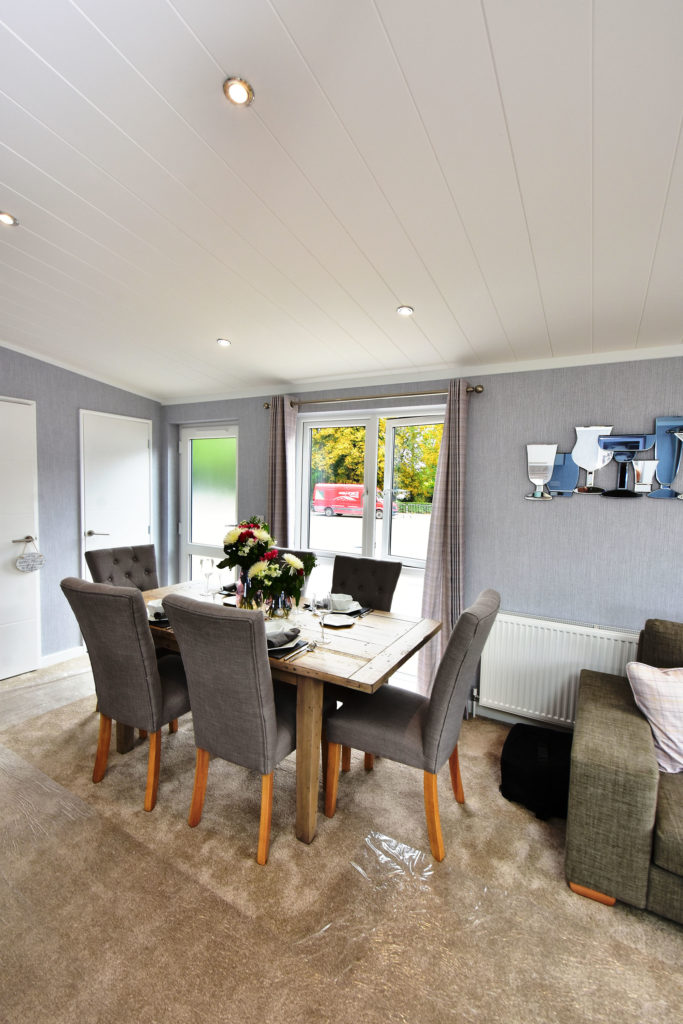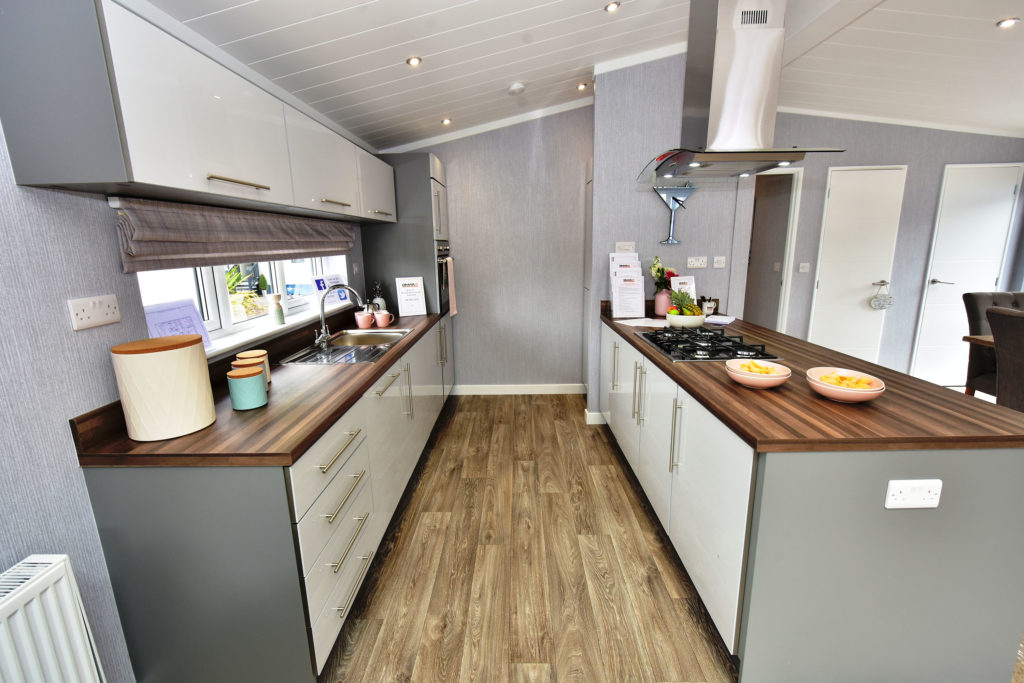 There are storage cupboards by the nearside entrance door and the whole colour scheme uses popular neutral colour trends.
The main bathroom has a bath, with overhead shower and large – but shallow – hand basin which generous storage underneath and large mirror above.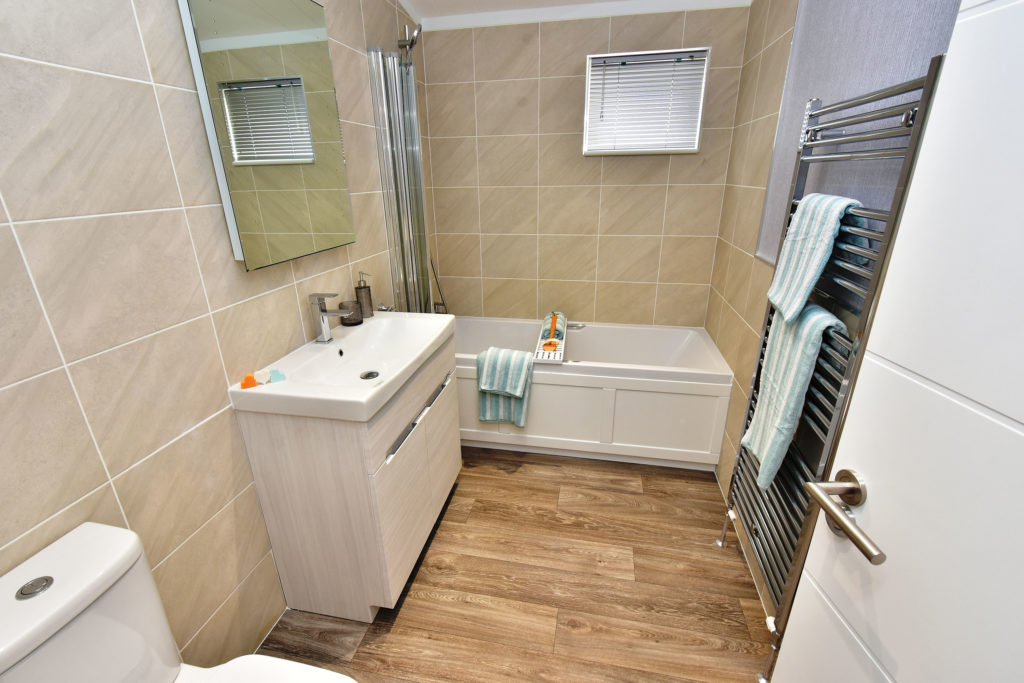 Only a small window is provided but light and ventilation shouldn't be a problem. The bathroom is fully tiled and has a good sized chrome towel radiator.
The master bedroom is next to the bathroom and offers a simplistic design with a free standing dresser and double wardrobes.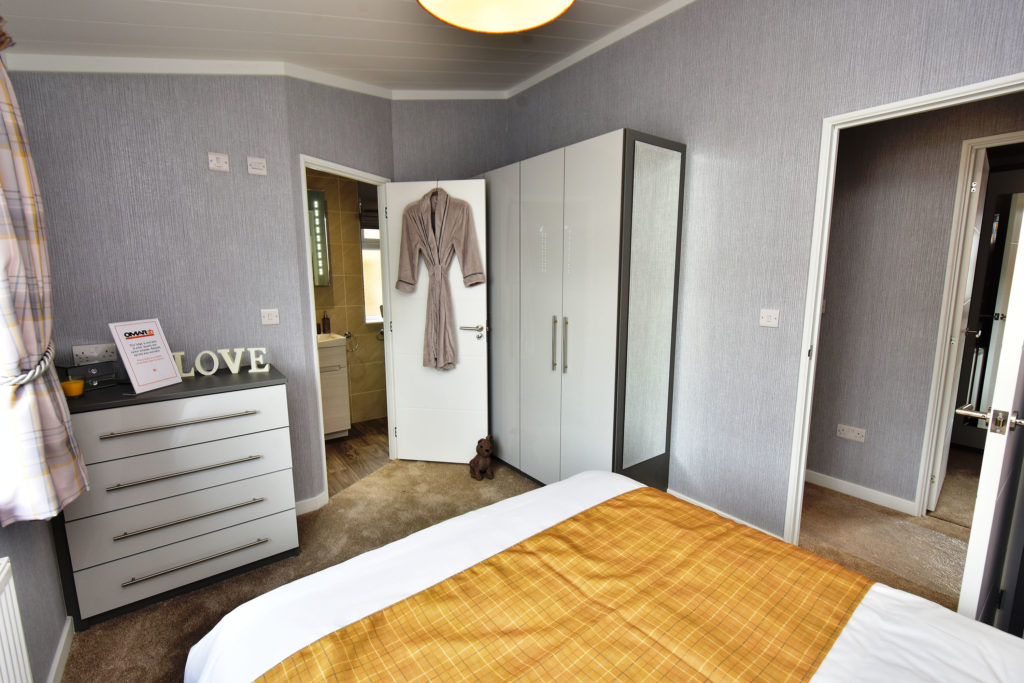 There are two small side bedroom cabinets but not much else in terms of storage.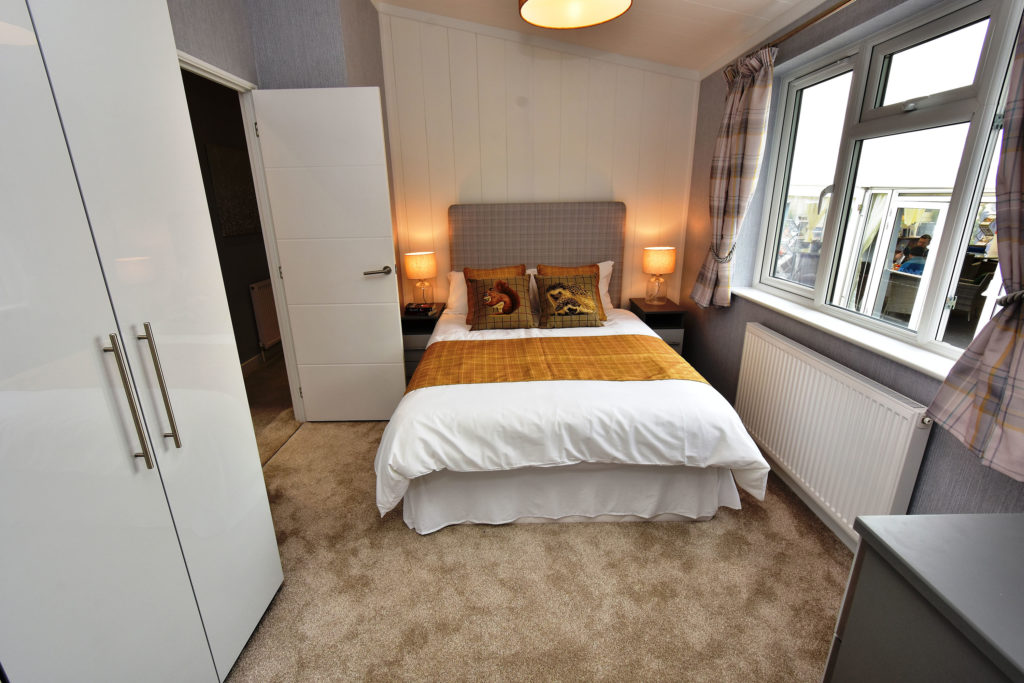 The en-suite offers a large walk in shower and hand basin with storage cupboard below.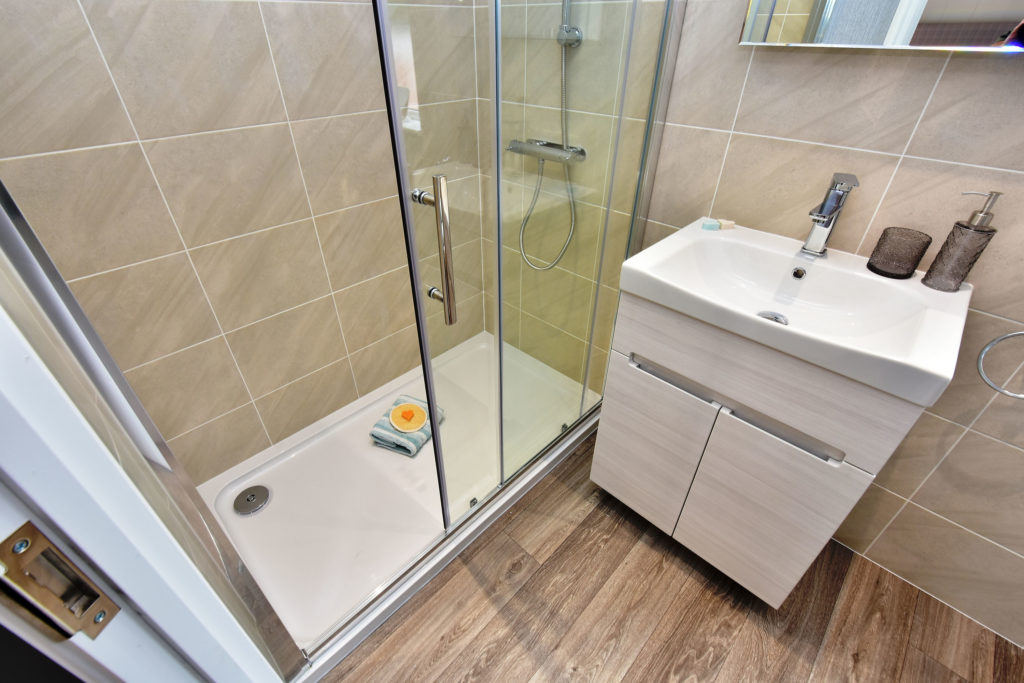 There's a loo of course, which has a window just at its side. A chrome radiator is fitted but it's not as large as the one in the main bathroom.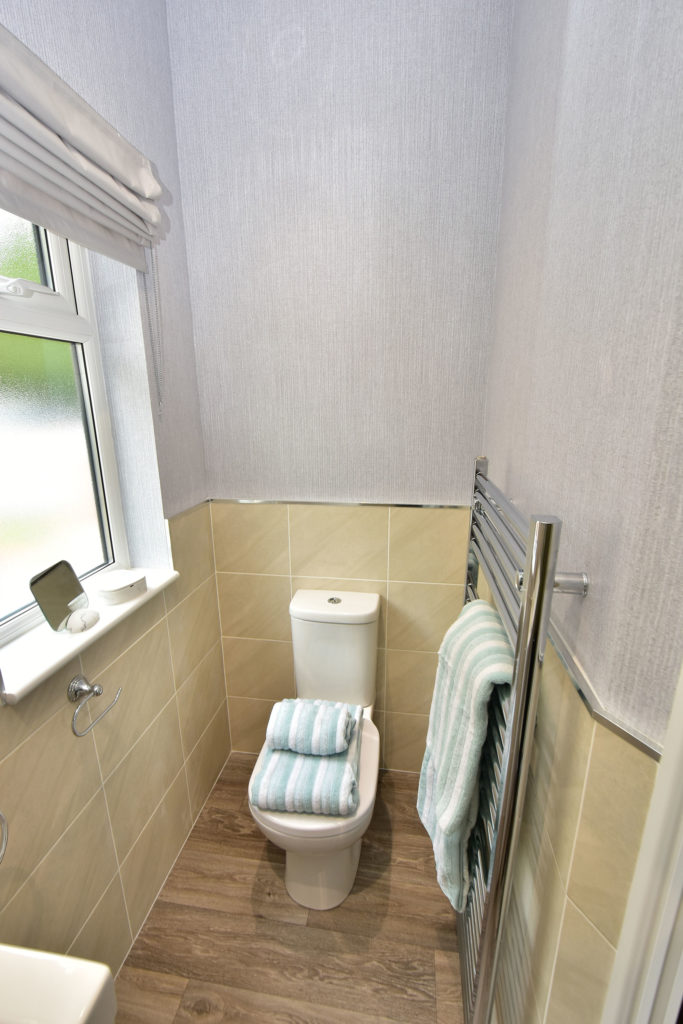 Walk back into the hallway and you have access to the other bedrooms. There are twin beds in bedroom number two, plus dresser with drawers, twin wardrobes and a small bedside cabinet at the side of each bed. It's spacious and two users won't feel short changed with space.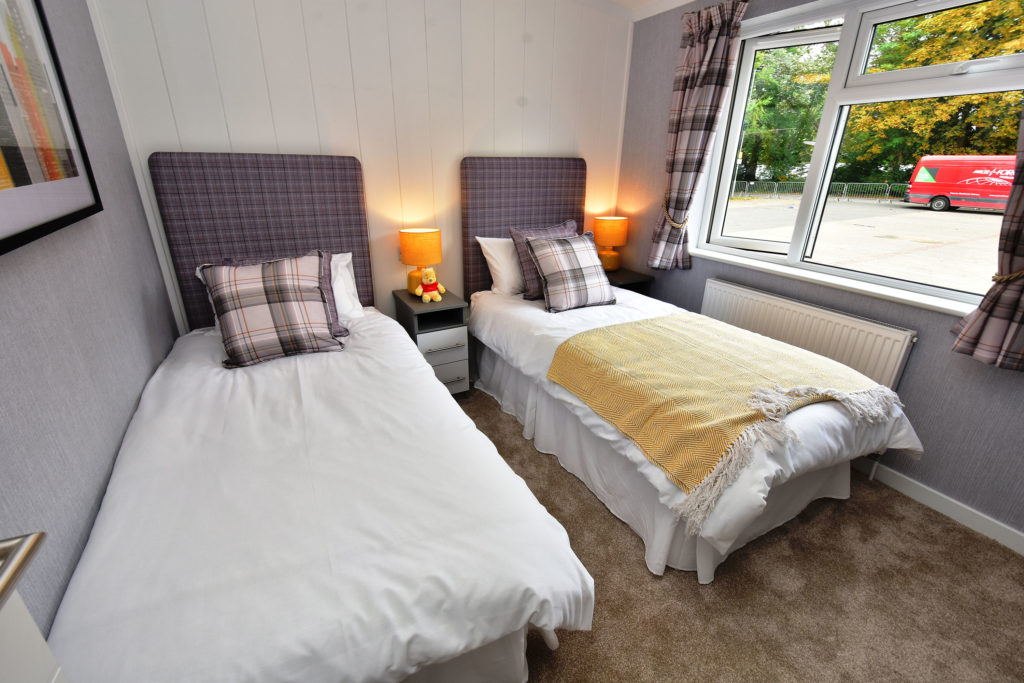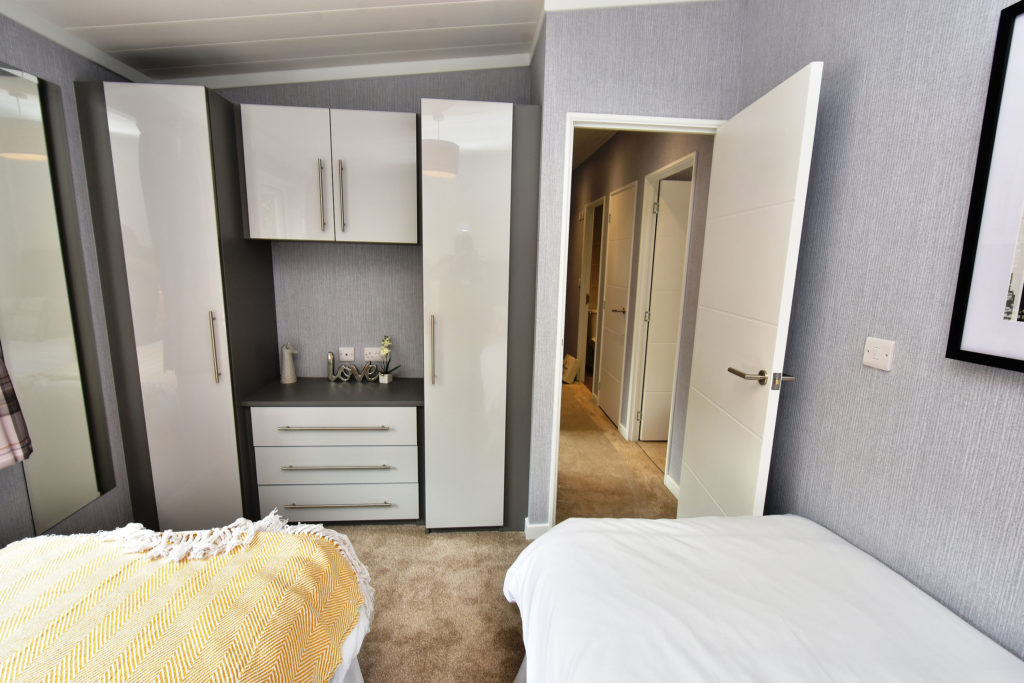 The third bedroom is a combined study and is a really great spot for a younger occupant. A desk and large stool is provided, while the bed has overhead cupboards and a there's wardrobe and small side dresser. It's a super design and will be a selling point for some.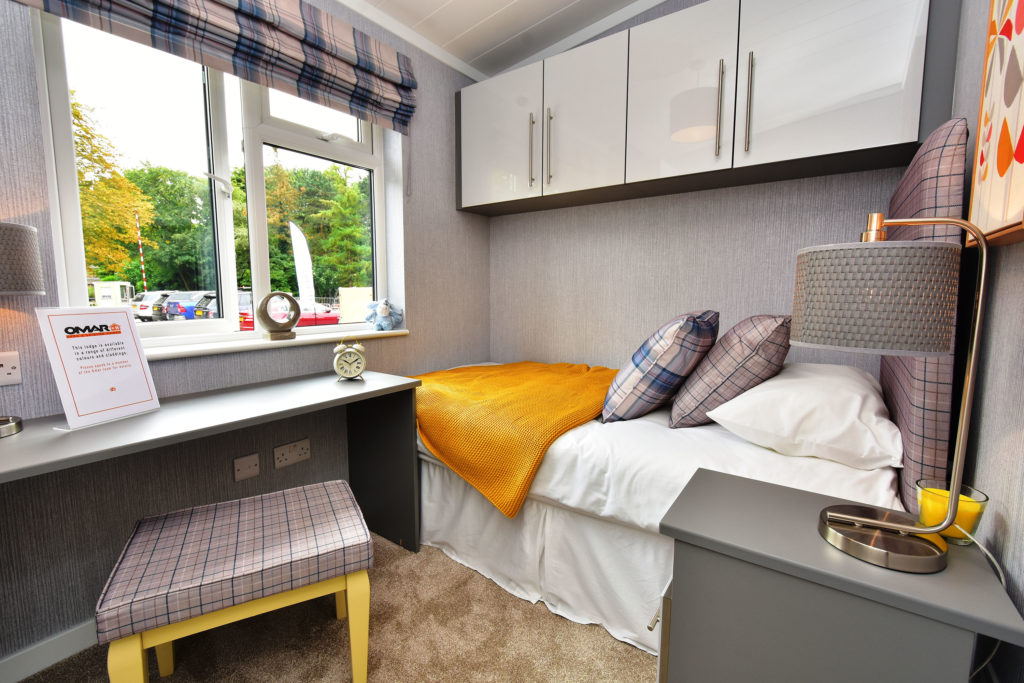 The same simplistic design of the furniture is carried through following modern trends.
---
Verdict: Omar shows its experience in this lodge market with the Alderney being no exception. Its interior is quite luxurious and there's a rustic feel in the lounge furniture. The Alderney has a superb kitchen, with its slate coloured worktops and integrated appliances adding to this lodge's appeal.
Plus points: Great lounge area, masses of storage in the kitchen and plenty of windows in the lounge.
Minus points: Limited storage in the master bedroom, small window in bathroom.
In a nutshell: Omar's latest lodge doesn't disappoint and is surely going to prove to be a popular choice.
---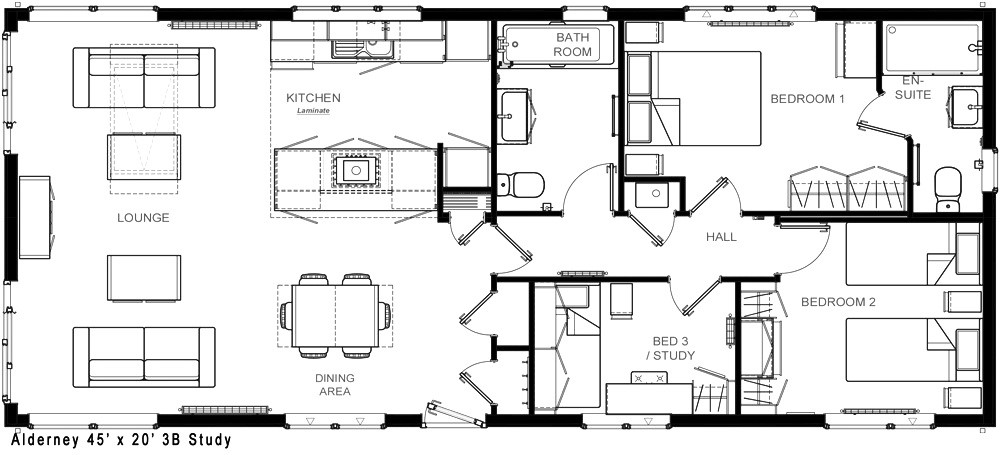 Fact file
Size: 45ft x 20ft
Build Standard: BS3632
Sleeps: Six
Bedrooms: Three
Other Alderney models available: 50ft x 20ft 3 bed; 50ft x 20ft 2 double beds; 45ft x 20ft 2 double beds; 40ft x 20ft 2 double beds; 36ft x 20ft 2 bed.
Others to look at: ABI Harrogate 42ft x 20ft 3 bed; Pathfinder Retreat 45ft x 22ft 3 bed; Victory Monaco Duo 41ft x 20ft 3 bed.
Key optional extras: Exterior cladding colour choice
Ex-works price: £118,206.99*
Spotted in the classifieds: 
A brand new Omar Alderney lodge sited in Isle of Wight (PO38).
Sited cost £204,995 including decking and hot tub. Cost to insure this sited lodge would be £527.
Leisuredays holiday lodge insurance quote based on Omar Alderney Lodge insured for £204,995. Owners are 68 year old retired couple with prior static caravan insurance and 3 years no claim discount. Lodge fitted with skirting and an alarm system. £10,000 contents included. Insurance premium includes insurance premium tax at current rate and is correct as of 14/05/2019.
If you're looking to buy this lodge why not get a great holiday lodge insurance quote from us today.
For more information about the Omar holiday lodge range visit www.omar.co.uk or email [email protected].
*Extra charges will be made by park operators and/or distributors for transport and siting and annual maintenance. Please check the price carefully before you commit to buy as prices vary considerably dependent amongst other factors, on the geographical location of your chosen park.