Contemporary open plan lounge and kitchen with bedrooms fit for Kings and Queens!
The Swift Vendee is a contemporary take on the traditional holiday lodge. The lounge has patio doors incorporated into the front window, letting in masses of light. The back of the lodge has a cosy country cottage feel with a huge master bedroom.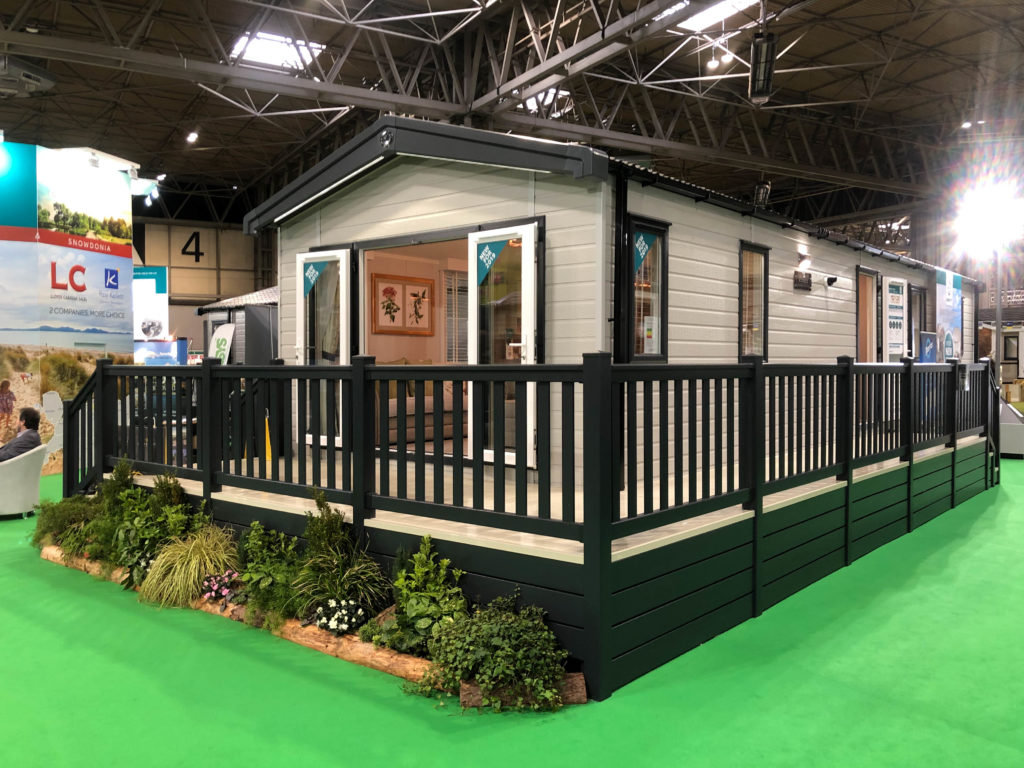 The lounge has a light sage colour frontage to the cupboards and drawers with pale oak tops, giving the front of the lodge an inviting, warm feel whilst still being neutral enough for you to add your own personal touches.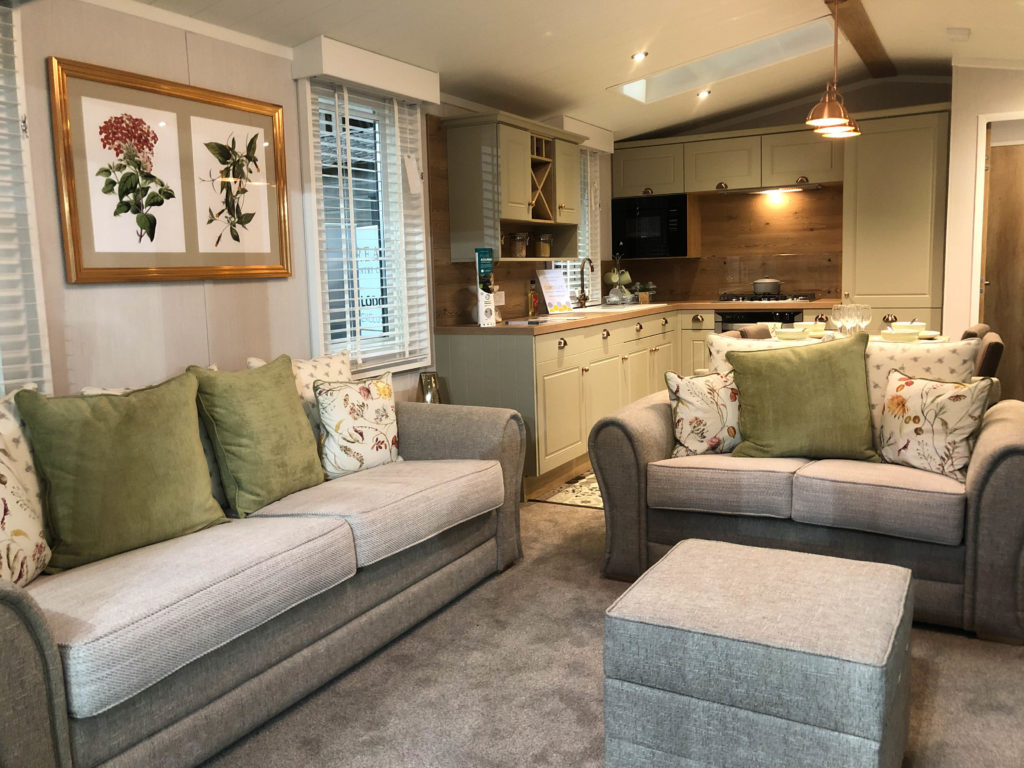 The faux log burner also adds to this modern cosy area, complete with mantle and marble-effect base.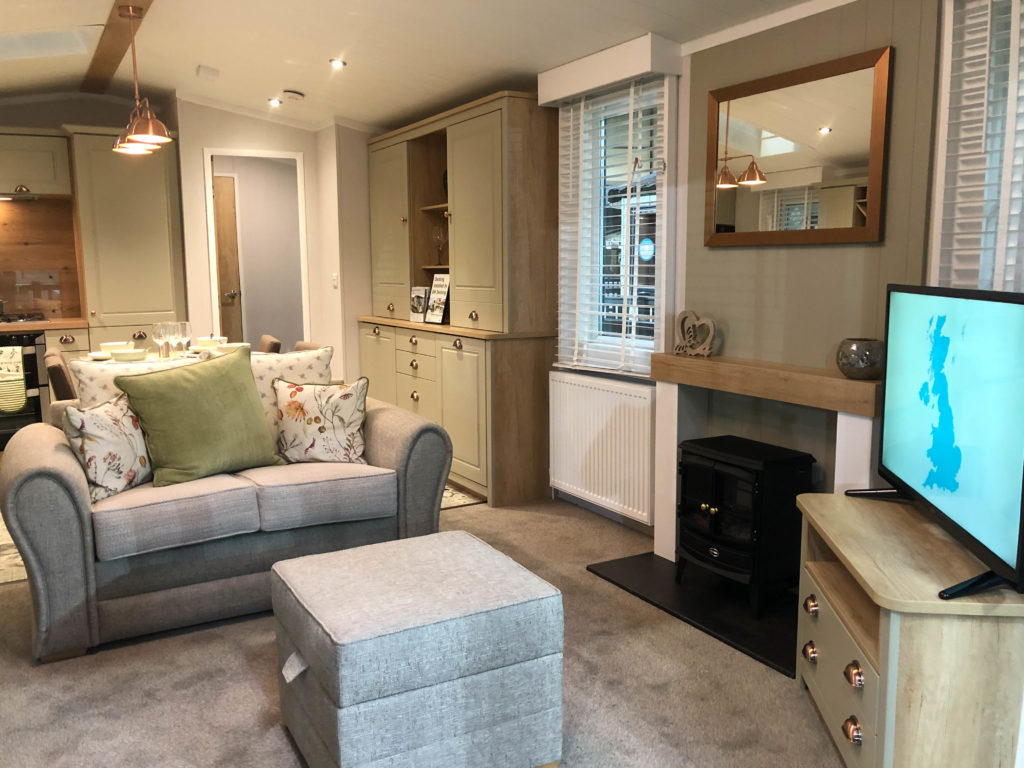 The kitchen features plenty of worktop space and enough storage to stock up with your every need. The deep sink and integrated drainer make washing up a breeze, whilst the five-burner hob, wide oven and grill make cooking a sheer pleasure in the Swift Vendee.
The lighting, fixtures and drawer pulls are all finished in a trendy burnished copper, adding to the thoroughly modern look of this lodge. The dining area in the kitchen is both close enough to the lounge to continue enjoying entertainment whilst eating, yet far enough back from the cooking area to make sure there's completely free movement for the chef.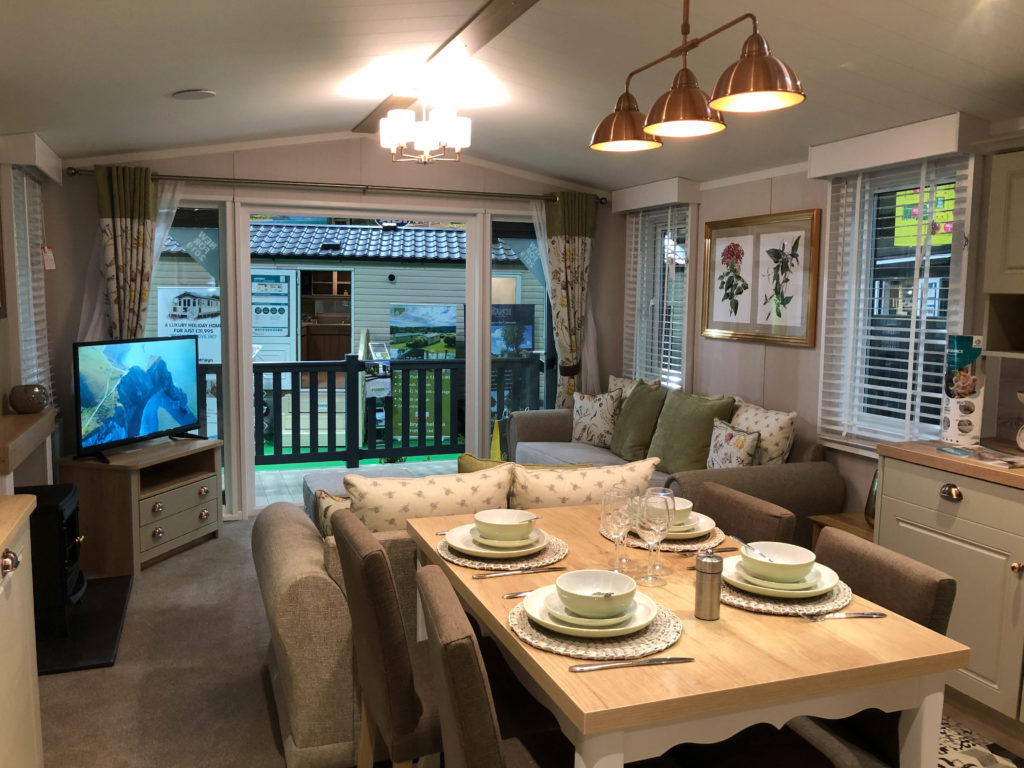 Towards the back of the Vendee lodge is the accommodation area, which shifts from the contemporary feel to a more rural character – the perfect place to relax and recharge.
The smaller bedroom, or kids room, doesn't feel enclosed, in fact with its door right next to the main door, the kids would have their own zone to get straight into, rather than trekking back and forth through the corridor.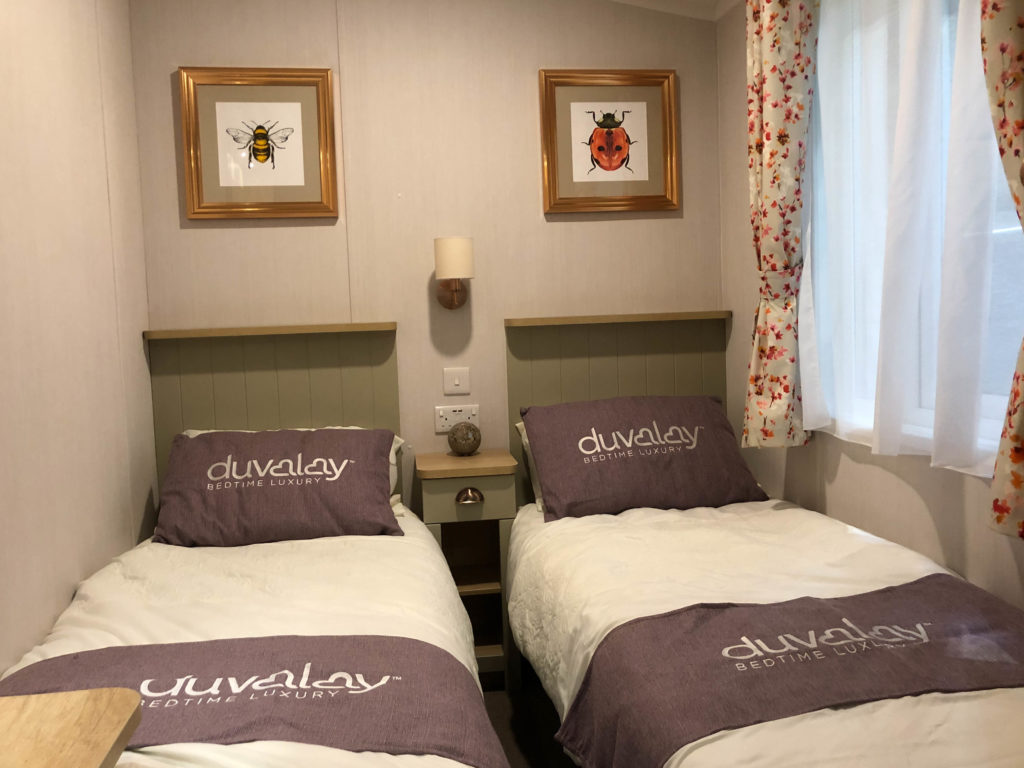 Opposite the main door you'll find the second bathroom, complete with large shower and white heated towel rail, plus vanity storage unit with mirror above.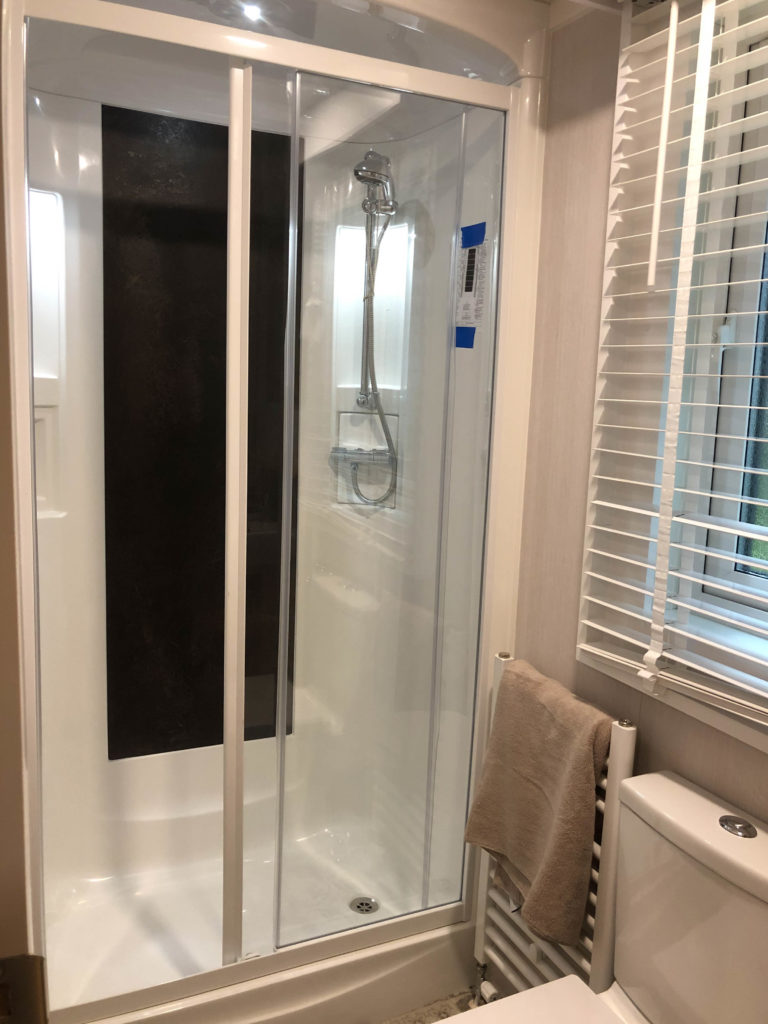 The master bedroom is where the sleeping area of this lodge really comes into its own, a huge bed greets you when you open the door, complete with Duvalay mattress, padded headboard and lift up storage.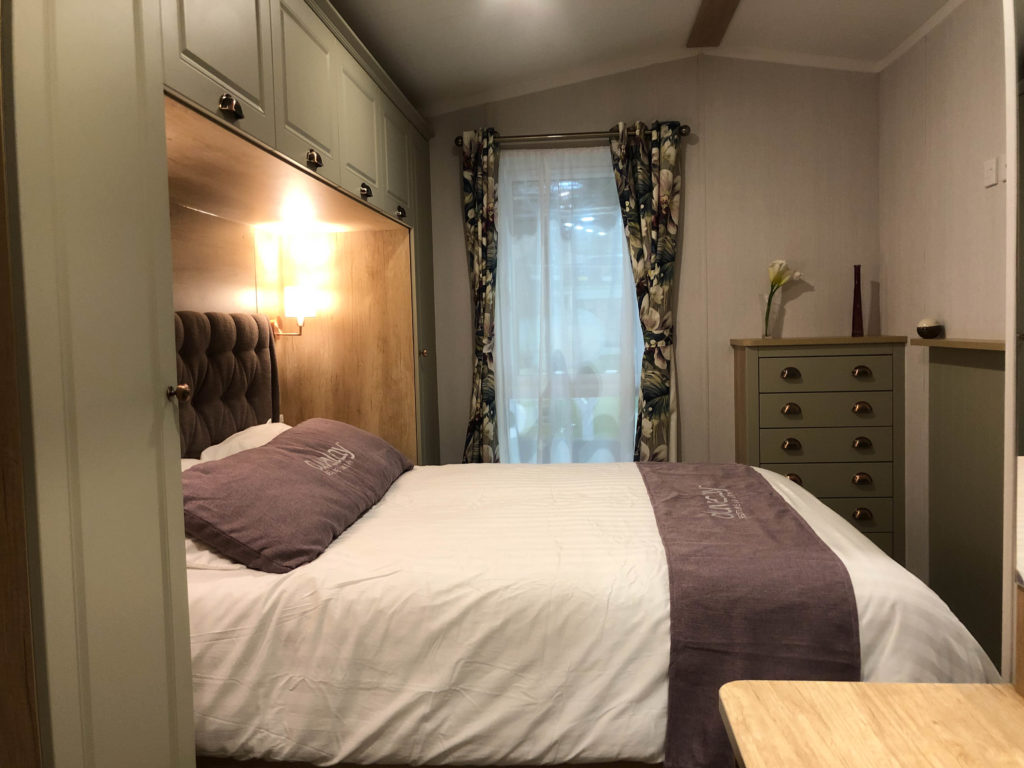 There's a dressing area with seating opposite as you enter, cleverly designed for two people to be able to get ready at the same time.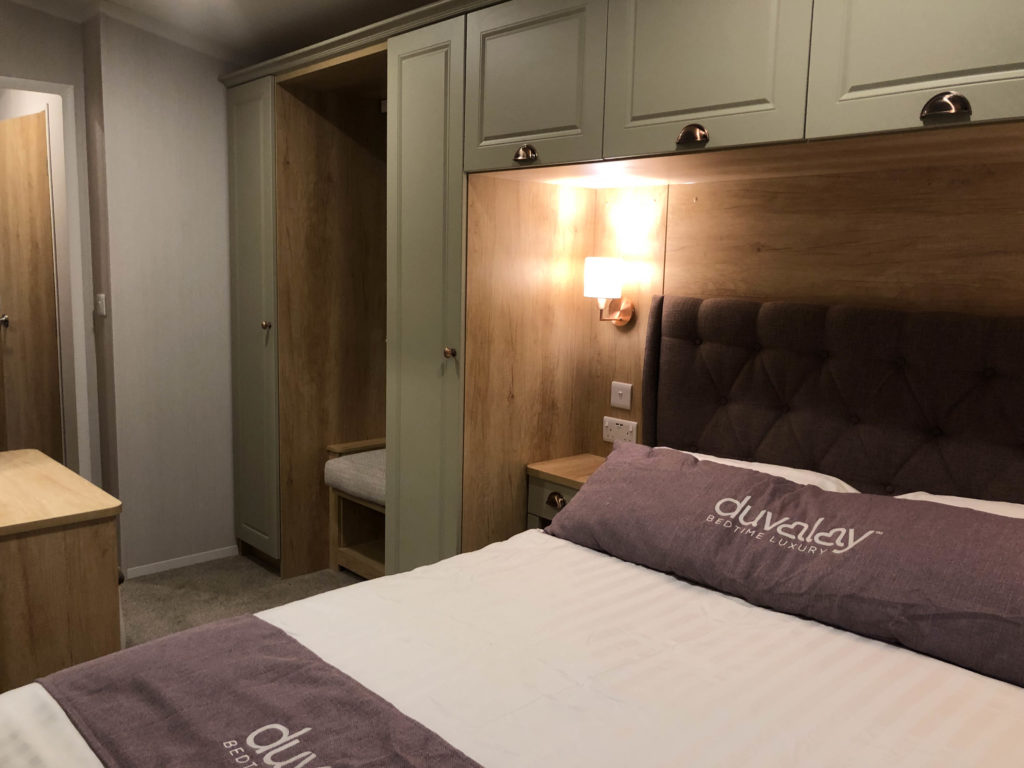 The bed is recessed into the fitted wardrobes and cupboards, all finished in the same pale sage and copper look.
The en-suite also has a large shower and as with the entire bedroom, has plenty of storage for all your toiletries.
The exterior of the Vendee is finished in a pale grey Canexel, with a wood grain texture, though there are other options.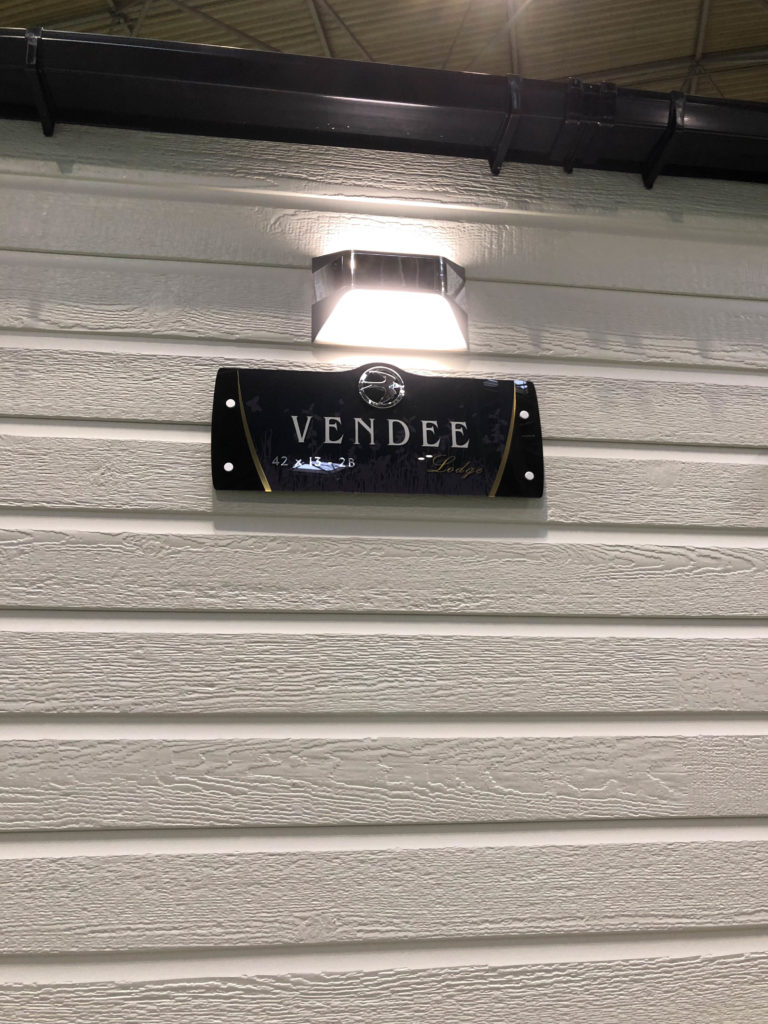 Adding to the premium touches are LED strips set into the roof line above the patio doors at the front, giving subtle illumination on your decking area – should you have it fitted.
---
Verdict: With its modern copper finishes and cosy layout, there's not much not to like about the Vendee lodge. Whilst it's in the higher price ranges, it certainly does not disappoint.
Plus: Great open plan lounge and kitchen area; welcoming entrance way with more than enough room for coats and shoes. Huge master bedroom with plenty of storage and space.
Minus: The door position of the second bedroom means, when open, it's difficult to access the main corridor. The LUX upgrade pack could do with being more of an upgrade. The bedrooms, although well lit, do not have large windows so rely heavily on the internal lighting.
In-a-nutshell: Modern but with a rural feel, this high-end lodge is difficult to beat.
---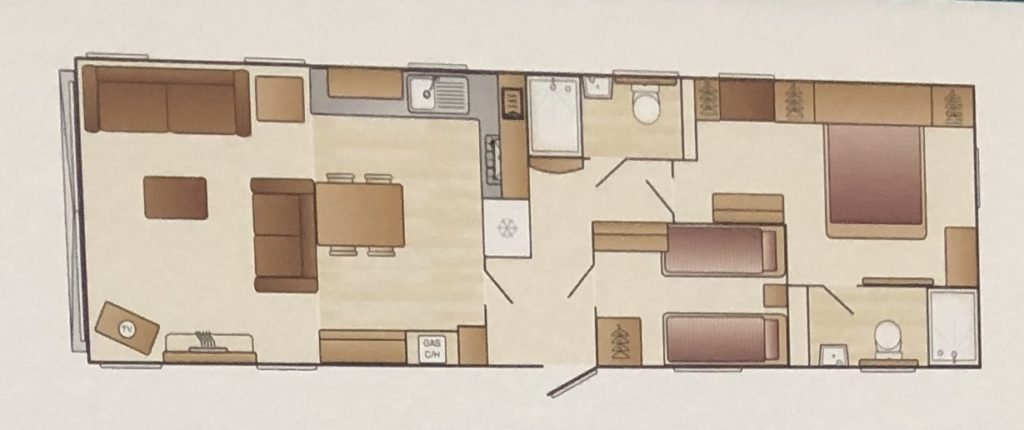 Size: 42ft x 13ft
Build standard: Lodge built to residential specification BS3632
Other models available: The Vendee can be built to lodge (residential specification) or static caravan (holiday home specification).
Sleeps: Four
Bedrooms: Two
Key optional extras: Lux pack £2,095 (dishwasher, washing machine, Bluetooth music system and Velux); TV sockets in all bedrooms plus booster £160
Ex-works price: Lodge: £55,995* Static caravan: £46,255*
Spotted in the classifieds: 
A brand new Swift Vendee lodge sited in Lancashire (LA5).
Sited cost £61,500 . Cost to insure this sited lodge would be £233.
Leisuredays holiday lodge insurance quote based on Swift Vendee Lodge insured for £61,500. Owners are 68 year old retired couple with prior static caravan insurance and 3 years no claim discount. Lodge fitted with skirting and an alarm system. £5,000 contents included. Insurance premium includes insurance premium tax at current rate and is correct as of 14/05/2019.
If you're looking to buy this holiday caravan or lodge why not get a great value static caravan insurance quote from us today.
For more information about the Swift holiday caravan and lodge range visit www.swiftgroup.co.uk..
*Extra charges will be made by park operators, and/or distributors for transport, siting and annual maintenance. Please check the price carefully before you commit to buy, as prices vary considerably dependent, amongst other factors, on the geographical location of your chosen park.