The Avonmore range has been around since 2013 but Willerby continue to build on its success in 2019
"It's just what we want for our retirement," a couple told us. They were talking about the Willerby Avonmore 35ft x 12 ft, two bedroomed static caravan.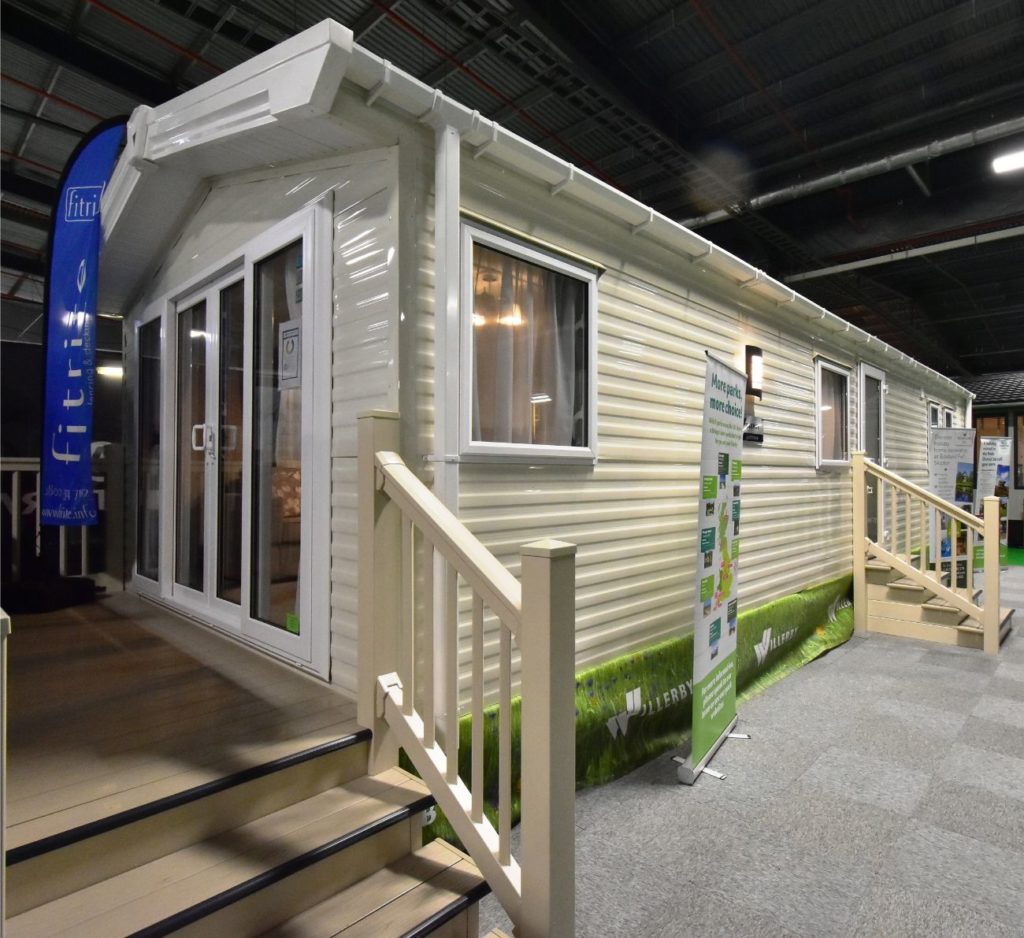 They loved the layout and value for money the Avonmore gives – especially as they were first-time holiday caravan buyers. And after going through the Avonmore we have to agree.
The Avonmore is clad with aluminium in a glace colour with uPVC double glazed windows and doors, plus guttering and downspouts.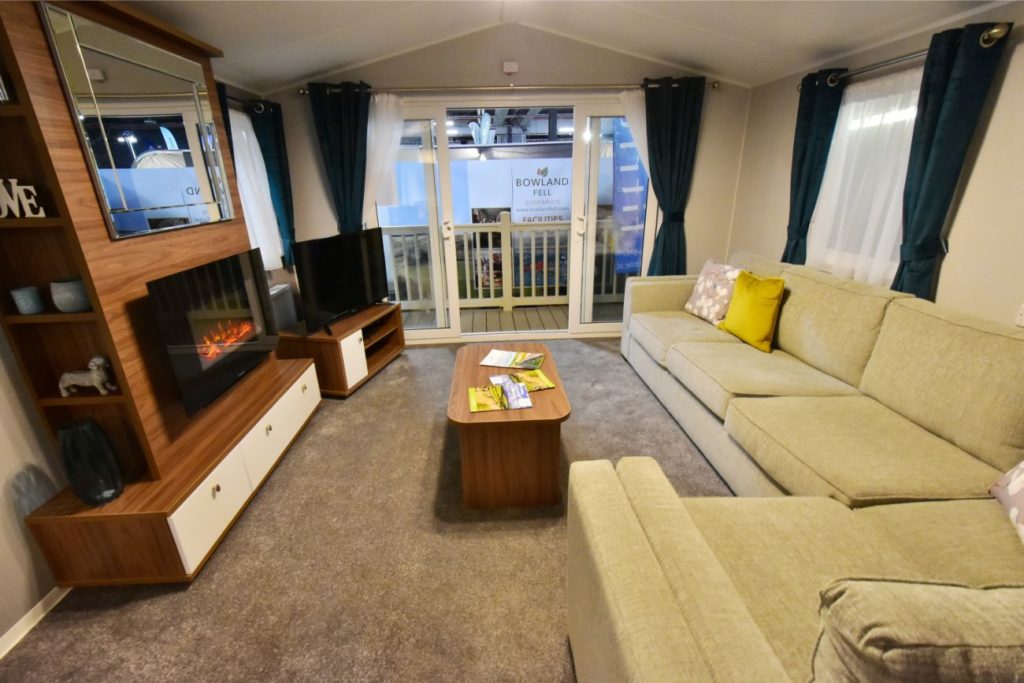 Our review model was fitted with the optional double glazed front doors – a popular purchase for buyers.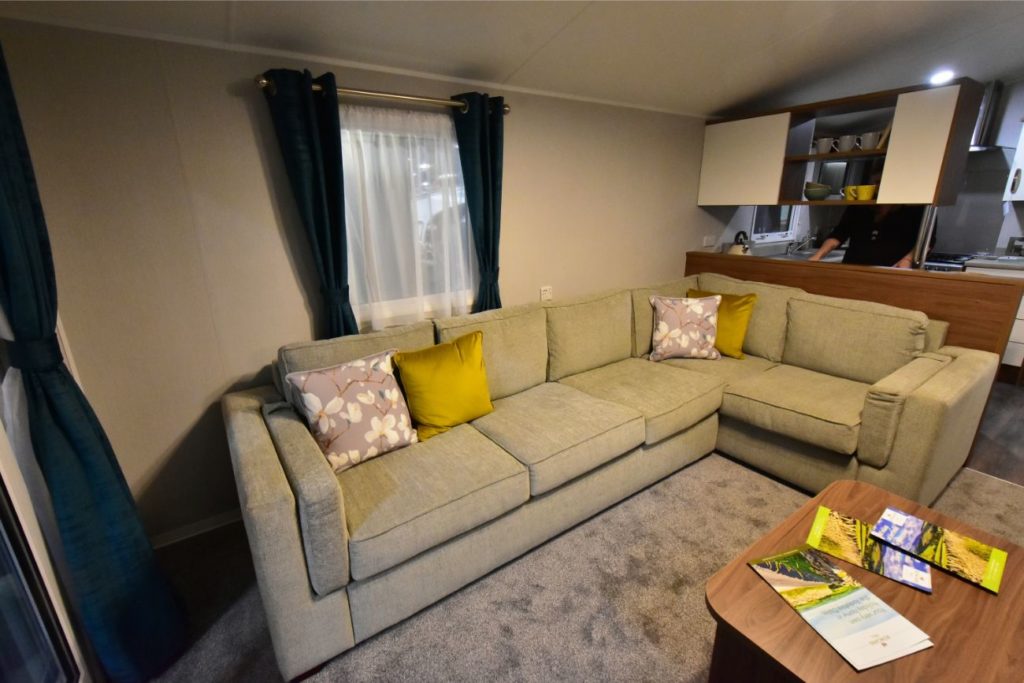 Step inside and your straight into the lounge, of course, where on the left is the modular sofa and cushions, exclusive to the Avonmore range, which can be adapted to your comfort needs.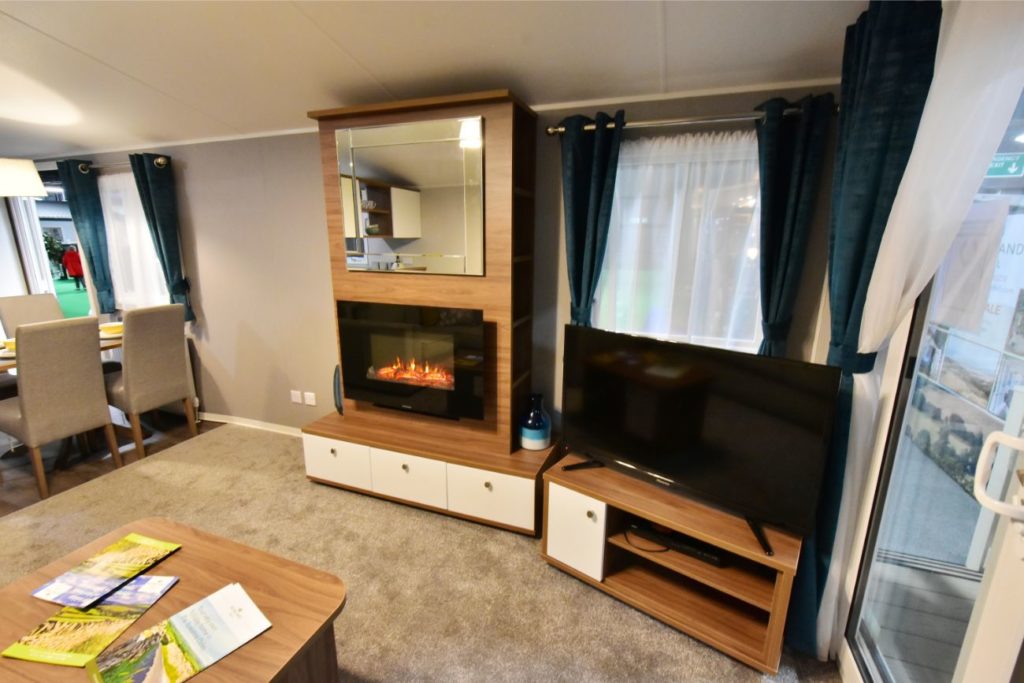 There's an electric fire with fireplace feature, complete with large mirror, plus a free-standing coffee table and a TV stand with storage beneath. Night lighting is by a centrally located pedant.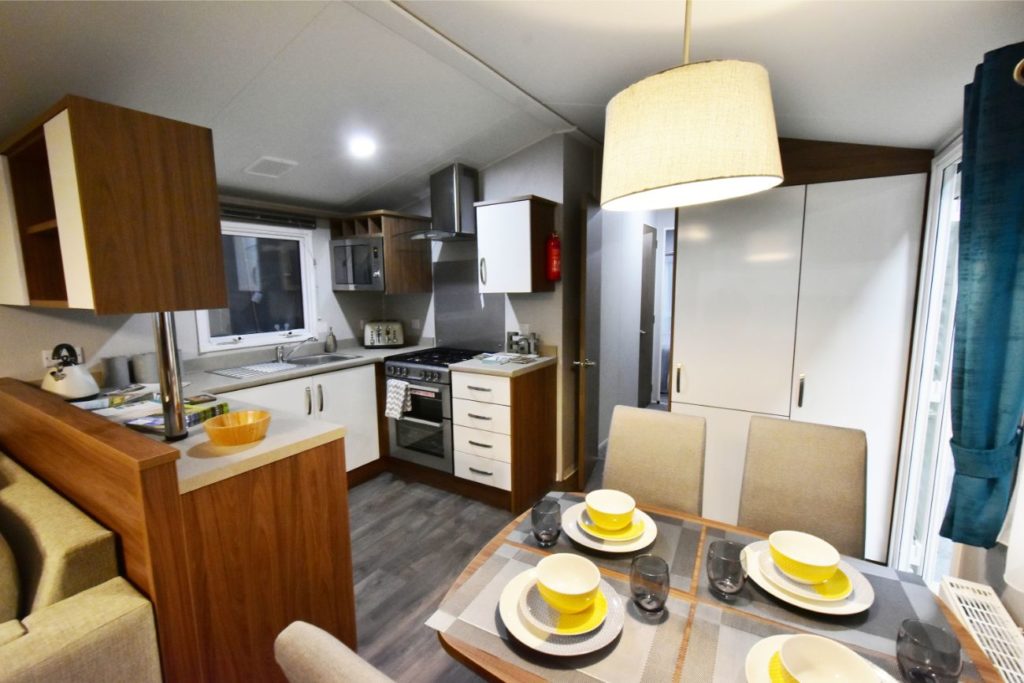 On to the Avonmore's kitchen / dining area, and Willerby provide a four seater diner with good comfy chairs. The kitchen is well-equipped with built in microwave, plus a full cooker with oven, and extractor fan, along with a 70/30 fridge/freezer. The kitchen offers plenty of worktop plus good storage, which also provides space for an optional dishwasher.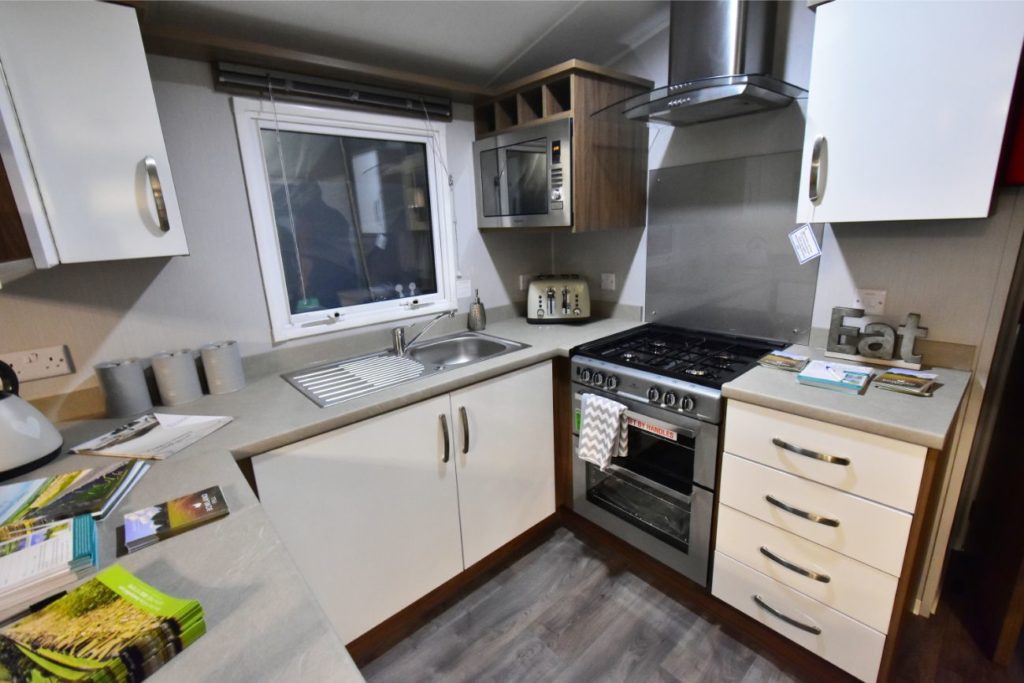 The walk through to the end master bedroom takes you past the second twin bedroom. This is fitted out with a wardrobe, along with a central chest of drawers between the two beds. More storage is provided with overhead cupboards, while overall the floor area provides enough room for two.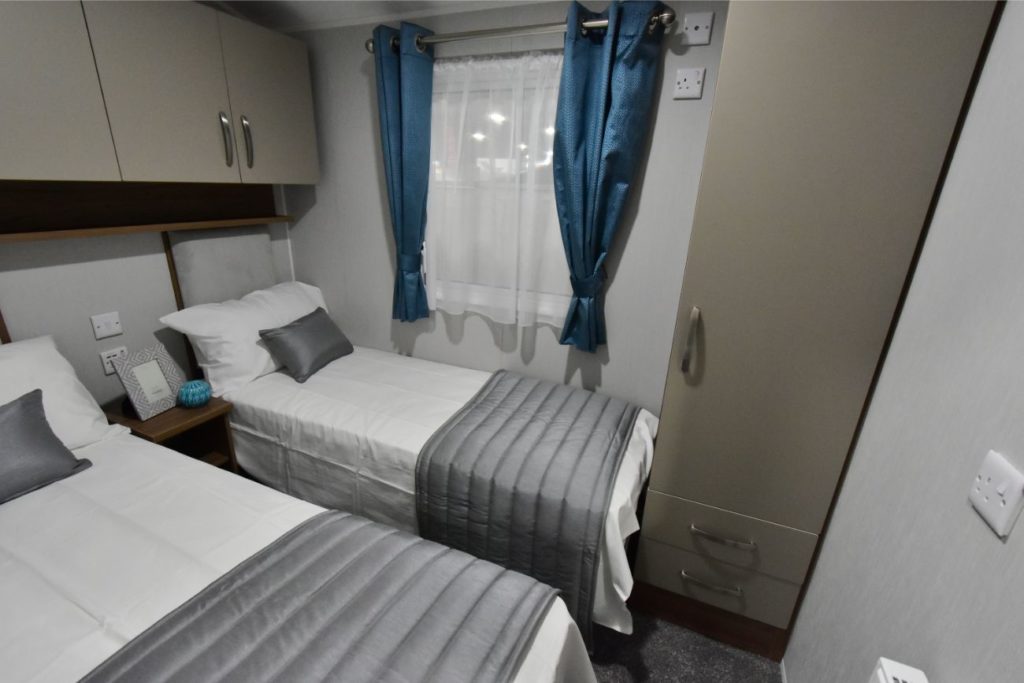 Opposite the twin bedroom is the main washroom, which has the usual toilet and a standalone hand basin, complete with a cupboard beneath. A window is fitted, while a moulded shower cubicle allows showering. It's not very large with minimal floor space, but it's practical.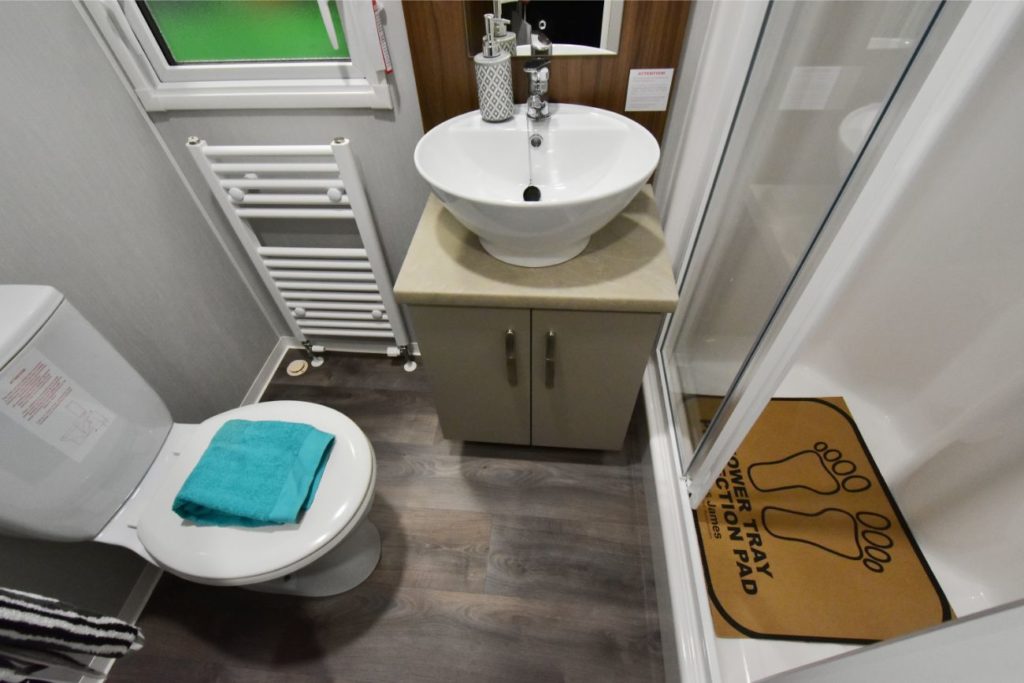 Move into the master bedroom and here it's more spacious, complete with a small loo room. The Avonmore bedroom has a large wardrobe with useful base drawers. There's also a small dressing table shelf, though it does have a large mirror and a free-standing stool.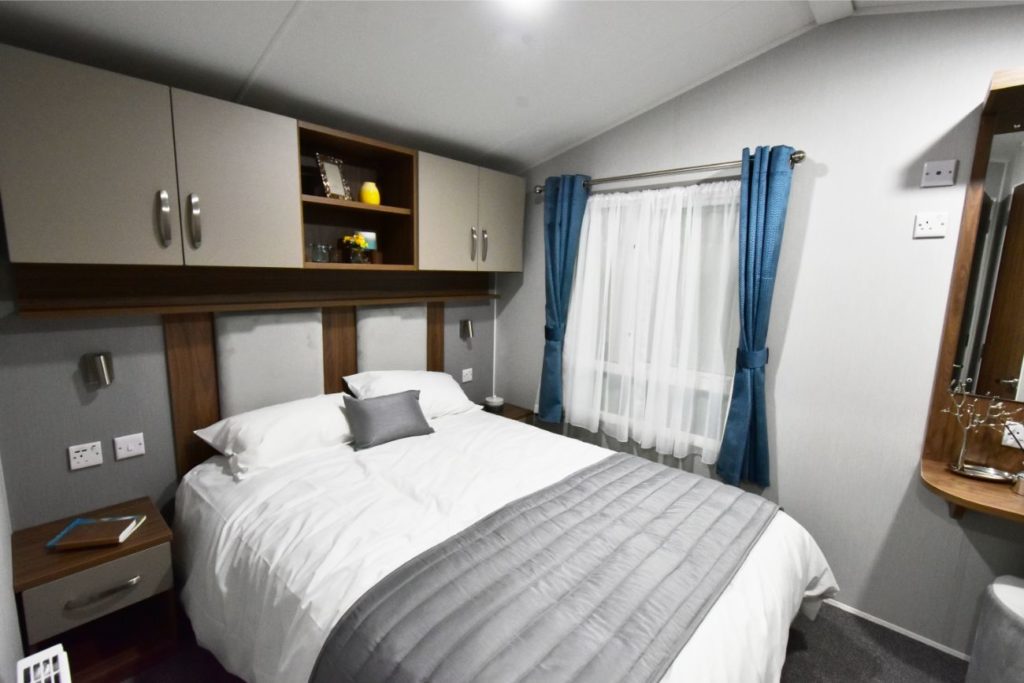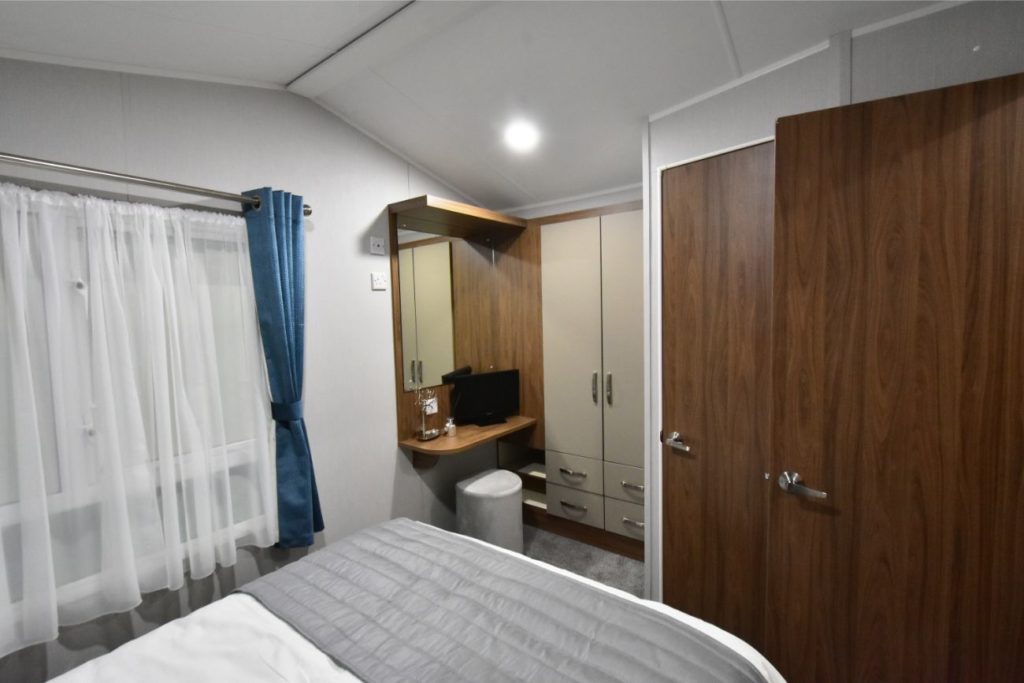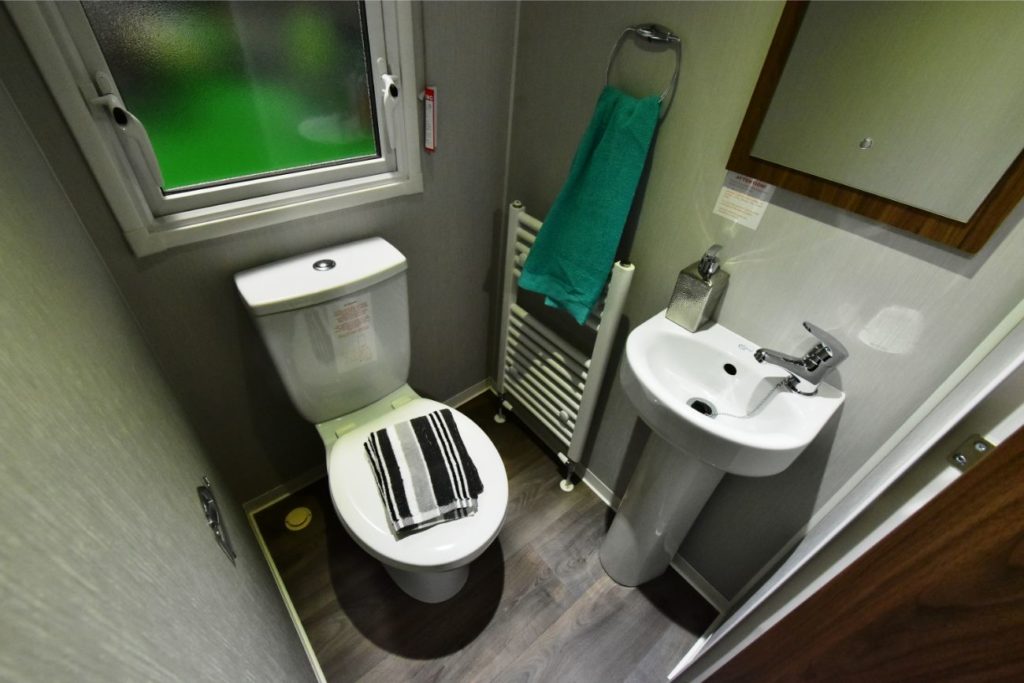 Verdict
The Willerby Avonmore offers a lot of holiday caravan for the cash. Plus with a good, sensible options list it can be adapted to suit the buyer's needs. The washroom is a little small and the dressing table in the bedroom is a tad basic. However, the two-bed Avonmore is one to pop on your shortlist in this price bracket.
Plus points
Plenty of power points, cupboard and worktop storage in the kitchen area; comfortable front lounge and pull out extra bed.
Minus points
Main washroom isn't very big; no integral LED ceiling lights in the lounge, basic dressing table.
In a nutshell
Typically up to Willerby's usual good standards, well-equipped kitchen, a good buy for less than £34k.
Floor plan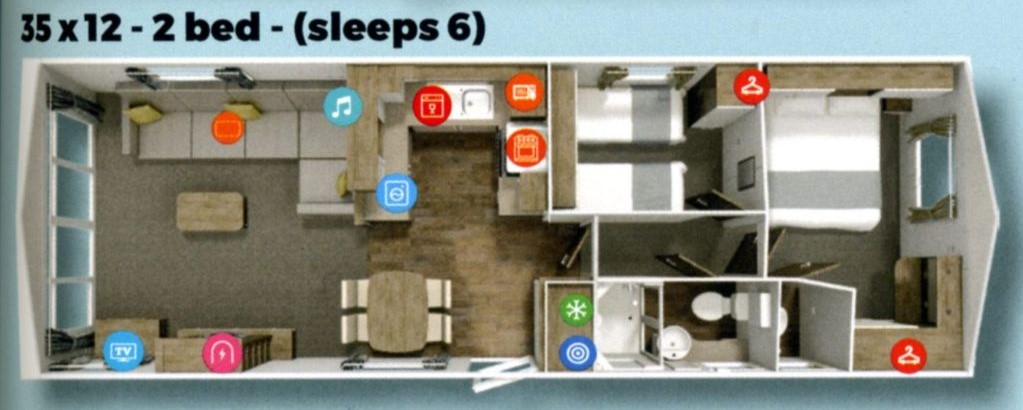 Fact file
Size: 35ft x 12ft
Build standard: EN1647
Sleeps: Six
Bedrooms: Two
Other Avonmore models available: 32ft x 12ft 2 bed; 38ft x 12ft 2 bed; 38ft x 12ft 3 bed;  40ft x 14ft 2 bed; 40ft x 14ft 3 bed
Others to look at: ABI St David; Swift Bordeaux; Carnaby Oakdale.
Key optional extras: Galvanised chassis, Deluxe Pack, armchair, double front sliding doors, exterior rigid vinyl cladding, gas central heating, dishwasher/washer, 5ft exterior decking, pet friendly pack, side aspect sliding door, environmental green exterior/ window frames, bedding pack, integrated MP3 sound system, Better Sleep mattress, European Specification.
Ex-works price: £33,762*
If you're looking to buy this lodge why not get a great value static caravan insurance quote from us today.
Spotted for sale in the classifieds: A brand new 2 bedroomed, 35ft x 12ft Willerby Avonmore sited in North Wales (LL22). Sited cost £42,995.
Cost to insure this sited caravan would be £270**.
**Leisuredays static caravan insurance quote based on Willerby Avonmore insured for £42,995. Owners are 68-year-old retired couple with previous static caravan insurance and three years no claim discount. Caravan fitted with skirting and an alarm system. £5,000 contents included. Insurance premium includes insurance premium tax at current rate and is correct as of 4/07/2019.
For more information visit www.willerby.com or call 01482 717599.
*Extra charges will be made by park operators and/or distributors for transport and siting and annual maintenance. Please check the price carefully before you commit to buy as prices vary considerably dependant amongst other factors, on the geographical location of your chosen park.