Sitting comfortably?
Summer's here and it's the perfect time for relaxing and entertaining outside your static caravan or lodge.
We know that outdoor seating for holiday caravanners is a must-have accessory (according to the results of our recent poll), so here we bring you our guide to all things lounging outdoors.

Top outdoor seating tips
A great place to start looking for outdoor furniture and have a try out for size and comfort is a caravan dealership with a big accessory shop; a camping retailer or a garden centre. Alternatively, talk to your neighbours if you like the look of their outdoor seating!
Make sure any outdoor seating can cope with the weather, particularly if you're going to leave it on your decking or verandah throughout the summer months. And if you live by the coast you'll want to make sure any metal frames are coated to protect them from saltwater – or go for a different material.
Consider a cover if you're going for large outdoor furniture pieces to protect them from the elements when not in use – plus it will extend their lifespan.
Look for seating that can be easily stored away in winter or when you're not staying in your caravan – or even something you can take home with you and get the most out it in the garden or on the patio!
Some outdoor chairs come with lumbar support, which is great if you have any back problems and will offer a bit more comfort.
Consider how long they'll last and if they'll need any ongoing maintenance. Wood will need treating every now and again and plastic can fade and go brittle after lots of exposure to the sun (and frost).
Add cushions for extra comfort and to add a bit of colour – maybe even to match with your tableware! But make sure you have space for storing them when not in use.
Make sure you include the cost of outdoor seating or furniture in the sums insured on your static caravan insurance policy so it's covered in the event of any damage or theft whilst you're staying in your holiday caravan.
Also, make sure you store away or take inside, any outdoor seating when not staying in your static caravan or lodge, to prevent any damage from the weather or theft – particularly when you close up for winter. Or consider chaining it down to the decking or patio area when your holiday caravan is not occupied.
Finally, remember that you get what you pay for!
There's plenty of choices out there when it comes to sitting back, relaxing or entertaining, at your static caravan – from foldaway chairs that you can put into storage when you're away from your static caravan or lodge, to luxurious rattan furniture sets. Here we take a look at four star players!

Maze Rattan Georgia furniture set
Rattan not only looks great but it's very hard-wearing and lots of outdoor seating options, from loungers to sofas, dining sets, day-beds and hanging chairs.
This Maze Rattan set has a strong aluminium frame and even comes with an integrated ice bucket – whilst you're chilling so are your drinks!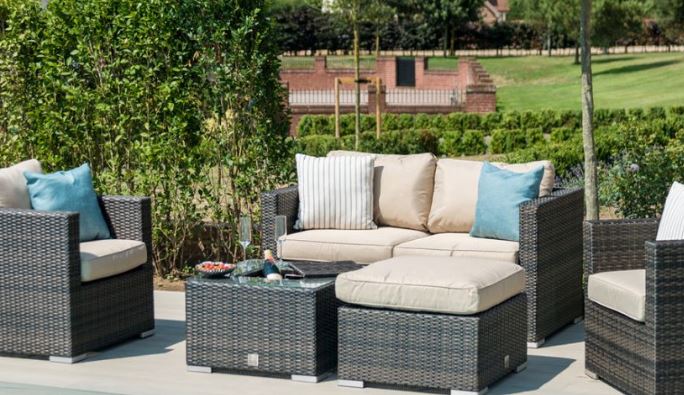 The set includes a two-seater sofa, two armchairs, coffee table and footstool, which can also be used as an extra seat or to create a lounger with the sofa or armchair. Recommended footprint is 300 cm x 270 cm.
Key features: 5 years warranty, 100% recyclable PE resin; tempered glass tabletop; UV resistant.
Expect to pay: £799
For more info: www.mazeliving.co.uk

Brayton dining set
Stackable or foldable garden furniture can save space and is quick and easy to put away. There are lots of different materials, from plastic to metal, as well as wood. We liked this table and chair set, which is perfect for dining al fresco as well as chilling in the sun. The mesh-backed seats on the chairs are not only more comfortable than a firm wooden or plastic-backed chair but they also recline so you can sit back and relax after a meal or long walk!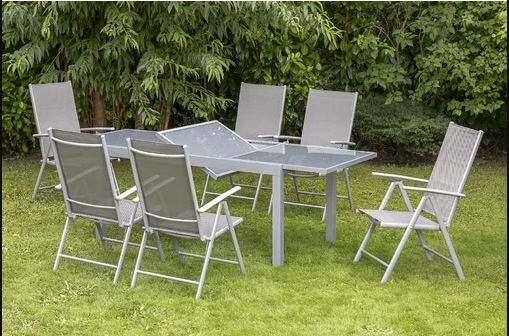 It's all very practical and stylish, and the set includes an extendable glass-topped dining table which will comfortably seat six.
Key features: Extendable table, aluminium framed chairs and table, powder coated finish, safety glass tabletop, 5 times adjustable backrest.
Expect to pay: £409.99
For more info: www.wayfair.co.uk

Vivere Wave Laze Chair
What better way to relax at your static caravan than on a sun lounger! If you're short on space you'll want a lounger that folds away and it's best to spend that bit more on a lounger that is made from weather-proof materials. How about one that will rock you off to sleep?!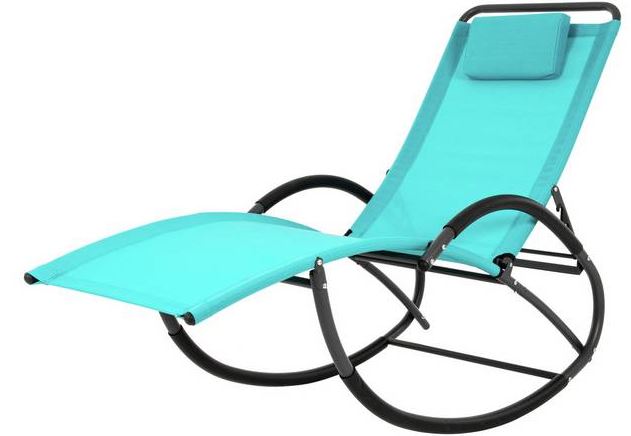 The Vivere Wave Laze chair has four rocking positions and includes a padded headrest and acrylic mesh to lie on. Plus the bright turquoise colour will add a pop of colour to your outdoor space – and you might need to buy one for everyone in the family!
Key features: Aluminium frame, lightweight (10kg) d chairs and table, safety glass tabletop, 5 times adjustable backrest.
Expect to pay: £110
For more info: www.argos.co.uk


Outwell Lake inflatable suite
Ever considered inflatable outdoor seating? You can inflate your chair or sofa to the desired comfort, plus they're easy to maintain, as well as deflate, so you can easily store away. Plus, any spills can be quickly wiped away and some top-end makes are actually quite stylish and durable.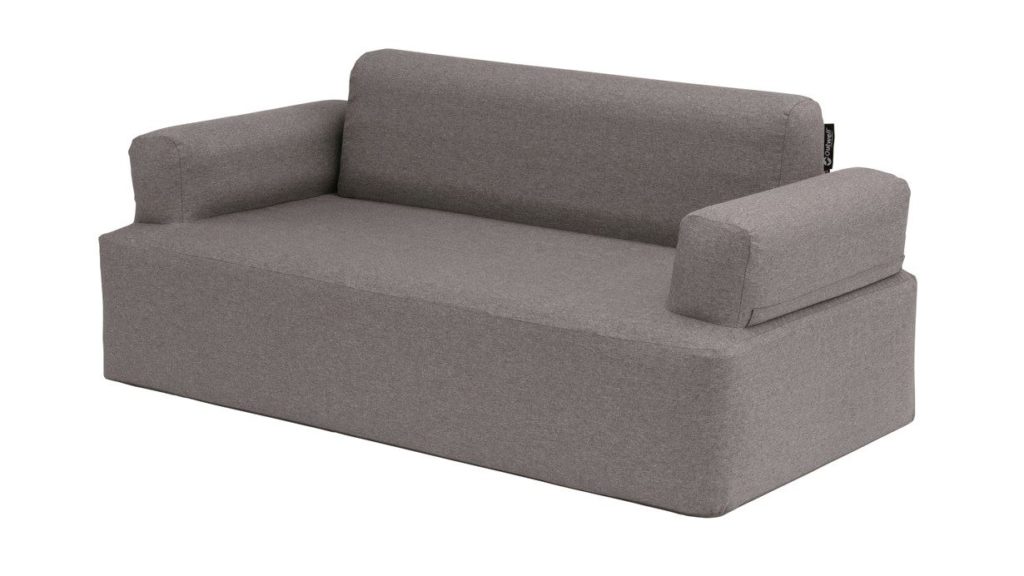 Outdoor specialists, Outwell, are well known in the camping and caravanning market but their "Lake" range of inflatable seating is just as ideal for static home use.
The range features the Lake Superior inflatable sofa, the Lake Huron inflatable chair and the Lake Erie inflatable ottoman-style seat, which can also double up as a table, footstool or small seat.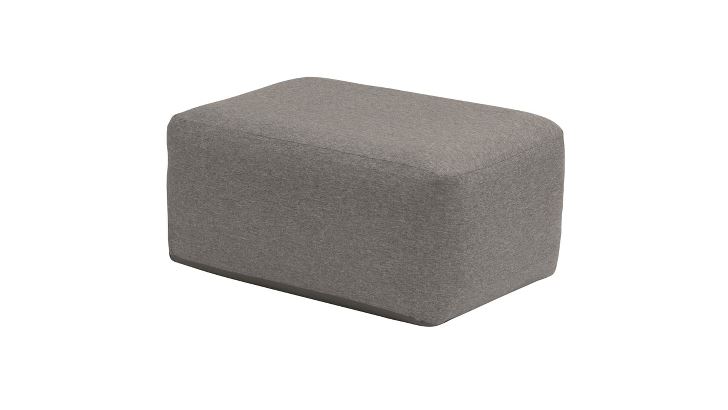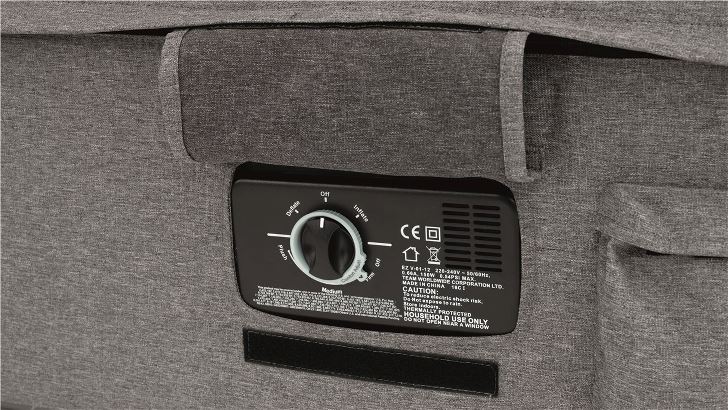 The sofa and armchair have an in-built 230W pump for easy inflation and both are really lightweight, so easy to move around. This quick and easy inflatable suite features a soft, comfortable detachable cover, and the wide and supportive designs, include domestic style back and armrests to bring home comfort to your decking or patio.
Key features In built pump, double polyurethane-coated two-tone polyester cover with a +30 UPF, double polyethylene base, includes carry bag for easy storage.
Expect to pay: Sofa £250; armchair £169; ottoman £68.99
For more info: www.outwell.com


IKEA BETSHOLM bench
A garden bench is a classic choice of outdoor seating – perfect for watching the world go by with a loved on! Some come with built-in storage and you can always make a wooden bench more comfy with some padded cushions.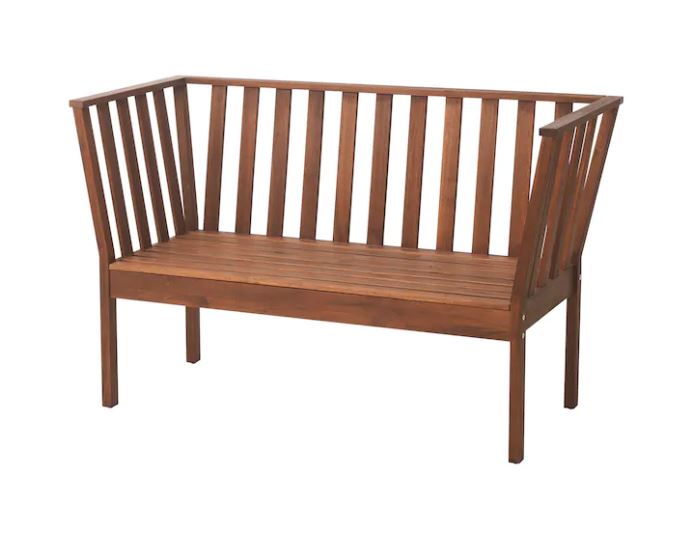 This solid wooden bench from IKEA has a high back for great support and will seat up to three people. It's 135 cm x 62 cm and is 85 cm high.
Regular cleaning, re-staining and keeping it covered when not in use will extend the life of this modern, and great value garden bench.
Key features Solid wood, heard wearing, galvanised steel fittings
Expect to pay: £115
For more info: www.ikea.com
Over to you…
Got any advice on outdoor seating you'd like to pass on to fellow Leisuredays blog readers? Please feel free to add a comment below.