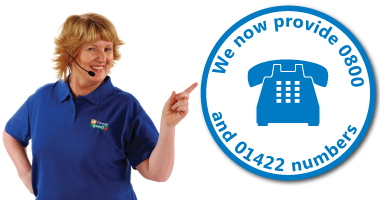 The recent BBC Watchdog programme about '08' numbers and how they can be expensive for customers to call was music to our ears. We did a lot of research in to what numbers were cheapest for customers to call and found that offering two different numbers was the best way forward.
We have now pretty much phased out all 0845 numbers so that when you call us it will either be free, or as cheap as possible.
We now operate a policy whereby new literature is always printed with a standard 01422 (geographic number) and in most cases a 0800 number as well. This gives a best of both worlds scenario meaning you can call us for free from landlines, but because we also offer the standard 01422 number you can also call from a mobile and not get charged a fortune.
The programme even mentioned that 08 numbers cost a small fortune to call from mobiles, but that standard 01 and 02 numbers are very often included in free minute bundles offered with mobile phone packages. So it was nice to see that our move was in the right direction!
If we can do it then so should the big boys!