Last month's online poll invited you to tell us what you consider to be the best thing about static caravanning. With hundreds of votes cast, it's been one of our most popular polls ever.
Before we reveal the results, let's take a look at some of our favourite comments.
Sue got in touch to tell us: "The thing I like best is that we can just get up and go whenever we like. No booking problems or time slots to get in or out of our caravan. We're relaxed and no stress when we get there. Now we are retired we can spend as much time as we want on our site."
John also enjoys the static caravanning way of life: "I love my van because I can get into my car and within an hour I'm in it. I can chill out; do what I like, meet friends – what more do I need?"
Let's reveal how you voted…
With a whopping 55% of the vote, you told us that having 'a convenient home away from home' is the very best thing about static caravanning. Next, with a respectable score of 25%, your votes reveal that getting the 'chance to get away' is the second biggest benefit of owning a static or lodge.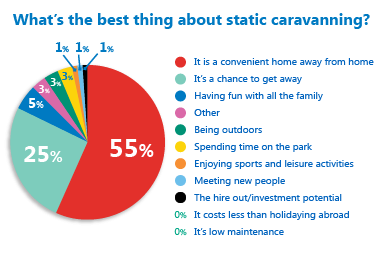 Enjoying fun with all the family came in third place with 5%, while being outdoors and spending time on the park each scored 3%
More of your comments
Clement got in touch to tell us: "I enjoy time at our caravan because it helps me de-stress from the pressures at work. It's wonderful to be away from the hassle of everyday life and just relax."
Ken agrees, telling us: "Once set up there's no fuss… no upset whilst booking, no queuing… it's a home from home."
What do you make of the results?
Do you agree with the 55% majority? Perhaps you voted other and would like to explain your answer. Share your view in the comment box below.