Janet Lumb gives her thoughts on one of Delta's latest offerings.
The Glade is one of Delta's longest single unit static caravans at 40ft long, 12 ft wide. It is also their only centre lounge model. I notice that other manufacturers are also giving the centre lounge – so popular on continental Europe –  another airing.
Outside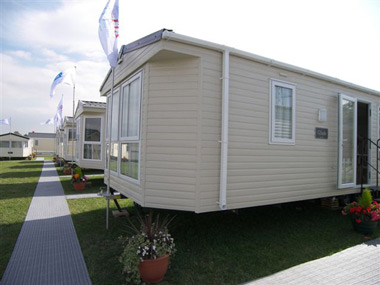 The Glade is in woodgrain effect pvcU cladding. There is just one door in the unit (a small phobia of mine), but huge windows at one end. Plastisol coated steel pantile pitch roof is the familiar roof-style.
Layout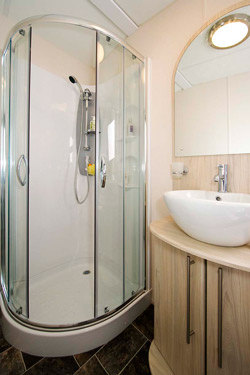 The Glade has two bedrooms, one at each end. The beauty of this is that you can send the kids to bed away from you, and not hear a squeak!  Likewise there are two shower rooms, and new for this year is a quadrant shower cubicle, lodge-style. Amazing how much extra space this gives you. Between the sleeping quarters are the kitchen and lounge.
Light lounge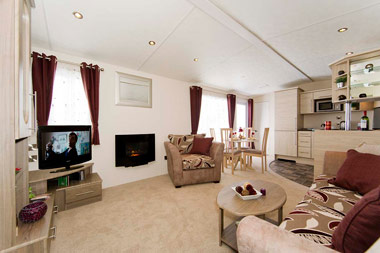 The sitting area has plenty of glass (double glazed of course) to let light in, including a huge window over the sofa. The choice of light-coloured wall covering enhances the brightness, as does the vaulted ceiling. The open plan sitting space has nevertheless a cosy feel.  An interesting wood effect unit forms a corner focal point. Only lacking a grandfather clock.. The beige-tan-plum colour scheme exudes warmth and comfort.
Cool kitchen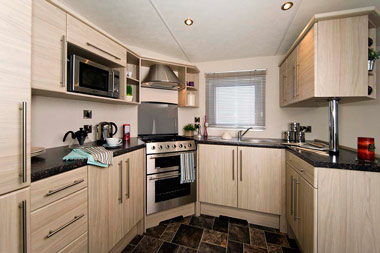 The kitchen in the Glade is plenty big enough, with cupboards galore. Modern stainless steel bar handles are on all cupboards and drawers. There is space for a microwave, a large integrated fridge-freezer and more.  Freestanding furniture includes chairs with seats upholstered in faux suede to match the sitting furniture.
Spacious sleeping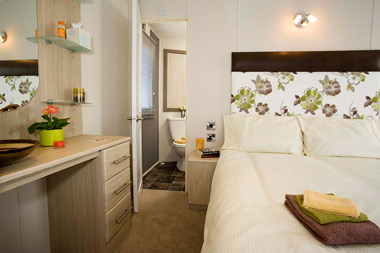 The master bedroom straddles the whole width of the holiday home at one end and with its huge floor-to-ceiling windows has an enormous sense of space.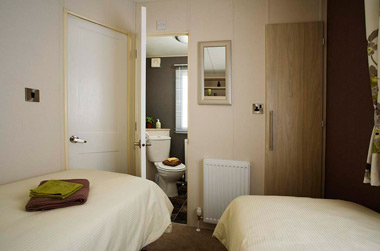 The twin room is a bit smaller but has enough space between beds, a must for all but the youngest of occupants. There is a fold-out bed in the lounge too, for occasional use.  Fabrics in the bedrooms are traditionally light and in this case flowery, and the master bedroom has a matching bedhead.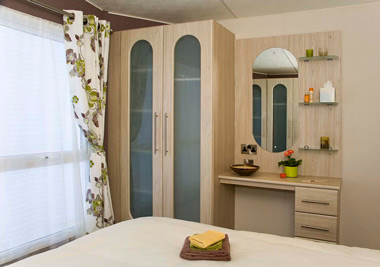 Who for?
A family of up to four, who don't want to holiday in a cramped caravan-style but to have plenty of space and privacy. Or two or three friends, or a couple with occasional visitors.
Our verdict
The Glade will fit in where the side-view plot works for it. If the idea of far apart bedrooms appeals, this is one for you to look at. Single units have got longer and longer, and this one  gives more space to the few occupants. Think more apartment than caravan. Price-wise Glade comes near the top of Delta's range, at about £37,400 ex-works retail. Add microwave, hello holidays!
Additional charges will be made by park operators, and/or distributors for transportation, siting and annual maintenance.  Please check the price carefully before you commit to purchase, as prices vary considerably dependent, amongst other factors, on the geographical location of your chosen park.
Contact details:
Delta Caravans International Ltd
240 Leads Road
Hull
East Riding of Yorkshire
HU7 0DF
Tel: 01482 788088
Email: [email protected]
Website: www.deltacaravans.co.uk