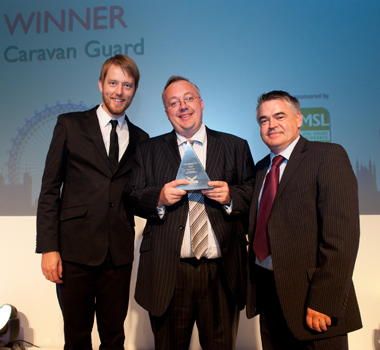 When it comes to insurance, holiday home owners get the best customer service in the UK.
That's the judges' decision at the recent UK Broker Awards 2010, where Caravan Guard (incorporating Leisuredays) beat off competition from the UK's top brokers to win 'Customer Service Provider of the Year', which we also won in 2008, and 'Personal Lines Intermediary of the Year', which names the best insurance broker to the general public.
Leisuredays Director Chris Nettleton said that accepting the awards on behalf of the entire company was a hugely proud moment,
"As a company we are committed to offering customers the best possible service, so to be recognised by the insurance industry as not only the UK's best insurance broker for customer service, but also the UK's best broker to the general public is an amazing achievement and one which we can be hugely proud of."  
So why did the judges choose us over any other UK broker? Well, amongst other things, the judges were impressed with our ability to grow during the UK's recent tough economic conditions.
This was achieved by further improving the service we offer customers – with a commitment to extensive staff training which produces expert insurance advisers, an easy to use 'quote and buy' website, extended opening hours, sophisticated call routing which means our customers aren't left waiting on the line, a dedication to 'First Call Resolution', and a commitment to ensure our customers receive the best experience possible.
Chris Nettleton explains why 'First Call Resolution' (FCR) is particularly important,
"FCR [First Call Resolution] is a simple idea, but one which requires a huge commitment – put simply, when you call us the first person you speak to will generally be able to deal with your entire query, whether it is a quick question, a change of details, or a request for a quote. We set very high standards, and are currently exceeding our FCR target of 80%."
It's measures such as these, which prove our dedication to improving the service we offer holiday home and park home customers, that helped us win these two fantastic awards.