Last winter we at Leisuredays handled more burst pipe and escape of water insurance claims than ever before thanks to freezing temperatures and widespread and prolonged snow and ice.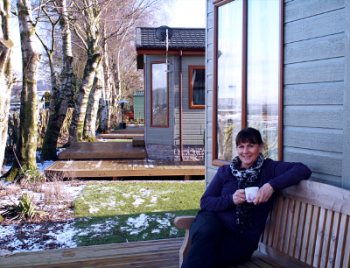 This year we want to make sure that as many static caravan and lodge owners as possible don't have to deal with the upheaval of the large scale damage that mother nature can cause over the winter, by explaining a few simple precautions.
It's vitally important that your static caravan or lodge is properly prepared for winter and professionally "drained down" to avoid the danger of damage from frozen or burst pipes, and other cold weather risks. Unlike domestic homes which have very little externally exposed pipe work, and are occupied all year round, a holiday home is usually left long periods over winter to brave the elements, and because of this is much more susceptible to severe damage should the temperature drop dramatically.
How and why static caravans and holiday lodges are drained down
During the drain down process the mains water supply is disconnected, and all water in the holiday home's running fresh water and waste water systems are flushed out and completely drained in accordance with manufacturer specifications, mainly using pressured air hoses to push any remaining water from the system's U-bends. The reason this is done is because any water left in the system over winter could expand when frozen and severely damage or burst the water pipes, this water then melts and leaks into your caravan or lodge, meaning it isn't just the water system that's damaged but also your holiday home itself. If this happens when the holiday home is still connected to a mains water supply then the damage can be much more severe, as large amounts of water will escape into the holiday home over a long period of time.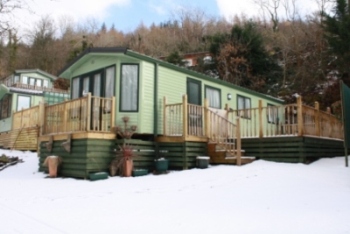 Leave "winterising" your static caravan or holiday lodge to the professionals
Most holiday parks offer a 'drain down' service which is either performed by experienced park staff, or a plumbing or heating engineer who they have hired especially, and it is our recommendation that you leave the tricky task of draining down your caravan or lodge to the professionals (as described above), especially when you are leaving it for a sustained period during the winter.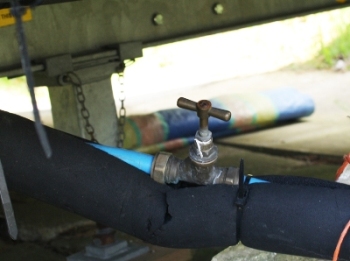 If your holiday park remains open over the winter and you intend on continuing to use your static caravan or lodge you should attempt a quick drain down yourself at the end of each visit by turning off the mains water at the stopcock (pictured above), and then opening the caravan drain plugs, setting all taps to be fully open, flushing the toilet, and draining all water from sinks and basins. You could even add salt to any last drops of water in toilets and traps to prevent freezing.
However, if you're leaving the caravan or lodge for more than just a few weeks we would reiterate our recommendation to have your static caravan or holiday lodge fully drained down by a professional to ensure all water is fully removed from all equipment.
As a further precaution you may also want to use the 'frost setting' on your heating system (pictured below). It's not prudent to rely on this option alone though; issues with pilot lights, drops in pressure or failure in gas supply could stop the heating working. Also consider getting the heating system serviced before the winter.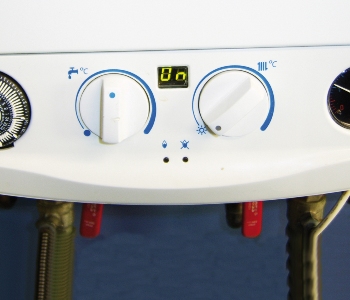 Precautions you should take when leaving your caravan or lodge for the last time this winter
• Arrange for your static caravan or holiday lodge to be professionally drained down as described above.
• Unplug any electrical devices including large white goods.
• Remove any bedding, clothing or soft furnishings from the caravan or lodge completely or store them in a place where air can circulate to avoid damage from damp or mould.
• Prop open all internal doors and cupboards, and slightly pull out all draws to encourage air to circulate.
• Remove or hide from view any valuable items such as Televisions or Hi-Fi's. Then leave curtains open so that any would-be thieves can see such items have been removed.
• Completely empty and clean any fridges or freezers and leave switched off with the door slightly ajar. Remember to drain any ice or chilled water dispensers built into your fridge.
• Ensure external vents are clear of debris
• Remove any food stuffs which might attract vermin (mice etc).
• Close and lock all external windows and doors.
• Lubricate door hinges and window locks with a dab of petroleum jelly to ensure they open smoothly when you return.
You could also ask your park about servicing your static caravan or lodge before the winter. This could include lubricating your unit's corner steadies and hitch-head, checking underneath the structure for rust and examining the tyres, and also ensuring any gutters and downpipes are not obstructed. They may even offer a wash and wax service of your unit's exterior panels to ensure they are protected against the winter elements.
By having your unit professionally drained down and taking all the other steps outlined above, you'll have more peace of mind that when you come to use your static caravan or holiday lodge again in the Spring it will be ready and waiting for you, with no damage and no damp. The process of reconnecting the water, electricity and gas (if mains supplied) is fairly straight forward and will usually be performed by the park operator at your request.
It is worth reading your insurance policy to see how your insurer deals with burst pipe and escape of water claims over winter months. Leisuredays will shortly be issuing further advice to its policyholders by post and email.