One of the joys of static caravan and lodge ownership is the ability to get away from it all, relax and enjoy some of your favourite pastimes. But sometimes, storage can be at a premium and the last thing you'll want is a cramped or cluttered holiday caravan.
We take a look at some outdoor storage solutions so you don't get that hemmed-in feeling in your static caravan or lodge and you can keep your outdoor stuff where it belongs – outdoors!
Firstly, you'll want outdoor storage which is robust enough to be left for long periods of time, particularly if you're not staying at your static caravan in the winter months.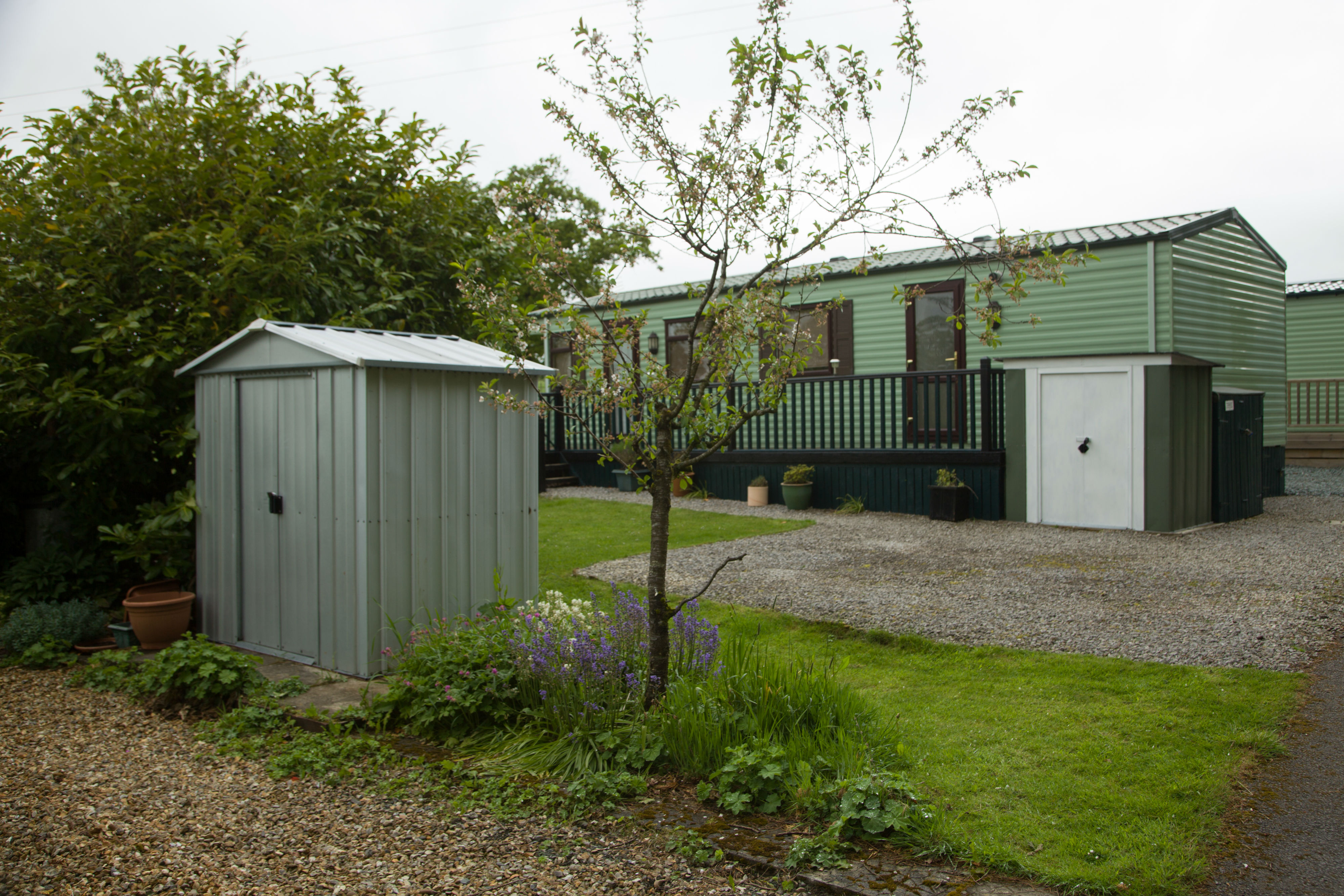 There is a range of storage solutions available to suit most people's budgets and needs – most of all you want to make sure your possessions are kept secure and protected from the elements.
Also, make sure you check your holiday park's rules and regulations before you buy an outdoor storage unit. Some might not allow large sheds or storage boxes or they might specify a limit to their size or location, or they might have specific rules on the types of outdoor storage you can have. For example, they might only allow outdoor storage boxes on a caravan deck or underneath your unit, but not anywhere else around your caravan, or some might have dedicated areas for sheds.
Top outdoor storage tips
Consider metal storage over wood. Many parks won't allow wooden sheds due to their fire risk, plus if your static caravan or lodge is sited near the coast then you're going to want something that will withstand salt erosion and high winds – plastic and galvanised metal should do the trick here. Metal storage units will also offer better security and are less prone to break-ins and both metal and plastic outdoor storage units make sense in terms of being low maintenance.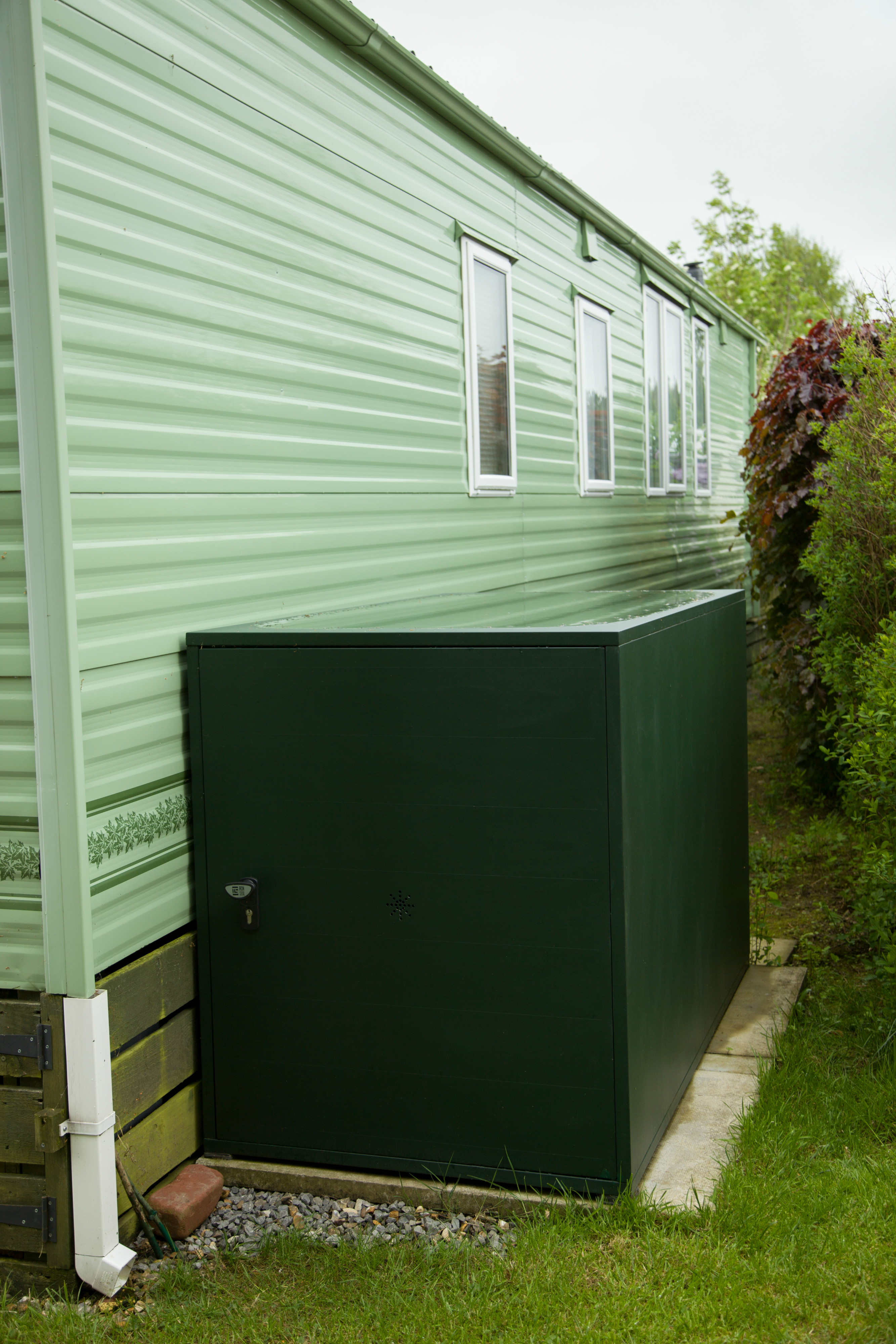 You'll also want to invest in a good quality lock to deter thieves and make it difficult for any potential caravan thief, particularly if storing expensive items like bikes or electrical items.
Consider where you're going to put your outdoor storage unit and keep it sheltered so it's less likely to be damaged or moved by high winds.
Look for a unit that is big enough for your needs. You might be looking to store all manner of items, such as garden/patio furniture, barbecue, lawnmower, fishing gear, tools and gardening and  cleaning equipment.
If you're storing bikes in an outdoor storage box or shed make sure it's wide enough to fit them in – with both wheels left attached a typical adult bike is 1.8 metres long. You might also want to consider a bike rack to lock them into place and keep them upright.
Don't go for anything too heavy in case you do need to relocate.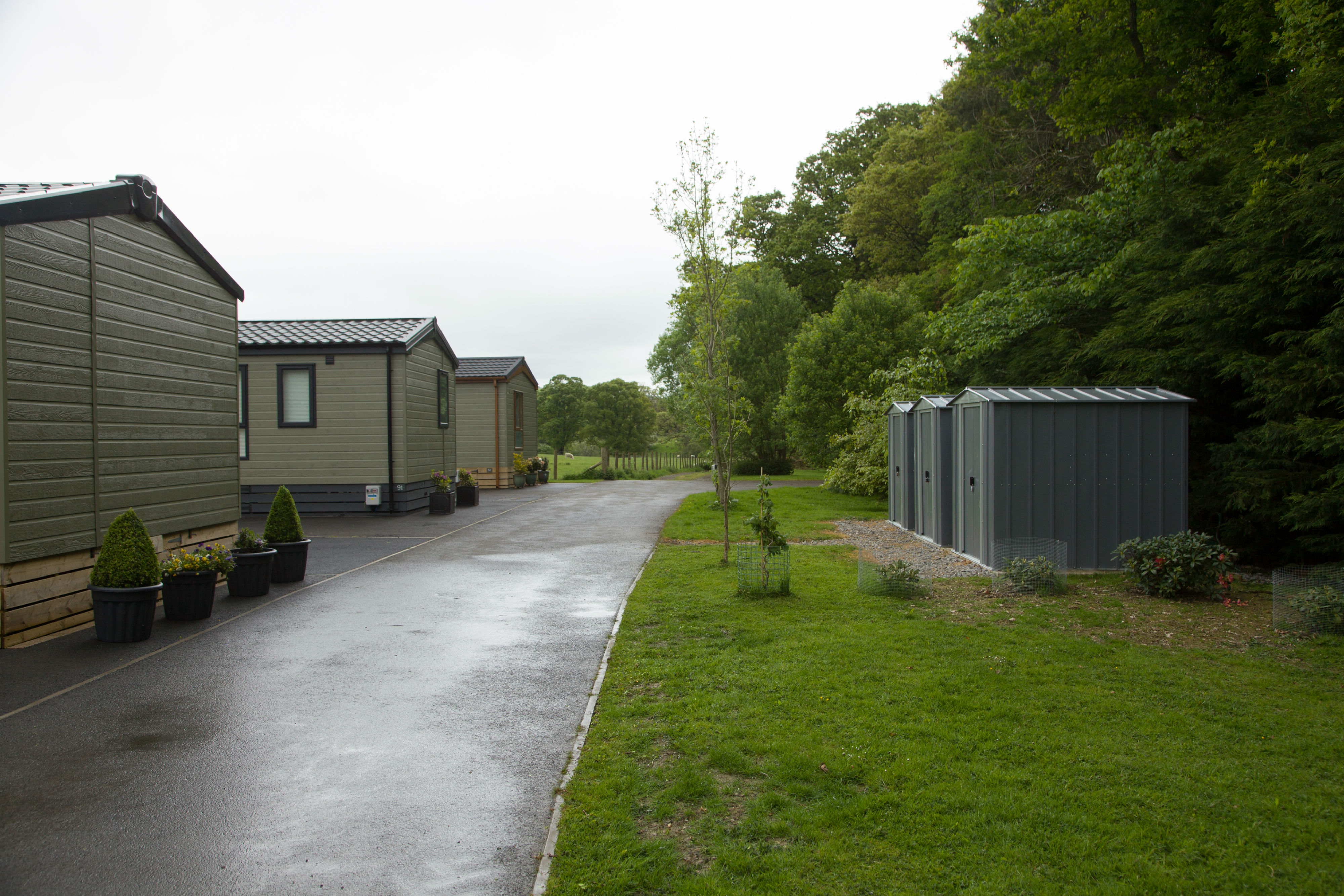 Static caravan insurance considerations
Outdoor storage units are covered by our holiday caravan insurance policy as they are considered part of the structure of your static caravan or lodge. The contents and personal possessions you keep inside them are also covered as long as you keep the storage unit locked.  Just remember to include the value of the storage box in your structure sum insured and items kept inside such as your BBQ and garden furniture within your contents sum insured values. Note pedal cycles are classed as high risk items so are not covered under the policy.
Each year at Leisuredays, we deal with claims for storm damage to sheds and outdoor storage units, so it's important to make sure you tie them down and make sure any lids and doors are securely fastened. Break-ins can also happen so as previously mentioned we recommend you invest in a good quality, strong lock to protect your belongings.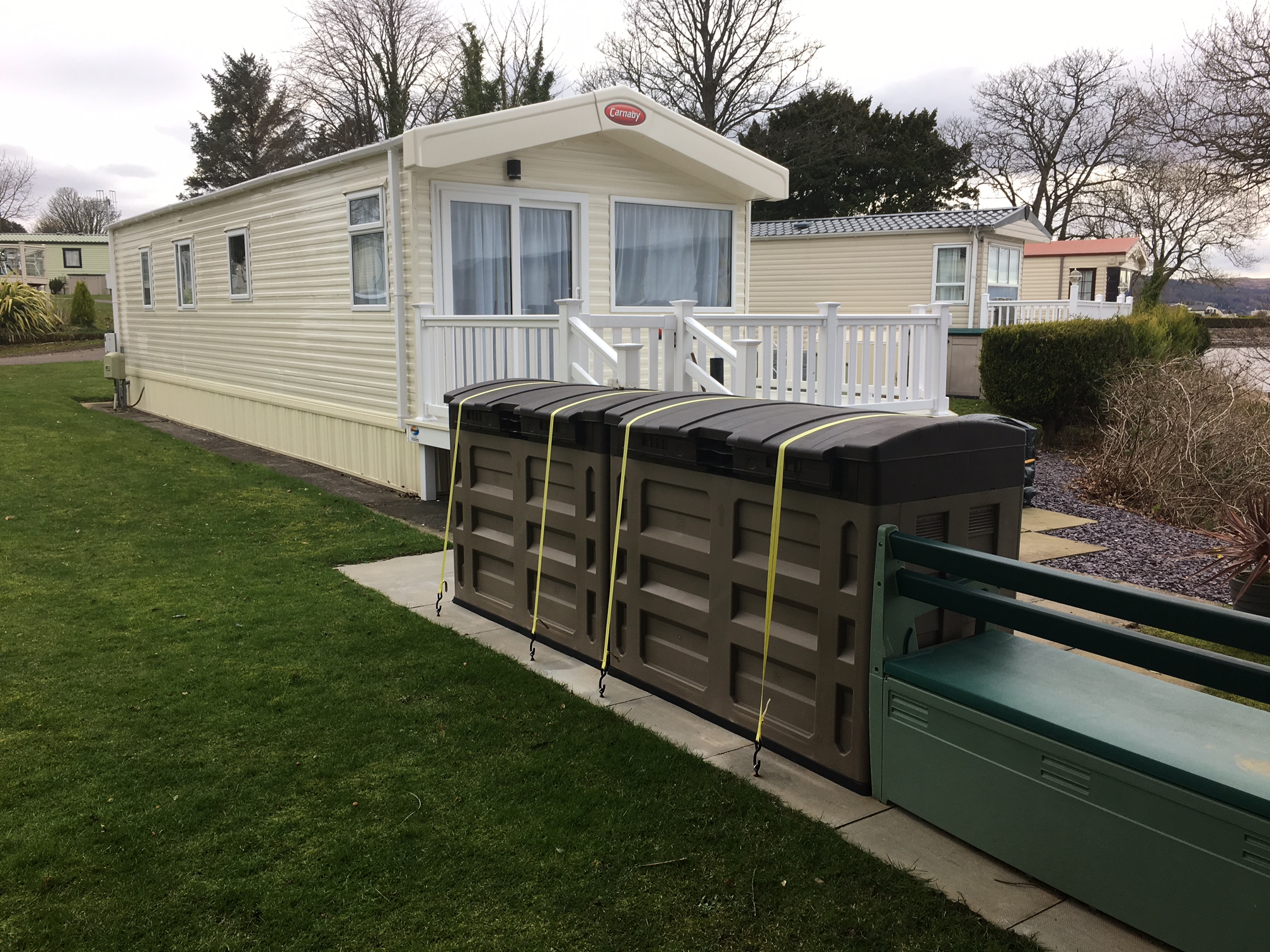 Sheds and storage boxes are great for stowing away some of your personal possessions, such as barbecues and garden furniture. Damage to items left out in the open when your lodge or static caravan is unoccupied will not be covered.
Different types of outdoor storage
Here we look at five different types of outdoor storage for static caravan and lodge owners.
1. Trimetals Storeguard outdoor storage unit
This is great for static caravan and lodge owners who need plenty of storage for their outdoor equipment. It comes in three colour choices to match your holiday caravan – green, cream or anthracite – and it's built with PVC-coated galvanised steel, which means it's fire-resistant, plus it comes with a 25-year, no rust perforation panel guarantee. Its spring opening action gives you quick, walk-in access to your belongings.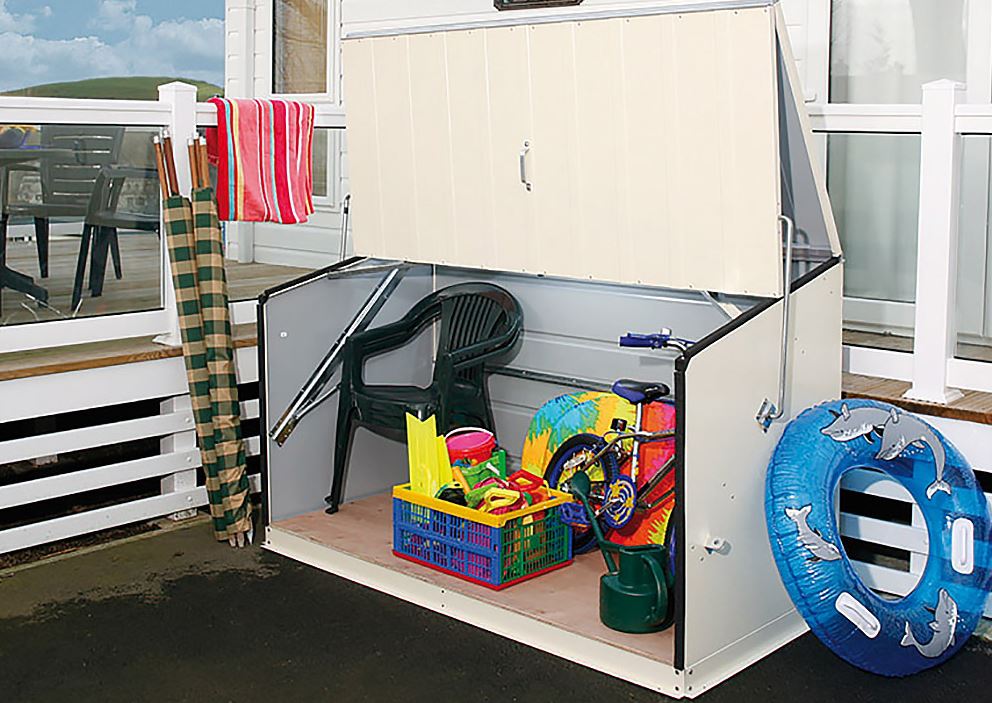 Dimensions 1.3m (H) x 1.54m (W) x 0.95 (D)
Weight 52kg
Features also include: Range of accessories available, such as wooden flooring, shelving and padlock sets
Expect to pay: From £659
For more info: www.trimetals.co.uk
2. Secure store park shed
The Secure Store Park Shed from Asgard is a small to medium-sized all-metal shed offering plenty of space and secure storage for your outdoor caravanning gear, toys, and equipment. The galvanised steel panels will withstand all kinds of weather, plus it has a heavy-duty metal floor so you can store anything from lawnmowers to barbecues, chairs and bikes.  The secure store shed is fitted with a tough 3-point locking system featuring a pick and drill-resistant Euro cylinder lock, plus an internal deadbolt, to keep your belongings safe.
The double, wide-opening doors provide easy access to your gear and Asgard's ventilation system will reduce condensation and moisture to help keep your belongings dry. It needs to be installed on a level, solid surface, and can be bolted to the ground.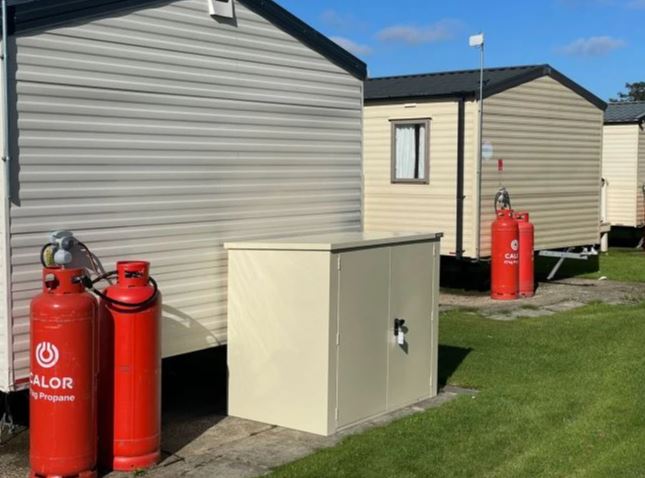 Dimensions 1266mm (H) x 1542 (W) x 950mm (D)
Weight 76kg
Features also include: Choice of colours, 10-year warranty, maintenance-free, rust-resistant galvanised steel.
Expect to pay: From £553
For more info: www.asgard.co.uk
3. Keter Store-it-out Arc storage box
This wood effect, plastic storage unit, not only looks great but is pretty much maintenance-free, apart from the occasional wiping down to keep it clean. It's a great size for storing up to four bikes, or two wheelie bins, outdoor chairs, and tools, which can all be locked away behind a padlock on the door bolt. The lift lids up via a piston and as well as a lockable bolt option this storage box has a "step on lock" to secure the front doors in place.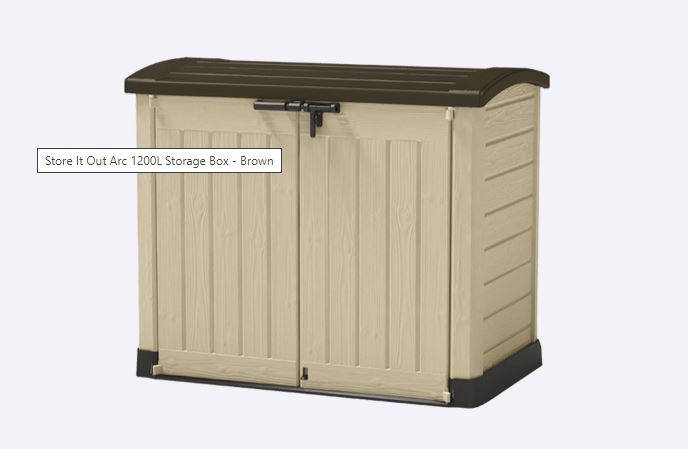 The fade-free resin storage box has a 1,200L capacity and a heavy-duty floor.
Dimensions 1200mm (H) x 1460 (W) x 820mm (D)
Features also include: Front or top opening, all-weather resistant, built-in shelf support, 70% recycled material
Expect to pay: From £268
For more info: www.keter.com
4. Patio box
A patio box is great for sitting on your patio or decking to store things like chairs, cushions, toys, muddy boots. The Suncast rattan effect storage box has a flattish top so it can also double up as seating and has a 507-litre capacity.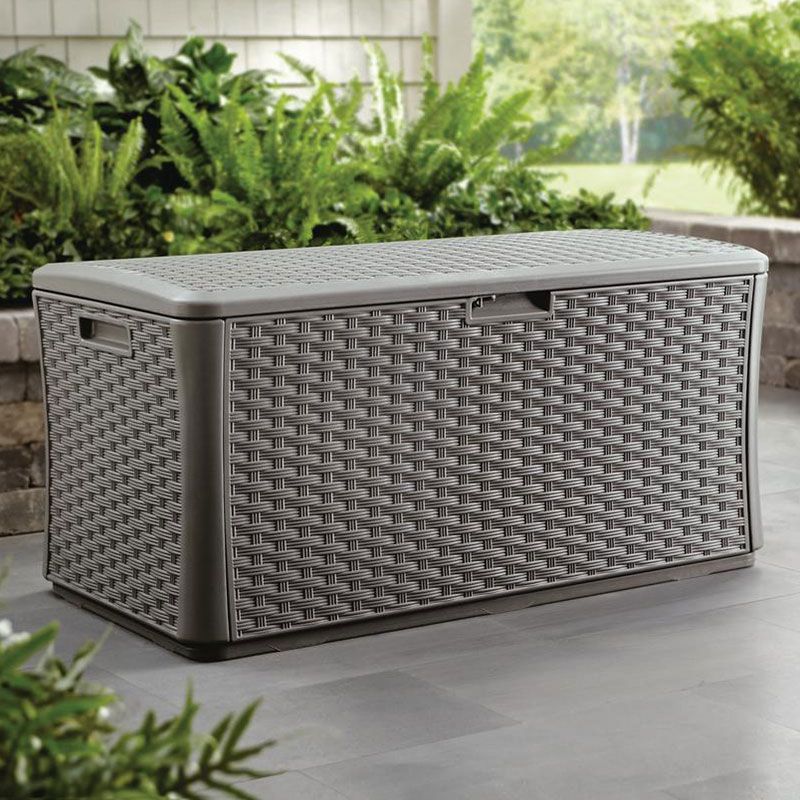 This plastic resin storage box has multi-wall panels and a reinforced lid so should be very durable and maintenance-free – as well as protecting your gear from the elements. The gas piston-assisted lid also comes with fixings for a padlock.
Dimensions 840mm (H) x 1400mm (W)  x 600mm (D)
Weight 16.05kg
Features also include: Lift-up, gas piston-assisted lid; 5-year guarantee, UV-protected
Expect to pay: From £236.99
For more info: www.shedstore.co.uk
5. Keter Storage bench box
Combine outdoor storage with some extra seating on your decking or verandah with this attractive storage bench box bench. With a 227-litre storage capacity, it's ideal for storing furniture cushions, tools and outdoor games. Made from strong, durable, weather-resistant resin, with a wood-effect finish, it will need very little maintenance and will look great, as well as be able to comfortably seat two people outside your static caravan or holiday lodge.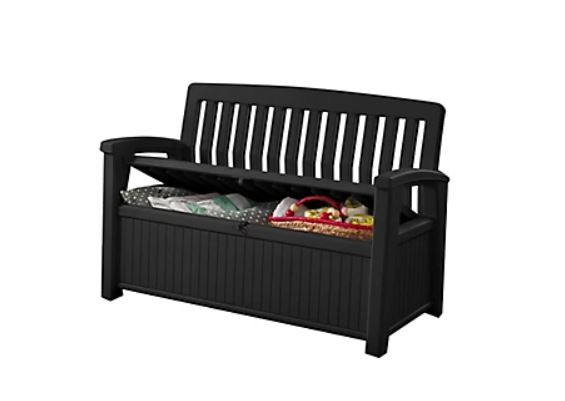 It also has a lock hasp for a padlock for added security.
Dimensions 890mm (H) x 1327mm (W)  x 612mm (D)
Features also include: Lift-up seat lid, wood panelled style, fade-free plastic, two-year manufacturer guarantee
Expect to pay: From £130
For more info: www.diy.com
6. Washing machine storage box
Some owners like to store a washing machine outside their static caravan and there's an outdoor storage just for that from The Boxmen!
These metal storage boxes have extra wide doors, extra stiffeners under the floor and an 18mm OSB 3 wooden floor as standard to prevent appliances from moving around during use. These washing machine storage boxes can be made in various sizes and there's a choice of six colours, as well as a peaked or flat roof.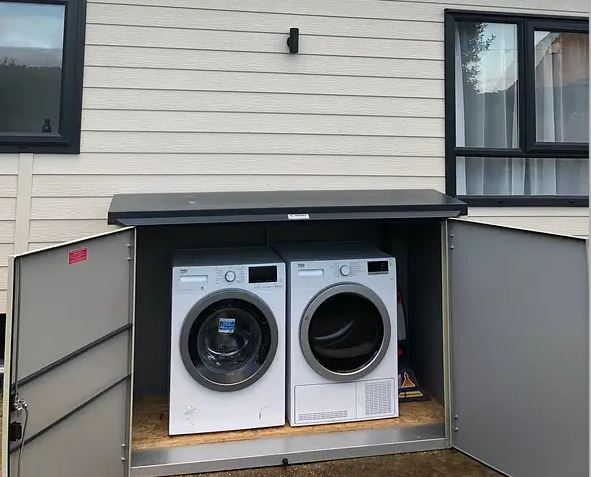 Made from steel, these storage boxes have a three-point locking system and a 50mm Aluzink floor.
This storage unit needs a level, solid surface, such as tarmac, concrete, or flagstones.
Dimensions 1219mm (H) 1829mm (W)  x 864mm (D)
Features also include: Plastisol coating in a choice of colours and finishes, corrosion-resistant Aluzink floor, Die cast aluminium hinges and handles, 10-year guarantee, fully assembled.
Expect to pay: From £670
For more info: www.theboxmen.com 
There are other outdoor storage boxes for mobility scooters, gas bottles, and bikes.
Over to you?
Got any advice or experience of outdoor storage at your static caravan or lodge that you'd like to pass on to fellow caravanners? Please feel free to add a comment below.