A hot tub can be a perfect way to relax on your static caravan or lodge holidays and they also boast added health benefits.
They can be a great addition to your decking or patio area, as well as a great selling point if you hire out your holiday lodge or static caravan for extra income.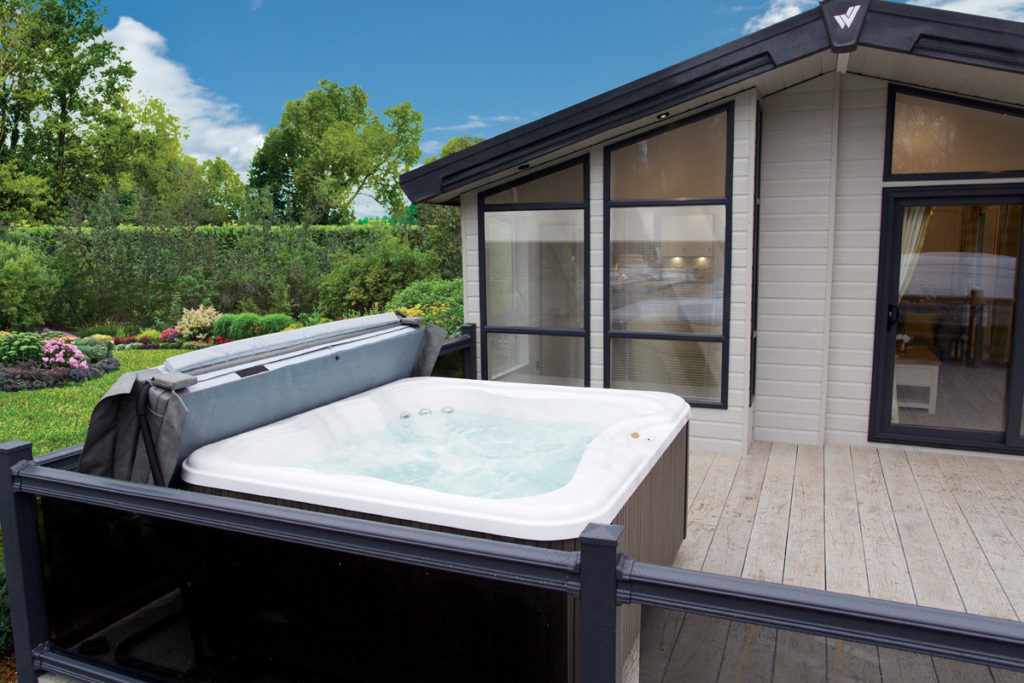 There's a wide range of hot tubs available with various jet and seating options, as well as different sizes and makes, such as inflatable or hard-shell acrylic.
But they do need to be regularly maintained and you need to check with your holiday park that they are allowed, as well as making sure you include them in your static caravan insurance sums insured. Plus consider the running costs of a hot tub.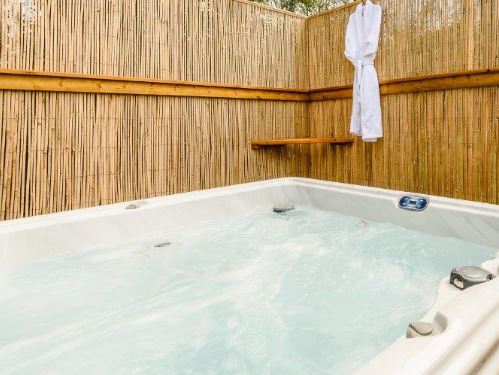 Our hot tub buying tips
Check that you have the space available outside your holiday caravan and that your holiday park will let you have one, plus consider your park neighbours. You will probably need to have adequate screening. Also, consider access to your outdoor space for easy installation – as many will come in one big piece.
Do your research. Start with your park operator as they may have a recommended supplier. If not, check online and visit suppliers or retailers to find out whether you want an acrylic hot tub that will be in situ all the time or a portable one that you blow up when you need it. Also if you go for a portable hot tub (usually inflatable) consider how you will store it when not in use. The more you have to heat up the water in the hot tub, the more it will cost to run, so look for the level of insulation and how effective it is at retaining the heat.
Consider how many people you want to fit in a hot tub as this will determine how many seats and the layout. Some have bench seating, low or high seating or lounge-style seating.
Think about where you are placing the hot tub. Many come fitted with a standard 13 amp plug so you'll need a socket close by (most likely an external one on the outside of your static caravan). Also, you'll need a garden hose to reach it, plus a level and solid surface which will support the weight of the hot tub, the water and the maximum number of people that will be bathing inside it. If you're putting a hot tub onto a decked area make sure it's strong enough. Ask your park or decking supplier for advice.
Think about what you want a hot tub for as this could determine how many jets you want. More jets will provide more body massage, plus check to see if you can adjust the direction and speed of the jets.
If you're going to be using a hot tub in the evening then you're going to want plenty of lighting, in your spa and the surrounding area. There are plenty of options available, and you can even go for colour changing lighting and other extras like music.
Consider electricity costs. You're advised to leave your hot tub on 24/7 whilst you intend to use it regularly – this is to run the pump, heaters and lights. Eagle Leisure estimate a well-insulated hot tub will cost between £1 and £1.30 per day to run.
Your hot tub is going to need some maintenance. Look at how it filters the water and how easy these filters are to clean. Also find out from the supplier, the chemicals (such as sanitisers, oxidisers, minerals and PH balancers) you'll need to maintain your hot tub water quality. The British and Irish Spa and Hot Tub Association BISHTA recommend you will need to test the water daily for PH and sanitiser levels. Testing could be as simple as dropping a tablet into the water which changes colour to indicate levels or test strips – either should take a few seconds to perform. Also, BISHTA recommends that you completely change the water at least every three months.
There are a range of accessories too, like covers, cushions, headrests, steps and screening. A hot tub cover is essential for when it's not in use to help maintain the heat and also to keep it clean, by preventing debris from falling inside.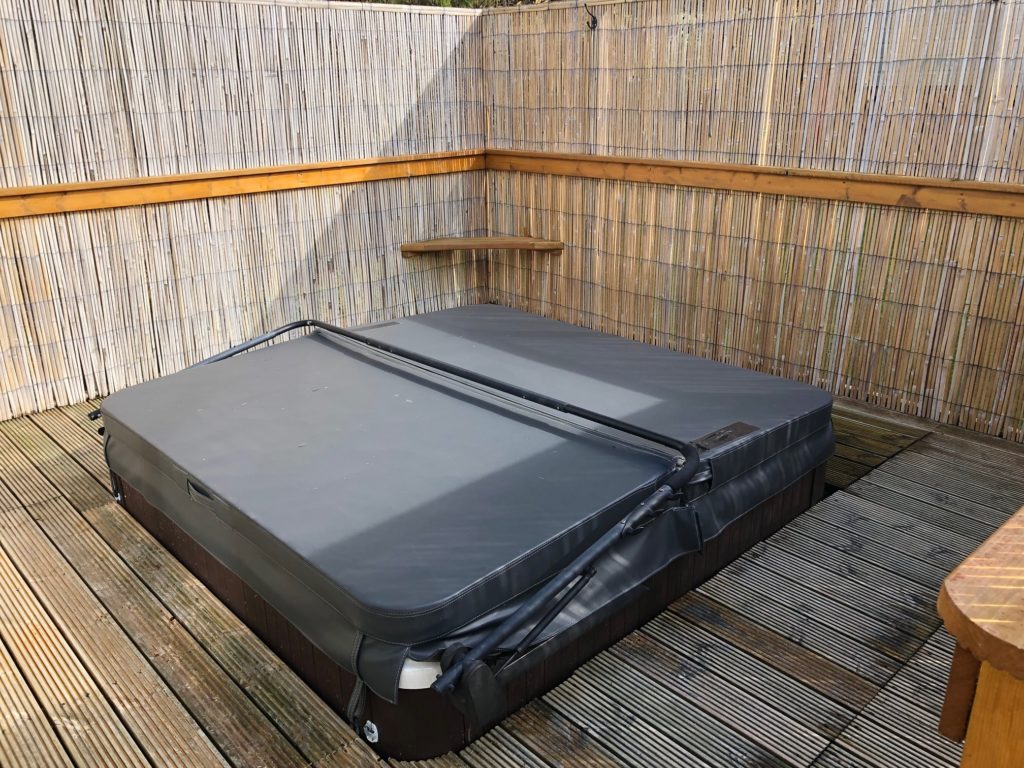 Here we take a look at three hot tubs…

Jacuzzi® J225 hot tub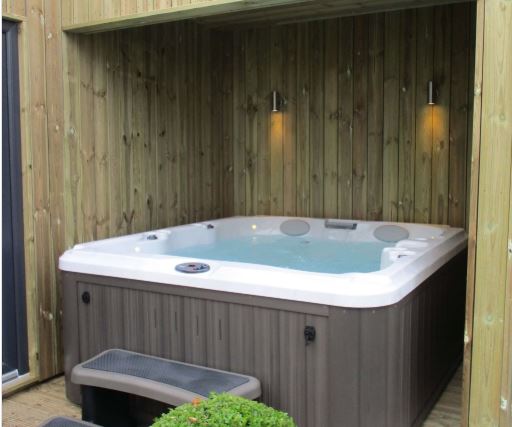 This hot tub is ideal for small spaces but will still accommodate up to five people. There's a bench seat for two and three ergonomic seats with Jacuzzi® classic jets around the tub offering lots of hydromassage options, as well as a soothing waterfall for a relaxing neck massage and hydrotherapy foot domes to massage the feet.
LED lighting, drinks holders and a Bluetooth stereo system, make this a great hot tub for entertaining.
There's a  single button control panel and the outer shell comes in a choice of four colours.
Key features: Two-stage filtration system and water purification system, soft headrests, 23 jets, LED mood lighting and manufacturer parts and labour warranty. Weighs 1340kg when full, 1595 litres water capacity, 240v.
Dimensions: 213 cm x 193 cm x 87 cm
Expect to pay £5,749

Lay-Z-Spa Vegas Airjet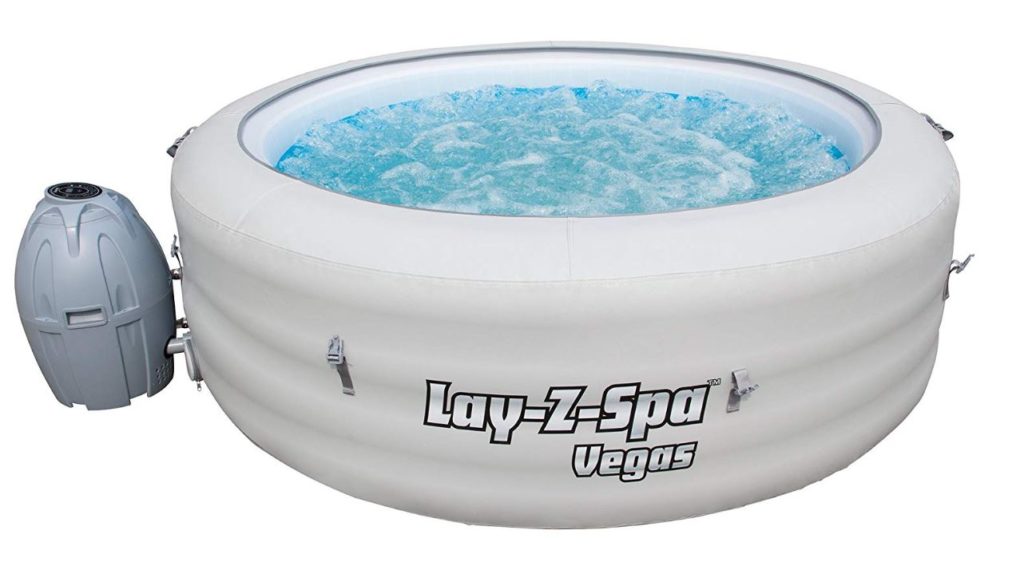 This portable and inflatable hot tub will seat four to six people and has 87 air jets across the floor, for a rejuvenating massage experience.
The pump has a 40C rapid heating system, which also runs the massage system and filters the water at the same time.
You'll need a flat surface for the Lay-Z-Spa, but the floor is cushioned and it comes with an inflatable lid and "leatheroid" cover.
Key features: Energy saving timer so you can turn on and heat the hot tub when you're ready to use it. DVD set up and maintenance, and range of add on accessories available, such as drinks holders and speaker system. Weighs 1100kg when full, 935 litres water capacity, 220-240v. 12 months pump warranty.
Dimensions: 196 cm x 61 ccm
Expect to pay £499

Canadian Spa Halifax Plug and Play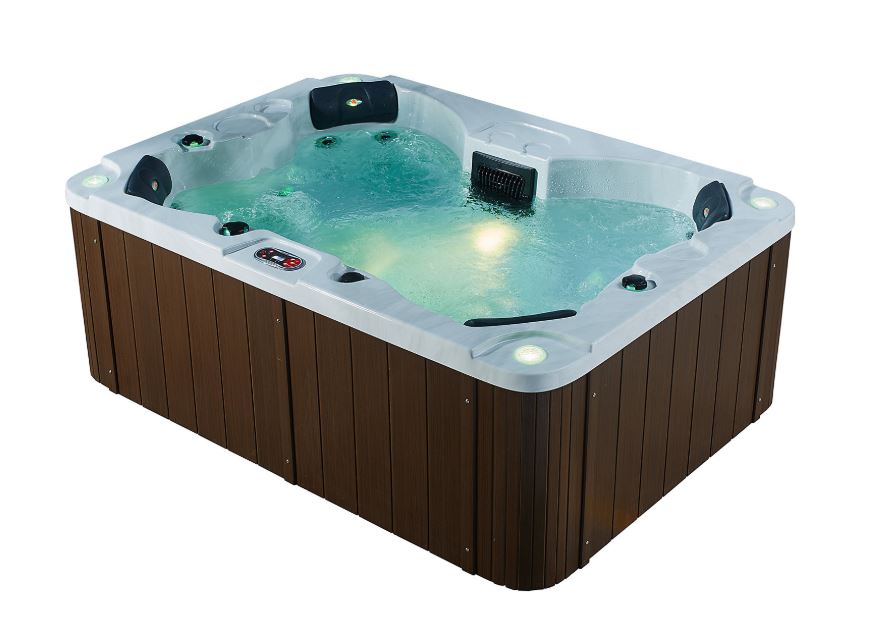 This smart looking, plug and play, hot tub has 22 spa jets and operates from a standard 13A plug socket. With a 2KW heater, it's big enough to seat four people and has multi-coloured LED lighting and built-in aromatherapy canister, plus a cascading waterfall. Digital controls allow you to adjust the temperature and the shell is encased in an insulated chocolate cabinet to keep in the heat.
Key features: Ozone water purification system and Micorban glacier filtration, Air venturi valves to vary the water jet pressure, weighs 907kg when full, 700 litres water capacity, 13amp. Includes a hard top cover. Two-year guarantee.
Dimensions: 211 cm x 153 x 79 cm
Expect to pay £5,125
You may also want to ask your park about units made by www.rotospa.co.uk or by well-known decking suppliers The Mayfield Group.
Over to you…
Got any hot tub buying tips to share with other static caravan or lodge owners. Feel free to add your comments in the box below.