Herdwick Croft Caravan Park is the winner of  the Leisuredays Risk Management Award 2016.
The annual award recognises UK holiday parks that go the extra mile to protect their customers against the effects of insurance risks such as storm, flood, fire and theft by implementing appropriate mitigation measures.
The Lakeside caravan park, near Keswick in the Lake District, is family owned and was one of a number of parks who suffered last winter's stormy and wet weather.
In December 2015, the downpours flooded one corner of the park, causing damage to eight units, all of which were damaged beyond repair.
Leisuredays, which insures Herdwick Croft customers on a block scheme basis, played an integral park in getting the park and their customers back on their feet. Its thorough and efficient claims service – backed by leading UK insurer, Royal and Sun Alliance plc (RSA) – made sure those affected were fully supported and received a quick and fair settlement. All customers now have new holiday caravans to enjoy for the start of the season and beyond.
Herdwick Croft Park owners Stuart and Michelle Wilson, were devastated when the flood waters hit.
"Thankfully the support from Leisuredays and their efficient and smooth claims process has meant we have been able to get back to normal very quickly," said Stuart. "Helen and the Leisuredays' team have continued to support us and their excellent flood insurance cover and claims service has been second to none."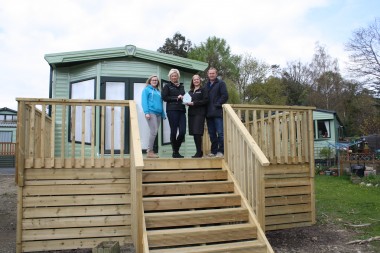 Leisuredays also enlisted the help of a specialist flood consultant to help the park make sure new bases for the replacement units were set above the previous flood levels.
Stuart and Michelle have been extremely proactive in trying to prevent similar losses and damage in the future.
In the last few months their team has raised the base height of the replaced holiday caravans to above the 2015 flood waters to help prevent torrential conditions having the same effect in the future.
Leisuredays Development Manager, Helen Watson, said they were impressed with the park's commitment to turn things around so quickly.
"Stuart and Michelle have worked extremely hard and invested time and money in supporting their customers to make sure they reduce the chances of future flood damage. Their proactive approach makes Herdwick Croft worth winners of the Leisuredays Risk Management Award," added Helen.