Hiring out your holiday caravan is a great way to make a little extra income when you're not using it yourself.
To gauge how popular hiring out really is, last month we asked you to tell us if letting your static caravan or lodge is something you do.
Let's see how you voted…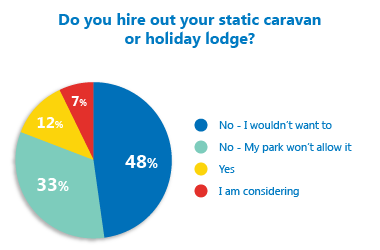 The majority of you  (48%) voted against hiring out, admitting that it's something you just wouldn't be interested in. A big percentage of you (33%) told us you don't hire out because your park doesn't permit it, whilst 12% said that yes you do hire out.
Like F Settle, a handful of you (7%) said that you would consider generating extra income through hiring out,  "I would be very interested in letting out my lodge for just three or four weeks each year as this would take the edge off site fees. However site does not allow it. Would want the site to manage this for me. I think they are missing an opportunity for extra income whilst keeping site fees down for owners."
What do you make of the results?
Have your say using the comment box below.