You've probably heard of a loss adjuster but do you know what one actually does?
The role of an static caravan insurance loss adjuster isn't one that's particularly well publicised so you'd be forgiven for not being 100% sure on the job they do.  Truth is, loss adjusters play an incredibly important role in a claims situation. Let's take a look at them in detail….
What does a Loss adjuster do?
Loss adjusters are responsible for assessing the damage and overall loss that is reported when a caravan insurance claim is made. It's their job to determine the total cost of all losses so that you receive a quick and fair settlement, and are fully compensated.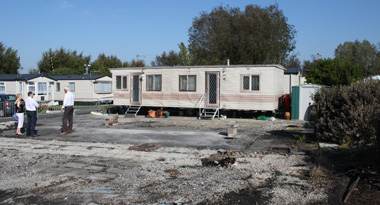 Leisuredays' loss adjusters were on the scene… 
Loss adjusting is typically carried out by independent company employed by the insurance provider as they have an expert eye and a genuine understanding of what's at stake.
At what stage is a loss adjuster involved in my claim?
When you make a claims for damage, depending on where the claim took place, Leisuredays assigns a loss adjuster from either Lucas Claims Solution or SPI  to review the claims in detail. It's important to assess any damage as soon as possible, to avoid any lasting long-term effects and benefit from an efficient service.
Loss adjusters also play a key role in helping to reduce any further damage from occurring in an emergency situation by organising emergency repairs. We provide cover for emergency repair costs with this in mind.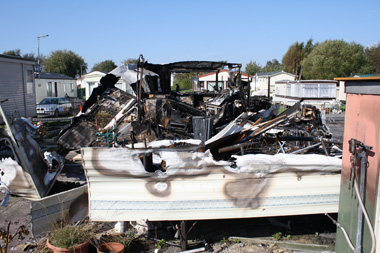 …to assess damage caused by this static caravan fire
What are the benefits of using a loss adjuster?
Loss adjusters can save time. By responding quickly, disruption to your holiday plans are kept to a minimum and you can enjoy the time in your holiday lodge or static caravan. Leisuredays' loss adjusters will come out to see you within just a few days and a resolution can be reached quickly.
Insurance claims can be complex and tricky to resolve at times – especially when a large loss has occurred so without the help of a fully qualified loss adjuster, you could struggle to come to a resolution.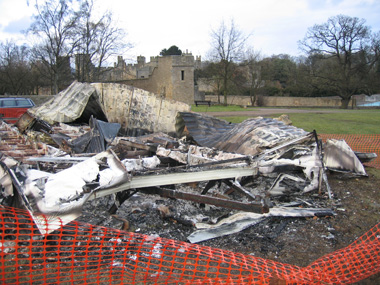 Could you resolve a serious claim without a loss adjuster? 
Jonathan Ritchie, Director at Lucas Claims Solutions, explains more, "With offices and adjusting staff located throughout the UK and Ireland we are able to visit customers swiftly in the event of a claim and guide them through the claims process. We assist customers in understanding their policy and how it applies to the circumstances they're faced with. Our focus is to ensure that claims are handled professionally, fairly and efficiently via a knowledgeable and courteous team. Whether utilising preferred repair contractors, or availing of the Lucas network of restoration and repair partners, our goal is to make claims journeys as stress free as possible." 
Loss adjusters, together with Leisuredays, also play a part in arranging for any unsightly debris to be removed quickly. That's because we know how much effort you put into maintaining an attractive home.
We recently heard from a very happy customer
One Leisuredays customer got in touch recently to tell us how happy he was with his loss adjuster:
"I first contacted Lucas Claims Solutions some 3 or 4 weeks ago to make a claim. I had never gone through this type of process before and was very much in the dark as to what was involved. My loss adjuster explained everything to me in great detail and assured me that everything would be sorted. During his inspection of the damaged unit he was most professional, yet had the time to stop and explain what he was doing. 
"I spoke to the loss adjuster virtually on a daily basis over the next couple of weeks and on every occasion he had time to speak to me. He even liaised directly with the repairers to try and alleviate stress on my part and sent e-mails past normal working hours and on weekends. 
"I commend the loss adjuster for the manner in which he carried out his role in order to bring my claim to a final close."
Mr Yip (June 2014)
Want to find out more?
Check out the static caravan page to see how you could benefit from Leisuredays insurance cover.
What's your experience of loss adjusters?
Share your story in the comment box below.