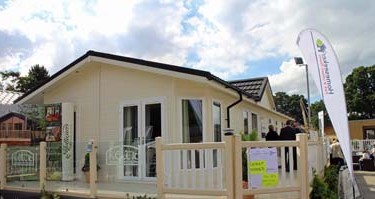 The Navigator's Lodge made at Homeseeker's factory at Rushden in Northamptonshire is a new model for 2014. The model we saw at The Lawns Caravan Extravaganza at Hull back in September was a twin unit, 40ft x 20ft with a distinctly nautical interior décor scheme.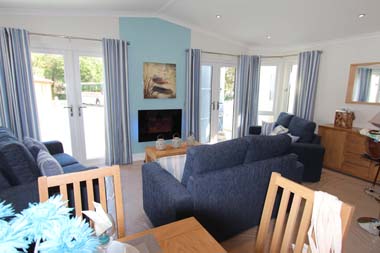 The living and dining area is open plan with three two seat sofas upholstered in marine blue fabric, with masses of coordinating scatter cushions in a variety of textures, including a rope style fabric, arranged around an electric fire set in a glass frame against a blue wall. Blue can be a cold colour but the striped curtains blended well with the other blue hues and with the light oak cabinets. Wall decorations included a ship's propeller and light.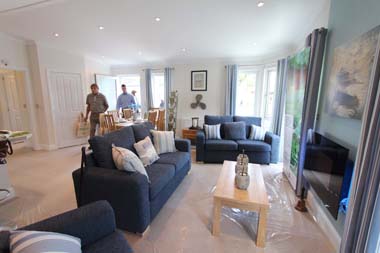 The dining area seated six people and was complemented by a breakfast bar, or socialising area as there's no need for those on kitchen duties not to participate in conversation, or a need to set the table for two for just a simple meal.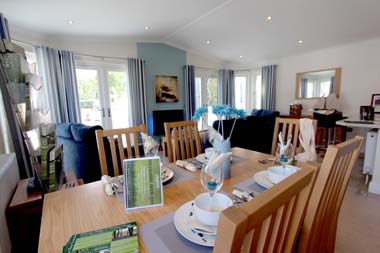 There's a useful cupboard for coats and other items and a separate cupboard for the Baxi central heating boiler which has an "A" U value for efficiency and economy.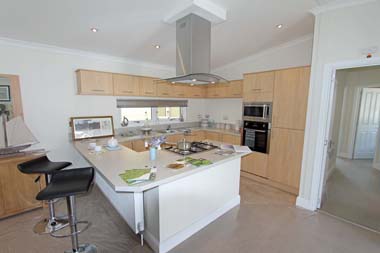 The kitchen, perhaps it should be called a galley, but it's certainly not galley shaped, was very well fitted with a wide array of cupboards at eye and base level, including pan drawers, a fridge/freezer, dishwasher and a microwave a five burner gas hob and an electric oven.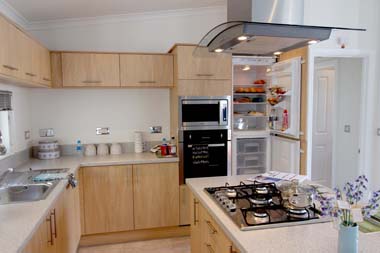 The master bedroom is designed as a nautical haven with light coloured curtains featuring sailing yachts. The double bed, there's room for a larger bed if you want one, has a comfortable looking padded headboard.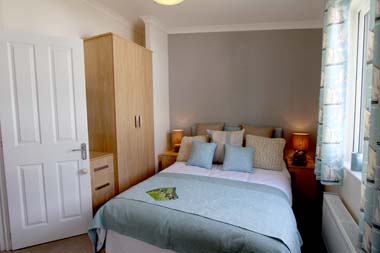 You'd expect a large wardrobe and other storage and you wouldn't be disappointed and the large en-suite shower room has a large rectangular shower with a sliding door. The hand basin is mounted on a wooden stand. The wall tiles were subtle camel colour with contrasting border tiles.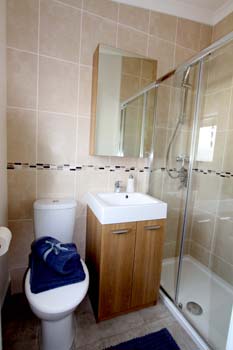 The second and third bedrooms have twin beds; of course you don't have to use them both as bedrooms if you prefer to have a hobbies room or a study. In the model we saw the nautical theme had been carried through in the soft furnishings.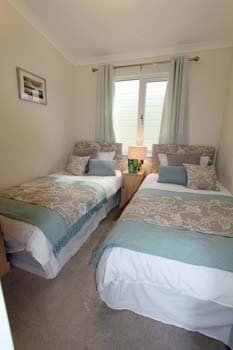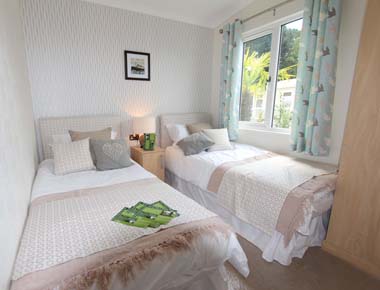 The bathroom, was three-quarter tiled in the same style as the en-suite shower room and was similar to it other than a bath with an over bath shower and acrylic screen.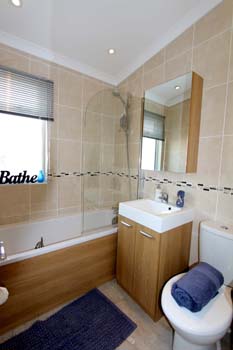 Various design options and sizes are available and this extends to the exterior with a huge range of cladding to create a lodge that is personal to you.
In summary:
Size 40ft x 20ft
Twin unit built to BS3632 standard
Please refer to your chosen park's licence and associated planning conditions before you commit to purchase this lodge.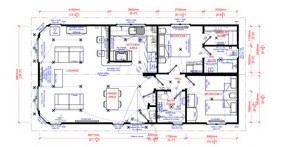 Verdict: Oh, I do like to be beside the seaside; or a lake. Choose your park and pitch location carefully in harmony with the design theme. It's a luxury lodge for discerning seafarers.
Ex-works price: £82,196.70*
For more information: www.homeseekerhomes.co.uk
*Additional charges will be made by park operators, and/or distributors for transportation, siting and annual maintenance.  Please check the price carefully before you sign on the dotted line as prices vary considerably dependent, amongst other factors, on the geographical location of your chosen park.