The British summer can be unpredictable but there can be times when your static caravan or holiday lodge can start to feel the heat! Here we bring you our tips to help you keep your cool when hot weather hits the holiday park.
Tips for keeping cool
1. Depending on where your unit is positioned on a holiday park, it will no doubt have a sunny side and a shady side at different times of the day. When the sun 's blazing down, on the caravan's shady side open the windows and on the sunny side close curtains or blinds to reduce the heat of the sun and open windows slightly. Opening roof lights will also help the heat to rise on out of the caravan. And if you have patio doors, then fling them open to let the air circulate.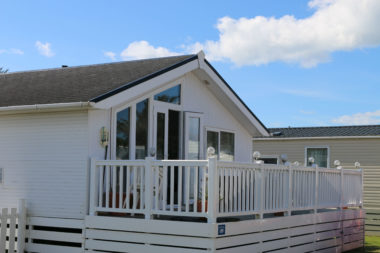 Obviously, if you're heading out for the day make sure you keep windows, skylights and doors closed to prevent theft.
2. Try to set up some outside space in the shade with a patio umbrella or even a gazebo – that way you'll be able to retreat outdoors if it's too stuffy and hot inside your caravan.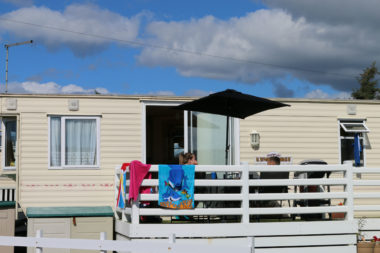 3. There are a number of small desktop fans on the market which can be effective at circulating the air. One tip is also to place a wet towel in front of the fan to cool the air slightly – don't drape over the fan or place to close to any moving parts though and always turn off electrical equipment when you're not in your caravan or when retiring to bed for the evening to prevent fire.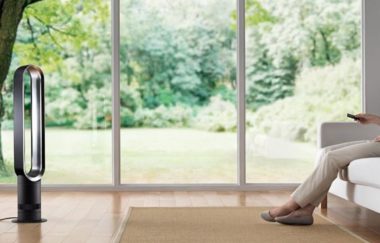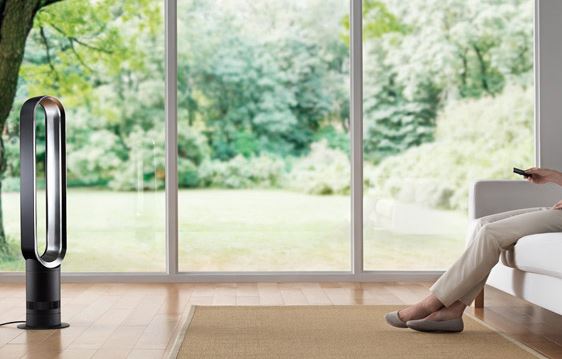 We looked at the premium Dyson AM-07 cooling fan, which promises a powerful stream of uninterrupted cool air. At £349.99, they're not cheap but are quiet, energy efficient, easy to clean and safe around children as they don't have any blades.
4. Another option is to invest in either a portable air conditioning unit or have one fitted to the roof or wall to help cool the inside of the caravan. It will increase your energy consumption, but you'll likely get a good night's sleep and plenty of opportunity to relax in comfort, even during the hottest hours of the day. Companies like Dometic and Truma have products specifically for caravans. The benefit of a portable air conditioning unit or cooler is that it can be moved from room to room.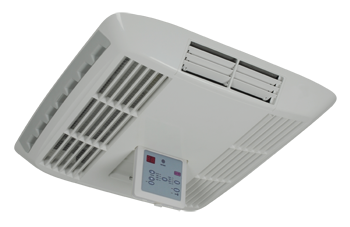 5. Your choice of bed linen can determine the kind of sleep you'll have during hot weather. Light cotton bed sheets are best for keeping cool, or you could try out the new Duvalite Apollo Luxe Mattress from Duvalay.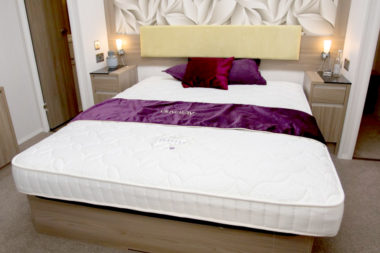 With its FreshTec memory it helps to repel heat retention to give a better night's sleep. This FreshTec system is also being introduced as a premium choice option in  Duvalay sleeping bags, portable toppers, bespoke toppers and home mattress toppers.
6. A cooling spray will instantly cool and refresh your skin if you start to feel hot and bothered in hot weather. They're readily available on the high street and in supermarkets and are suitable for adults and children. They work by spraying a fine mist on to your face or body and are ideal when it's hot and humid for some instant cooling relief. Spraying them in a hot room with also help dampen the heat.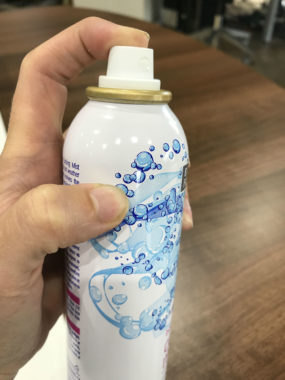 7. Also, remember to keep hydrated with cool or warms drinks when it's hot outside, and a gentle water fight will also keep you cool on a hot summer's day – as well as keep the kids entertained! Oh, and don't forget ice lollies are a great way to keep cool.
Over to you…
Do you have any tips for keeping cool in your caravan? Please share them in the comments box below.