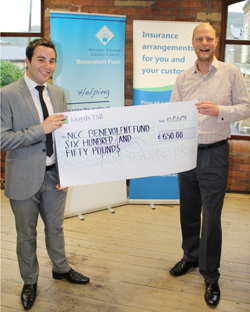 A fundraising evening held during this year's Lawns (Caravan) Trade Show in Cottingham has raised £650 for the National Caravan Council (NCC) Benevolent Fund, which looks after current or past members of the caravan industry who have fallen on hard times.
The event, which was organised and hosted by us, raised money for the NCC Benevolent Fund through donations from holiday home park operators, dealers and suppliers in the industry who attended the event. An additional donation from Leisuredays brought the total money raised to an impressive £650.
Ross Gardiner, Leisuredays Business Development Executive pictured above left with Mark Cheater of the NCC, organised the event,
 "We are extremely happy to have raised such a substantial sum for the benevolent fund over the course of one evening and would like to thank all those who contributed."
The Benevolent Fund was first created in 1976 by NCC members to support people within the caravan industry, including their dependants. Over the years, the NCC Benevolent Fund has been able to help many ex industry employees who have either fallen on hard times due to personal issues, or needed a little help to recover from illness.
Mark Cheater of Phantom Tracking Systems is an active member of the caravan industry and a spokesperson for the NCC Benevolent Fund, he explains the charity's importance,
 "The NCC Benevolent fund also offers families with disadvantaged and seriously ill children the opportunity to have a change of scenery and hopefully a great time at caravan parks in the UK. We draw on the support of those within the industry and are very thankful of it."